A Gift for the School Library at Christmas
We may earn money from the products/companies mentioned in this post. As an Amazon Associate I earn from qualifying purchases. For more information, read our Terms & Disclosures.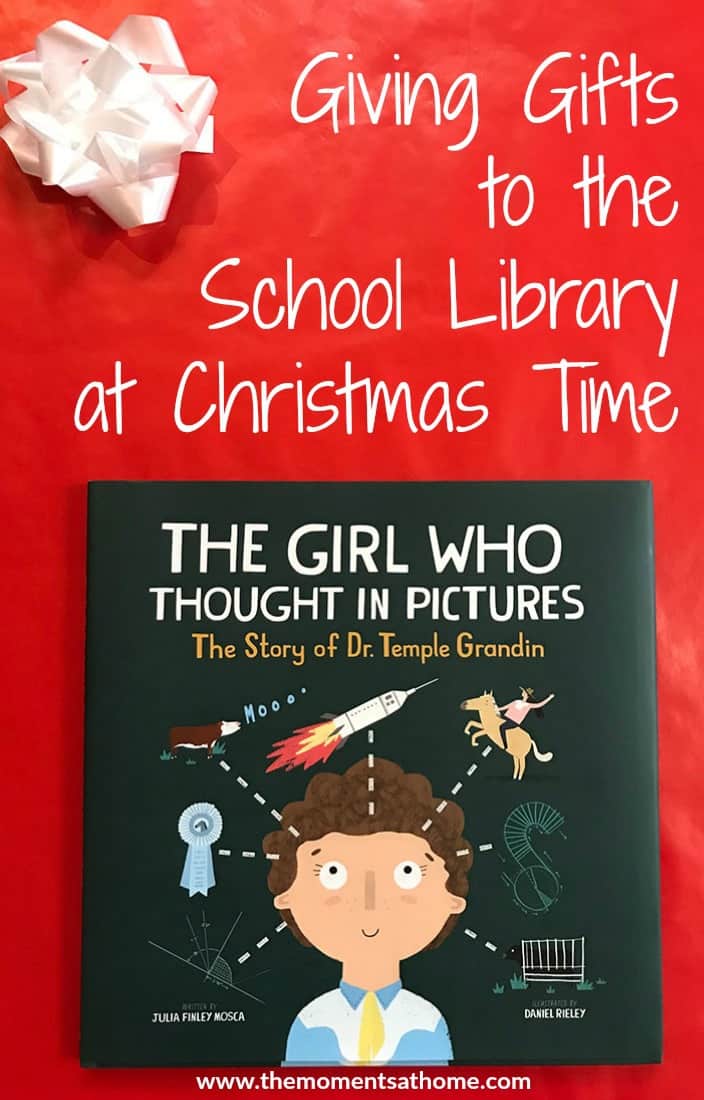 Have you thought about giving to your child's school library for Christmas? It can be overwhelming to pick out books when you're not sure what is currently on the school library shelves. I recently received a copy of The Girl Who Thought in Pictures by Julia Finley Mosca in exchange for this post. All opinions are my own.
Holiday Gifts for Teachers
When giving gifts to teachers I try to think of what is convenient for them to use and for me to buy. While many teachers love home-made ornaments or coffee mugs, I envision cabinets full of #1 Teacher coffee cups and a tree overflowing with student made ornaments. I can't imagine finding a place for 25+ gifts per year. Year after year that would be hundreds of coffee cups and handmade gifts. As a go-to I usually have my kids make a thoughtful card and give it to the teacher with a gift card attached. Or we give them a book for their class library.
The Girl Who Thought in Pictures is the story of Dr. Temple Grandin, a modern scientist. What makes her story unique is that she was diagnosed with autism at a young age. Because of this Temple was not expected to excel in academics. With the help of her teachers she went on to do amazing things!
What I love about this story is that it starts out talking to children about the feeling of not fitting in. We've all felt that at one time or another, and our children have too. It goes on to tell the story of a little girl named Temple in cute rhyming paragraphs. The story talks about her sensitivity to loud noises, itchy clothing, and other relatable challenges. While Temple didn't fit the standard learning structure in her classroom, she realized that she learned things in a different way than some kids. And we learn while reading her story that different isn't a bad thing at all.
The Girl Who Thought in Pictures is my pick for a teacher or school library pick this year because it focuses on acceptance and looking closely at how kids can excel in their own unique ways.