Black Friday Printable Planner
We may earn money from the products/companies mentioned in this post. As an Amazon Associate I earn from qualifying purchases. For more information, read our Terms & Disclosures.

Black Friday Printable Planner
Black Friday shopping isn't just about waiting in line half the night at a store to score great deals anymore. Deals are available both online and in stores, making it hard to keep shopping plans organized. I'm sharing a simple Black Friday printable shopping list where you can write down top deals, products, stores, and prices.
I love a little organization in my life but to tell you the truth, it can be hard to make time to get everything set up for an organized day. I hope this free black Friday list gives you more time to plan and not worry about lost lists, or apps that wont load as you're trying to find the deals you saved.
During the weeks before black Friday local businesses send out ads to advertise their deals, and websites offer the inside scoop on big sales for the day after Thanksgiving. Sit down with your phone or paper ad and list the sales you want to hit, the stores that have good deals, and prices so you stick to your budget.
On black Friday you'll be prepared with an organized sheet of paper that you can reference for where to go first, what you have spent, and to compare prices if you see an unadvertised sale on an item you planned to buy.
Need a little inspiration? Check out these gift guides:
The Ultimate Gift Guide for Kids
Creative Gifts for Preschoolers
Black Friday Tips
I prefer to shop online while sitting on the couch in my pajamas, but I have braved the crowds in recent years and have a few tips for those heading out to stores on Black Friday.
Plan for unexpected purchases. I often see cozy socks, pajamas, gift sets, and more small items that weren't on my list. It can really blow my budget if I don't add a little extra for these items.
Shop Later in the Day
If you want to get the thrill of shopping on Black Friday but aren't after the doorbuster sales, then wait to shop until later in the day. You won't find nearly as many items in stock, but there are often fun finds at the big retailers that haven't sold out.
The best deals go fast.
Stores often stock a (small) supply of their biggest deals. This is probably because it gets you in the store to buy other items with less exciting sales.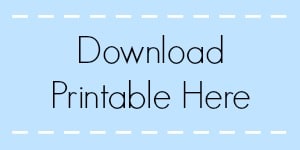 Have fun shopping during Black Friday 2018!