Virtual Book Club for Kids-Ten Red Apples
We may earn money from the products/companies mentioned in this post. As an Amazon Associate I earn from qualifying purchases. For more information, read our Terms & Disclosures.
Virtual Book Club for Kids
Happy Monday! It's our first week back for our Virtual Book Club for Kids and this week's theme is apples! We're reading Ten Red Apples by Pat Hutchins. This week the Virtual book club co-hosts are sharing fun apple themed activities to go along with the story. Be sure to scroll down after reading this post for more activities based on this week's theme! This week I'm sharing an easy caramel apple pop recipe that's perfect for fall!
If you haven't joined our weekly virtual book club for kids you can join here. You'll gain access to future book club books, themes, and craft supply lists. Plus you can share your own book themed activities in the group!
This Week's Virtual Book Club Book
Ten Red Apples
Bright colorful illustrations cover the pages of this count-down children's story. Ten red apples are in the tree but the farm animals are eating them! Kids love the cute rhyming words and repetition as they count down to see if there will be enough apples left for the farmer.
Caramel Apple Pop Recipe
Ingredients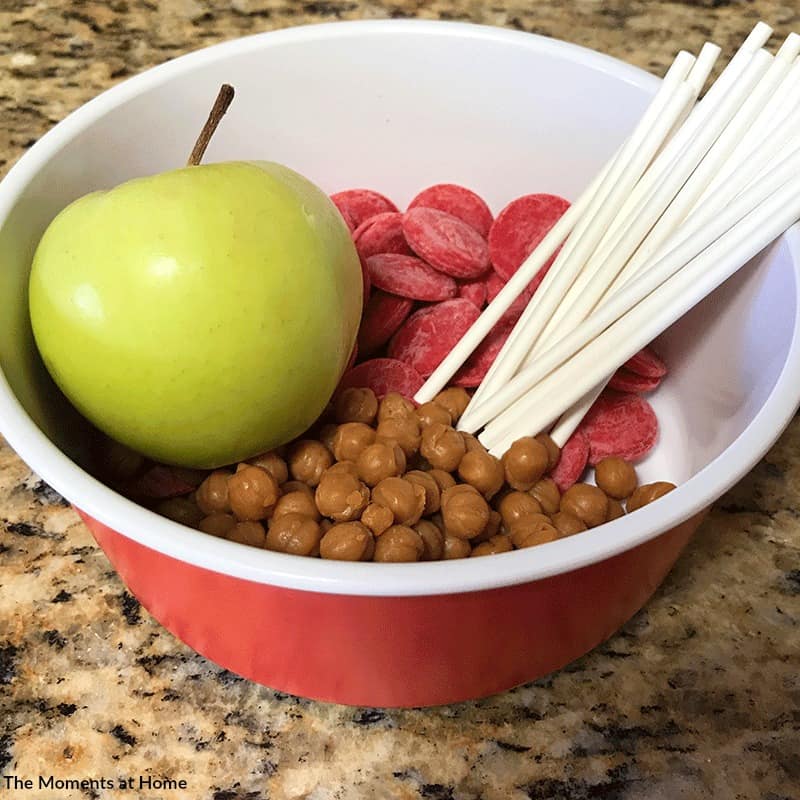 Directions
Begin by pouring the caramel bits into a small saucepan and heating them on low. Stir occasionally while you prep the apples.
While the caramel is melting on the stove cut the apples into 1/4 inch slices and trim away the core.
Push a lollipop stick into each apple slice.
Pat each apple dry with a paper towel to soak up any moisture on the surface. The caramel won't stick well to the juices of the apple.
Once the caramel is melted hold onto the stick of the apple pop and dip the apple peel-side down into the caramel. We chose to cover only the peel of the apple for our pops.
If you're using the red candy melts read the directions on the package for melting instructions. Once the candy melts have a creamy texture dip the apple pops into the candy to cover the caramel.
Eat and enjoy!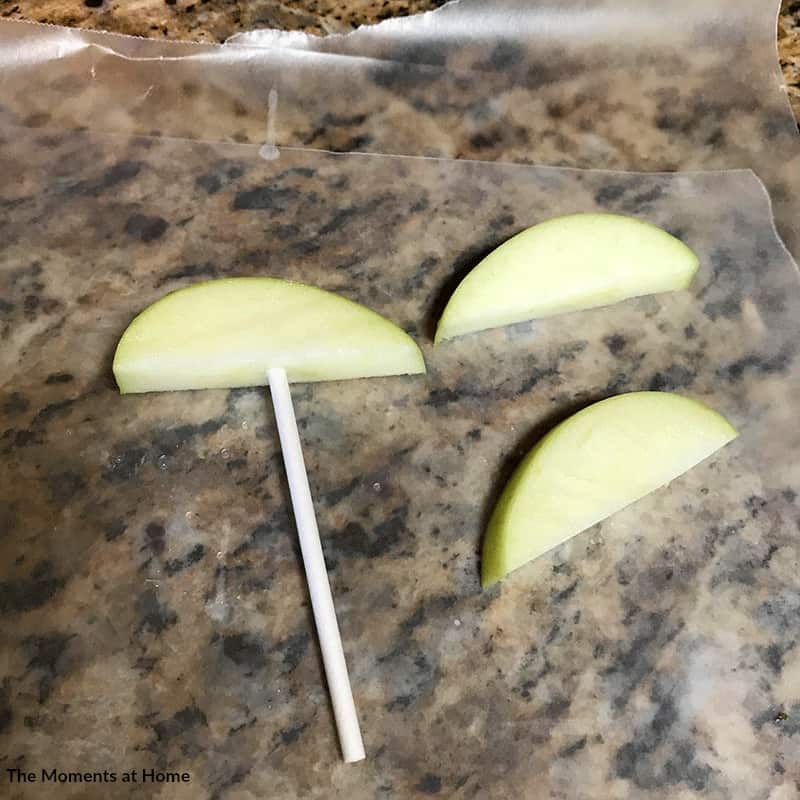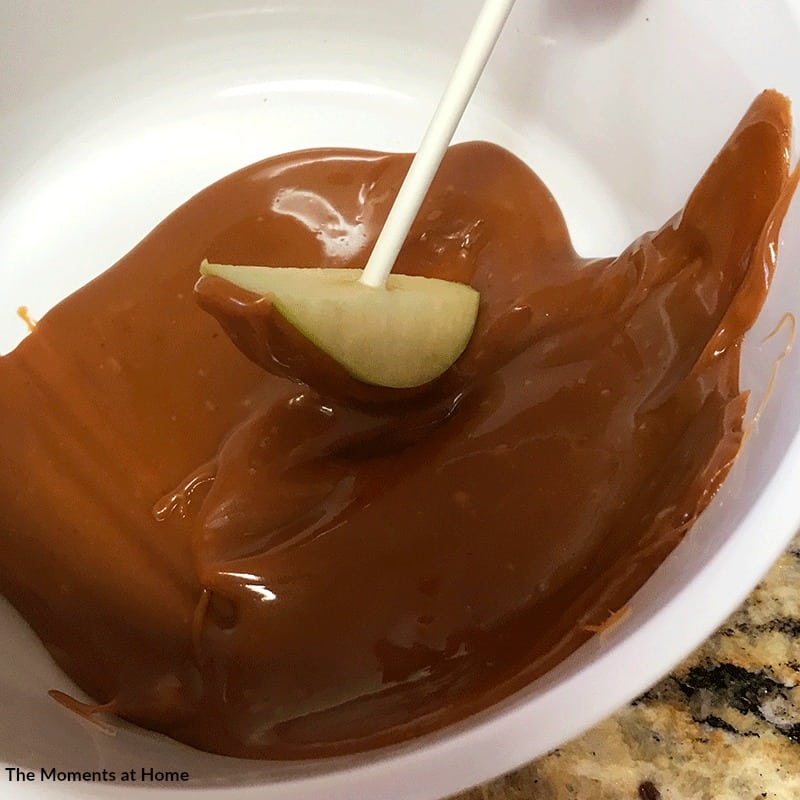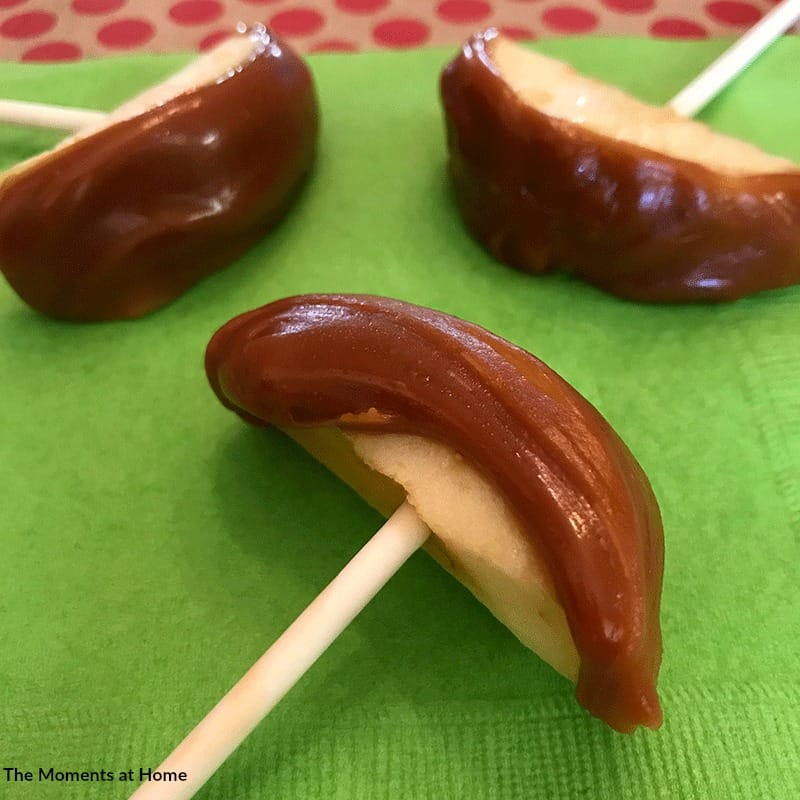 More Apple Themed Ideas
Alphabet
Apple Tree Alphabet Letter Match – Still Playing School
Name Activities
Apple Piece Names – Preschool Powol Packets
Number Activities
Apple Addition within 5 Dough Strips – Sea of Knowledge
Fingerprint Apple Counting Activity – Messy Little Monster
Apple Math: Counting & Fractions – Teach Beside Me
Red apple number bonds to 10 – Rainy Day Mum
Sensory Activities
Apple Tree Play Dough – Clare's Little Tots
Apple Picking Sticky Wall – Views from a Step Stool
Cooking Activities
Baked Apples – Witty Hoots
Apple Stack Game and Snack – Toddler Approved
Science Activities
Jumping Apple Seeds – JDaniel4's Mom
Apple Theme STEM Activity for Preschoolers – The Educators' Spin On It
Color Activities
Glitter Apple Stamping – My Bored Toddler
Pre-Writing Skills
Apple Tree Tracing Page – Mama Smiles
Movement Activities
Apple Farm Song with Movement – My Storytime Corner
Ten Red Apples: Number Words Activities – Growing Book by Book
Apple Tree Gross Motor Game – Inspiration Laboratories
Shape Activities
Apple Sewing – CrArty Kids
Visual Perception Apple Activity – The OT Toolbox