Disney on Ice Passport to Adventure
We may earn money from the products/companies mentioned in this post. As an Amazon Associate I earn from qualifying purchases. For more information, read our Terms & Disclosures.

Disney on Ice Passport to Adventure
Over the weekend my family and I went to see the new Disney on Ice Passport to Adventure here in San Diego. It was amazing! I received tickets in exchange for my honest review, all opinions are my own.
My kids range in age from preschooler to tween and at first I hadn't planned to take the older two to the performance. They love Disney but they've grown out of the princess and pirate phase and moved on to the silly tween and teen Disney shows. We decided to make it a family night so all six of us ended up attending Disney on Ice Passport to Adventure. My tweens ended up loving the show just as much as their younger siblings!
The parking lot was full of families with kids of all ages, but I have to say the little boys and girls in their character costumes win for overall cuteness. My own preschooler wore her Belle dress as her princess look for the evening.
Are Disney on Ice Shows Cold?
Not really. We dressed in lightweight long sleeved shirts and long pants without feeling chilly near the ice arena. I made sure to put pajamas on under my princess's Belle dress so she wouldn't get cold and also so we could get her right into bed once we were home after the show. We attended a 7pm showing and I knew she'd fall asleep afterwards.
The Show
Now for the fun part, I get to tell you all about the show! Okay, not everything because you really have to see it for yourself to understand the magic. Disney on Ice starts with our favorite characters Mickey, Minnie, Donald and of course Goofy. These characters are the narrators of the show, popping in between stories to let you know what's coming up.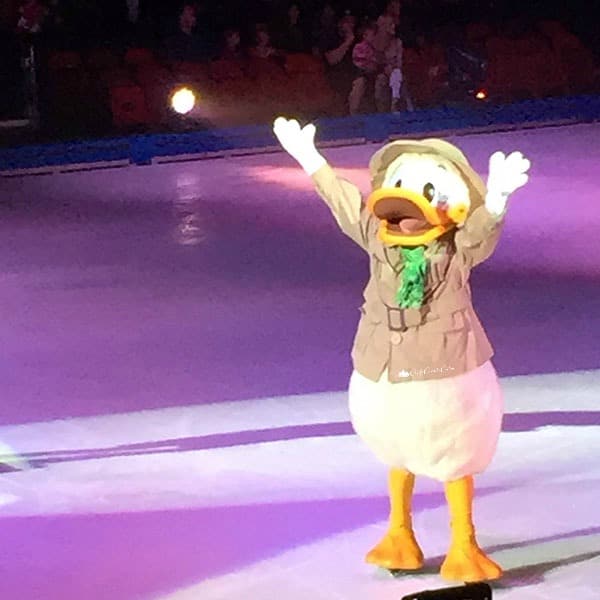 Popular Disney stories were brought to life with elaborate costumes, props and scenery. Peter Pan really flies and Captain Hook sails on the ice in a pirate ship. The ice skaters are talented and I was impressed with their lifts and turns while acting out their parts.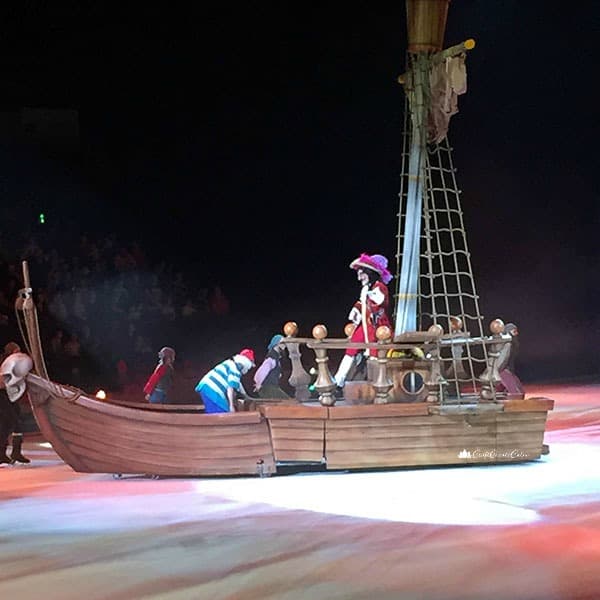 The best portion of the show was when they brought Frozen to life with everyone's favorite songs from the movie, snow, and a large ice castle staircase.
I could go on and on about Disney on Ice Passport to Adventure but I won't. It truly is a show you have to experience yourself!