Visual Learning at Home: The Giant American History Timeline
We may earn money from the products/companies mentioned in this post. As an Amazon Associate I earn from qualifying purchases. For more information, read our Terms & Disclosures.

I received The Giant American History Timeline from Sunflower Education in exchange for this review. All opinions are my own.
Teaching Visual Learners with The Giant American History Timeline
Kids have so many different learning styles that it can be hard to figure out which home learning curriculum is right for your child. I have two kids who are close in age and both do well in reading and math. They are also artistic and like to create projects when learning about subjects such as science and history. Recently I was given the opportunity to review The Giant American History Timeline from Sunflower Education, which combines the different styles of learning.
I had a conversation about history a while back with my 5th grade daughter that made me realize I needed to show her different ways of learning about history. It's hard to explain to kids why these subjects are relevant to their life, and it's much easier to teach when they find it fun.  She was asking me if she needed to take history in college because it's such a bore. Fast forward a couple months and she's feeling a little better about learning history. It's definitely not her favorite subject, but she's okay with doing the work.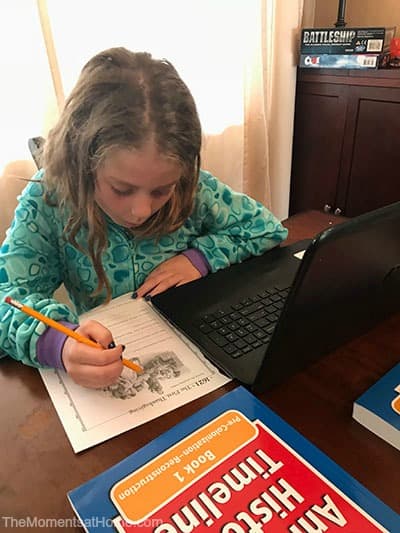 The Giant American History Timeline
The Giant American History Timeline workbooks combine independent study, visual learning, writing skills and research in one curriculum. Basically your child can use the workbooks as a base for learning, and then research the unit subjects by reading, watching documentaries, using the internet, or any other way that your child likes to learn. Our favorite activity of the workbook is the timeline. The workbook has pages with dates and arrows for you to cut out and make a giant timeline.
We worked with a couple hundred years at a time to save wall space, and attached them with tape. The tape allowed us to move the dates as needed once worksheets were completed. We've worked our way through pre-colonization to the pilgrims in the first workbook. The workbook covers Pre-Colonization-Reconstruction while the second workbook covers the 1870s-present. The workbooks are broken into units and have a very parent friendly teacher's guide included with each unit.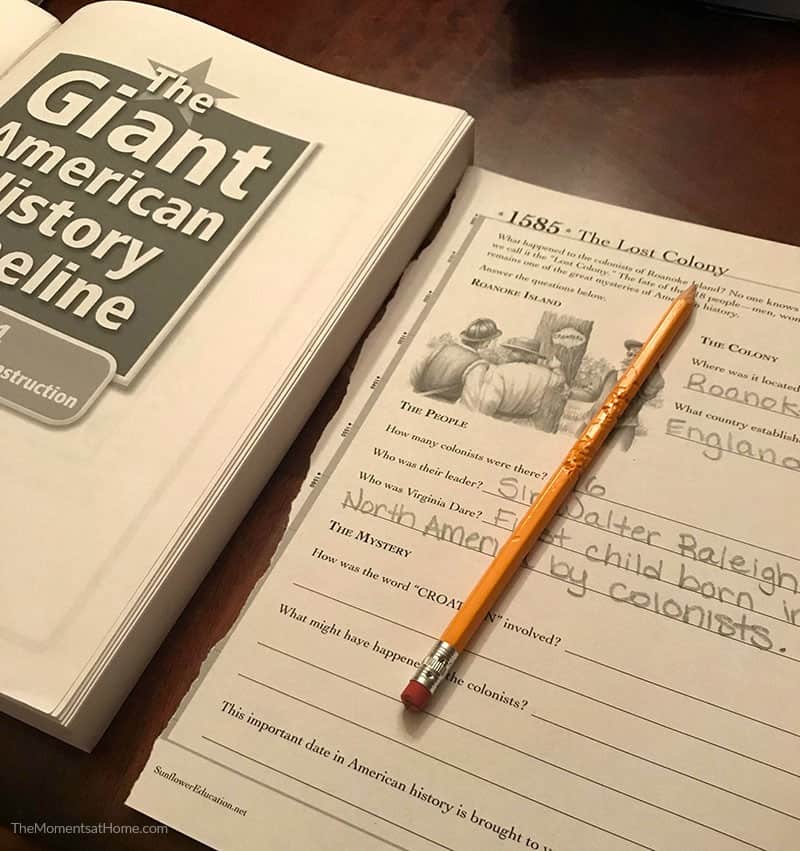 Each workbook has several worksheets that kids can complete after doing their own research. I opted to tear the worksheets out ahead of time and not do every one in the book. Adding them to the wall as they're completed is really fun! It also gives kids a visual representation of how the North American history progressed through time. Kids can color many of the pictures on the pages for a colorful timeline.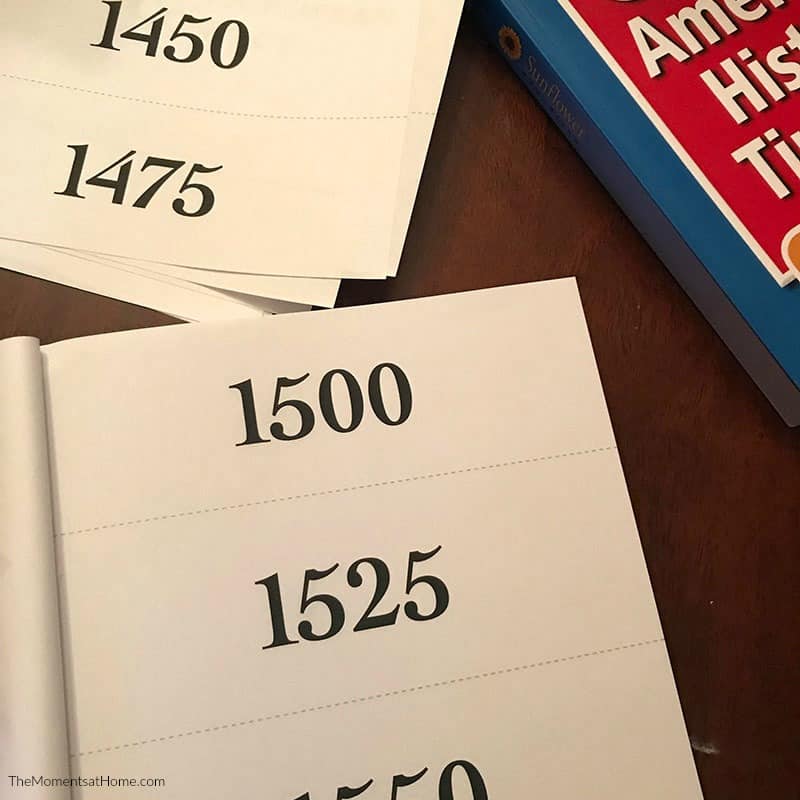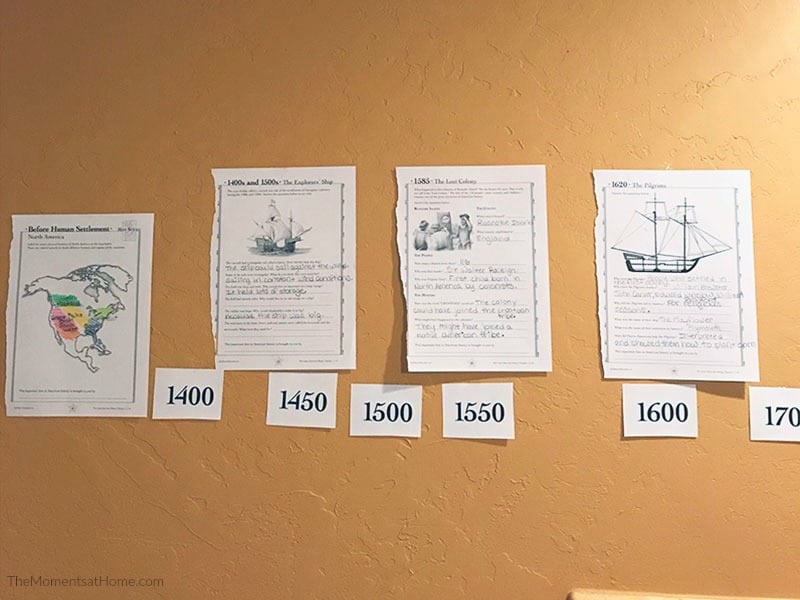 Units in The Giant American History Timeline Book 1
Here's a breakdown of what you'll find in book one:
Discovery and Exploration: Pre-History-1606
Colonial America: 1585-1776
The Revolutionary Period: 1765-1783
Creating the Constitution: 1781-1803
Expanding the Country: 1790-1860
An Age of Advancements: 1790-1860
Social Issues: 1790-1860
The Civil War: 1850-1877
Book one also has assessments for each unit, teachers notes in each unit, and answer key, and the interactive timeline.
Units in The Giant American History Timeline Book 2
While we haven't made it to book 2 yet I've looked ahead to show you what you'll find in book 2 here:
Industrial Growth and Technological Advancement: 1870-1910
Big Business and Social Reform: 1870-1910
America and the World: 1867-1910
World War 1: 1910-1920
The Roaring Twenties and the Great Depression: 1920-1940
World War 2: 1930-1950
The Cold War: 1940-1990
The Civil Rights Movement, Technology, and Terrorism: 1954-Present
Book two also contains assessments, teacher's notes, an answer key, and the interactive timeline.
You can follow Sunflower Education on social media by following the links below:
Save 20% on The Great American History Timeline Digital Bundle!
You can get your digital copy of either the individual workbooks, or a bundle of the two on Sunflower Education or on Amazon. Sunflower Education is offering a discount when you purchase the bundle! Use code TIMELINE20 to receive 20% off the digital bundle.
Enter for a chance to win Book 1 of The Great American History Timeline!