Holiday Crafts and Winter Activities for Tweens
We may earn money from the products/companies mentioned in this post. As an Amazon Associate I earn from qualifying purchases. For more information, read our Terms & Disclosures.
It's almost winter, and that means a long school break. Tweens are still in the in-between ages between young holiday magic and older teen understanding. I've rounded up over 30 holiday crafts and winter activities for tweens to do during all that time off. You'll find Christmas ornament crafts, winter reading, family games, diy gifts, and many more ideas in this holiday and winter tween activity round-up!
This post contains affiliate links. For more information on my use of affiliate links, please see my website disclosures.
Holiday Crafts and Winter Activities for Tweens
Christmas Crafts and Activities for Tweens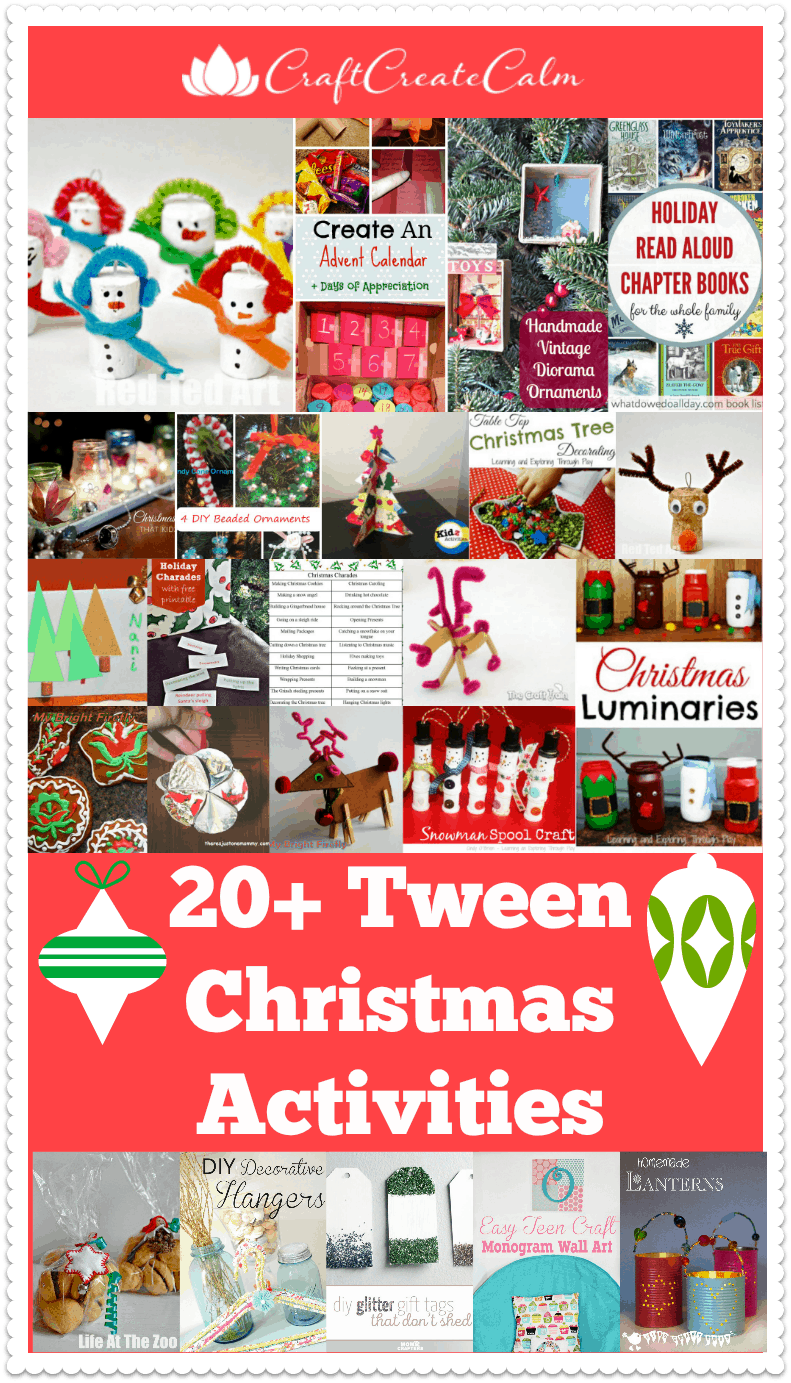 Snowman Ornament Cork Craft and Reindeer Ornament Cork Craft – RedTedArt
Beaded Christmas Ornaments and Christmas Card Ornaments – TheresJustOneMommy
Handmade Ornaments for Kids Vintage Dioramas and Indoor Charades Game for Kids– KCEdventures
Pipe Cleaner Reindeer – TheCraftTrain
R is for Reindeer Shape Craft – MyBrightFirefly
Christmas Painted Luminaries – LearningandExploringThroughPlay
Holiday Read Aloud Chapter Books and Christmas Chapter Books– WhatDoWeDoAllDay
Easy Appreciation Advent Calender DIY – TheTypicalMom
Glitter Gift Tags – MomsandCrafters
Cinnamon Scented Jingle Bell Placecards – KCedventures
Recycled Paper Christmas Tree Craft – KidsActivities
Christmas Cookies to Decorate – MyBrightFirefly
Punch Art made By Kids Gift or Decor – PlayDoughandPopsicles
Easy Ornament Gift and Cookies – LifeattheZoo
Homemade Gift Tin Can Lanterns – KidsCraftRoom
DIY Christmas Luminaries – KidsActivities
Christmas Charades – TheJoysofBoys

Winter Activities and Boredom Busters for Tweens

Star wars Snowflakes, Minecraft Snowflakes, and Frozen Snowflakes via TheJoysofBoys
Snowflake "Stained Glass" window project–WhatdowedoallDay
Toilet Roll Snowflake Craft – LearningandExploring throughPlay
Snowman Spool Craft – LearningandExploringthroughPlay
Winter Chapter Books – WhatdowedoallDay
Snowflake Craft for Kids – KidsActivities
Gorgeous Snowflake Ideas – MyBrightFirefly
Snowflake Earrings and Bag Ties – MomsandCrafters
Winter Boredom Busters
Monogram Wall Art Craft – SunshineandHurricanes
Decorative DIY Hangers – SunshineandHurricanes
The long winter break from school doesn't have to be full of screen-time for kids. The best holiday memories are those that are hands on and created as a family!
Check out my other holiday posts!
Christmas Countdown for Toddlers