Inside Out Family Movie Night
We may earn money from the products/companies mentioned in this post. As an Amazon Associate I earn from qualifying purchases. For more information, read our Terms & Disclosures.
No stress family movie nights!
I'm excited to share with you my ideas for a fun-filled family movie night! Each week I will post a plan for your weekend movie night, giving you all week to shop for supplies, and to get your kids excited about family time! This week is a little different because we're on vacation away from home. I'm always a little disorganized when the six of us are packed in a hotel room out-of-state, so I'll do my best to make these plans go smoothly for you. In the coming weeks I'll have a printable shopping list, decoration preview, and instructions for a family craft or activity.
Family Movie Nights Planned for You
You don't need the extra stress of coming up with creative ideas with everything else you have on your mind, right? If you're like me you thought having kids would mean sitting with a book, doing art projects together, and enjoying cozy family movie nights. But at the end of the week you're tired and it's easier to put off the family time for some much-needed sleep. I want to change that for your family!
At the beginning of each week I'll have a plan that is easy and fun. We're not talking about baked items made from scratch, we're talking convenient and easy for parents to check off their weekly to do list without stress.
Happy Core Memories-An Inside Out Family Movie Night
This week is all about creating happy memories as a family. Monday to Friday parents and kids are busy and stressed. We're off to work and the kids are off to school, extracurricular activities, and then it's dinner, homework, and bed. It's important to use the weekend to reconnect and relax as a family. It's even more important to create happy memories that aren't only work, school and the bedtime routine.
Inside Out is a cute movie about a girl named Riley and the five emotions inside her head. The emotions are physical characters in the movie responsible for Riley's key emotions. Joy, anger, disgust, fear and sadness. The plot of the movie is based on sadness feeling like she doesn't have a reason to be in Riley's head. Together, these emotions create memory orbs, with the most important orbs being a core memory.
This week we're creating happy core memories! Here's the plan for this weekend's family movie night:
Happy Orb Kid's Craft
Anger Cupcakes
Disgust Juice
Free Printable Decorations
Start by picking up a copy of the movie Inside Out or you can buy it online here. All the supplies for family movie nights are available at most retail stores, and for convenience, I'll add links to buy them online all in one place. I'm going to try my best to find you deals for the supplies available online, but in some cases they will be less expensive if you go to a store to buy them. I love buying everything in one place and having it delivered to my door which is why I'm linking them here each week. Click, buy, delivered. How's that for easy?
Inside Out Family Movie Night Shopping List
Craft Supplies:
Golden Yellow Craft Paint Metallic
See Below for Happy Orb craft instructions.
I usually try to find healthy snacks for the kids, especially for movie nights because we don't need them all sugared up before bed. But we're on vacation this week and let them go a little crazy. I've created two snack lists for this week, the one we used, and a list with healthier options.
Inside Out is about the emotions of joy, anger, disgust, sadness and fear and how they work together to create our memories and emotions. Each emotion has a color that represents that character in the movie so our food list is colorful this week!
Snack Food:
Red Cake Mix (anger)
Red Frosting (anger)
Green Juice (disgust)
Cotton Candy (imagination)
Healthy Alternatives:
Broccoli (disgust)
Blueberries (fear)
Red Bell Peppers (anger)
Lemonade (joy)
Cotton Candy (imagination)
Printable Decorations:
Check back later this week for your link to free Inside Out inspired decorations!
Weekday Prep:
This week I'm sticking to a more simple prep because we're on vacation and I don't have quite as many resources as I would in my home. To prepare for this weekend's family movie night you'll be getting the movie and picking up the snacks, (or order online for convenience.) Check back for printable decorations and look over the craft instructions below.
Happy Orb Craft Instructions:
Prepaint each wooden ball with yellow paint.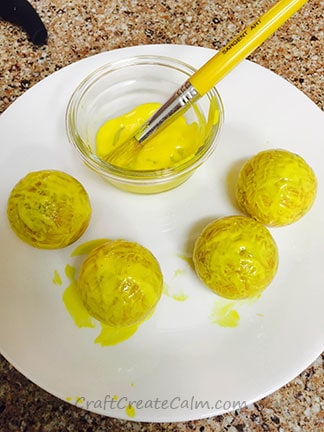 Before the movie set up a spot for each child to decorate their happy core memory. We used metallic yellow gold paint to give the orb a shiny surface and a bowl of sequins to glue to the orb. My four kids each decorated their orbs in ways that made them happy, and created happy core memories of their family time in the process!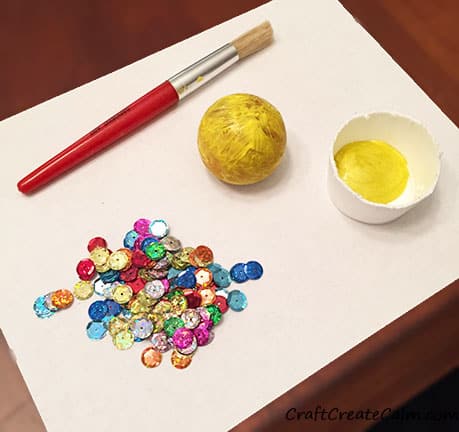 Movie Night Plan:
While the kids are decorating their happy orbs, turn on the movie and start setting up the snacks. If you didn't bake the cupcakes ahead of time bake them while they are occupied with the craft. Fill bowls with cotton candy, berries, and anything else you've purchased from the shopping list.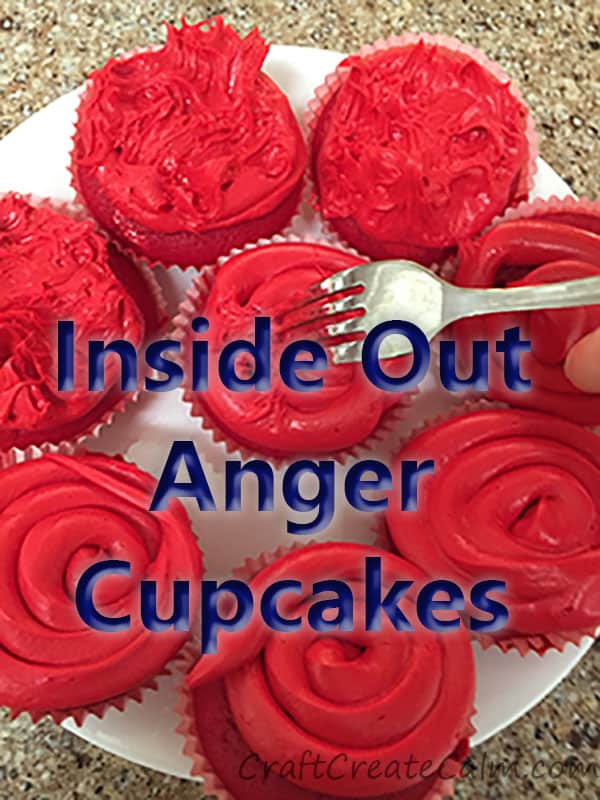 Clean up the craft materials as the kids go to watch the movie and then set up the snacks on the table. I like to do snacks early in the movie so the sugar wears off by the time the movie is over. When snacks are done give the kids blankets and cuddle up with them on the sofa. Your job is done. Enjoy the movie!
Display your kids' happy core memory orbs on a shelf or side table in your child's room so they can feel a happy emotion each time they look at the orb and are reminded of their Inside Out family movie night!
Family Movie Night Success!