Emoji Top Secret Journal Set for Kids
We may earn money from the products/companies mentioned in this post. As an Amazon Associate I earn from qualifying purchases. For more information, read our Terms & Disclosures.

Emoji Top Secret Journal Set for Kids
My tween loves to write about her day in journals and she loves emojis so when I was given the opportunity to write about the SmitCo LLC Emoji Top Secret Journal Set I agreed to write this review in exchange for the product. All opinions are my own.
Top Secret Messages
My daughter has had her share of journals so I knew this one would have to stand out a little for her to keep interest. She fills her journal pages with reports about her day, what she ate, what her current favorite food is, or who she spent time with during school. While this seems pretty uneventful to most people, my son finds it fascinating and takes every opportunity to check out her journals for new information.
The Emoji Top Secret Journal Set is unique because it comes with a pen that seems to write with invisible ink, but shine a blue light on it and you can see every word! The blue light is attached to the pen so kids will always have it handy for reading what they've written. The set comes with the pen, blue light, a one hundred page journal, emoji stickers, and an LED reading light.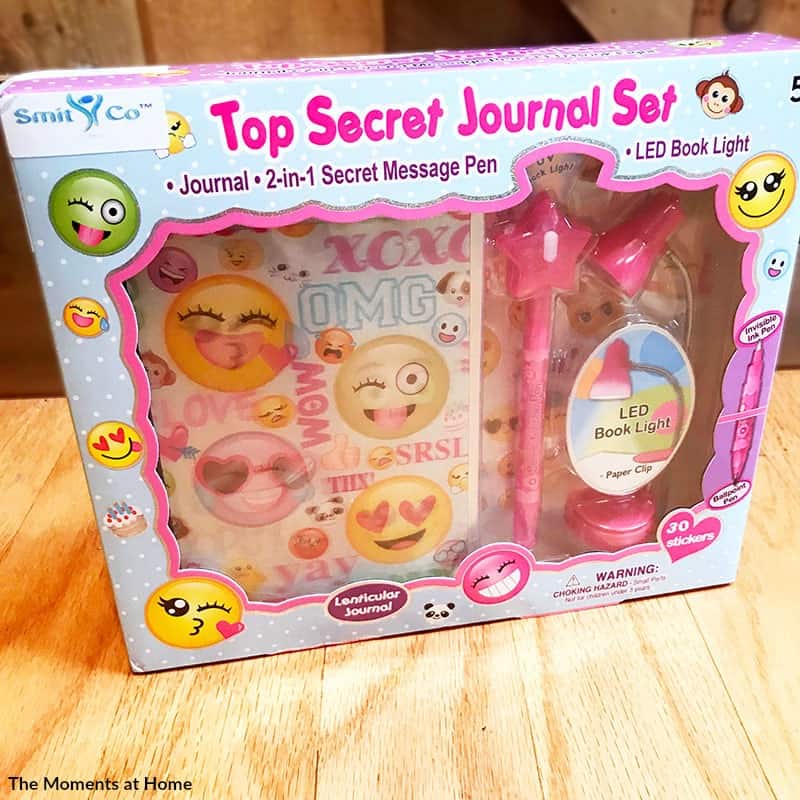 I had planned to save the journal set to give as a gift during the holidays but my daughter caught sight of it and excitedly opened the set with my permission. It did make writing this review easier because she told me what she liked about the journal set. As I expected, the Emoji theme and the secret message pen were deemed cool! The set makes a great gift for kids between the ages of about seven and twelve. For more great gifts check out my Holiday Gift Guide for Tween Girls.