KidzType Typing Games for Kids: A Mom Review
We may earn money from the products/companies mentioned in this post. As an Amazon Associate I earn from qualifying purchases. For more information, read our Terms & Disclosures.

KidzType Typing Games for Kids
I received compensation for this review. All opinions are my own.
My kids spend so much of their time on tablets over our desktop computer that I sometimes worry they'll forget how to type without word completion software. It's so easy to shorten the "you" to "u" or add an emoji in the place of a word. But shouldn't kids know how to type and spell without those prompts? I've found KidzType, an online program that teaches kids typing techniques at home to solve this problem.
KidzType offers online typing instructions, lessons and games for kids easy to understand online classes. They're not structured by day, time, or even deadlines so your kids can learn at their own pace. They can skip around too if some lessons are too easy or difficult. Plus, log in isn't required, meaning you don't have to remember yet another password. Some lessons even use sight words so kids can practice a little word recognition while they type!
Typing Finger Charts
We started by using the provided finger placement charts so my kids would know the proper way to position their fingers on the keys. This is important because it stops them from hunting and pecking for keys with just one finger. There are actually specific keys for kids to place their fingers on that make it easy to reach for keys and speeds up their typing per minute. I remember learning this in typing class as a child and am happy they have these basics on KidzType.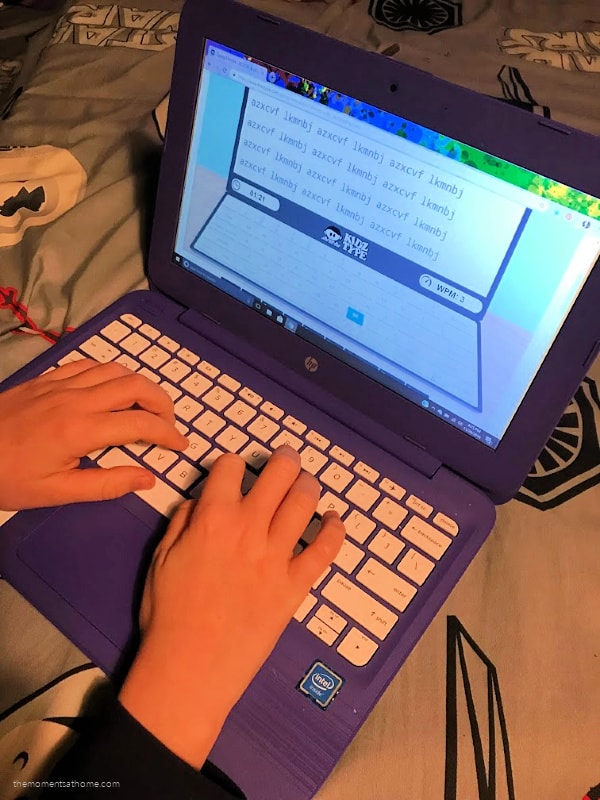 Free Typing Games
My son's favorite thing about the KidzType website is the variety of typing games. There are so many to choose from and he definitely felt like he was playing not learning. There are games flying airplanes, rockets, animals, ninjas, cars and so many more that kids will love to play. He got hooked on the Typing Pilot game as you can see in the picture below. It made me laugh because he was looking so intense. This kid takes his gaming very seriously!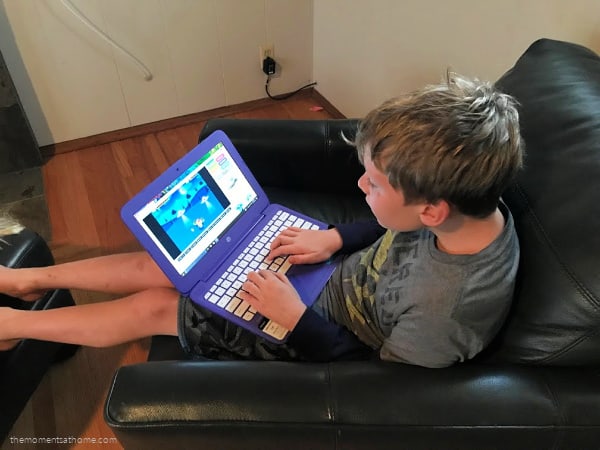 Typing Lessons
The reason I decided to have my kids try KidzType was for the typing lessons. Games are great and all but I also wanted to make sure they had the basics of typing on a real keyboard and not a tablet. I really liked that they started with the finger placements and divided the lessons by letter and row. Kids are timed but you can start with a longer  time frame and work towards to the shorter time. As they type faster they also need to make sure they're hitting the keys correctly and not just typing random letters.
Because there are so many options of time and letter lessons I was able to have my kids all do lessons even though they're different ages. I decided to try a couple lessons to and found out I needed a little brushing up on my typing skills! Okay, a lot of brushing up. 😉 I clicked over to TypeDojo, a site where you can test how many words you can type per minute, and felt a little better after I took a one minute test. I found that my typing is faster when I type real words instead of mixed letters.
TypeDojo is where kids can click to after they've done their typing exercises and lessons if they would like to earn a certificate for their accomplishments. It's a great way to bridge the gap between one set of lessons to the next.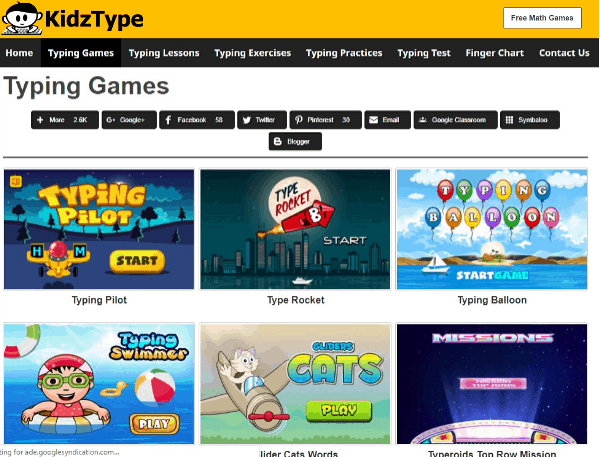 Mom Review: My favorite feature of the KidzType website is the ease of use. I can tell my kids to start their typing lessons and they can easily click a shortcut on our desktop to open their typing exercises. We do 15 minutes of typing lessons and then 15 minutes of the free typing games for kids. What they don't realize is that it's a full 30 minutes of lessons, just some of them are play!
Here's a short video about touch typing to get you started: