MARVEL Universe LIVE! Age of Heroes Giveaway
We may earn money from the products/companies mentioned in this post. As an Amazon Associate I earn from qualifying purchases. For more information, read our Terms & Disclosures.

MARVEL Universe LIVE! Age of Heroes Giveaway
Are you ready to see your favorite MARVEL characters live on stage? I'm excited to be giving away four tickets to see the show in San Diego, CA! This will be the first time my family sees the show so stop by after to read my review here on the site!
About the Show
"Our tremendously talented creative team and a nearly super human cast, have created a show that brings the grandeur of Marvel to life," said Juliette Feld, producer of Marvel Universe LIVE!  "Age of Heroes creates an experience that immerses families in non-stop action, creating movie-style thrills and jaw-dropping stunts that showcase the powers of your favorite Super Heroes right before your eyes." 
 
Called on by Doctor Strange, the Guardians of the Galaxy join Marvel Universe LIVE! Age of Heroes on a momentous crusade against the scheming Nebula who teams up with the conniving and loathsome villains Loki and Green Goblin.  The incredible superhuman forces of Iron Man, Thor, Black Panther, Hulk and Black Widow will unite in clashes that pit student against mentor, sister against sister and brother against brother.
 
 
Immersive video projection and cutting-edge special effects will captivate and transport audiences across the universe from the fantastical Savage Land to New York City and beyond.  Spider-Man and Wasp's dynamic aerial stunts along with Captain America's daring motorcycle skills will be on display in the ultimate race against time to save mankind.
 
"I'm extremely excited to work on Marvel Universe LIVE! Age of Heroes and bring the talents and powers of these amazing characters with such dimensionality to life," said Marvel's chief creative officer, Joe Quesada.  "Audiences will be on the edge of their seat as they witness the outrageous stunts and fight sequences in truly a unique experience that puts fans at the center of the action."
Show Schedule Information
SAN DIEGO SHOW SCHEDULE
WHEN:                Thursday, August 24 – Sunday, August 27
o     Thursday, August 24                   7:00 PM
o     Friday, August 25                          7:00 PM
o     Saturday, August 26                     11:00 AM, 3:00 PM & 7:00 PM
o     Sunday, August 27                   1:00 PM & 5:00 PM
WHERE:             Valley View Casino Center – 3500 Sports Arena Boulevard, San Diego, CA 92110
TICKETS:          Tickets start at $15 each!
Discount Opening Night tickets available for only $15 on select seating (not valid for premium/VIP seating)
All seats are reserved; tickets are available for purchase online at AXS.com, charge by phone at 888-9AXS-TIX or visit the Valley View Casino Center Box Office.
*Ticket prices subject to change; tickets may be subject to service charges, facility and handling fees.
Marvel Universe LIVE! Age of Heroes will travel throughout North America on a multiyear tour, including stops in Denver, Las Vegas, Salt Lake City, Indianapolis, Atlanta, Dallas, Miami and New York.  After North America, the show will embark on an international tour starting in 2019.  For a complete list of North American tour dates, locations and to purchase tickets, please visit MarvelUniverseLIVE.com.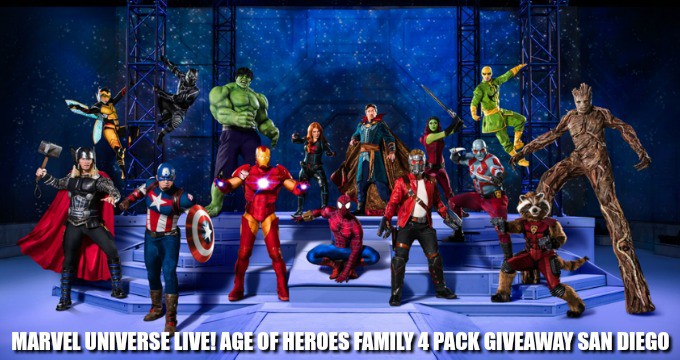 Enter to Win Four Tickets to see MARVEL Universe Live! Age of Heroes