Medieval Times Dinner Show Buena Park
We may earn money from the products/companies mentioned in this post. As an Amazon Associate I earn from qualifying purchases. For more information, read our Terms & Disclosures.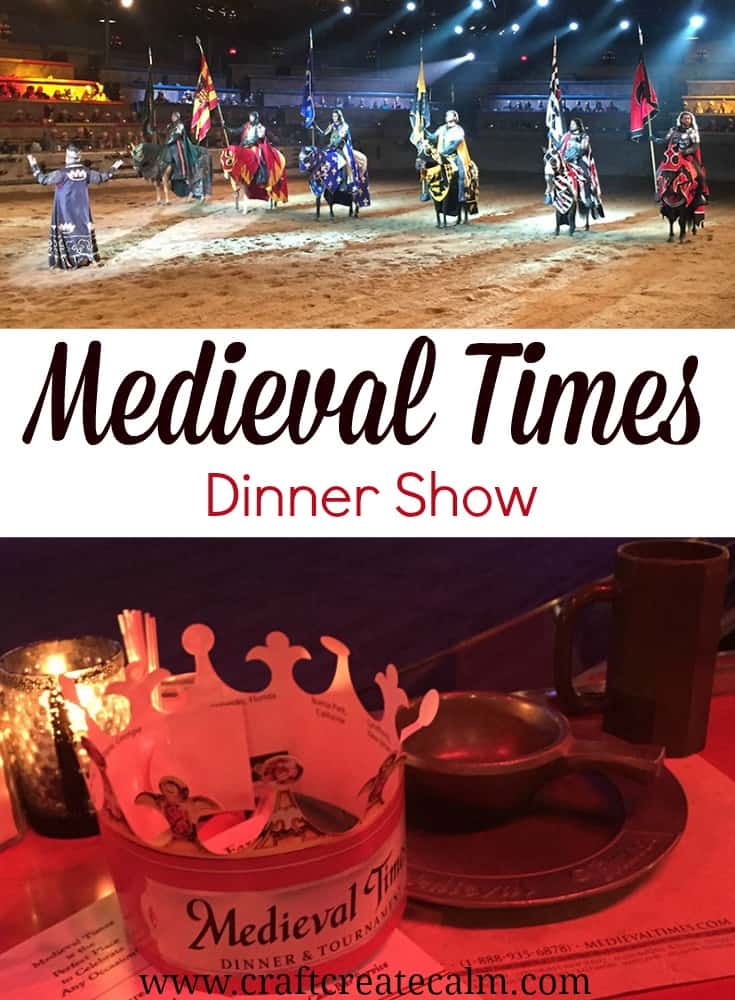 I was recently offered tickets to the Medieval Times Dinner Show Buena Park in exchange for a review. I said yes right away beacause we've always wanted to go and I knew my son would love it. All opinions are mine I promise!
My almost tween son loves history. Documentaries, books, toys, you name it he loves it if it's related to history. We homeschool part time but the medieval time period isn't a subject we've covered. He knows enough about how people lived during that time by learning about history on his own. I took along my tween daughter (who is not at all interested in history unless American Girls are involved) and my youngest son.
Medieval Times Dinner Show Buena Park
We live in San Diego and planned to go to a Friday night 6:30 show. We left the house mid afternoon and hours later when the show started we were still stuck in traffic. By the time we arrived there we had missed most of the dinner show. I asked if we could possibly exchange our tickets for the 8:45 showing and the person behind the ticket counter happily agreed to change the time. From there the customer service remained awesome from the time they gave us our crowns to our waiter at dinner. Everyone was kind, in character, and had a great attitude.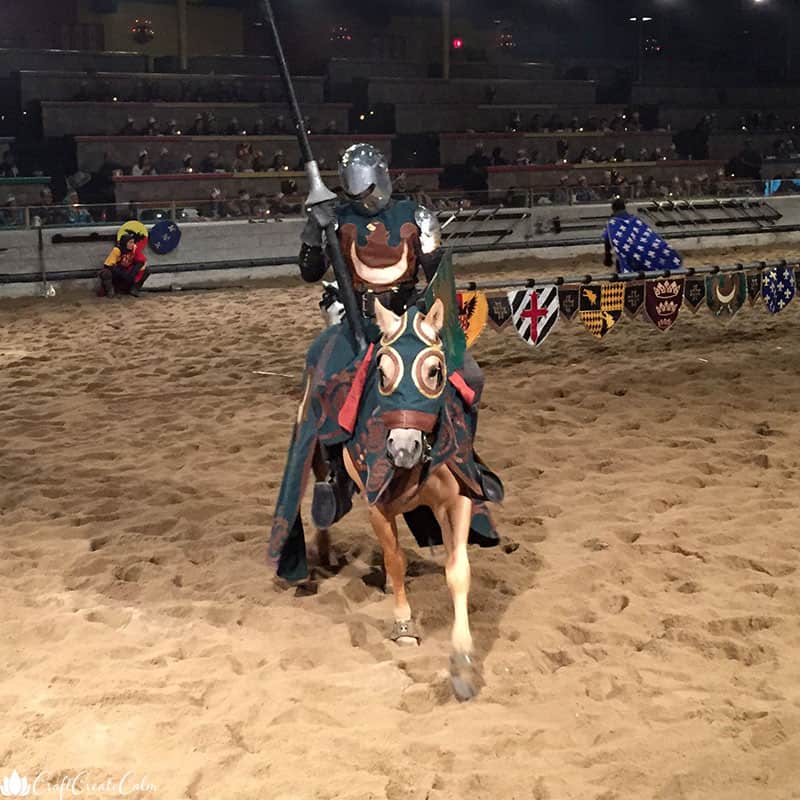 The Medieval Castle
When you head into the first "castle" of Medieval Times you're assigned a knight to cheer for during dinner. We were given the red knight and each received a paper crown with the corresponding color. You can get group  pictures taken in costume in front of a green screen with a choice of backgrounds or pictures with royalty. Pictures cost $21 and an extra $3 if you want to be in costume. We didn't get pictures taken. The next stop was to buy a flag for the red team. I hadn't planned to buy one, trying to keep cost to a minimum, but for $5 my kids shared a flag and enjoyed waving it any time the red knight competed in the arena.
The main "castle" is huge with several counters to buy souvenirs (we didn't) a couple bar counters, and windows to view into the paddocks. Dinner seating and the arena are through a separate set of doors that remain closed until you're called by team for the show.
While we waited for our dinner there was entertainment with some of the night's royalty being called out. This includes birthdays and other events people are there to celebrate.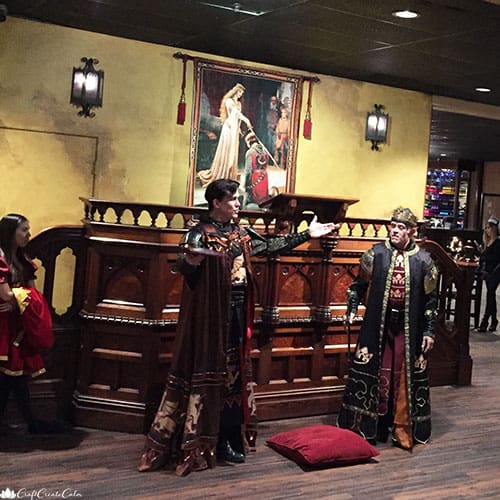 The Tournament
The show starts with the announcement of the king and princess. Next horses enter the arena to show off some pretty amazing tricks. Each team is seated in separate sections for dinner so we were surounded by other red knight fans. As far as I could see there wasn't a bad view from any seat in the arena.
The knights come out on their horses and stand near their sections and the kids go crazy cheering. From there the show continues with games, a plot twist, and carnations tossed in the audience by winning knights. The jousting was fun to watch because the knights really got into the games.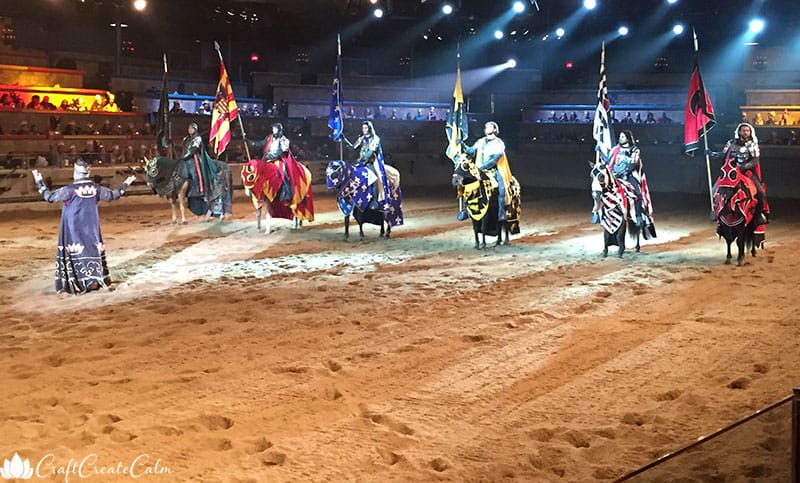 Each knight chooses a queen of the tournament from his section of the crowd and my daughter was chosen! It was an exciting and sweet moment that added to our enjoyment of the night. She got a sash to wear and they took her photo. My complaint of the evening is that they tried to charge me $21 for the photo. I didn't buy it.
The tournament ends with a series of sword battles. These battles are really realistic and scared my youngest son enough to have him hiding under the table. Sparks literally fly as the swords clash and it gets pretty intense.
The Dinner
We were greeted by our waiter and given options for drinks. Dinner is served in courses all at once to the whole audience. Our show served garlic bread, tomato bisque, chicken, a baked potato, corn on the cob, and a lemon pastry. A vegetarian option was also available.
I have two things to say about the medeival times food. It was better than I expected and the temperature was perfect. We didn't have to wait for the food to cool down (a huge plus with kids) and everything was delicious. Keep in mind that there are no untensils but I think that adds to the fun!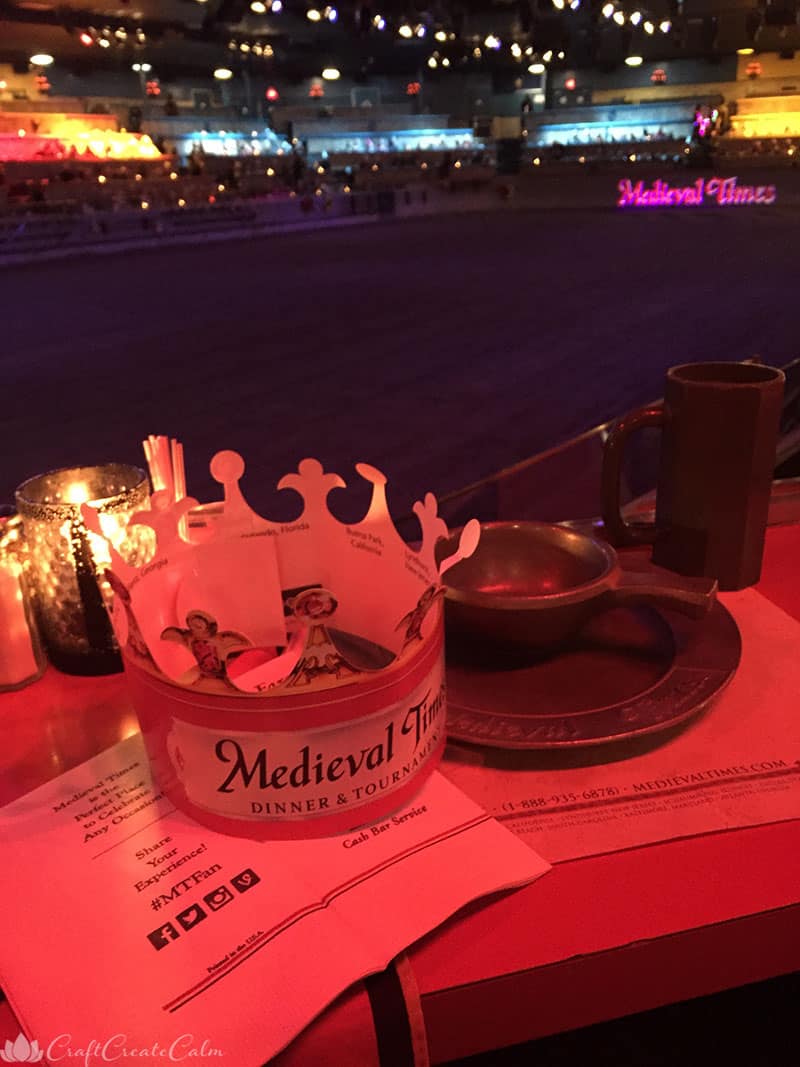 Dinner ends with coffee and a tip tray. The price of dinner and the show doesn't include a tip so bring cash to give your server a gratuity.
My family and I loved the Medieval Times Dinner Show and it was worth the wait in traffic and driving home late in the evening. There are shows in several cities across the country and it makes a fun family night out or celebration. I definitely recommend you check them out if there's a Medieval Times near you!