Teaching Math at Home with Mr. D Math
We may earn money from the products/companies mentioned in this post. As an Amazon Associate I earn from qualifying purchases. For more information, read our Terms & Disclosures.

Teaching Math at Home with Mr. D Math
I received Mr. D Math for free in exchange for this honest review. I have been compensated for my time creating this review. All opinions about this product are mine. Also, I'm an affiliate for Mr. D Math meaning I make a small commission at no extra cost to you if you order through my links.
It's no secret that math isn't my favorite subject to teach. If you've read my past posts about homeschool math curriculum you know that I struggle while my kids excel, leaving me searching for home-based math units that are easy to teach. We started a new curriculum this year called Mr. D Math. It's a fully online curriculum for the middle grades. I had my daughter who is headed off to middle school start pre-algebra through the program.
I completed pre-algebra in middle school and went on to Algebra 1 and Algebra 2. Without retaining the information, I skated through those classes and by the time I went to the local community college I had forgotten most of what I learned! My kids need a program that not only teaches them the skills they need, but also keeps them engaged so they retain the knowledge. They don't find math boring, but they do get tired of course work that doesn't keep them engaged.
What is Mr. D Math?
As homeschooling parents, we all know about distance learning. Taking classes outside of a traditional classroom, either online or at home. Distance learning adds a new level to learning at home with a virtual classroom where kids interact with their teachers and peers from the comfort of their own home. Mr. D Math is an online classroom developed by Dennis DiNoia that uses both video and written lessons to teach kids math subjects ranging from pre-algebra to calculus and trigonometry readiness.
The Mr. D Classroom Experience
I am happy to share that Mr. D Math is a full curriculum that parents can monitor without needing to teach each math skill themselves. You can be as involved as you'd like with the lessons.

How it works:
Students enroll in a Mr. D Math Class (my daughter enrolled in pre-algebra.)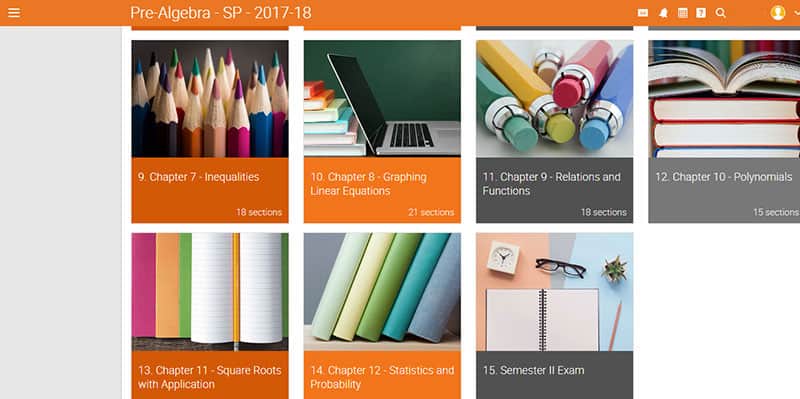 The online classroom is broken down into lessons. Each chapter is broken down into a series of sections that include learning content and online quizzes.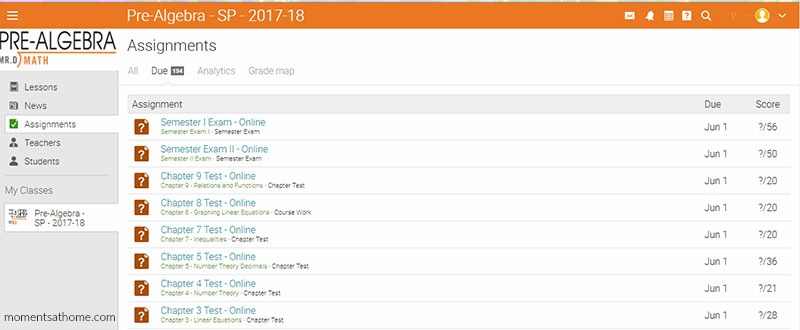 Students are given due dates to keep them on track to finish the course within the semester. Due dates can be more of a guideline, but to keep up with conversation and interactive class times students should stay on track with due dates.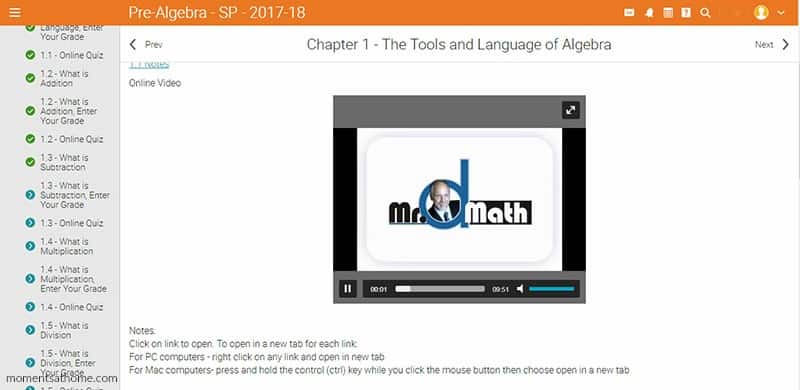 Each week there are opportunities for students to log-in to extra help sessions for interactive class time. If you sign up for this option, you'll receive reminders via email.




Interactive Class Time
Students enrolled in Mr. D Math can interact with their teacher and peers via scheduled class time and online message boards. How cool is that? And don't worry, kids aren't chatting amongst themselves about off subject interests. Students can ask about class assignments or post other questions directed at the teacher.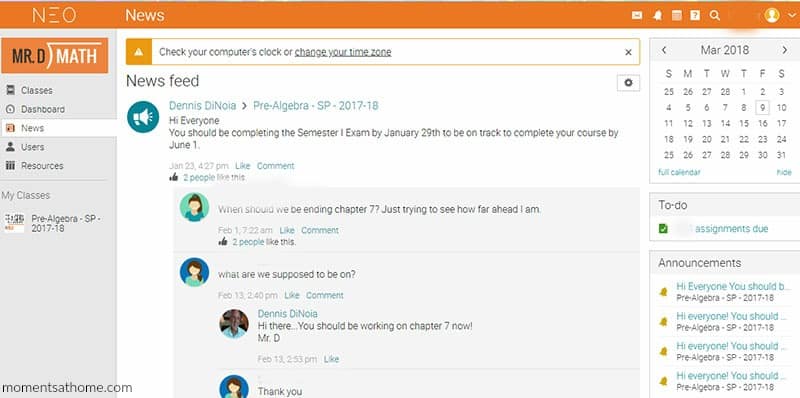 Parent Involvement with Online Homeschool Math
I prefer to be hands off using a parent account to check my child's progress with math lessons. If you like to be completely involved with your child's math lessons, or if you want to learn a little more math, Mr. D works for all of these options. The parent account allows you to keep track of multiple students, their lesson progress and grades. You can print lessons to complete with your child and send them online for quizzes and interactive class time. Or take some lessons yourself to brush up on your math skills. This may be the only curriculum I've come across that offers such a versatile range of teaching and learning.