Family Tradition Ideas You Can Start This Year
We may earn money from the products/companies mentioned in this post. As an Amazon Associate I earn from qualifying purchases. For more information, read our Terms & Disclosures.
Family traditions create anticipation, foster a sense of belonging, and strength relationships. If you are looking for family tradition ideas, here are some you can start right away and repeat year after year. They will become much loved and anticipated family rituals that help define your family culture.
While most families start thinking about family tradition ideas during the holiday season, the reality is that you can create your own family traditions all year round.
It's fun to make up some traditions that are unique for your family. Whether you're looking to create an annual family tradition or want to come up with something that you do when a child completes each year at school, these fun family traditions you can start with your kids this year will surely help inspire you to develop some sort of fun tradition that your family looks forward to every year.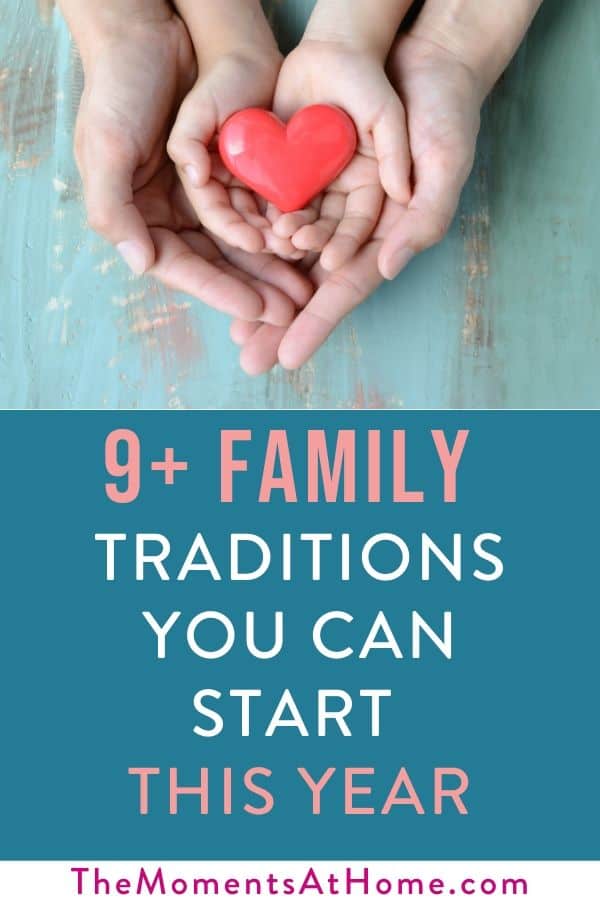 Family Tradition Ideas You Can Start With Your Kids This Year
Family traditions often happy by happy accident. You do something everyone loves and repeat it at the next opportunity. They can be as simple as a certain song you sing on Christmas Eve or as complex as a scavenger hunt to find a birthday gift.
They are simply meaningful family rituals that become a part of your family's culture. Here are several family tradition ideas that are simple to implement but will tighten your family's sense of unity and belonging.
Half Birthdays
Your family tradition could be to host a half birthday for every member of the household. Every six months you can bake a cake, get some balloons and celebrate half birthdays with as much enthusiasm as others do with annual birthdays.
End of School Year Bash
Who says you only have to celebrate when a child graduates from middle or high school?! There's no reason to put off the end of school year bash for just 8th and 12th grade. Start a family tradition where you throw an end of school year bash for every grade completed successfully.
Donation Tradition
Once a year, preferably in the spring season, designate a day where the whole family cleans out their closets, rooms and other collect-all areas in the home. Make a donation pile and head to a local shelter or thrift store to donate any unwanted items to those in need.
Full Moon
Some family traditions involve celebrating a full moon. If your family enjoys nature, then it will be a blast to start this family tradition. Whenever there's a full moon take a nighttime walk together while you tell spooky or funny stories to each other during the walk.
Birthday Book
Every year when someone in the house celebrates a new birthday, create a book that showcases their previous year. This family tradition can be quite entertaining, fun and heartfelt when it comes to giving the gift of a birthday book every year to that special family member celebrating another year of life.
Yes Day
Have a little fun when thinking of unique family traditions. A day where everyone has to say yes to anything is a fabulous way to enjoy some fun. Be careful, parents, this yes day family tradition could be taken advantage of, but you have to be prepared to take it all on when you establish a yes day tradition.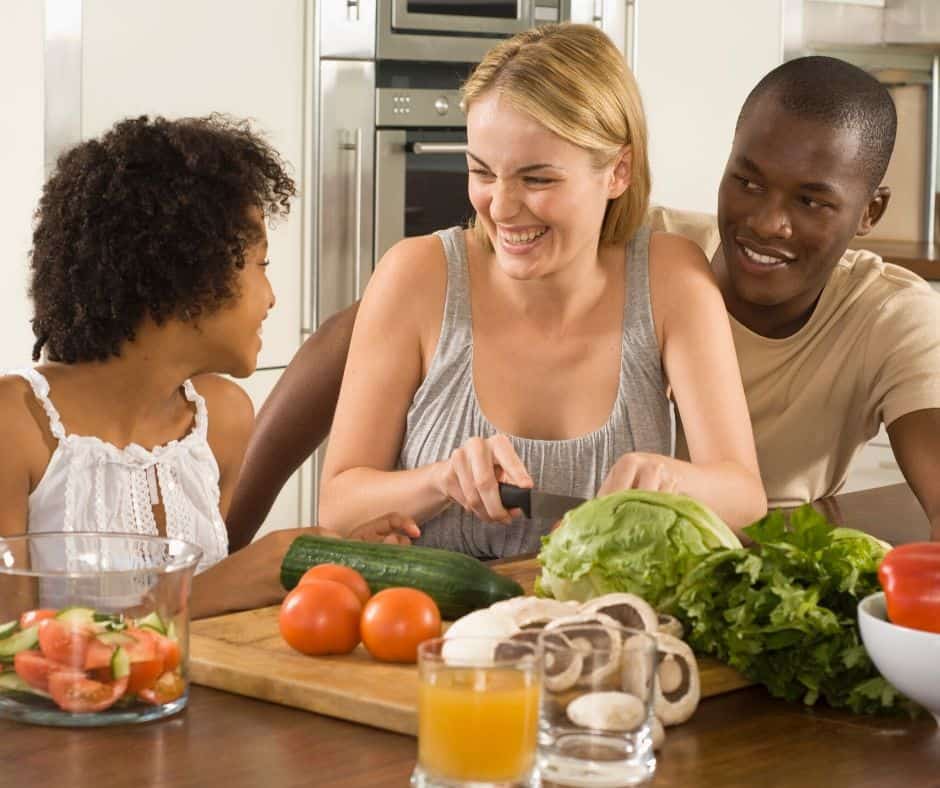 Weekend Brunch
This fabulous family tradition idea will keep your bellies full and family bond strong. Make every Saturday or Sunday a spectacular food event where you host a weekend brunch for the entire family. Make this family tradition even more special by having everyone cook something for Sunday Brunch on a weekly basis. 
Game or Movie Night
One of the best family traditions that people enjoy creating is a family game or movie night. Pick one day of the week where the whole family can gather around in the family room to enjoy a movie or game night event. Be sure to stock up on movies and board games so you have plenty of options each week.
Bedtime Story
No matter how old your kids are, they don't need to outgrow bedtime stories. This fun family tradition will change over the years but stays the same as far as a bedtime story is already read or told before the kids go to sleep. A parent will tell a bedtime story every night in the family room before bedtime arrives.
Puzzle Vacations
Need a way to make winter vacation fun at home? What about doing a puzzle together every year and celebration with a pizza party once it's complete. So many great conversations can happen as you do one together, and even picking it out can be a great time of bonding and creativity.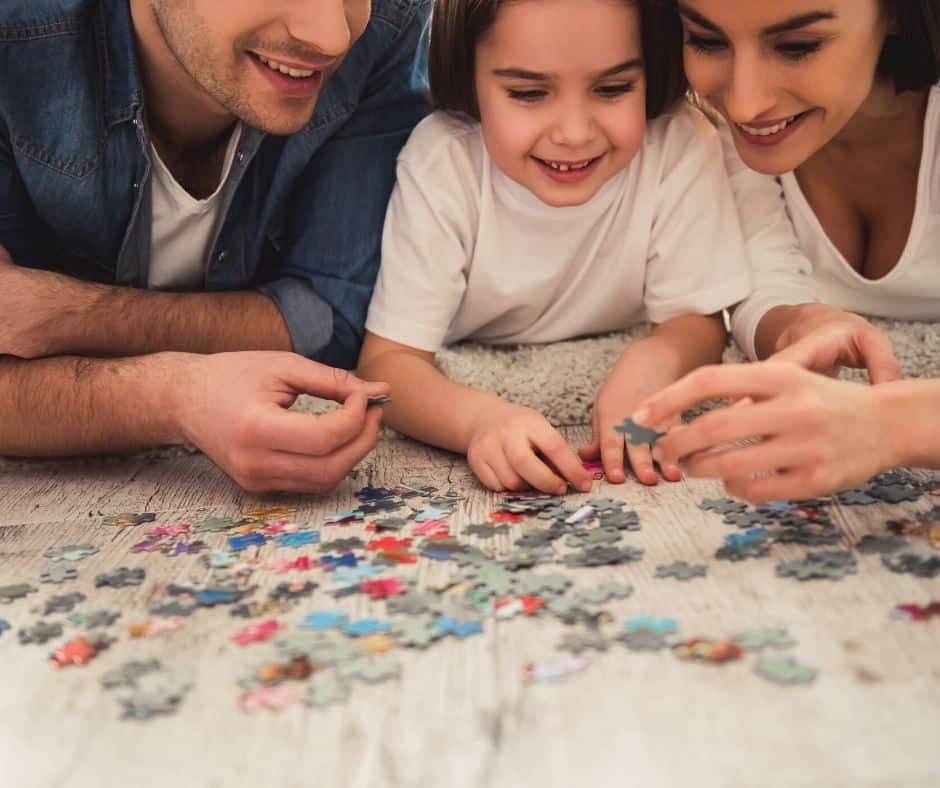 Choosing Your New Family Tradition
This list of family traditions will help inspire your family to solidify the family bond and enjoy time together no matter what time of the year it is. It's always fun to create your own unique family traditions so that the kids will venture out on their own to continue these family traditions that you started when they were kids.
Creating a family tradition is all about taking into consideration the type of bond you want to establish with your kids and what morals and values you wish to instill upon them for future years. If you're not sure what family tradition to start, try one and if it goes over well, do it again. It's that simple, mama. Have fun!