The Best Historical Fiction Books for Kids
We may earn money from the products/companies mentioned in this post. As an Amazon Associate I earn from qualifying purchases. For more information, read our Terms & Disclosures.
This list of historical fiction books for kids is perfect for your elementary students, homeschool historical literature collection, or just plain 'ol interesting books!
Historical fiction makes history that might seem otherwise dry or unrelatable come alive for kids. It allows them insight into how kids their age experienced the world in a different area and possibly another part of the world and begins to nurture compassion and curiosity.
History isn't a subject all kids are excited to learn about because it can be hard to understand why past events are relevant today.
Memorizing dates and names is boring (acording to my own kids) but weave those facts into an exciting historical adventure? Now they just might actually remember those important times in world history. Even better, they may want to dive in and learn even more!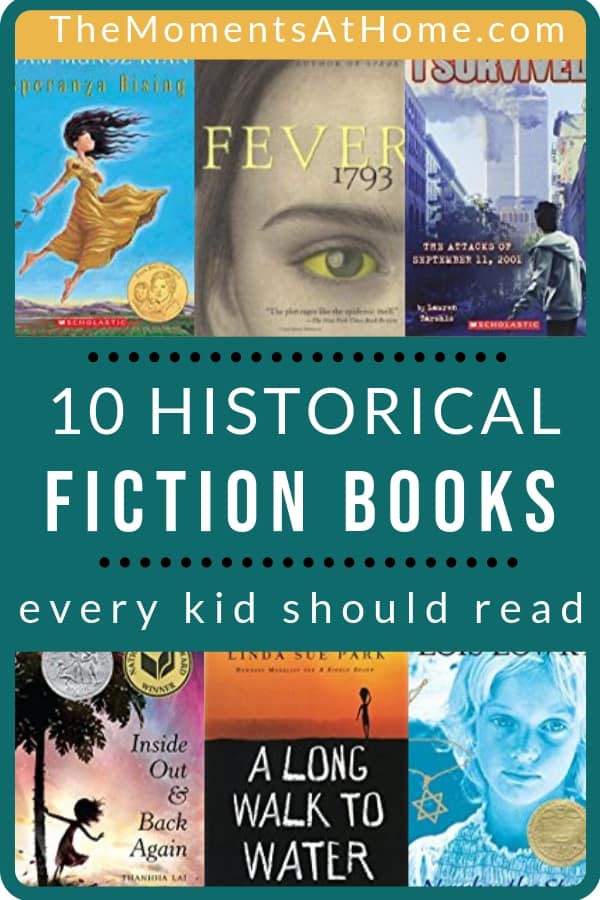 Here's a list of historical fiction books from kids that cover various eras and parts of the world to spark your child's interest.
Historical Fiction Books all Kids Should Read
The "I Survived," historical fiction books are a great way to get kids ages 9-12 reading about history. Author Lauren Tarshis researches each historical event in depth for accuracy within the story.
The attacks of September 11th, 2001 can be difficult to explain which is why I picked this one from the "I Survived," series as one of the best historical fiction books for kids.
Recommended Age Range: 9-12
Esperanza thought she'd always live with her family on their ranch in Mexico–she'd always have fancy dresses, a beautiful home, and servants.
But a sudden tragedy forces Esperanza and Mama to flee to California during the Great Depression, and to settle in a camp for Mexican farm workers. -Amazon.com
Recommended Age Range Grade Level 6-8
As the German troops begin their campaign to "relocate" all the Jews of Denmark, Annemarie Johansen's family takes in Annemarie's best friend, Ellen Rosen, and conceals her as part of the family.-Amazon.com
Recommended Age Range: 10-12
*Note this book isn't actually non-fiction, it's autobiographical. There are some fictional embellishments though such as Laura's age (in the book series she is five but events actually occured when she was three) and the timeline of events such as when the family moved back to the house in the woods.
The first book in the Little House series starts the story of a young Laura Ingalls Wilder growing up as am American pioneer. I remember reading these books as a child and can't wait to share them with my own kids!
Recommended Age Range: 8-12
The Magic Treehouse books are great for introducing your younger child to historical events. This boxed set includes the books, Civil War on Sunday (#21), Revolutionary War on Wednesday (#22), Twister on Tuesday (#23), and Earthquake in the Early Morning (#24).
Recommended Age Range 6-9
The American Girl books are great for learning about hirtory through fictional characters. Each American girl has a historical story to tell about their life growing up through a series of short chapter books.
Recommended Age Range: 8+
A story alternating between the life of an eleven year old girl in Sudan in 2008 and a boy in 1985.
The two stories, one of a girl who takes two 2 hour long walks to get water each day and a boy who faces attacks by armed rebels as a "lost boy" refugee, this book will open the eyes of young readers to a world outside their own.
Recommended Age Range: Grade Levels 5-7
Hà has only ever known Saigon: the thrills of its markets, the joy of its traditions, and the warmth of her friends close by. But now the Vietnam War has reached her home.
Hà and her family are forced to flee as Saigon falls, and they board a ship headed toward hope—toward America. -Amazon.com
Recommended Age Range: Grade Levels 5-7
Ever since he can remember, Robin, child of Sir John de Bureford, has been told what is expected of him as the son of a nobleman.
He must learn the ways of knighthood. But Robin's destiny is changed suddenly when he falls ill and loses the use of his legs. -Amazon.com
Recommended Age Range: Grade Levels 5-7
During the summer of 1793, Mattie Cook lives above the family coffee shop with her widowed mother and grandfather. Mattie spends her days avoiding chores and making plans to turn the family business into the finest Philadelphia has ever seen. But then the fever breaks out. -Amazon.com
This book is based on actual events during the outbreak of Yellow Fever in Philadelphia. Kids will learn about the devastating effects of disease and the panic that accompanies such outbreaks.
Recommended Age Range: Grade Levels 5-7
Based on a true story, this fantastic tale takes place in Europe. Based on the story of a bear who lived in the Tower of London, it explores not just history, but relationships, captivity, and more.
Recommended for grades 3-7.
Do you have any favorites that aren't on this list?