Fall Leaf Lesson with Fall Printables for Preschool!
We may earn money from the products/companies mentioned in this post. As an Amazon Associate I earn from qualifying purchases. For more information, read our Terms & Disclosures.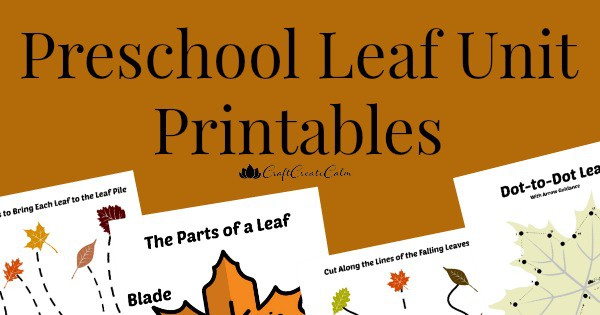 It rained today! I'm a little more excited than most because living here in California, rain is a lot less common than in the Pacific Northwest where I grew up.
Earlier this week the air was crisp and cool in the mornings, making what I decided, the perfect week for a leaf unit in our homeschooled preschool!
I was going to start with a simple coloring project to review our lesson from last month, but I realized that most of our crayons are broken. No problem, we decided to make our own fall coloring crayons right here at home!
Science
Solid Crayons to Melted Crayons

Preschool is an age for basic solid and liquid activities. The most simple experiment can be done with ice, showing how with cold temperatures, water freezes into ice, with warm temperatures ice melts, and with hot temperatures, water becomes a gas (steam.) We decided to take solid/liquid/gas science up a notch this week and recycle our old crayons into new fall colored crayons!
Here's how we made our crayons:
Peel and break apart used crayons
Dust mini-muffin pan with a small amount of flour
Place the broken crayons into a sauce pan
Heat crayons on low stirring occasionally until melted
Pour melted crayons into the mini-muffin pan
As the crayons cool, they'll become solid.
I used this time to explain the process of how the crayons went from solid, to liquid, and how they would be solid again once cooled. I explained how water too can change from solid, to liquid, and even gas!
Sensory Activity
Powder Leaf Coloring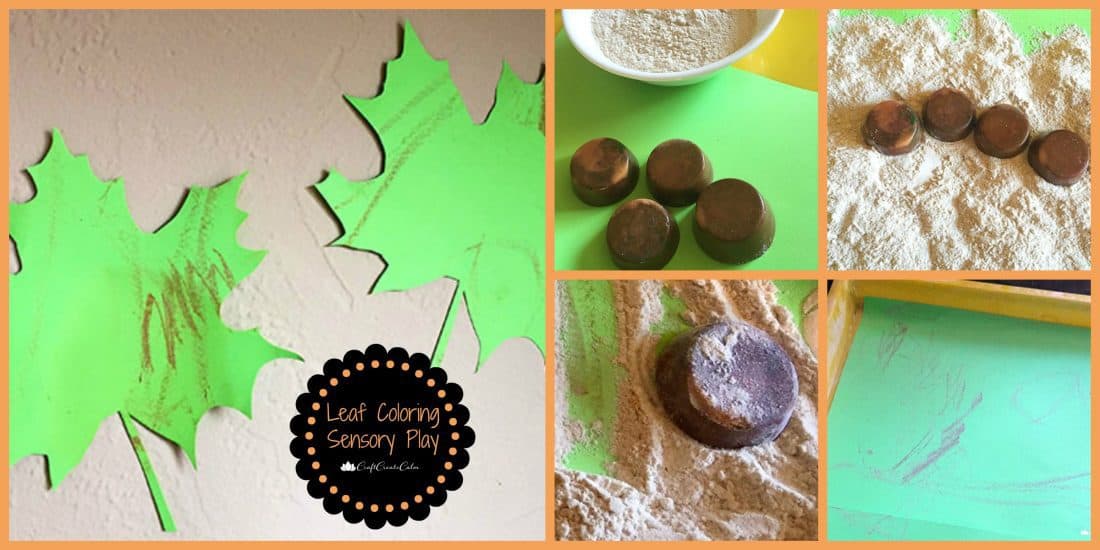 We have these great art trays that I use for sensory activities, play-dough, and messy crafts.
I taped green paper to the bottom of the trays, poured flour over the paper, and encouraged the kids to scribble on the paper through the powder. It was harder than we thought it would be, so of course they ended up pushing the powder around with the crayons. They loved it, and we ended up with some cute fall wall art once I cleaned up our mess!
You can find a leaf template for easier cutting in my free fall printables for preschool.
Fine Motor and Gross Motor Skills
We sat down to learn a little more about fall leaves with fall printables for preschool. My preschoolers completed dot-to-dot leaves, cutting activities, and tracing worksheets. We finished up our fall leaf preschool unit by learning the parts of a leaf and heading outside to find real leaves. Once we had identified the parts of those leaves, we crunched them up in our hands, hopped on them to hear the crunching sound, and of course, threw the leaves in the air!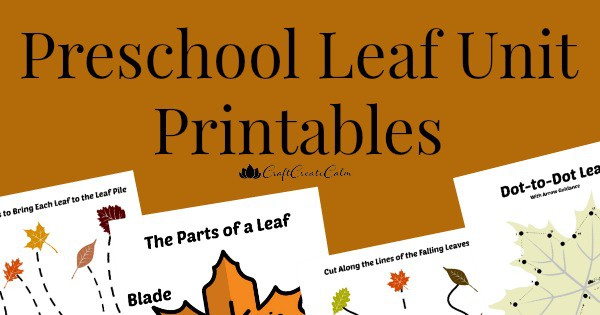 Did you miss our homeschool preschool activities for September and October? Don't forget to take a look back at those posts, and subscribe to our mailing list to get all the latest preschool happenings straight to your inbox once a week!