Fall Reads: Chapter Books for Kids
We may earn money from the products/companies mentioned in this post. As an Amazon Associate I earn from qualifying purchases. For more information, read our Terms & Disclosures.
 
Great Chapter Books for Kids to Read this Fall
I just love reading and I love fall so how fitting to put together a list of  fall chapter books for kids! Whether your child is looking for a book that is short, long, silly or spooky, they'll find something that interests them on this list of fall chapter books. I tried to pick books from the age ranges of 6-10. While some reads may be easy for older kids, they'll likely enjoy the books here meant for younger readers too. A couple of the books may be too spooky for kids under 8 years old so be sure to take a look at the description to make sure your child is ready for the plot.
Chapter Books for Kids
Pumpkin Spice (The Friendship Garden)
It's autumn at the community Friendship Garden and that means it's time for the annual Windy City Pumpkin Fest. Anna and her gardening friends are excited to enter the contest for the biggest pumpkin and are sure they'll win first prize. But when their pumpkin disappears before the big day they have a mystery on their hands!
Harry Potter and the Sorcerer's Stone
In this first book in the famous Harry Potter book series Harry learns that he's a wizard and headed off to Hogwarts School of Witchcraft and Wizardly. Cozy up this fall and follow Harry's adventure as he learns more about his unique gift and meets friends at his new school.
Ninjas Don't Bake Pumpkin Pies (Bailey School Kids 38)
A new baker is in town who only wants to bake pumpkin pies. Could he really be a ninja out to steal priceless art?
Thanksgiving on Thursday (Magic Tree House 27)
The Magic Treehouse brings Annie and Jack to the year 1621 and they're helping prepare for the first Thanksgiving. Jack and Annie aren't used to doing things the pilgrim way and they're afraid they'll ruin the holiday forever!
Little Witch: 60th Anniversary Edition
A little witch dreams of being a normal girl in this classic story.
Stink and the Midnight Zombie Walk
Stink and his friends are excited about the new Nightmare on Zombie Street book soon to come out, but it gets Stink to thinking…is he being hunted by zombies?
The Night Gardener
Siblings who work in a creepy English manor house stumble upon an ancient curse that threatens their lives. This book could be a little too intense for younger readers.
The Pumpkin Patch Puzzle (Nancy Drew and the Clue Crew)
Nancy Drew and her friends are excited about the Fall Festival. That is until the festival is ruined by damaged decorations and stolen designs. The Clue Crew has a mystery to solve!
Ready, Freddy! 11: Pumpkin Elf Mystery
A pumpkin elf arrives at Freddy's 1st grade classroom and is playing tricks! Can Freddy and his classmates keep on their best behavior so the Pumpkin Elf will leave them treats instead?
A to Z Mysteries Super Edition 4: Sleepy Hollow Sleepover
Dink, Roth and Ruth Rose are headed to a party in a spooky graveyard, going on a haunted hayride, and spending the night in a cabin. Strange things start to happen and they're starting to think that the story of Sleepy Hollow might just be real!
The Peculiar Pumpkin Thief (Geronimo Stilton, No. 42)
All of the pumpkins in New Mouse City have disappeared and someone wants to cancel Halloween. When Geronimo and his friends get an invitation to the new Mystery Mouse Theme Park he knows there's another mystery to solve, and that Halloween must be saved!
The Witches
Grandmamma loves to tell her grandson the story of witches. But he's not prepared to be face to face with the real witch in this story by Roald Dahl.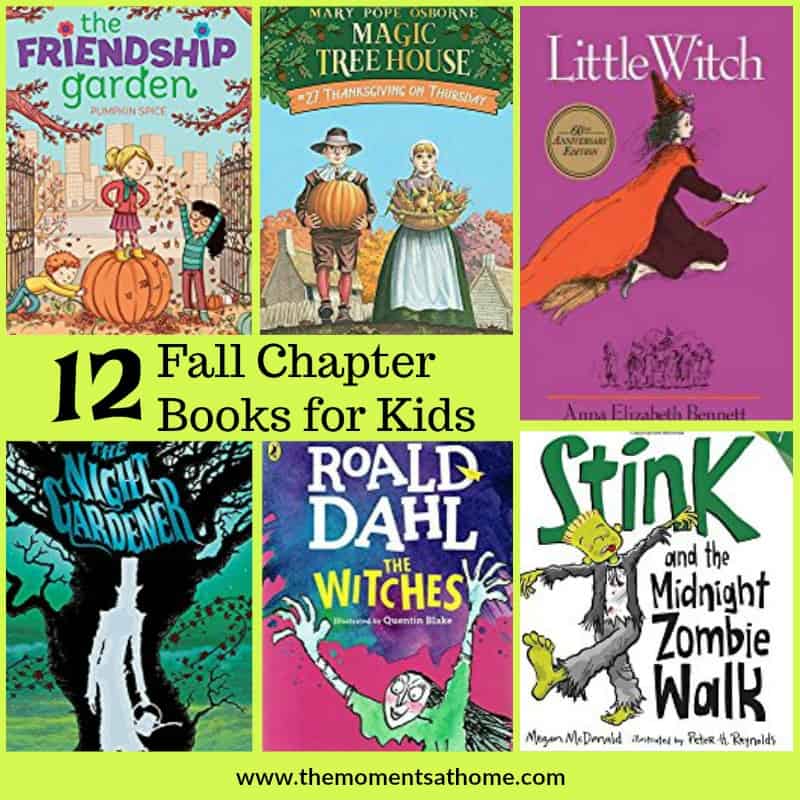 What is your favorite autumn read? These books should keep kids busy through the fall. Check back for my favorite winter chapter books for kids!