Fuzzy Spider Craft for Kids
We may earn money from the products/companies mentioned in this post. As an Amazon Associate I earn from qualifying purchases. For more information, read our Terms & Disclosures.

Fuzzy Spider Craft for Kids
In just a couple weeks Halloween will be here and then we'll all move on to squeezing Thanksgiving crafts into our weekends. I have a few last-minute fall ideas, including Halloween spider crafts for kids. This is one of my more-simple ideas because it takes just two supplies and can be made by multiple ages.
I'm most crafty during the fall and winter months and end up stashing more craft supplies than I need for the season. This year, to simplify, I'm using the supplies I bought last year before I go out and stock up again. I feel like I'm doing a good job since it's almost Halloween! My very tiny craft closet is happier and so am I. Maybe I should do the same thing with my Christmas crafts this winter?
Because I'm not out craft supply shopping I'm finding that I can be creative with very simple supplies. This spider craft couldn't be easier. You might already have what you need to make a spider today!
Supplies
Gray Pipe Cleaners (chenille sticks)
Wide Gray Beads
Instructions
Gather 4 pipe cleaners in a bunch. Twist the bunch once in the center to hold them together.
Next, tie a simple knot in the center of the pipe cleaners.
Separate the ends to make eight spider legs. Bend each leg slightly inward at the middle and outward near the bottom.
Push a couple beads on each leg and up towards the knot. Your spider is finished!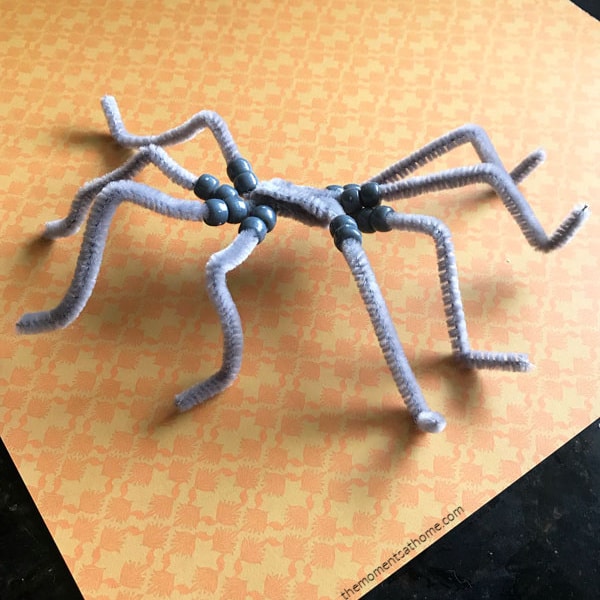 Fine Motor Activity
This spider craft for kids can be used as a fine motor activity for younger children. They'll be using their hands to bend, twist, and string beads on the pipe cleaners.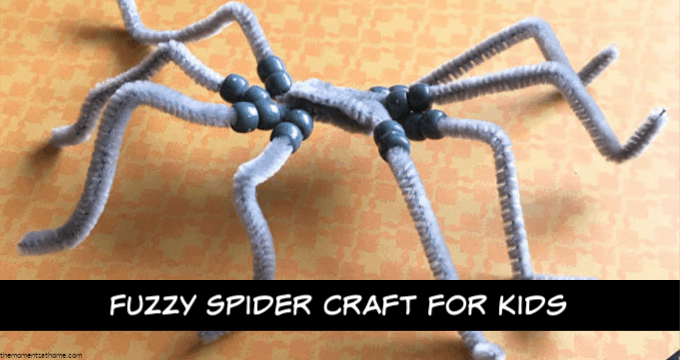 Are you on my Simple Kid Crafts list? Sign up below to get email updates about my new Simple Kid Crafts series here on the blog. Each week I'll send a new simple craft for kids just like this one! Click the image below.