Teach About Shapes with This Easy Train Craft For Preschoolers
We may earn money from the products/companies mentioned in this post. As an Amazon Associate I earn from qualifying purchases. For more information, read our Terms & Disclosures.
Do you like reading books with your little one and then coinciding crafts with those books? These fun book ideas, along with this easy train craft for preschoolers, will teach your little one shapes, help with their fine motor skills and color recognition, and, most importantly, be a lot of fun!
Happy Monday! It's another week for our Virtual Book Club for Kids and this week's theme is all about trains! We're reading The Polar Express by Chris Van Allsberg and sharing fun activities about trains to go along with the story, including an easy train craft for preschoolers. Plus, check out our fun list of other train books you can read this week, too!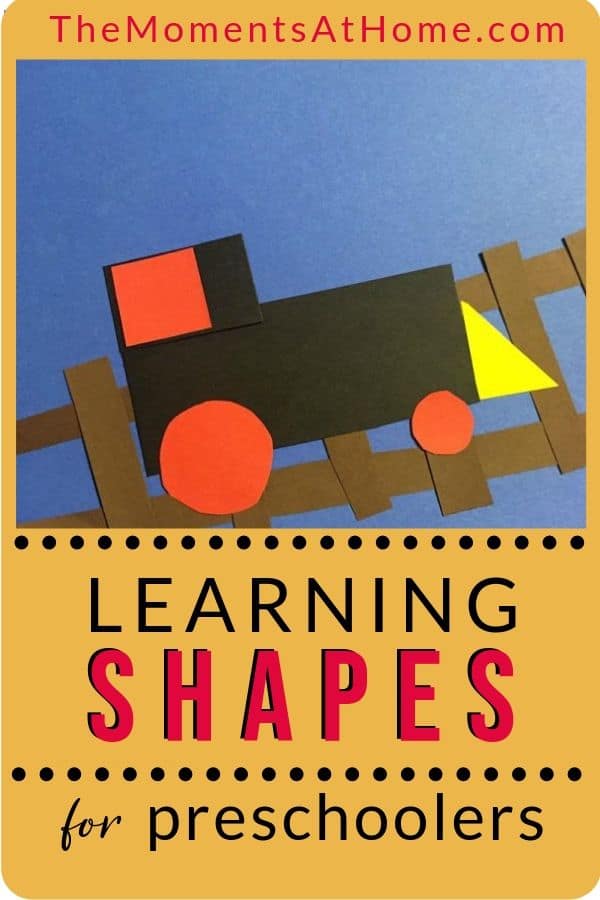 Be sure to scroll down after reading this post for more activities based on this week's theme! This week I'm sharing a shape activity for kids that is great for teaching toddlers and preschoolers their shapes.
If you haven't joined our weekly virtual bookclub for kids you can join here. You'll gain access to future book club books, themes, and craft supply lists. Plus you can share your own book themed activities in the group!
Virtual Book Club Theme: Trains
One of the wonderful books out there that talks about trains and that we can make a fun train craft for preschoolers out of is Polar Express by Chris Van Allsburg!
Do you know the story of the Polar Express? A magic train transports children to the north pole on Christmas Eve but one little boy isn't sure if he still believes. In his pajamas he is taken on a journey full of magical events. Read the book to find out how the Polar Express story ends!
As this story goes, you can make a train craft right along with it. This is a super simple shape train that requires only a few materials. See below with step-by-step instructions!
More Great Train Books
Train Craft For Preschoolers To Learn Shapes

This easy train craft for preschoolers is perfect for toddlers and preschoolers who are learning their shapes. It's also a great fine motor activity as they will be cutting and gluing paper.
Supplies: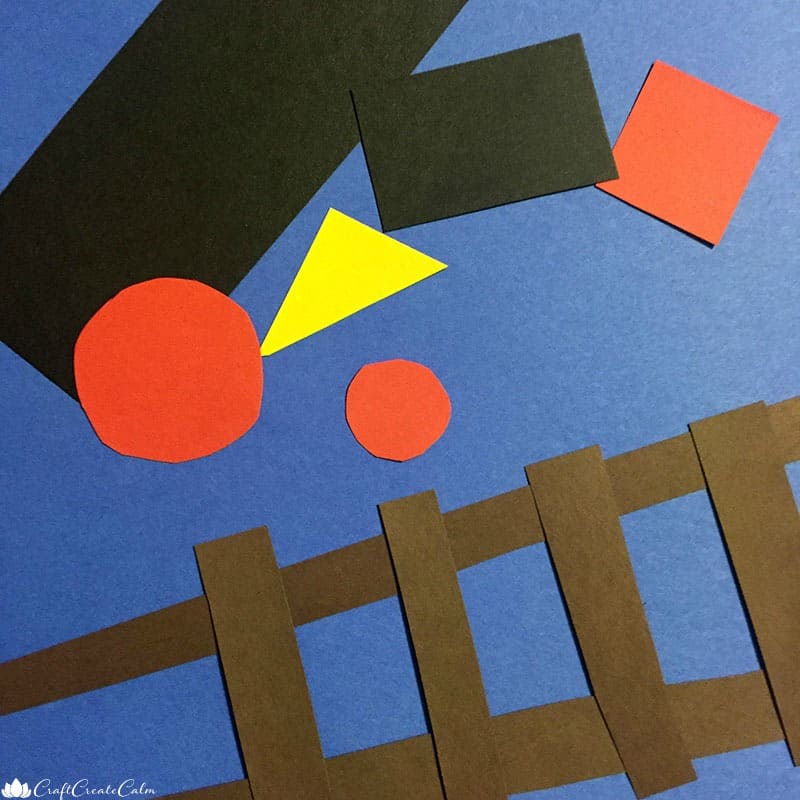 Prep:
Cut out a large rectangle from black paper to make the largest part of the train.
Cut a smaller rectangle for the cabin of the train.
Make two circles, one larger than the other, and one square from the red paper.
Next cut a yellow triangle to put on the base of the front of the train.
The brown paper is to make train tracks. Cut long strips and short strips of paper.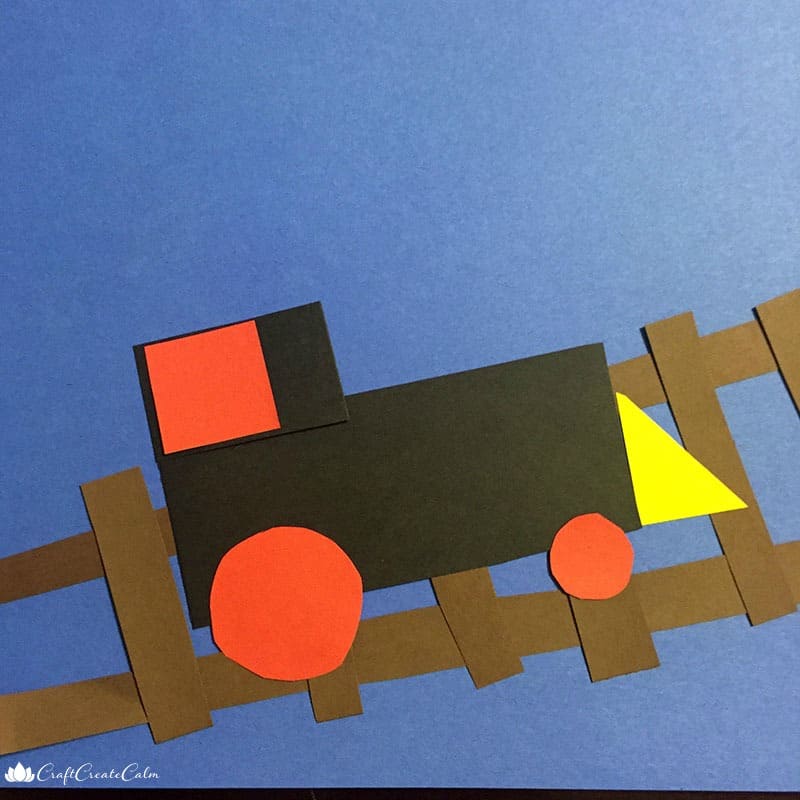 Activity:
Glue the train tracks on the blue paper as shown in the image.
Glue the largest rectangle, then the smaller rectangle on the blue paper as shown in the image.
Add the red wheels and square cabin window.
Place the yellow triangle on the front base of the train.
Your train is ready to go on an adventure! Where will your train go?
More Train Craft Preschool Activities:
If you liked this train craft, here are a few more you'll probably like too:
Polar Express Train Track Letter Puzzle from Adventures of Adam
Beginning Letter Sounds Train Ride from Rainy Day Mum
Spell My Name on a Train from Powerful Mothering
Polar Express Printables-Jingle Bell Count from JDaniel4sMom
Christmas Train from Mama Smiles
Trains & Magnets Sensory Bin from Preschool Powol Packets
Learning Colors by Painting Trains from Views from a Step Stool
Train Ride Yoga from Storytime Corner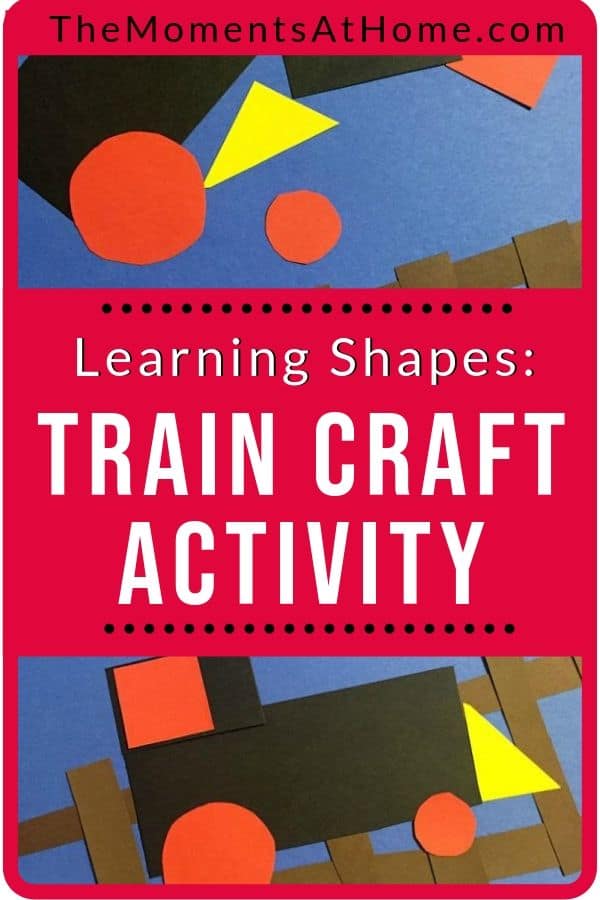 Teach About Shapes with This Easy Train Craft For Preschoolers
We hope you and your little ones have enjoyed this virtual book club selection all about Trains with this train craft preschool activity. Join us in the virtual book club as we explore more fun themes! There are so many fun and interesting ways to learn about the things around us, and we can't wait to share them with you. In the meantime, get inspired by all of the amazing train crafts out there and put your own spin on them. We can't wait to see what you come up with!
What other train-themed books would you recommend?