Homeschool Writing with Apologia
We may earn money from the products/companies mentioned in this post. As an Amazon Associate I earn from qualifying purchases. For more information, read our Terms & Disclosures.

Homeschool Writing with Apologia
I received product and compensation in exchange for my time reviewing and writing about this curriculum. All opinions are my own.
Writing is kinda my thing. I love writing, and also reading long novels, short stories, and even poetry. I know writing well and even majored in English literature in college. Teaching about the writing process isn't difficult for me, but getting my kids excited about it is a little harder. They do have their favorite books and they know all about computer spell check, but that's about the height of their interest in the writing process. As my oldest reaches the middle grades, I'm trying to push grammar and writing technique before texting takes over. We started Writers in Residence™, All-In-One Student Text and Workbook this spring.
What is 
Writers in Residence™?
Writers in Residence™, All-In-One Student Text and Workbook is a language arts program for grades 4 – 8 from Apologia. It is a complete writing curriculum that integrates grammar, punctuation, and capitalization through a four day a week schedule. The schedule is in both the student book and the Answer Key and Teaching Notes book, making it a breeze to keep up with lessons.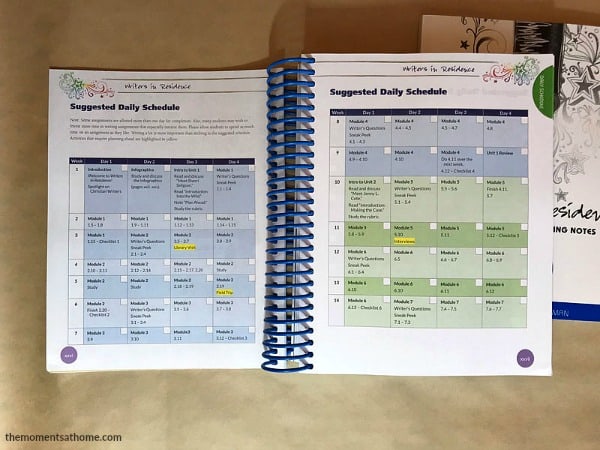 What Makes 
Writers in Residence™ Unique?
Writers in Residence™ doesn't focus on the usual language arts topics. I learned about writing in the form of units on persuasive writing and narrative writing. Apologia chooses to teach topics titled differently. The four types of writing tasks in the Writers in Residence™ series are:
I Remember
I Imagine
I Investigate
I Think
I Remember encourages students to write about experiences they've had. Like a personal narrative, these unit gets kids thinking about their memories and experiences in life.
I Imagine is a creative writing unit where students with work on fictional writing. They learn the elements of fiction and write their own fictional stories.
I Investigate is a unit that focuses on researching and research writing. The unique aspect of this unit is that the research is done through field research and interviews.
I Think is a series of writing prompts that teach students the elements of argumentative writing.
Each unit includes reading and writing assignments that are interesting and include the elements kids are learning about in their lessons.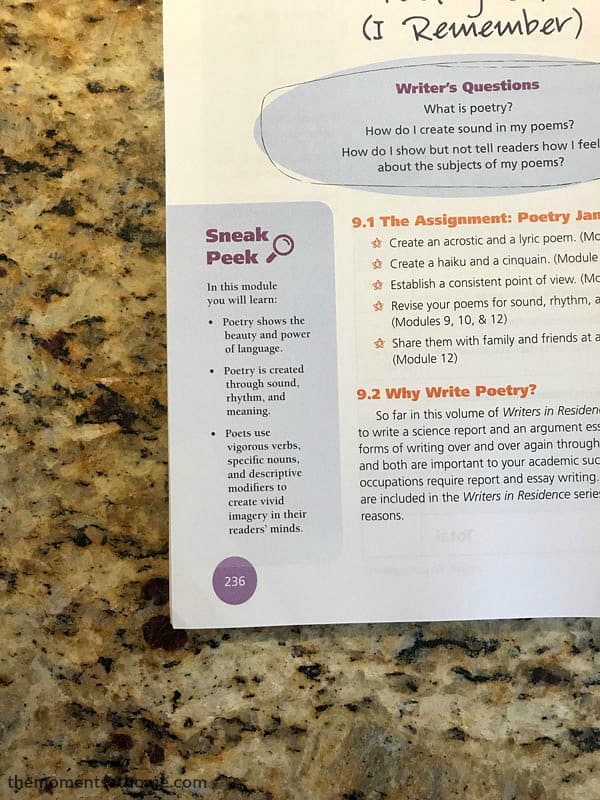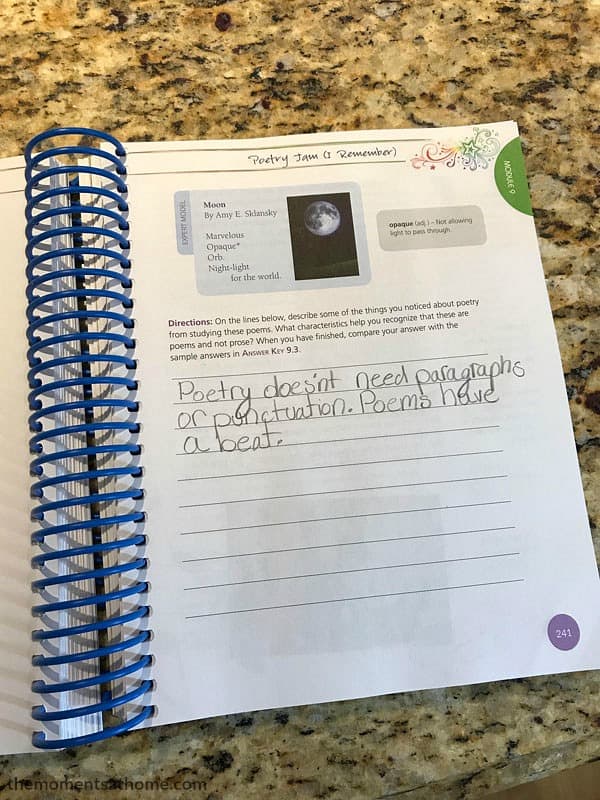 My Review of 
Writers in Residence™
Okay, so I've told you about the curriculum but what is my honest opinion of Writers in Residence™,  Volume 2 All-In-One Student Text and Answer Key? I'm actually really impressed. My daughter is starting on the 3rd Unit right now because I wanted to focus on poetry for a little while. Unit 3, I Remember, is called Poetry Jam and its just as it sounds, poetry based. My daughter doesn't understand poetry at all so this one will be challenging. As we started on the first poem she literally laughed out loud while reading a silly poem about a face. It's both fun and funny teaching her the different ways poetry can be written.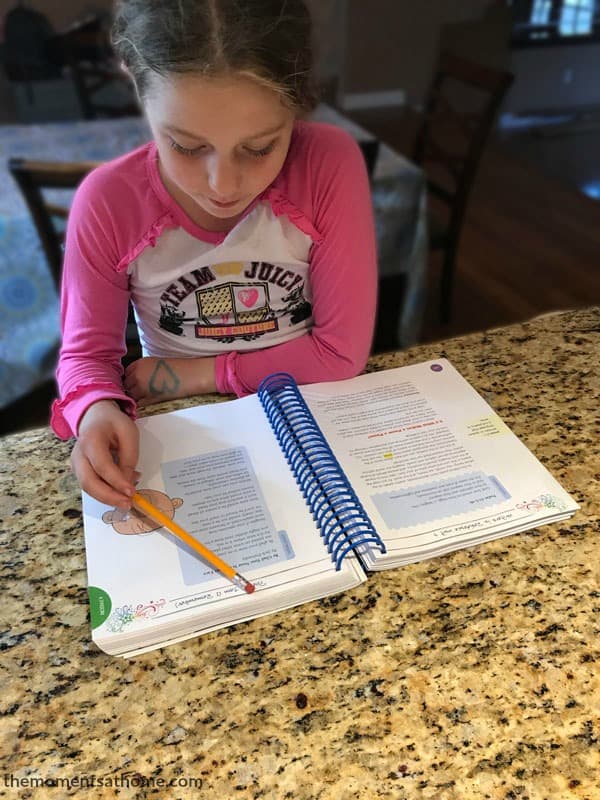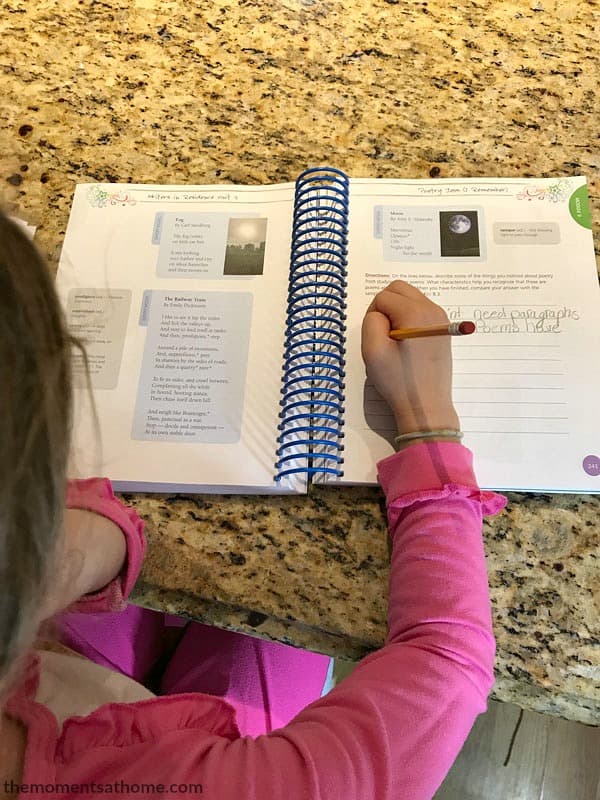 This curriculum is especially good for parents who are teaching homeschool writing and want a structured lesson plan. The workbook is broken down into four units, and the units have assignments for both reading and writing. The student grading rubric keeps kids on track while the Answer Key and Teaching Notes book makes teaching the lessons easy for parents. The Teaching Notes and Answer Key book includes all the information parents need for the lessons in the student workbook. It also includes helpful hints and instructions for using the Writers in Residence™ series.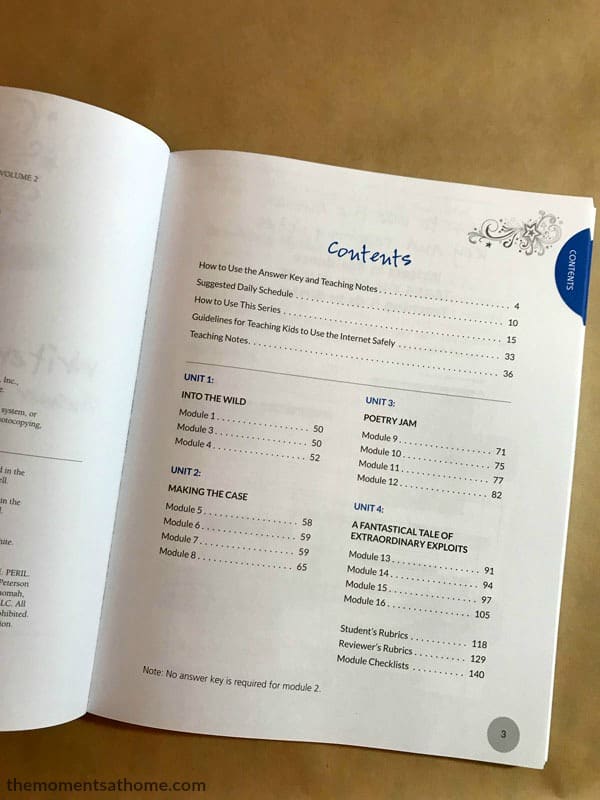 You can download a large sample and FAQ about this curriculum here.
Ready to buy? Shop now here.
Freebie! Get your FREE Eclipse Activity E-Book!