Aquarium Scavenger Hunt Free Printable for Kids
We may earn money from the products/companies mentioned in this post. As an Amazon Associate I earn from qualifying purchases. For more information, read our Terms & Disclosures.
This fun, free Aquarium Scavenger Hunt printable PDF worksheet is just the thing to add if your child loves all things ocean or if you're trying to captivate their interest. Print it out for your next aquarium visit…or even use it while watching an ocean documentary.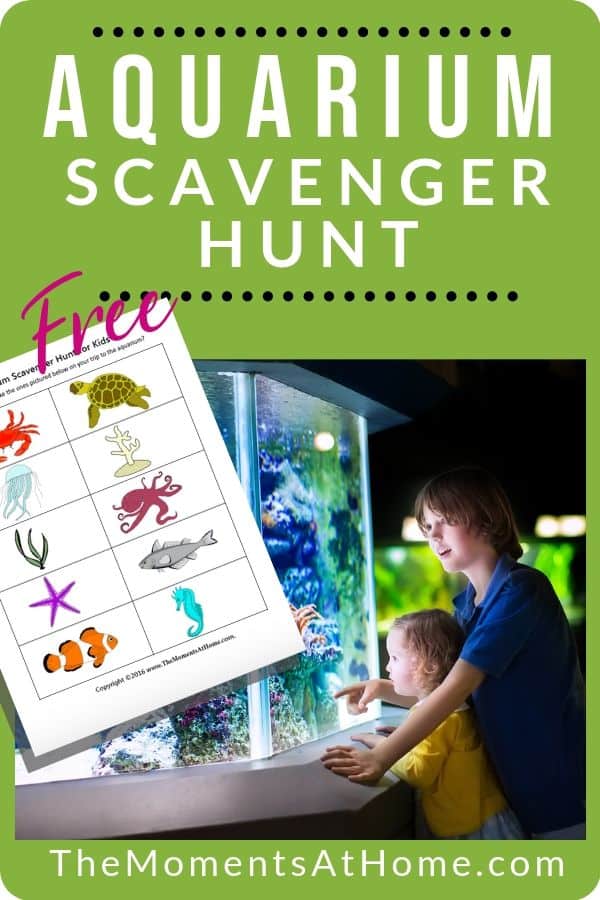 It's time for another free unit study brought to you by a group of awesome bloggers (if I do say so myself) and this week's theme is aquariums! Get your FREE Aquarium Scavenger Hunt worksheet below.
Some of our favorite family trips have been to aquariums. The wonder and excitement on their faces (and probably my own!) makes it worth the trip every single time.  Watching fish dart back and forth, seeing the divers in the shark tank, listening to a teaching, or just slowly gliding by the viewing window…it's all amazing.
Of course now my kids are always on the hunt for Nemo and Dory.
Why An Aquarium Scavenger Hunt Worksheet Makes It More Fun
One thing we've found over the years is that doing a scavenger hunt makes the trip more fun. You stop and look a little more closely, instead of rushing past an exhibit. It keeps wandering minds more engaged and gives busy hands something to hold onto and fidget with.
We attach them to clipboards (everyone gets their own color, of course!) and a with a matching mechanical pencil (so you don't have to worry about a broken pencil point) on a string, so no one has to worry about losing anything and off we go!
Other Ways To Use Your Ocean Creature Scavenger Hunt Worksheet
Not going to the aquarium, but have a young one who loves all things under the sea?
Go ahead and print it out, anyhow….it's still a great way to have educational fun. Use it as you read books about sea creatures or watch educational movies and documentaries (or Finding Nemo & Dory)! 
Free Printable Aquarium Scavenger Hunt

Are you ready for your free printable scavenger hunt? Click on the link below to get your free printable. 
More Aquarium Themed Activities For Kids:
Activities from our aquarium unit study can be used as a complete unit theme, as individual activities, or you can use aquarium themed activities in other fun unit studies. Here are a few of my favorite themes for using aquarium activities:
Ocean Unit
Family Pet Unit
Patterns and Colors Unit
Letter A Week
Aquarium Animals Letter Find Worksheets from 3 Boys and a Dog
Under the Sea Fun Octopus Vegetable Platter from Crafty Mama in ME
Aquarium Arithmetic Seek and Find from Look! We're Learning!
Fish Books for Kids from The Jenny Evolution
How Fish Breathe – A Science Experiment from Tales of Education at Home
Fun Things to See at the Newport Aquarium from Something 2 Offer
Aquarium in a Bottle: Ocean Sensory Idea from A Little Pinch of Perfect
Aquarium I Spy from Schooling a Monkey
Snorkeling with Kids in Thailand: A Live Aquarium from FrogMom