Buffalo Chicken Zucchini Boats (THM S, Low Carb, Keto)
We may earn money from the products/companies mentioned in this post. As an Amazon Associate I earn from qualifying purchases. For more information, read our Terms & Disclosures.
This simple zucchini boats recipe is a low carb, gluten free recipe filled with Ranch seasoned chicken, buffalo sauce, and cheese for a delectable yet simples one pan meal. This makes these buffalo chicken zucchini boats a marvelous weeknight meal idea, perfect for Trim Healthy Mama (S).
It's always nice when you can make a delicious dinner that requires a minimum of clean up, isn't it? For that reason, one pan dinners are pretty much favorite. And these buffalo chicken zucchini boats? One of the very best in our menu plan rotation.
Why? Well, it's partially the ease of making it; I mean, it's so easy! But it's also because of how utterly satisfying the combination of flavors and textures is. Melty cheese, tangy and spicy sauce, hot chicken, creamy zucchini, cool dressing.
And these zucchini boats are completely gluten free, sugar free, low carb, Trim Healthy Mama, and keto friendly. Hello, yummy!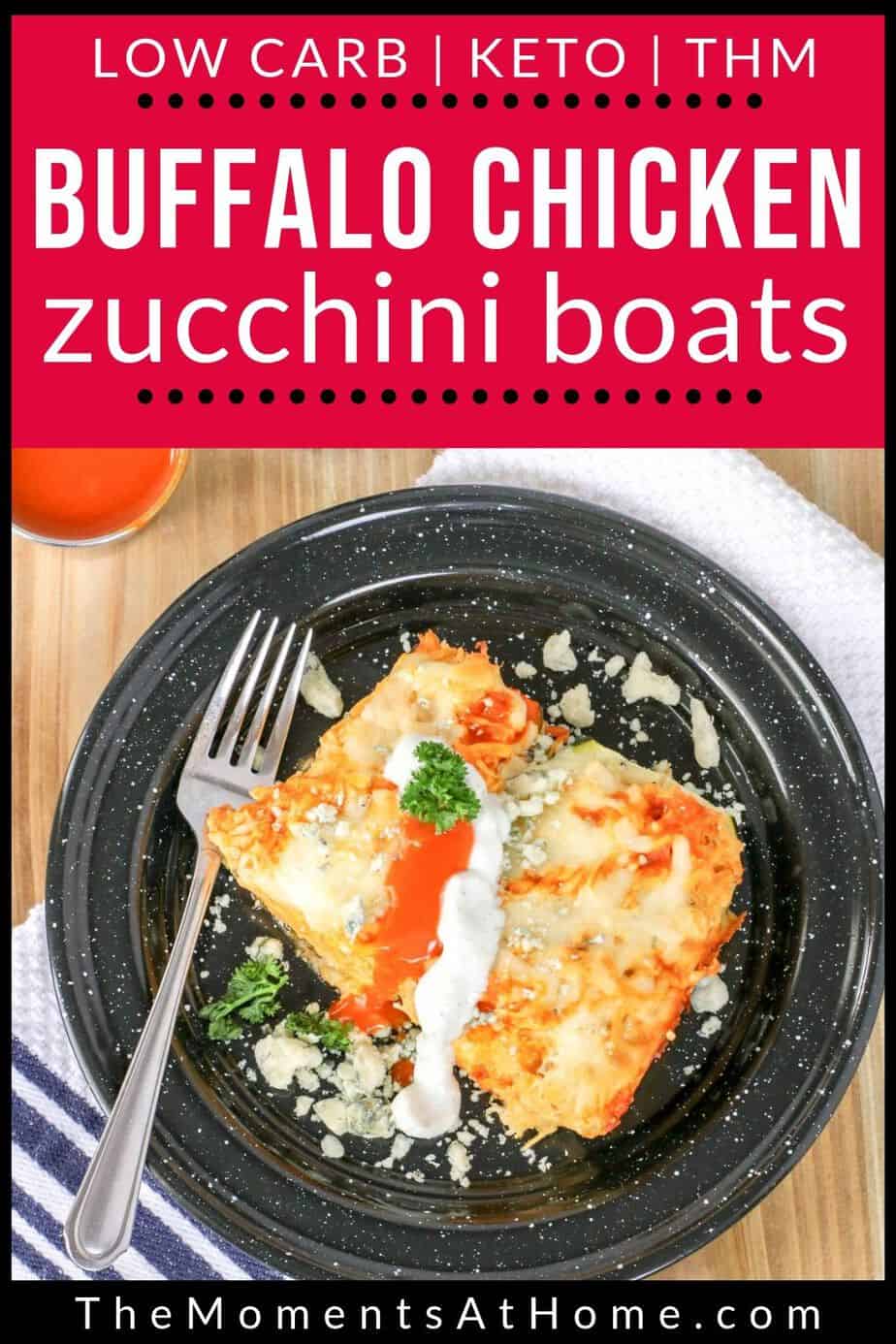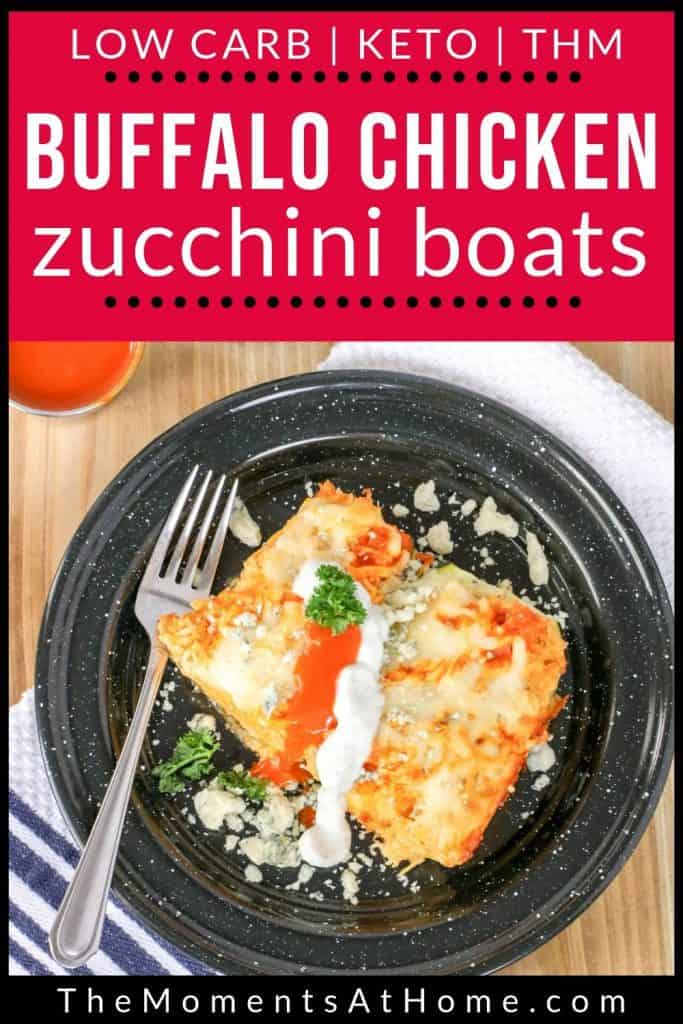 How Do You Make Low Carb Zucchini Boats?
If you've been around the low carb or keto communities for any length of time, you've probably bumped into some zucchini boats recipes…and for good reason! They are the perfect simple foundation for a healthy lunch or dinner (or snack!).
Here's everything you need to know to start making zucchini boats a part of your THM, low carb, keto, and/or healthy eating journey.
Should I Peel My Zucchini To Make Low Carb Zucchini Boats?
Yes. Or No. Your choice!
You can opt to leave the skin on to save time, but be sure to wash off any wax if you've purchased your squash at a grocery store. Also, the skin can have a somewhat bitter taste, so you may want to try a little nibble just in case.
However, if you've got fresh, ripe zucchini from a farmer's market, the skin will likely not have that bitter undertone and you can leave it one for convenience's sake.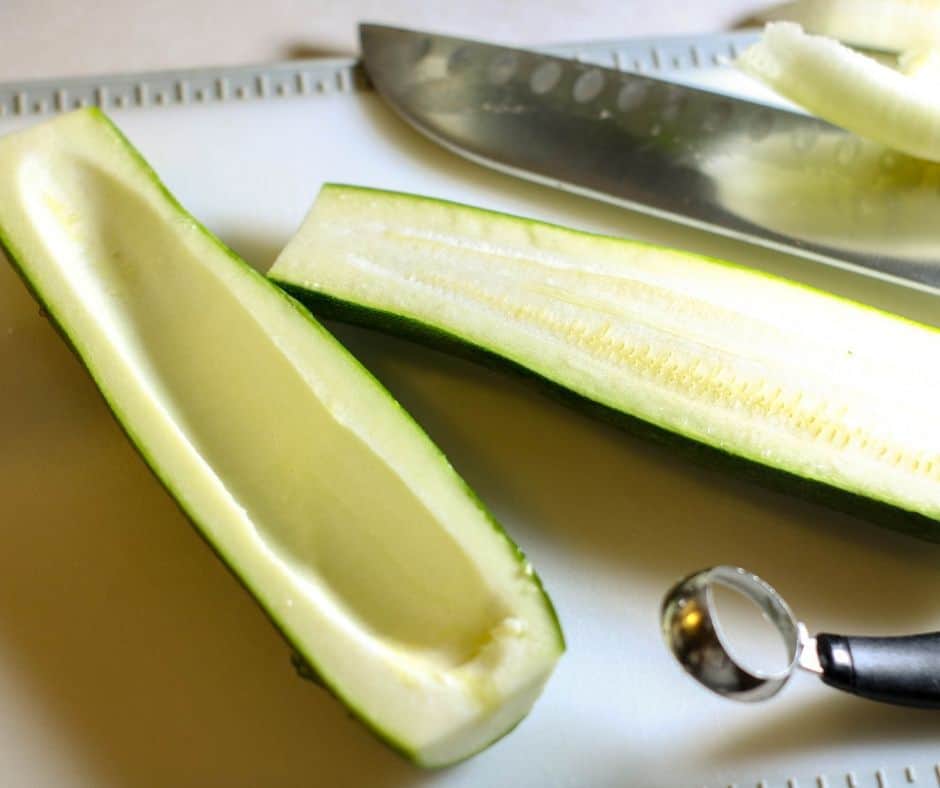 How To Make Buffalo Chicken Stuffed Zucchini
Now that you've washed and peeled (or not) your zucchini pieces, you're almost done! Seriously, this zucchini boats recipe is that simple.
Go ahead and brush them with oil before adding your stuffing (for this recipe, it's basically keto buffalo ranch dip!).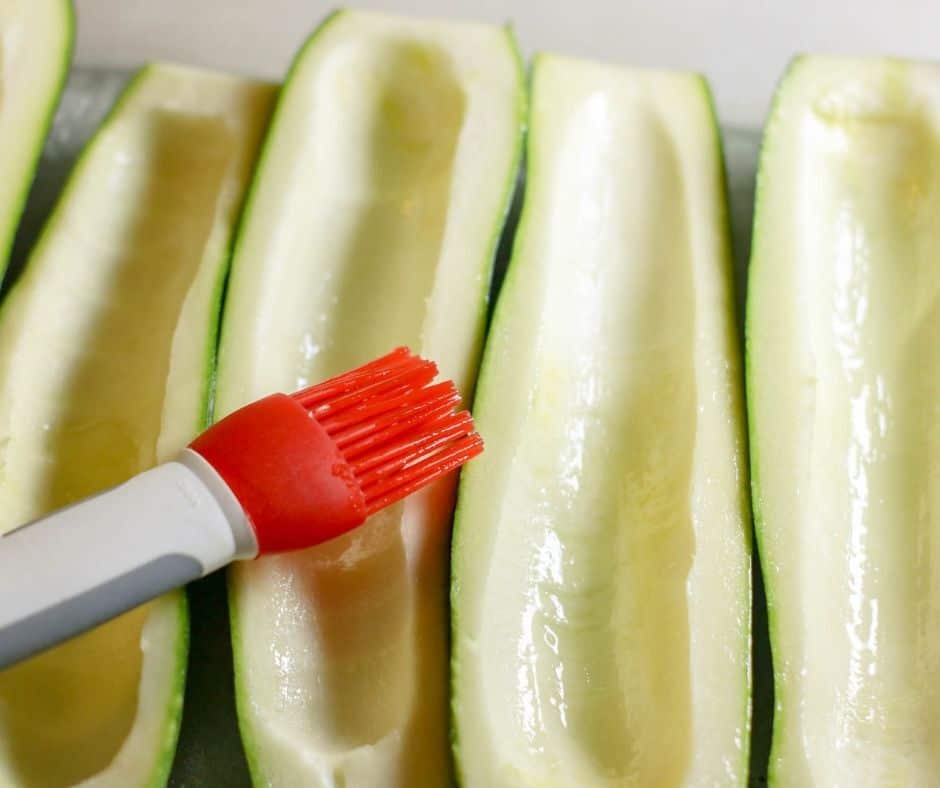 In a mixing bowl, combine your chicken and other ingredients to make your buffalo chicken filling. Make sure to combine all the seasoning, sauce, cheese, and chicken well.
This is the part that will make your mouth water in anticipation. Oh my goodness, it's going to be so yummy!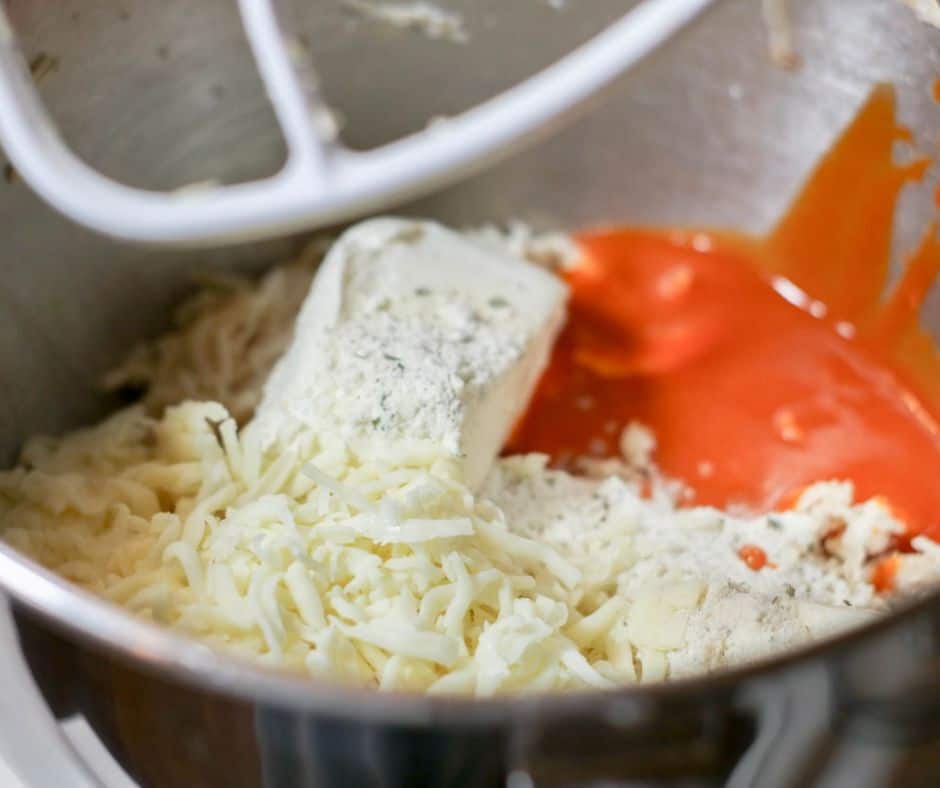 Fill your zucchini boats with the buffalo chicken mixture and cover with a liberal layer of shredded cheese. I'm all about the Monterrey Jack here, but mozzarella is also quite delish. My kids enjoy a blend of Cheddar Jack or Cheddar and mozzarella.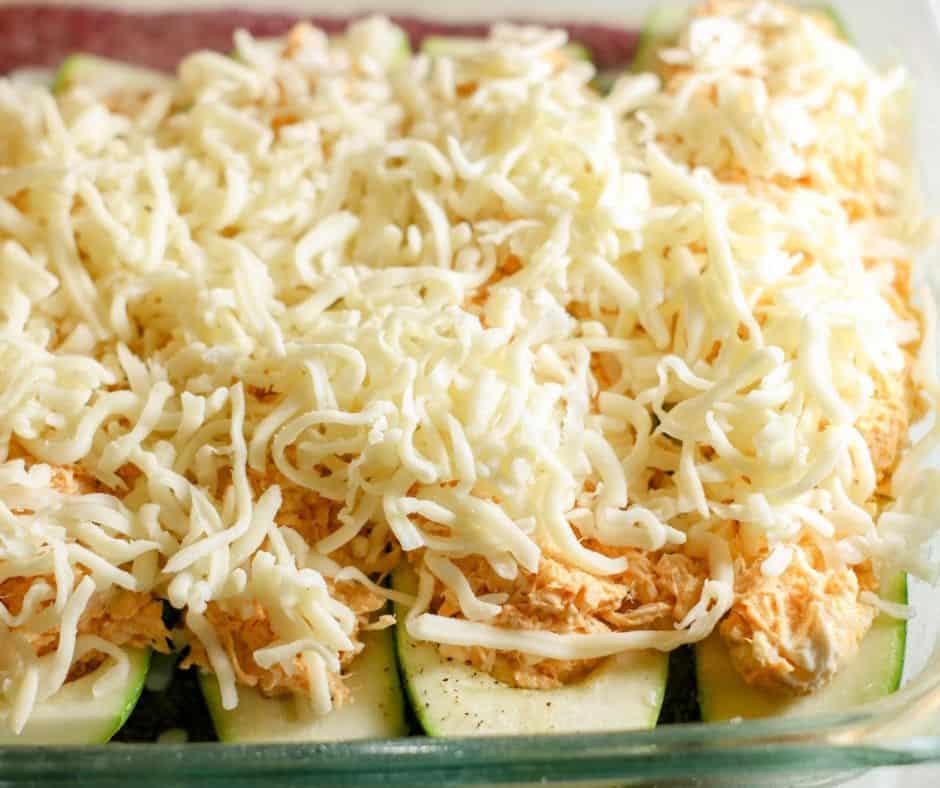 Drizzle your favorite buffalo sauce on top. We like Frank's here, but all 'ol buffalo sauce will work. In fact, we like Frank's so much that we buy it by the gallon here.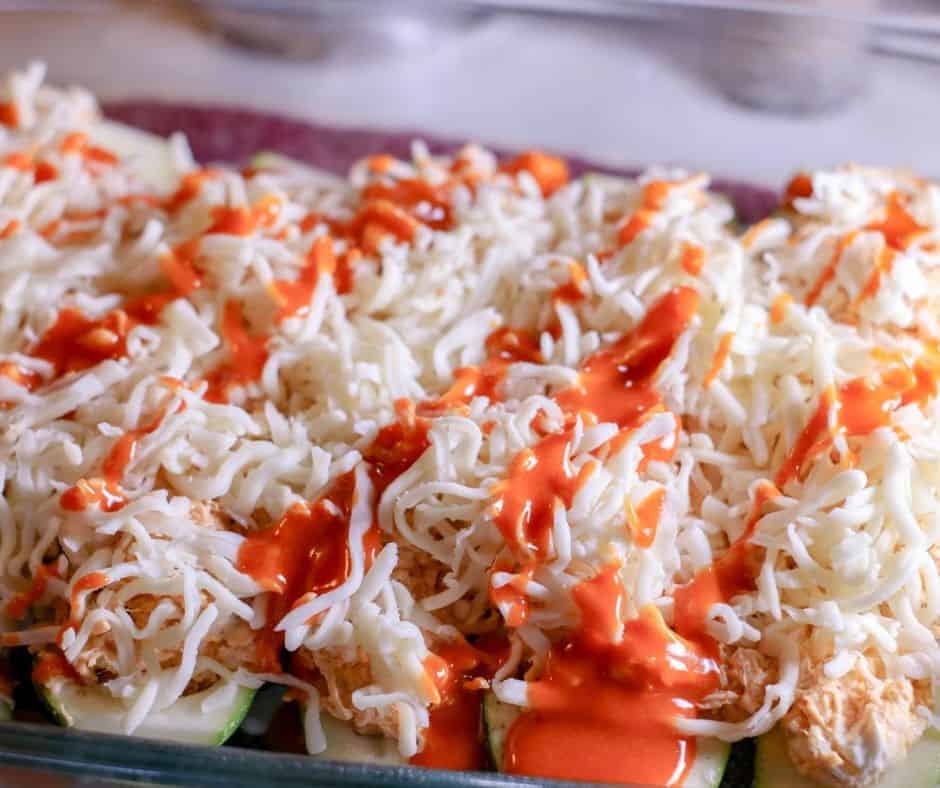 Next up, bake until everything is soft, hot, and gooey. Your cheese will even get a bit bubbly. You don't want to overlook and have your cheese brown, so keep an eye on it when it's close to being ready.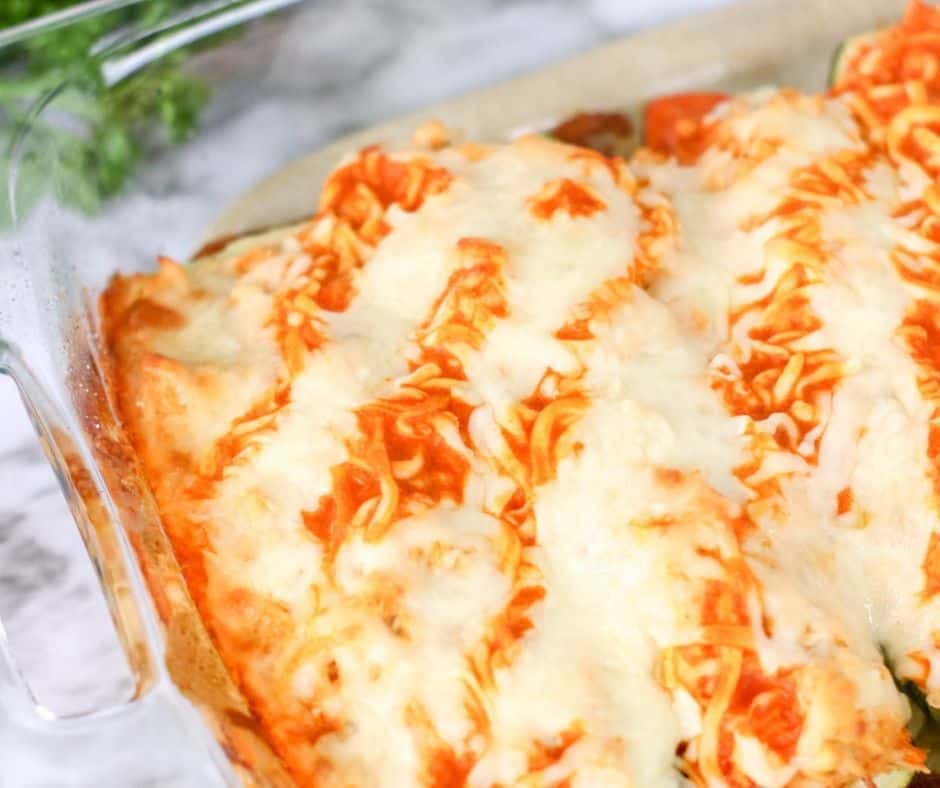 If you'd like, you can make some homemade Bleu cheese sauce for the top. These buffalo chicken zucchini boats are great without it, but even better with it.
Ranch seasoning in the chicken, bleu cheese on top, buffalo sauce soaking it all…okay, I'm hungry again!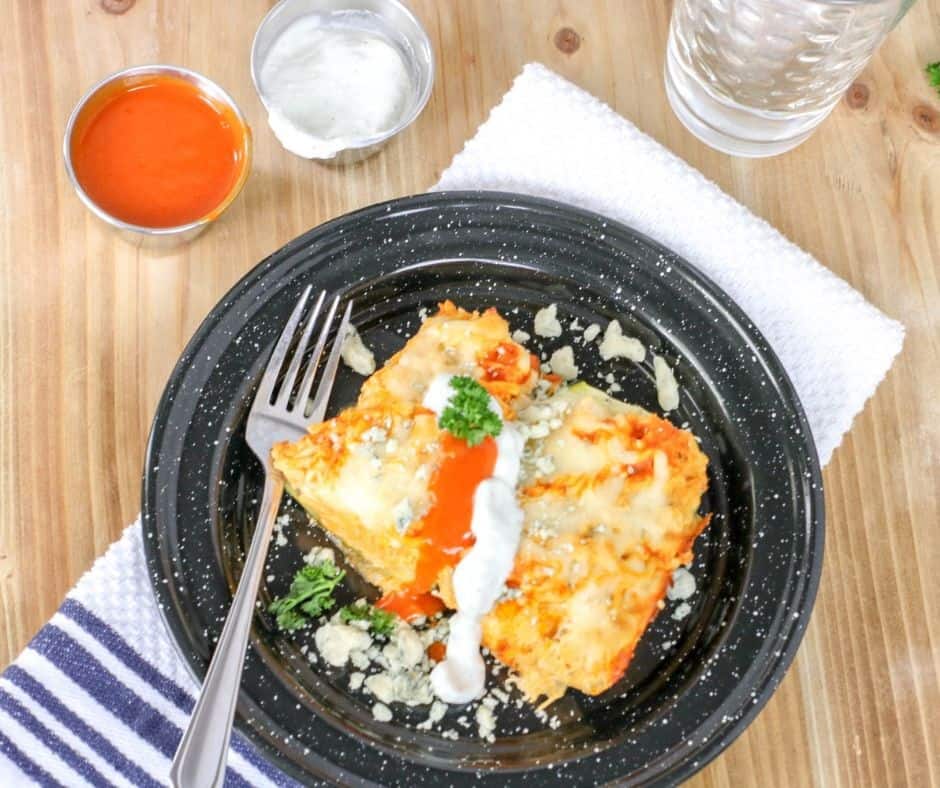 How To Make And Store Your Keto Zucchini Boats With Buffalo Chicken
One of the best things about this recipe is that you can make them up ahead of time. Go ahead and cook the zucchini before hand and then layer on the buffalo chicken.
Flash freeze them on a cookie sheet and then store in bags. Pull them out frozen, lay them on a baking sheet, drizzle with sauce and cheese, and bake according to the original directions until they are heated through and the cheese is well melted.
Isn't that just fabulous? You can make them ahead of time and keep them in the freezer! I love meals where I can freezer prep; they make busy weeknights so much easier. In fact, even if you're planning to eat them fresh, consider making a double batch so you can have some in the freezer for the future.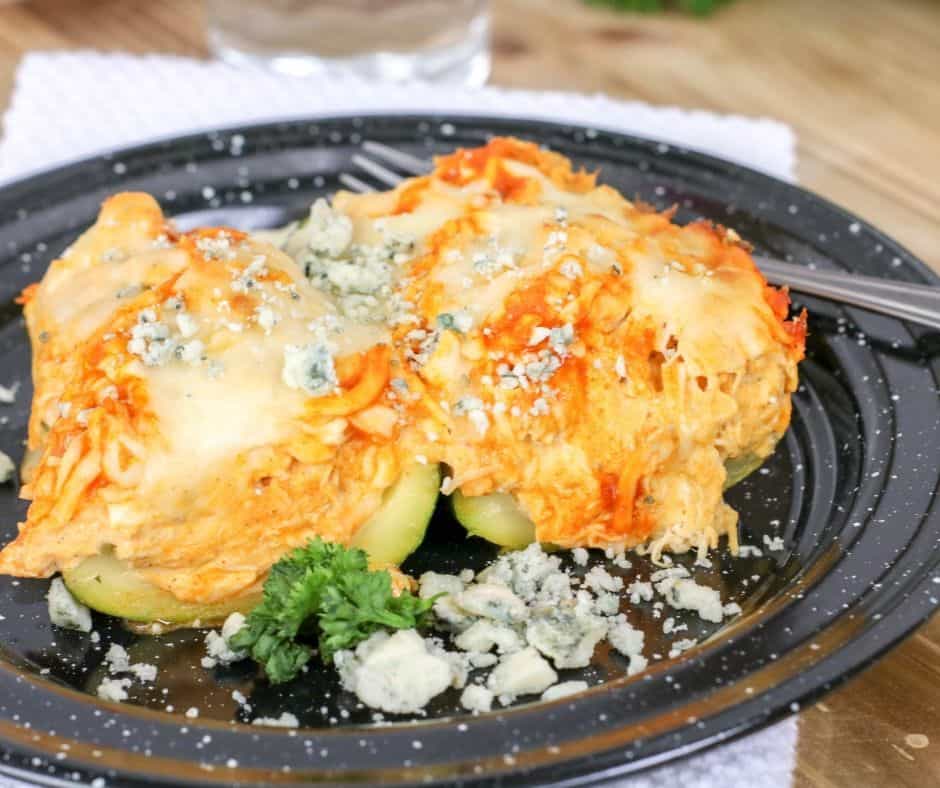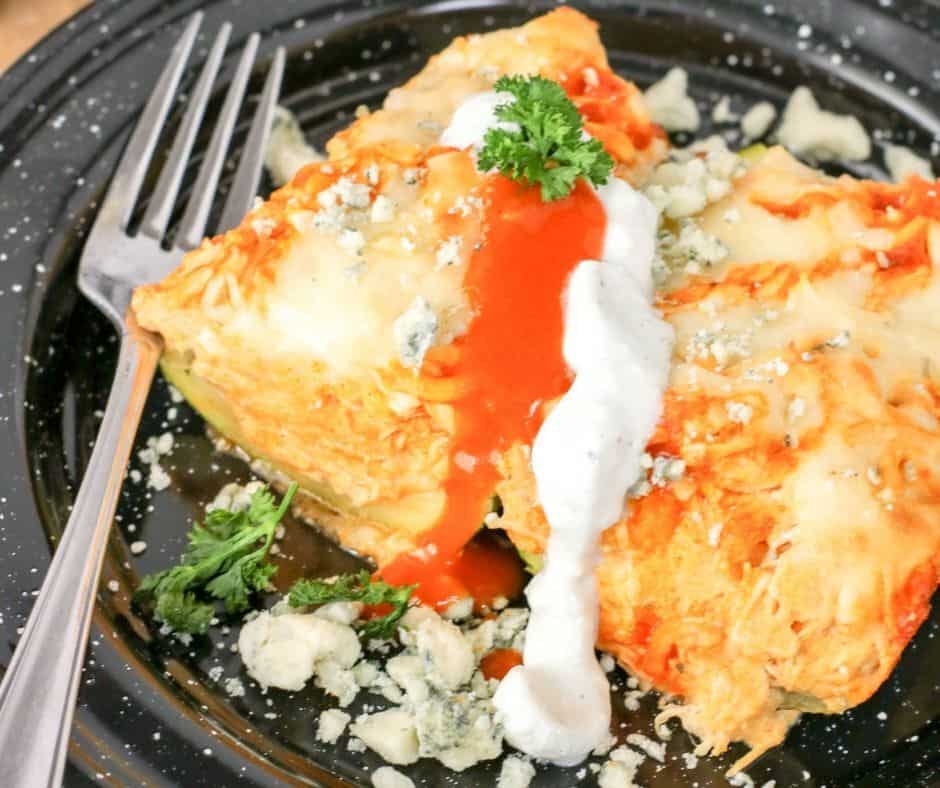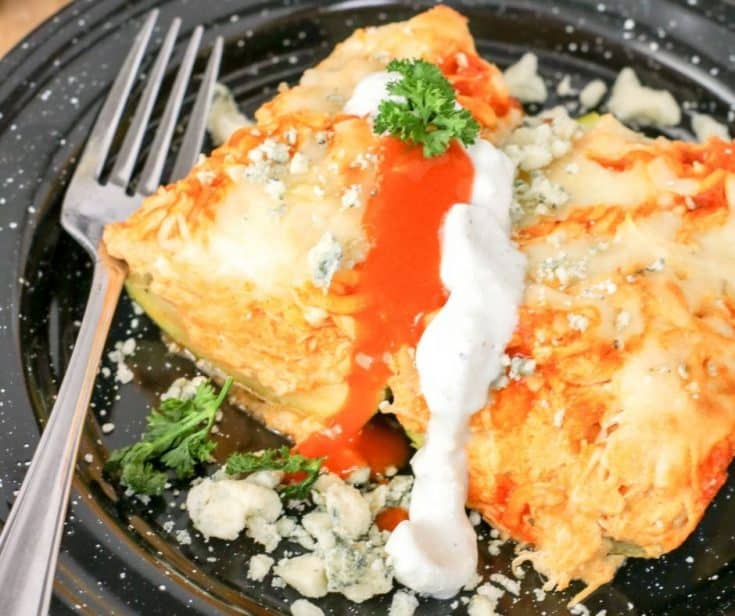 Yield:

6
Buffalo Chicken Zucchini Boats
This easy zucchini boats recipe is stuffed with creamy buffalo chicken and topped with melted cheese. A delicious low carb, keto lunch or dinner.
Ingredients
3 zucchini, halved and seeded
2 pounds cooked chicken breast, shredded
1 (8 ounce) package cream cheese, softened
1 packet ranch seasoning
½ cup buffalo wing sauce
1 cup shredded Monterrey Jack cheese
For blue cheese sauce:
¼ cup blue cheese crumbles
¼ cup heavy whipping cream
½ cup milk
Instructions
Preheat your oven to 400 F
Wash your zucchini; peel if desired
Slice in half lengthwise
Using a spoon to scoop out the seeds, leave about 1/2" vegetable flesh to form your zucchini boat
Bake your zucchini for 10 minutes for a softer boat, or skip this step for a crunchier zucchini boat
In a stand mixer, combine you chicken, cream cheese, ranch seasoning, 1/4 cup buffalo sauce, and 1/4 cup shredded cheese
Spoon the mixture evenly between the zucchini boats, pushing down to fit more; overflowing is great
Top with the remaining cheese and buffalo sauce
Bake for 15-20 minutes until chicken is warm, cheese is melted, and zucchini is tender
Serve with homemade Bleu cheese sauce
Bleu Cheese sauce instructions:
In a food processor, combine heavy whipping cream and bleu cheese until it's thick and creamy. Use milk to reduce to desired thinness and serve.
Notes
You can use any shredde cheese you prefer. Monterrey Jack, Mozzarella, or Cheddar Jack are the most common choices.