Pumpkin Spice Keto Truffles
We may earn money from the products/companies mentioned in this post. As an Amazon Associate I earn from qualifying purchases. For more information, read our Terms & Disclosures.
Who doesn't love pumpkin spice? It's the iconic flavor of fall and oh-so-delicious. Try these pumpkin spice truffles for a delightful keto fat bomb treat!
One of the best things about eating keto is that you don't ever need to feel deprived. And at this time of year that means indulging in all sorts of apple caramel and pumpkin spice flavored treats!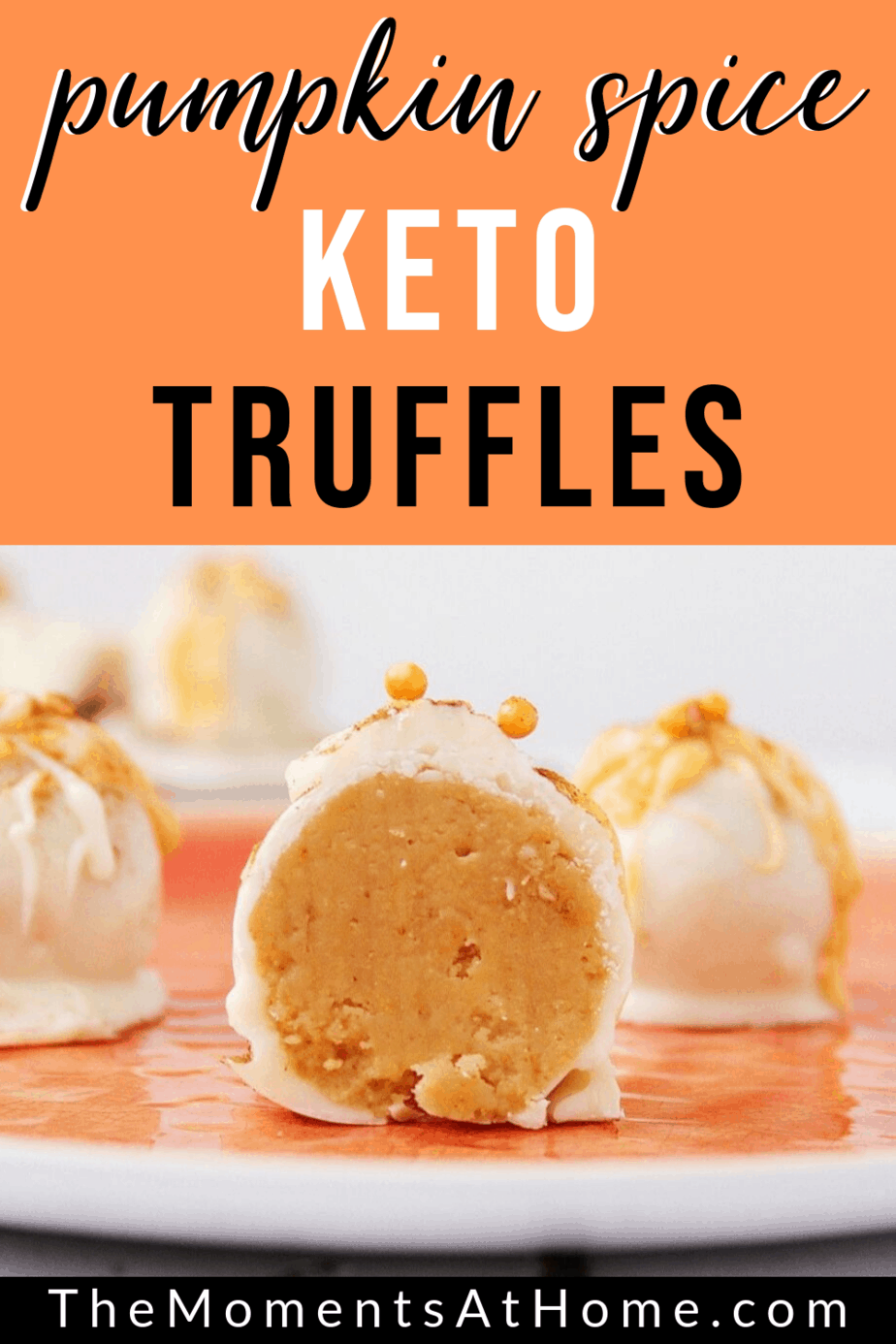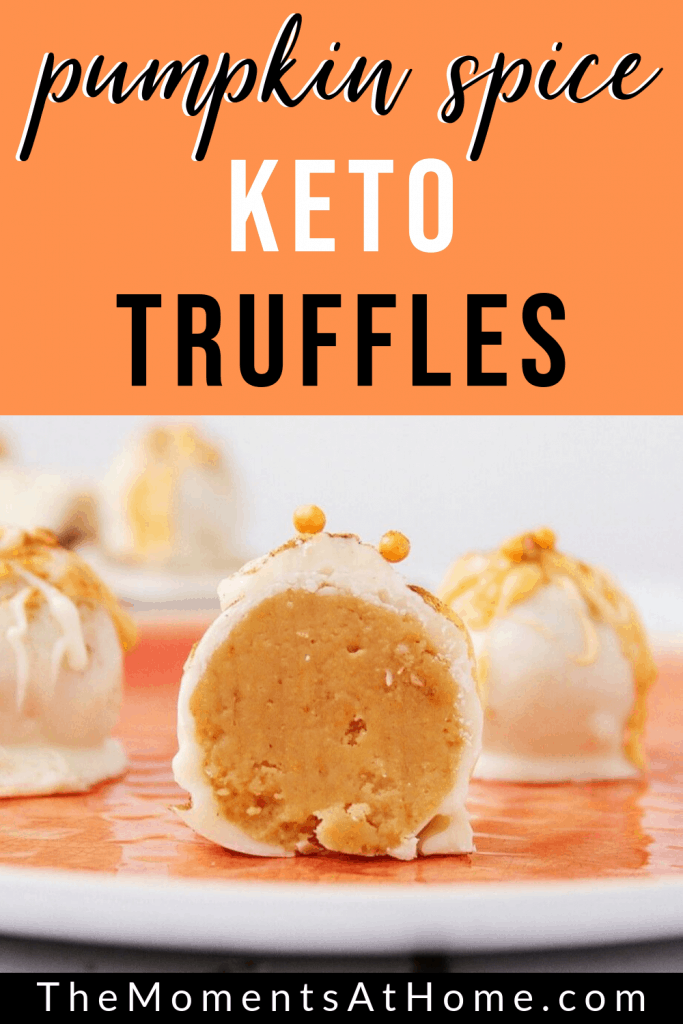 I'm all about the pumpkin spice latte or the low carb spiced caramel cappuccino, but sometimes you want a decadent dessert. Enter: Keto Pumpkin Spice Truffles!
These easy to make (and easier to devour!) sweet treats will help satiate any cravings you've been having for pumpkin pie, pumpkin spice cake, and all those other fall treats that you want to steer clear of this year. But you can take a yummy bite of these decadent sugar free, gluten free truffles and savor all the pumpkin spice beauty of autumn.
They're really that good!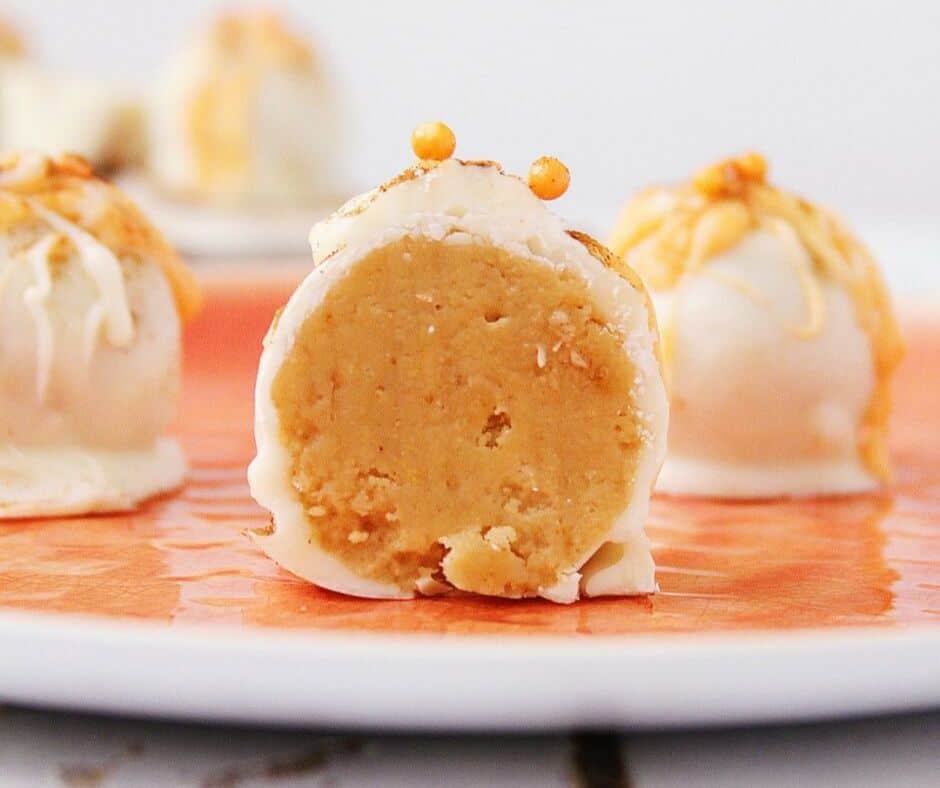 What Ingredients Do You Need For These Pumpkin Spice Keto Fat Bombs?
Cream cheese
Butter
Canned pumpkin
Pumpkin pie spice
Maple flavored monkfruit syrup
Cinnamon
Vanilla extract
Swerve sweetener, powdered
Cocoa butter
Cinnamon
How To Make Low Carb Pumpkin Spice Truffles
I know they're really pretty and you're liking thinking that these will be hard to make, but they're surprisingly simple!
And oh-so-worth-every-second. And then some.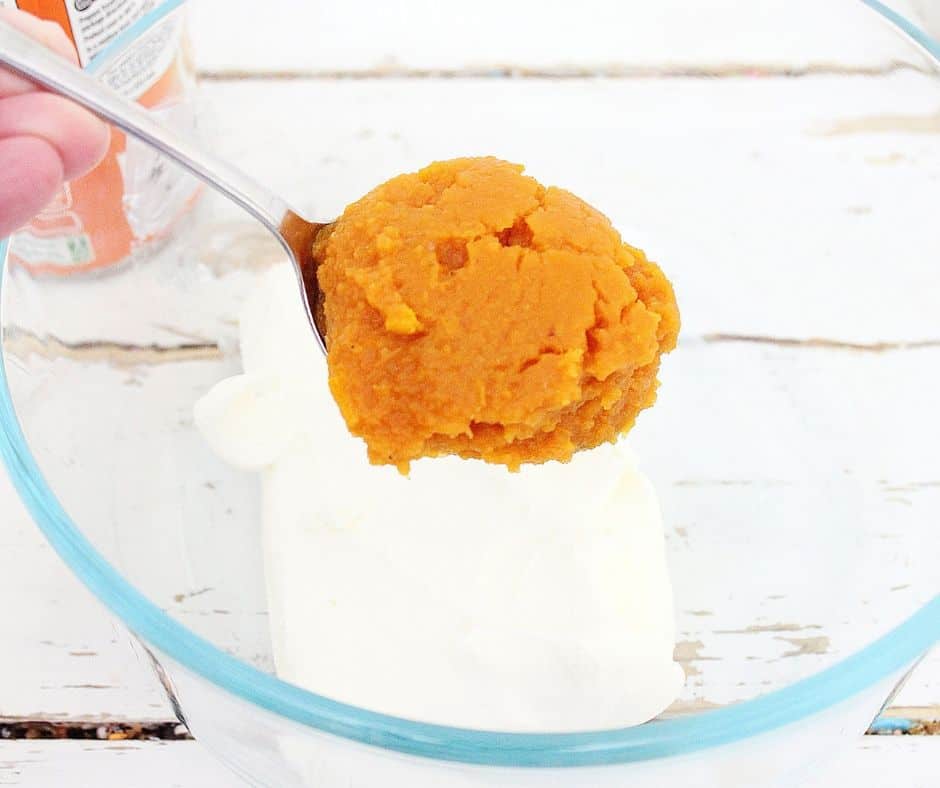 Cream together the softened cream cheese, softened butter, and powdered low carb sweetener until they are light and fluffy.
Next, add the pumpkin puree and whip it into the creamed mix. Then add your syrups and spices and continue to mix well. Scrape the sides of your mixing bowl with a spatula and continue to blend until all the ingredients have combined into one smooth mixture.
Refrigerate that mix for an hour.
After an hour, remove the low carb pumpkin spice batter from the fridge and roll it out into tablespoon sized balls. Place them on a parchment paper lined baking sheet and freeze them for 30 minutes.
After that, you'll dip them into your melted cocoa butter and then let it harden. Just set them in the fridge to set for at least 4 hours (overnight is best) and they'll be ready to enjoy!
Storing Your Keto Fat Bombs
So how do you store these lovelies? In a vault, to keep them away from husbands, children, and friends who will eat them all after they realize how amazing they are.
Or in the fridge, in an airtight container, for up to a week. If they last that long.
These are great to pair with your afternoon coffee (like that spiced caramel cappuccino we mentioned earlier!) and make a wonderful dessert. Remember just to have one (or two) and not the whole tray. That might sound like common sense, but once you take your first bite you'll be glad for the reminder.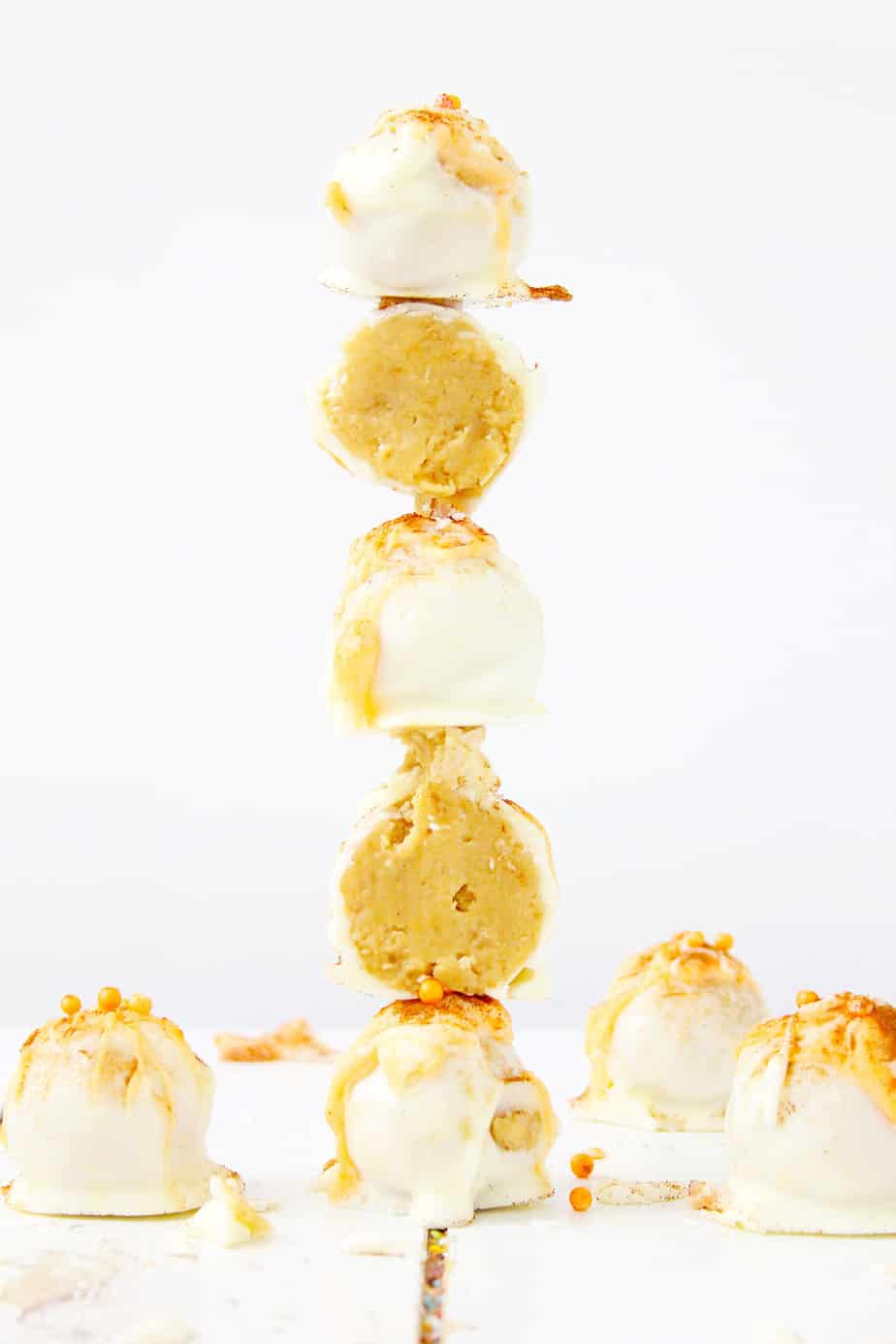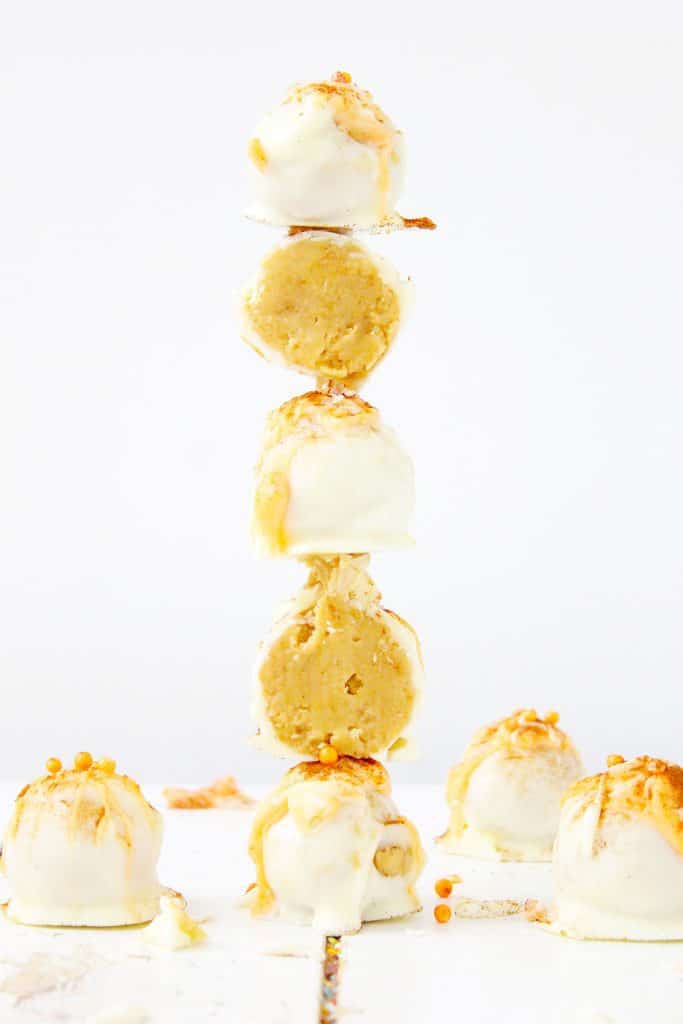 Can You Make These Ahead Of Time?
Yes! In fact, you make them them and freeze them and just thaw them in the fridge the night before you're ready to serve them (or, in a pinch, on the counter a couple of hours ahead of time).
These make great treats to have on hand or holiday parties, coffee with friends, or to save time by making a big batch all at once and just pulling enough out for a couple of days at a time.
I'm all about batch cooking, convenience, and keto deliciousness combining in a recipe…aren't you?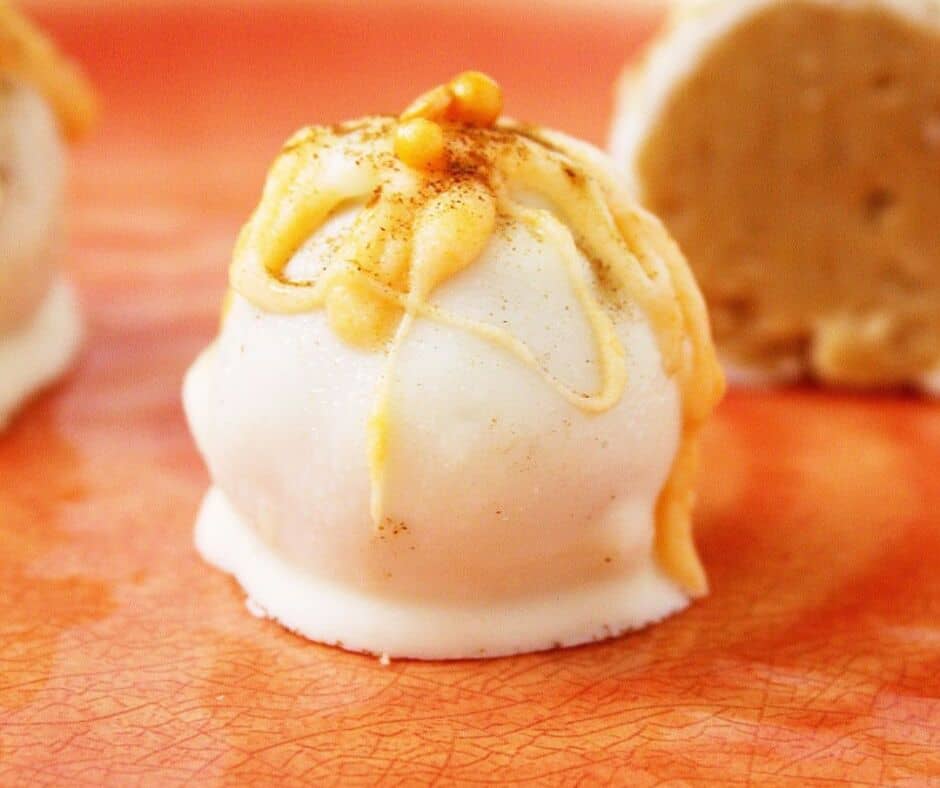 Pumpkin Spice Keto Truffles
Total Time:
5 hours
20 minutes
This simple low carb trifles have all the flavors of fall! Make these pumpkin spice keto truffles for the holidays...or just to have amazing fat bombs on hand!
Ingredients
16 ounces of cream cheese - softened
3 Tablespoons of Butter - softened
1 cup of canned pumpkin
1 Tablespoon of Pumpkin pie spice
1 tablespoon of Maple flavored monkfruit syrup
1 teaspoon of cinnamon
1 teaspoon of Vanilla
1/4 cup of Powdered Swerve
1 cup of cocoa butter - melted to dip truffles
Cinnamon to sprinkle
Small orange decorative candy balls for topping
Instructions
Line a cookie sheet with parchment paper, and set aside.
Combine your softened cream cheese, softened butter, and powdered Swerve, and whip with the whisk attachment to an electric mixer until light and fluffy.
Stop the mixer and scrape down the sides of the bowl with a spatula, and add the canned pumpkin, and blend until smooth.
Add the pumpkin pie spice, cinnamon, syrup, and vanilla. Combine until smooth, stopping to occasionally scrape the side and make sure all is well mixed.
Place Pumpkin Spice Truffle mixture in the refrigerator for 1 hour.
Remove mixture from the refrigerator, and take about a Tablespoonful of the mixture, and roll into balls, and place on the parchment lined cookie sheet; continue until all the mixture has been rolled into balls.
Place the rolled balls in the freezer for 30 minutes.
Place the cocoa butter in a microwave safe bowl, and melt at 10 second intervals, until its melted and smooth when stirred.
Remove the truffle balls from the freezer, and dip the balls into the cocoa butter, and place back onto the parchment paper lined cookie sheet.
When all balls have been dipped, sprinkle a little cinnamon on the truffles, and add any sugar free decorations you would like.
Place the cookie sheet into the refrigerator to set the cocoa butter.
Leave in the refrigerator for at least 4 hours to completely set, or overnight for best results.
Serve as needed. Enjoy!