Skillet Spaghetti and Meatballs
We may earn money from the products/companies mentioned in this post. As an Amazon Associate I earn from qualifying purchases. For more information, read our Terms & Disclosures.
Spaghetti and meatballs made together in one dish?! YES! This easy, one dish skillet meal is perfect for a weeknight dinner for easy clean up and satisfied tummies.
Making spaghetti and meatballs in the skillet is super simple. We use our deep cast iron skillet for one dish meals all the time; it's easily one of our most used kitchen tools!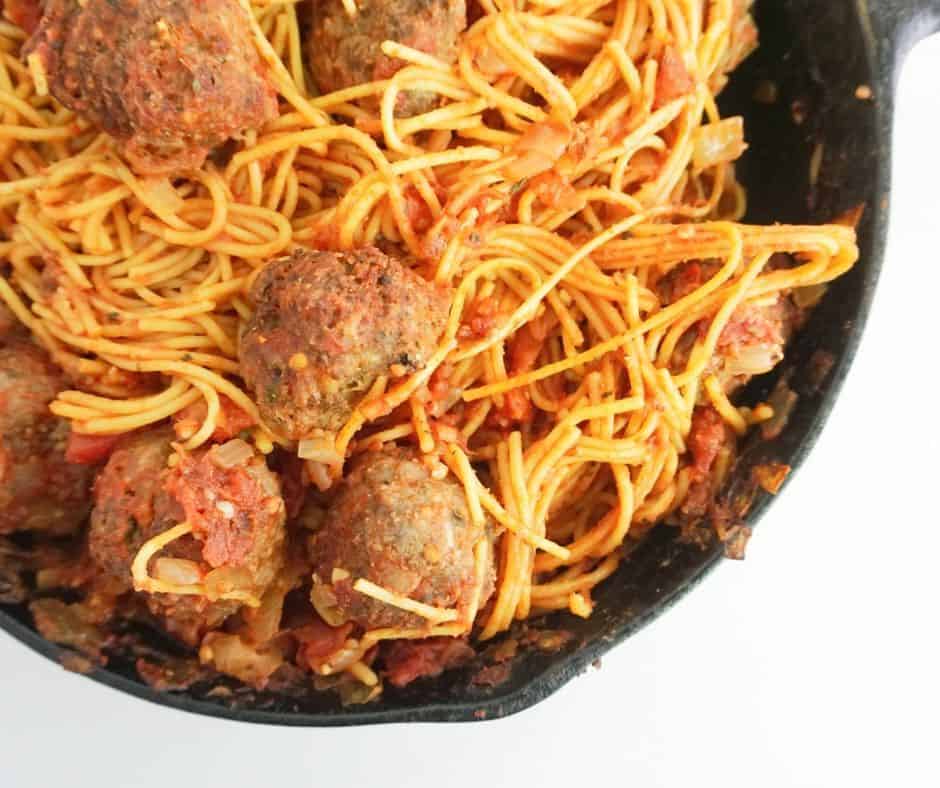 How To Make One Pot Spaghetti And Meatballs In Your Skillet
It's way easier than you realize to make spaghetti and meatballs in your skillet.
First, gather all your ingredients for the meatballs.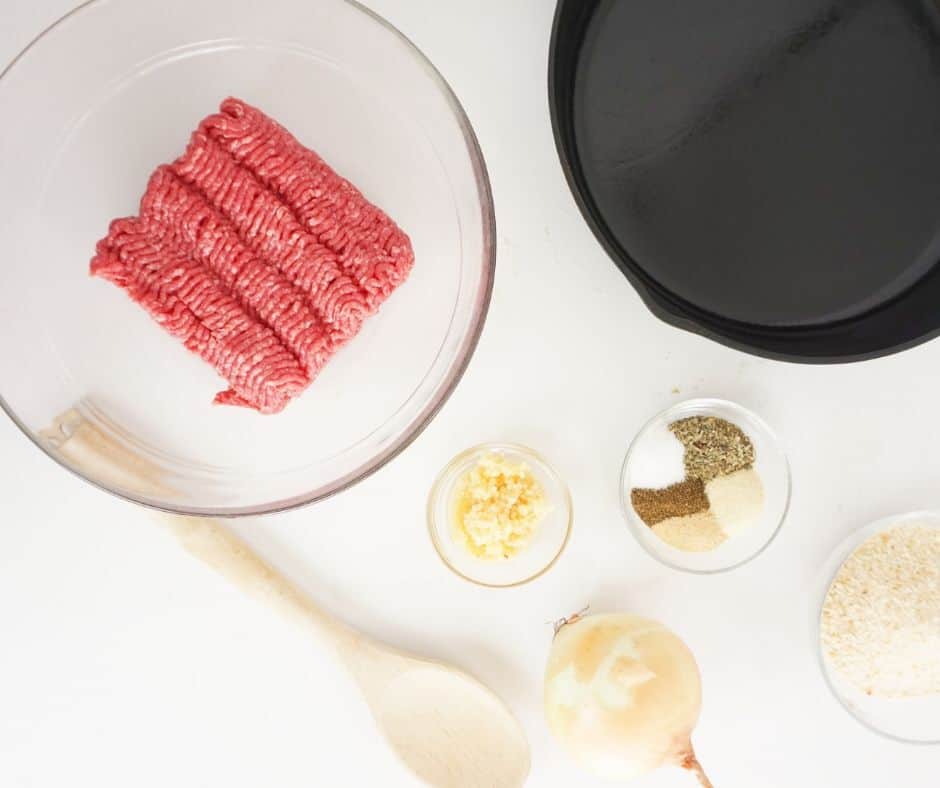 Next, mix the breadcrumbs, spices, and eggs into the meat. Mix it well with your hands, making sure everything is fully combined.

(if it grosses you out too much to use your hands, mix with a fork – a spoon simply won't combine everything as well)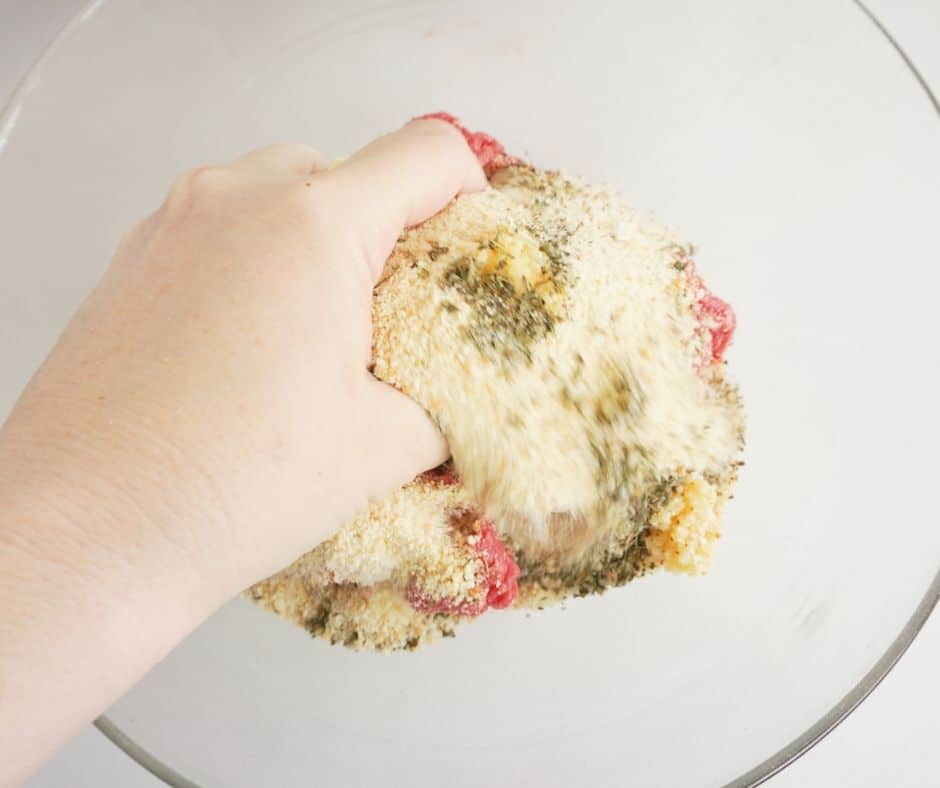 Next, shape your meatballs and layer them across your skillet.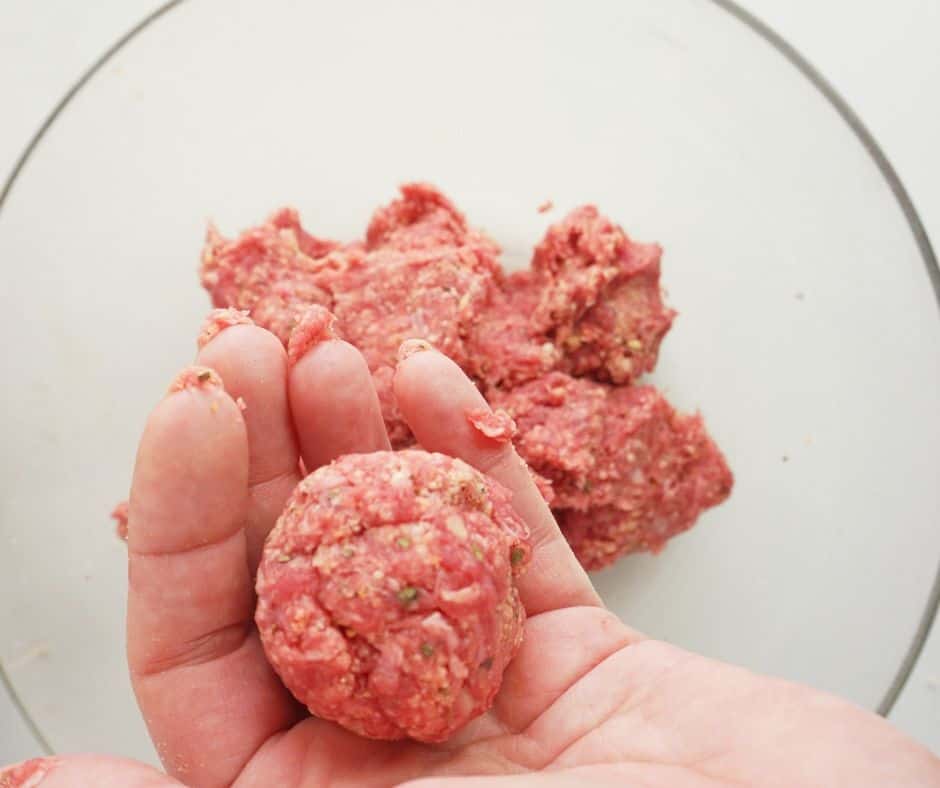 Be sure to leave ample space between them…you're going to fill it in a moment.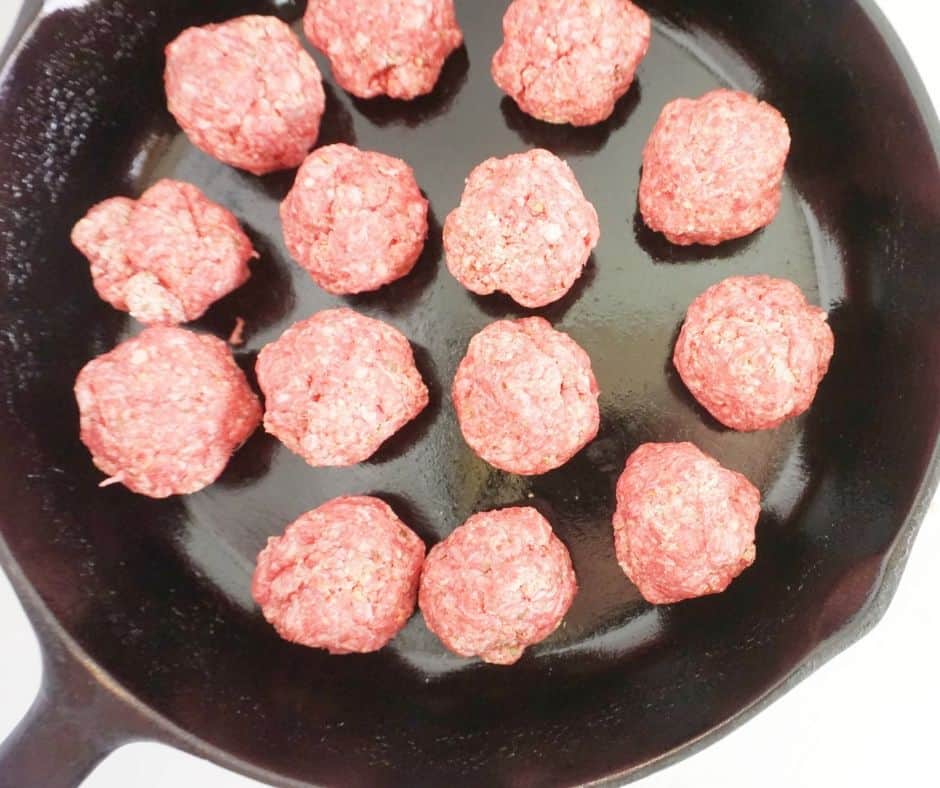 After you brown your meatballs, add in the veggies and liquids to start your sauce base.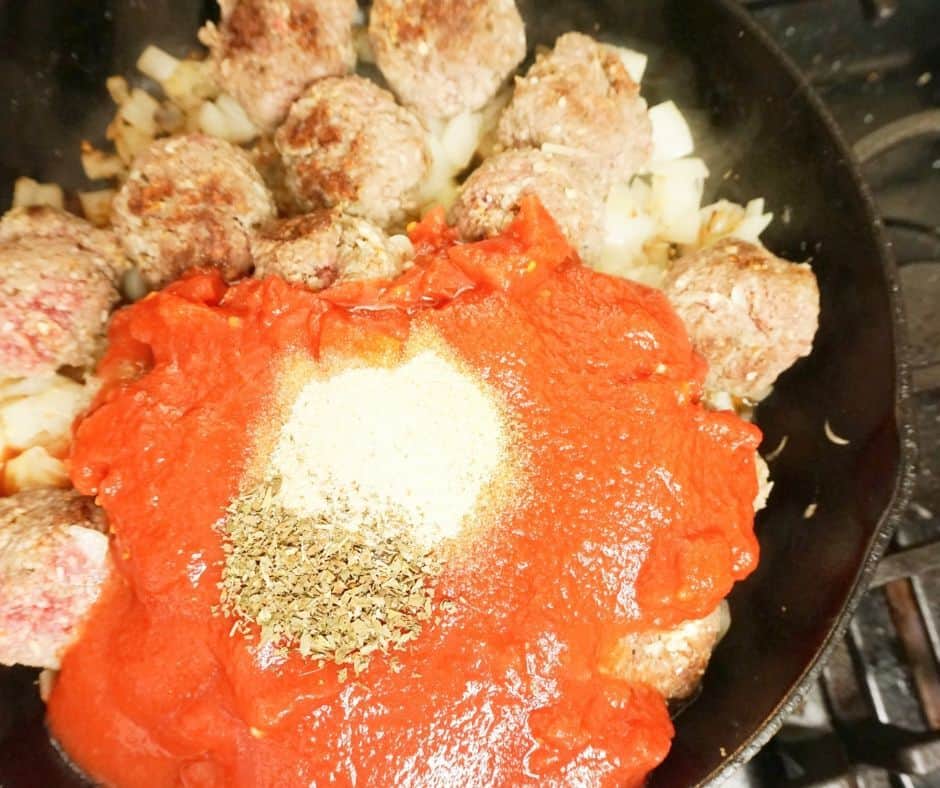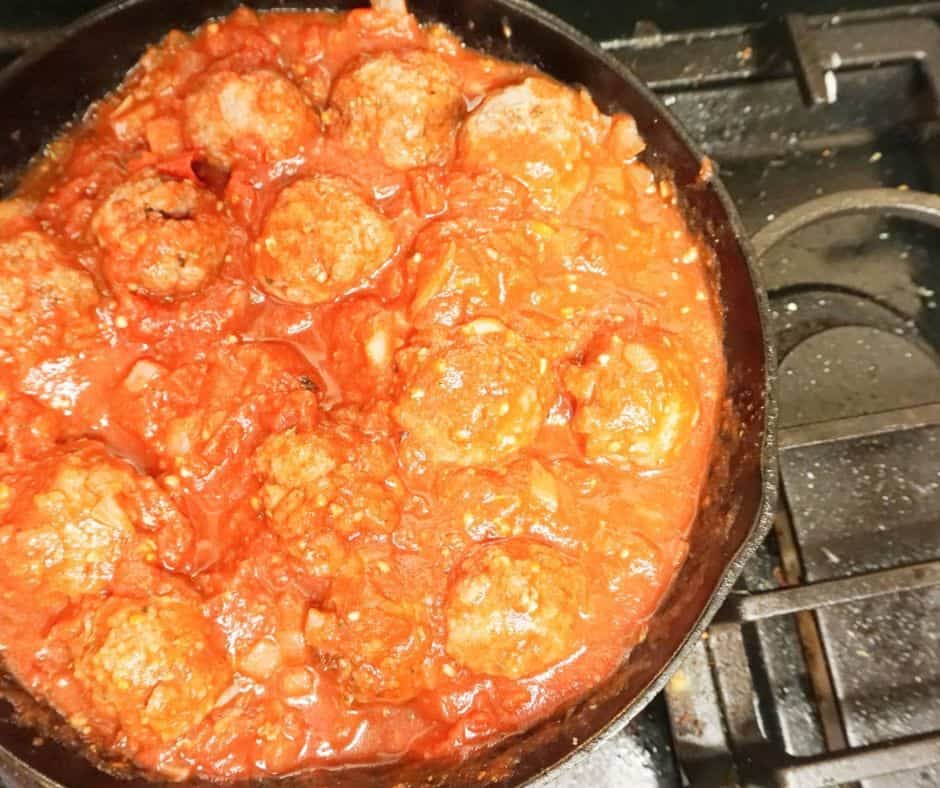 It's going to look pretty watery, but that's okay…the pasta is going to soak it all up.
Be sure to follow the recipe card so your noodles don't dry out while they are baking!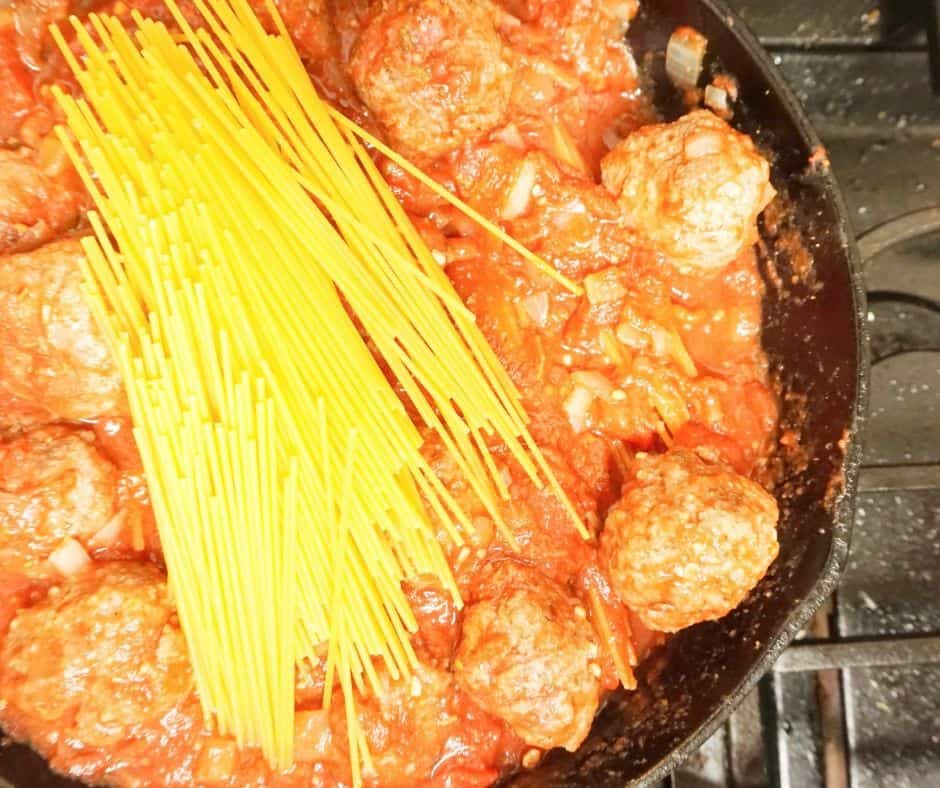 Serve it with a nice fresh garden salad and some crusty bread for a satisfying, comforting, absolutely delicious dinner everyone will enjoy.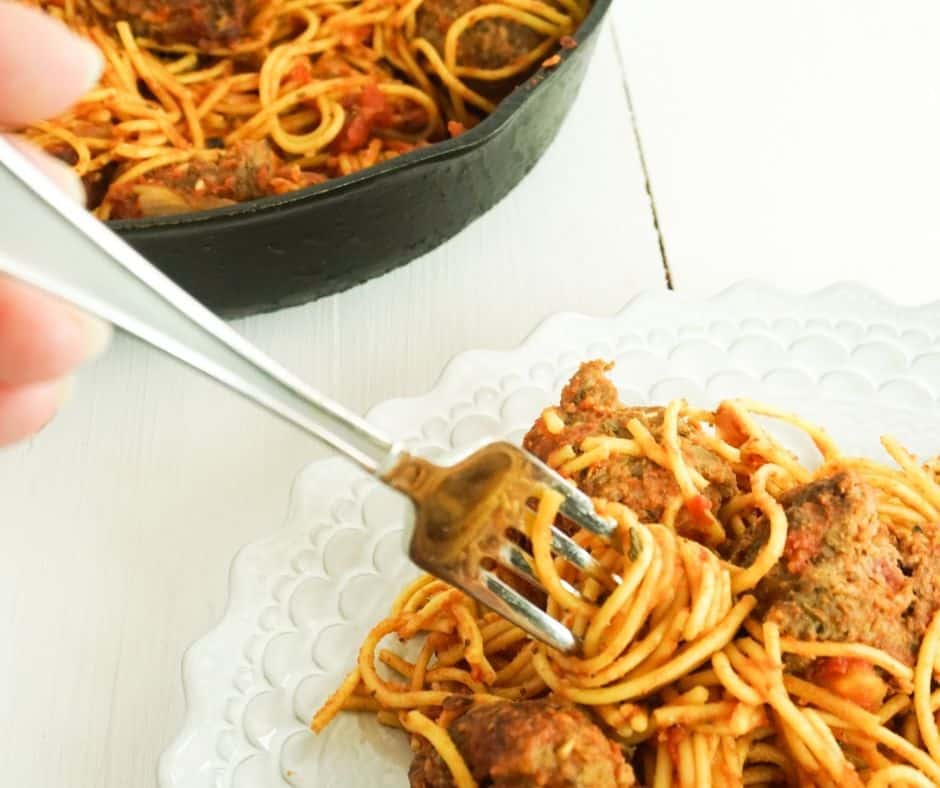 Yield:

Serves 4-6
Skillet Spaghetti & Meatballs
Make spaghetti and meatballs in one dish! Use your favorite cast iron skillet first on the stovetop and finish in the oven for easy cleanup of a family favorite one dish weeknight dinner.
Ingredients
1 lb Ground Beef
1 cup Breadcrumbs
1 tsp Basil
1 tspn Oregano
½ tspn Black Pepper
½ tspn Celery Seed
1 tspn Onion Powder
1 tspn Garlic Powder
½ tspn Salt
SAUCE
1 med Onion
1 tblspn vegetable oil, optional
2-4 minced cloves Garlic
1 can Tomato Sauce
1 can Diced Tomatoes
½ tspn Black Pepper
½ tspn Celery Seed
1 tspn Basil
1 tspn Oregano
1 tspn Salt
1 tblspn Apple Cider Vinegar or Red Wine
Pinch Sugar
1 box Spaghetti Noodles
1-2 cups Water
Instructions
Preheat oven to 425-degrees.
By hand, mix all ingredients for the meatballs.
Form meatballs and place in cast iron skillet in one layer.
Chop onion.
Add chopped onion and minced garlic to the skillet in the spaces between the meatballs, add vegetable oil, if desired.
Over medium-high heat sear the meatball exteriors, rotating them multiple times over the amount of time it takes to also caramelize the onions and garlic.
When meatballs and onion mixture are done, combine ingredients for sauce and stir, along with ½ cup of water at this time, in the skillet, combining with, but being gentle to, the meatballs. This will look "too thin" for traditional spaghetti sauce, but don't worry, the noodles soak up all of that water (and more).
Break spaghetti noodles in half.
Place spaghetti noodles in the skillet, burying them a little in the sauce.
Place skillet in the oven for 30-minutes.
Add ½ to 1 cup of water to the skillet. Noodles should be still a little stiff, but close to being "done".
Continue to bake for 15 minutes.
Remove from the oven and check a meatball from the center of the skillet. If cooked all the way through, and the noodles are cooked to your satisfaction, remove from oven and serve. If meatball needs more cooking and/or noodles are not soft enough, add additional ½ cup water and bake for another 15 minutes, checking it again.
Enjoy!
Nutrition Information:
Yield:
6
Serving Size:
1
Amount Per Serving:
Calories:

405
Total Fat:

17g
Saturated Fat:

5g
Trans Fat:

1g
Unsaturated Fat:

9g
Cholesterol:

68mg
Sodium:

874mg
Carbohydrates:

31g
Fiber:

4g
Sugar:

7g
Protein:

26g
I am not a medical or nutritional/diet professional. This information is not to be considered medical advice. You should independently calculate your own values. I expressly disclaim any and all liability of any kind with respect to any act or omission wholly or in part in reliance on anything contained in this website.