Instant Pot Turkey Breast
We may earn money from the products/companies mentioned in this post. As an Amazon Associate I earn from qualifying purchases. For more information, read our Terms & Disclosures.
This easy Instant Pot turkey breast recipe comes out tender, juicy, and flavorful in a fraction of the time it takes to make it in the oven. Plus, you can make your own gravy right in the Instant Pot, too! What an easy way to cook Thanksgiving dinner or a weeknight meal. It's naturally low carb and perfectly delicious.
Making a turkey breast in your Instant Pot is about to change the way you cook Thanksgiving dinner (or any weeknight dinner, really!). If you're anything like me, you love finding ways to open the oven up for the really important things like pumpkin pie, Mac and cheese, and fresh dinner rolls on Thanksgiving because your family loves them.
But you also want to keep things as healthy and as simple as possible, which is the beauty in this low carb Instant Pot turkey breast recipe. Perfect for the keto mama or the stuffing loving teen, this moist turkey breast is the perfect addition to your table.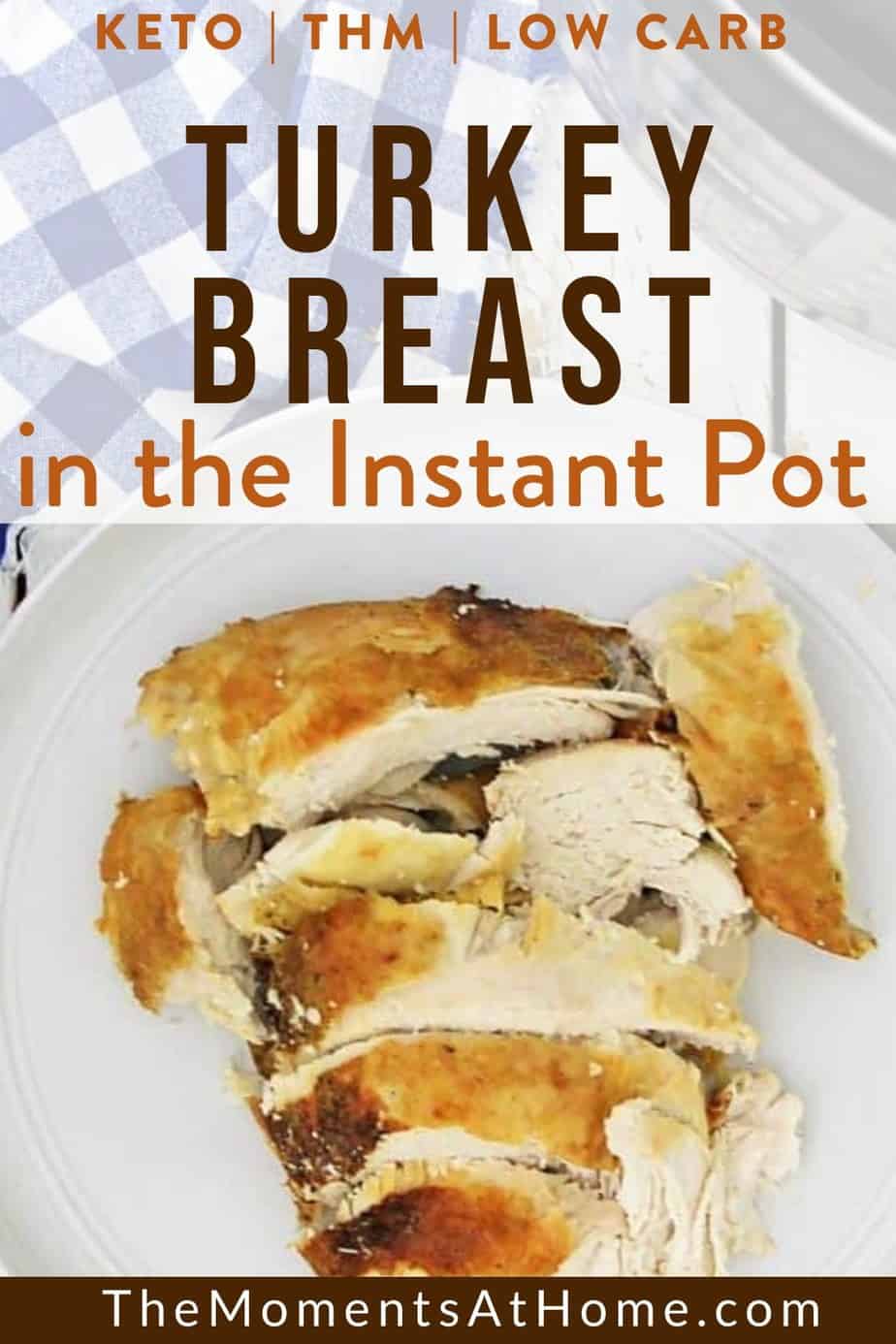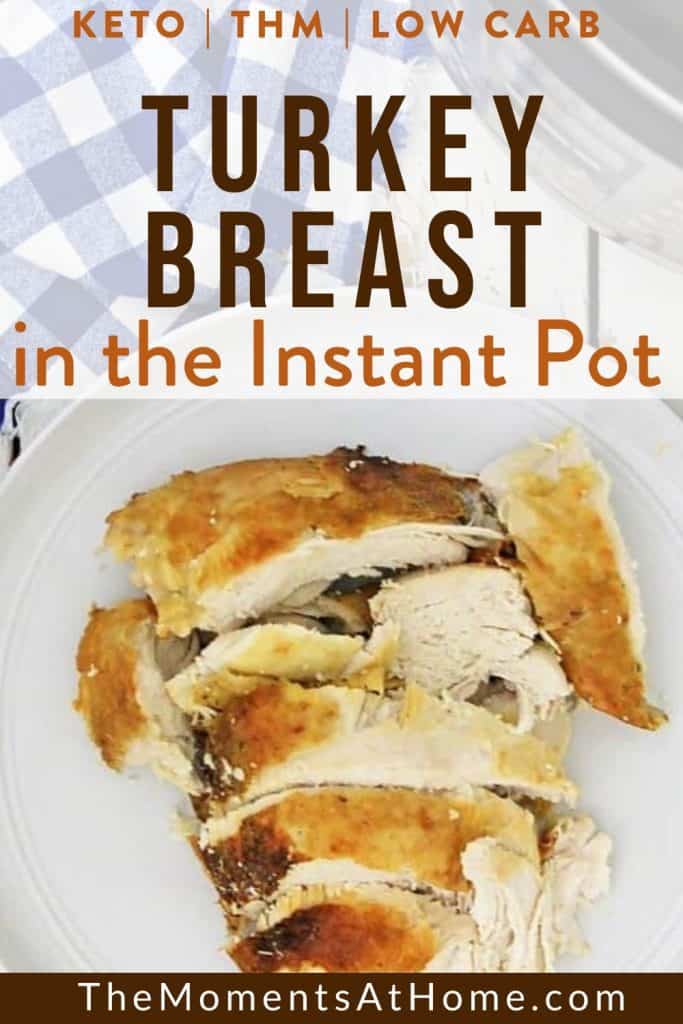 Plus, if you have a small group, all you need is a turkey breast! Or, if you've got a large family, you may actually be making a whole turkey and an extra turkey breast (yes, that's how we roll here!). That makes using the pressure cooker to make the turkey breast your best bet, by far!
The added bonus is that the meat is so tender and juicy and flavorful that it will end up being the favorite thing on the table!
What Size Turkey Breast Will Fit In My Instant Pot?
A word to the wise: make sure your turkey breast fits in your liner! You might not think of it, but this is pretty important.
If you have a 6 qt Instant Pot, then you can fit a 4.5-6.5 pound turkey breast. If you're Instant Pot is an 8 qt, then you can cook a 6.5-8.5 pound turkey breast.
We have multiple pressure cookers for our large family and use them daily for breakfast, lunch, dinner, and even snacks. A 6 qt is just a tad too small now that we have 4 teenagers plus smaller kids, but instead of upgrading to an 8 qt we chose to get a second pressure cooker (which is a 6 qt Mealthy Pot we decided to try because of the awesome accessories that came with it – and we love it!).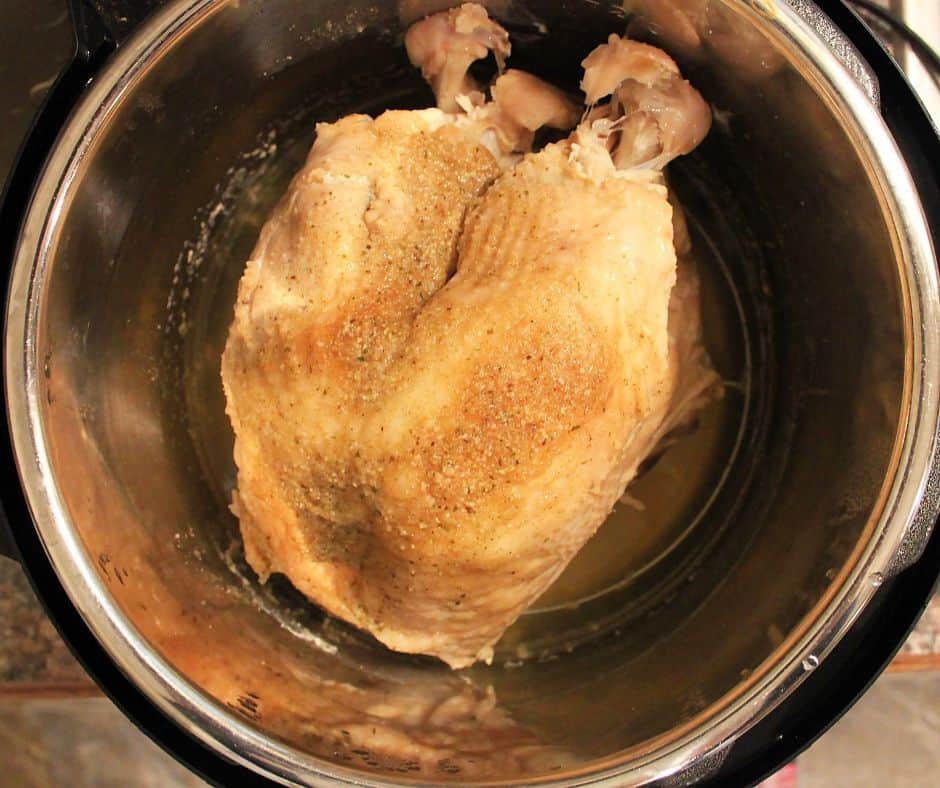 How To Flavor Your Instant Pot Turkey Breast
When we bake our turkey in the oven, we flavor it with a homemade herbed butter. We also have to baste it regularly so it doesn't dry out and to keep the flavor. The Instant Pot is so much more simple!
For the liquid in the bottom of your pot, use broth if you have it. If not, bouillon works well.
And if you don't have that? Well, you can just put a teaspoon of peppercorns, a smashed clove of garlic, some chopped celery, carrot, and onions in the water in the bottom. If you're feeling adventurous, you can try our family's secret ingredient: 1/2 lemon with the juice squeezed into the water and the rind dropped in with the other veggies.
To season the turkey breast itself, you can use olive oil or butter (we prefer butter) to trap some moisture and also help the spices stick. Mix the herbs right into the butter and rub it all over the breast (this is called a compound herb butter). All done!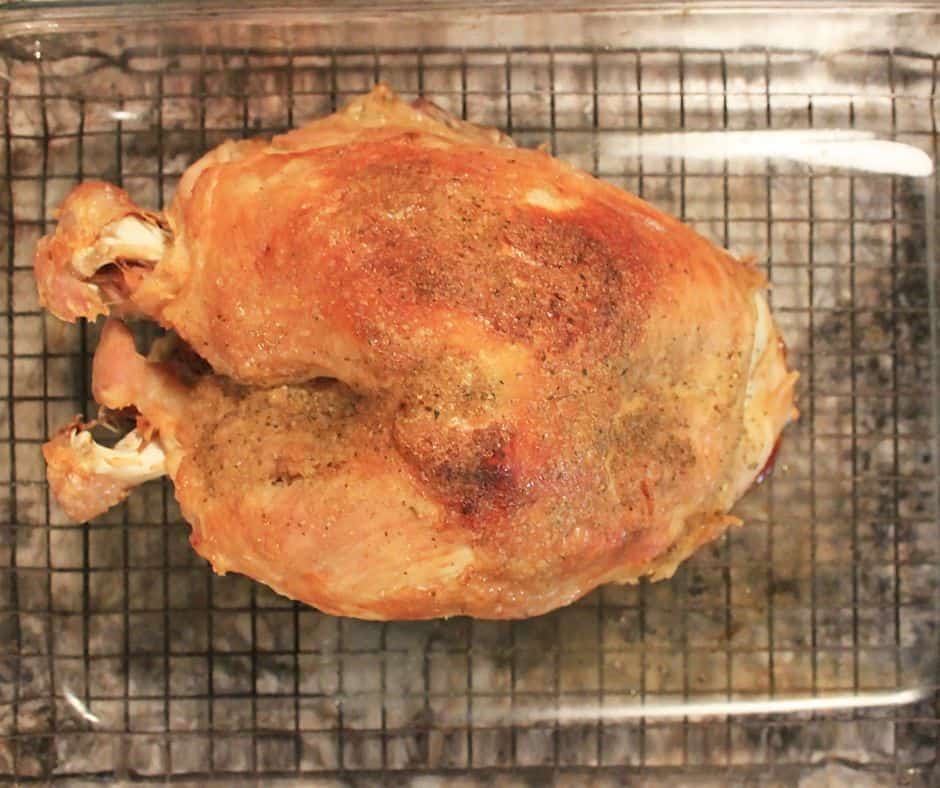 Can I Use A Frozen Turkey Breast?
Absolutely! Just thaw it 24-48 hours in advance as this recipe uses a thawed turkey breast.
Can I Make The Seasoning Homemade?
Of course. If you can't find Bell's or just want to go scratch-made all the way, no problem. Simply use this recipe for a homemade poultry seasoning.
Will My Turkey Breast Look Golden Brown?
This is the only part about using my Instant Pot for a turkey breast that I miss…that golden brown, slightly crispy finish to the turkey.
The solution is simple: go ahead and put the cooked turkey breast into an oven safe pan and roast it for 20-30 minutes at 375…or broil it on low for about 5 minutes, keeping a careful eye on it.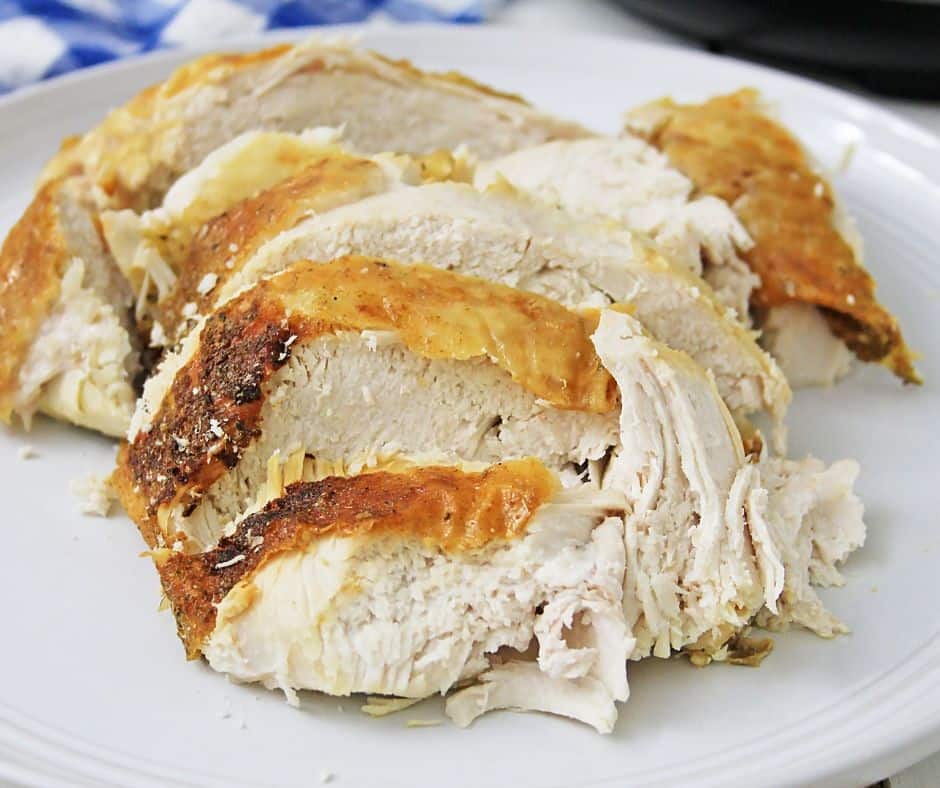 How To Make Gravy For Your Instant Pot Turkey Breast
If you want to make gravy, there's usually a packet of gravy mix inside the frozen Turkeys, and you'd just follow the package instructions.
If you bought fresh turkey breast or simply prefer home made gravy, it's still very easy. Pour the juices from the bottom of the Instant Pot, into a heavy medium size saucepan and remove any pieces of the turkey that may have fallen into the juice while cooking, that you don't want in your gravy (remove with a slotted spoon).
Place the saucepan on the stove, add 1 cup of water, and bring the juices to a boil, and turn heat on low. Mix 1 Tablespoon of cornstarch with a little water in a small bowl, and stir until smooth. Add the corn starch to the juices, and turn heat to medium. Continue to stir until thickened. Add 2 Tablespoons of cream to the juices, 1/2 teaspoon of garlic salt, and 1/2 teaspoon of seasoned pepper. Stir the gravy until it is the consistency you desire.
If it's too thick, add a little more water, and if it's not thick enough, add 1 teaspoon of cornstarch mixed with water to the gravy to thicken.
Can You Make Gluten-Free Keto Gravy?
If you're following a low carb, gluten free, keto, or THM way of eating you're going to want a different way to make gravy. Here's a great tutorial on how to do that.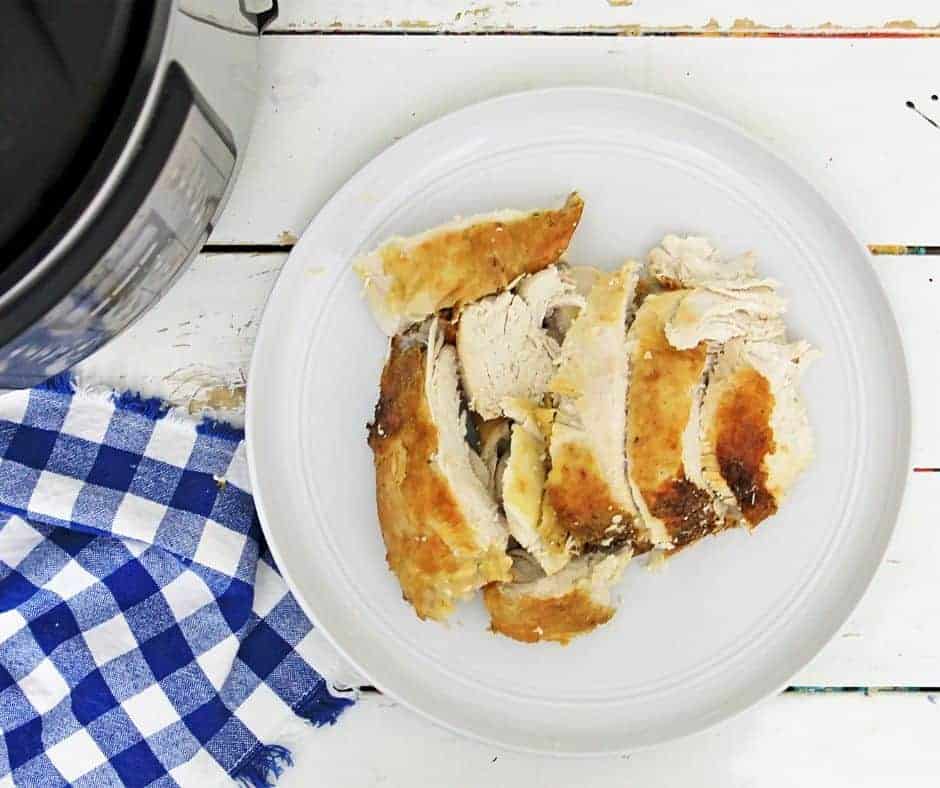 Instead of hours in the oven and continual basting, you can make a savory, moist turkey breast in your Instant Pot in less than an hour.
Ingredients
1 Turkey breast, thawed
3 TB butter
3 TB Bells seasoning
1/2 cup of water
Instructions
Remove your turkey breast from the refrigerator and unwrap it.
Wash the turkey in a clean sink with cold running water, making sure to rinse it well.
Pat the meat dry with paper towels.
Put your broth or seasoned liquid in the bottom of the Instant Pot.
Next, place your trivet in the inner lining of your Instant Pot.
In a bowl, mix together the butter and Bell's Poultry Seasoning. Then rub the mixture all over your turkey breast, in between the skin and the meat as well as on top of the skin. If you need to make extra butter to do this well, go ahead.
Place the lid on the Instant Pot until it beeps and locks. Make sure the pressure valve is set to 'SEALING', and press the MANUAL button.
To cook, use a time of 6 minutes per pound of meat (a 5 pound breast will cook in 30 minutes).
Let the Instant Pot build and release pressure. DO NOT release pressure on a quick release; this really infuses the flavors into the Turkey.
When the Turkey is done, and all pressure has been released naturally and the pressure float valve is all the way down, remove the lid. Using turkey lifters, lift the turkey onto a platter or serving dish.
Notes
To have a browned turkey as if it were oven roasted, you can move your cooked breast to the oven for 20-30 minutes or broil it for 5 minutes, keeping a careful eye on it.
To make gravy, see the details in the post.
Safety Notes: Turkey, like chicken, is poultry, and care should be taken when handling raw; what I mean by that is don't lay raw turkey on your countertop. Use a large meat fork to help handle the raw turkey. When you've finished rinsing the turkey in the sink, and have removed the turkey to the Instant Pot, you need to thoroughly clean the sink, and surrounding area. Kitchen wipes, are great for this step, and make sure to wash your hands well after handling raw poultry, or meat.
Recommended Products
As an Amazon Associate and member of other affiliate programs, I earn from qualifying purchases.