We may earn money from the products/companies mentioned in this post. As an Amazon Associate I earn from qualifying purchases. For more information, read our Terms & Disclosures.
Arroz con Pollo is a traditional dish in many parts of South America (and one of my very favorite dishes). It's about to become your family's new favorite.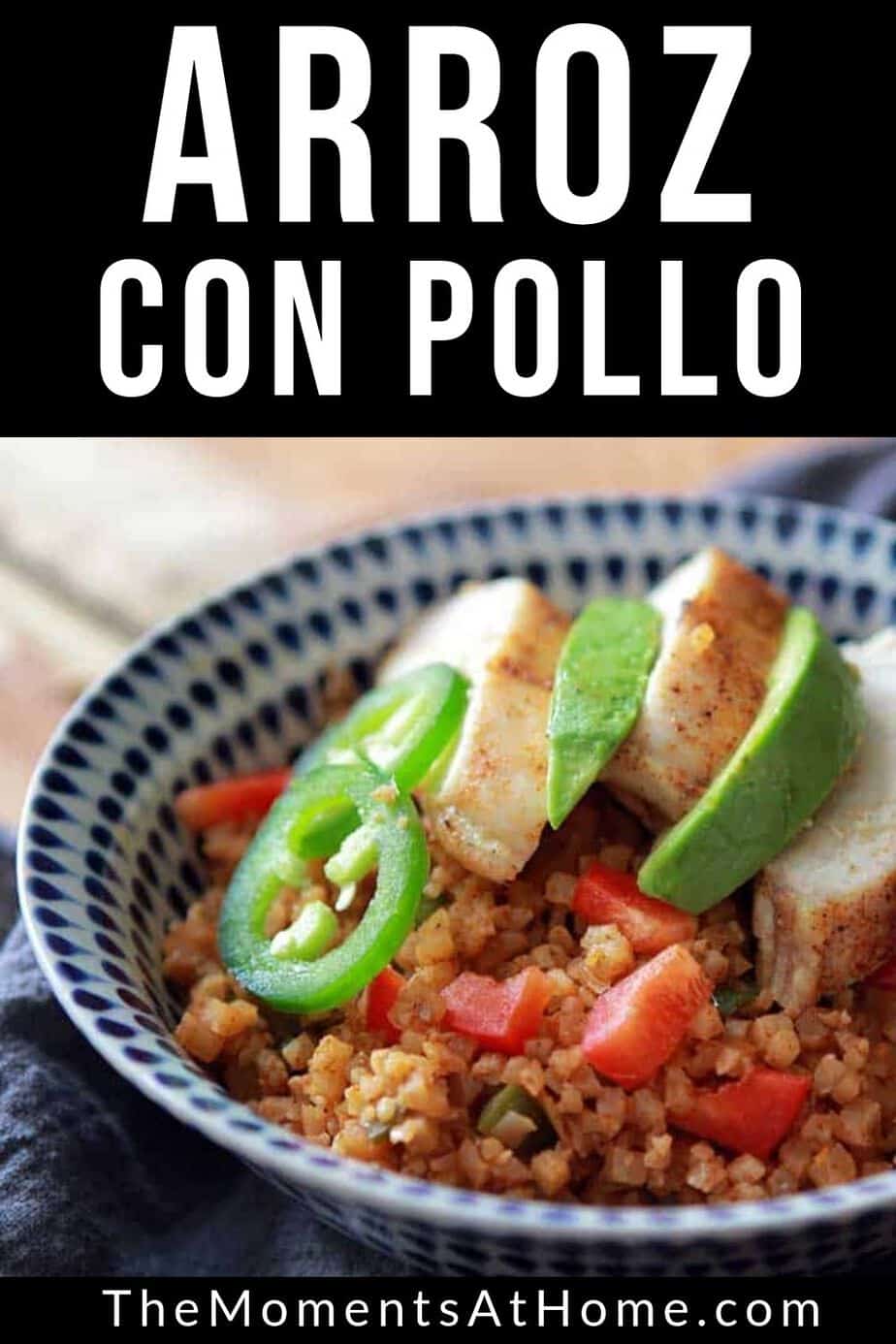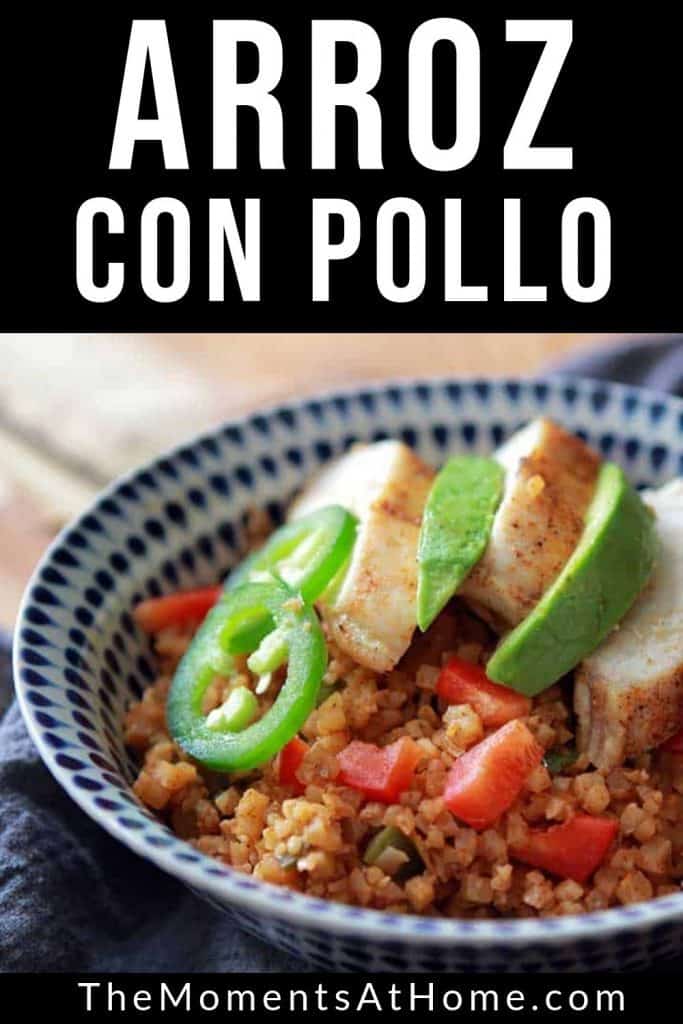 I'm going to share with you how I made this delightfully Latin dish that tastes every bit as authentic as it did when I made it in a way that wasn't trim and healthy today; you're not losing any flavor with these changes.  The following recipe fed our large family twice (with leftovers!) since we served it with a salad and dessert.  
You can easily halve the recipe if you're a smaller group than our eight, or if you don't like leftovers (although, with this meal, you'll want them!).  To keep this an "E" for the trim healthy mamas out there, be sure to only indulge in a 3/4 cup serving!  We like to pair it with a green salad.  
If you're having company or just want a festive table, this is a great meal to serve with garnish bowls. Set out bowls of fresh cilantro, sliced peppers (red and green for color!), avocado, and black bean salsa for people to spoon on top of their bowls.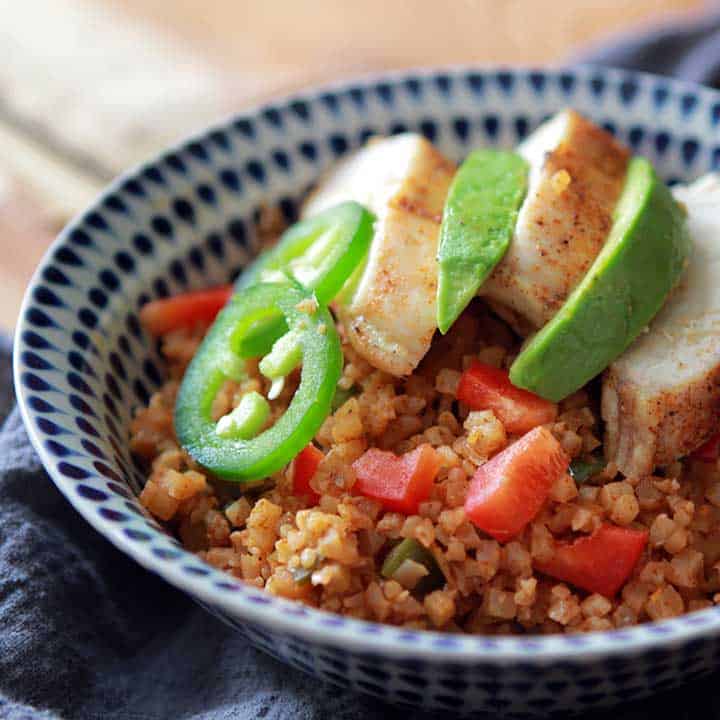 Yield:

12
Arroz Con Pollo
Additional Time:
10 minutes
Total Time:
1 hour
20 minutes
Ingredients
2 lbs brown rice
4 chicken breasts cut into bite sized pieces
3 TB olive oil
3 cloves freshly minced garlic
1/2 small yellow onion diced
1 bell pepper diced (I use green)
1 can Rotel diced tomatoes with green chiles
1-2 tsp salt
1-2 tsp pepper
1 1/2 tsp smoked paprika
1/2-1 tsp cayenne
1 tsp dried oregano
1 tsp dried basil
2 tsp turmeric
1/2 cup dry cooking sherry or vermouth opt 2 TB Apple Cider Vinegar
1 1/2 cup coarsely chopped spinach
1/3 cup chopped fresh basil
Instructions
Heat your dutch oven on the stove top (or a deep cast iron skillet, or whatever else you prefer). Add about 3 TB of olive oil to the bottom. While it's getting warm, dice up 4 chicken breasts into 1/2" sized pieces.
Once the oil is nice and hot, add in 3 cloves of freshly minced garlic and half of an onion, diced. Let it sizzle for a few minutes until the onion is translucent and you have a beautiful aroma coming from the pot.
While the garlic and onion are melding their flavors, toss the chicken pieces in a mix of salt, pepper, and smoked paprika (I used about 1 tsp of each and then sprinkled a little bit more paprika on so that all of the pieces were reddish).
Toss the chicken into the pot and let it cook in the oil. Once it's cooked through, remove it with a slotted spoon to a bowl where it will stay until the end.
Add in 2 lbs of brown rice and let it sit for a minute. The goal here is to "toast" the grain; this gives it a richer flavor as well as protects the texture from becoming too mushy. After a minute or so, stir the rice so that the rest of it can brown. Repeat this step until it's all been toasted.
Now add in 1 can of Rotel (diced tomatoes with chili peppers) and 2 tsp of turmeric (more if you like it!). If you like some heat, add a dash or two of cayenne. I also add 1/2 tsp pink salt, 1 tsp oregano, and 1 tsp of dried basil. I like to add 1 green bell pepper at this point; others add it at the end so it maintains some crispness, but this is not as authentic. Another option is a can of peas, but we prefer the pepper. Be creative and use what you have on hand!
Add in 1/2 c dry cooking sherry or white wine. If you have neither, you may want to add about 2 TB Apple Cider Vinegar, but no more than that.
Add water until your rice is covered. Then add another 1/2". If you want to use 1/2 broth and 1/2 water, it adds more flavor. Totally up to you! I would have done that if I still had bone broth in the freezer, just because it's so rich in nutrients.
Cover and simmer for 45 minutes, then turn off the heat.
Coarsely chop about 1 1/2 cups of spinach and 1/3 cup basil. If you have parsley or cilantro in your garden, either adds some great flavor instead of the basil.
Stir in the fresh greens and toss the chicken back in.
Serve and ENJOY!
Notes
If you're not worried about carbs and fats together, serve this up with some avocado on top and fresh jalapenos -- so yummy!
Nutrition Information:
Yield:
12
Serving Size:
1
Amount Per Serving:
Calories:

154
Total Fat:

4g
Saturated Fat:

1g
Trans Fat:

0g
Unsaturated Fat:

3g
Cholesterol:

2mg
Sodium:

744mg
Carbohydrates:

24g
Fiber:

3g
Sugar:

1g
Protein:

4g