Instant Pot Chicken Alfredo
We may earn money from the products/companies mentioned in this post. As an Amazon Associate I earn from qualifying purchases. For more information, read our Terms & Disclosures.
This easy Instant Pot Chicken Alfredo recipe is a popular weeknight dinner because of how simple it is, and yummy enough to serve up for company or on the holidays!
Chicken alfredo is hands down one of my favorite dinners. I used to slave over it all day long: perfectly seasoning and then blackening the chicken, making my sauce from scratch and hovering so it didn't clump, getting the pasta just so.
My kids begged for it all the time, but it was a bit of an ordeal. Perfectly fine for Christmas Eve dinner, but no so much a Thursday night. You know?
And then the Instant Pot happened.
Now we enjoy Instant Pot Chicken Alfredo whenever we want, because even the kids can whip this delicious dinner up.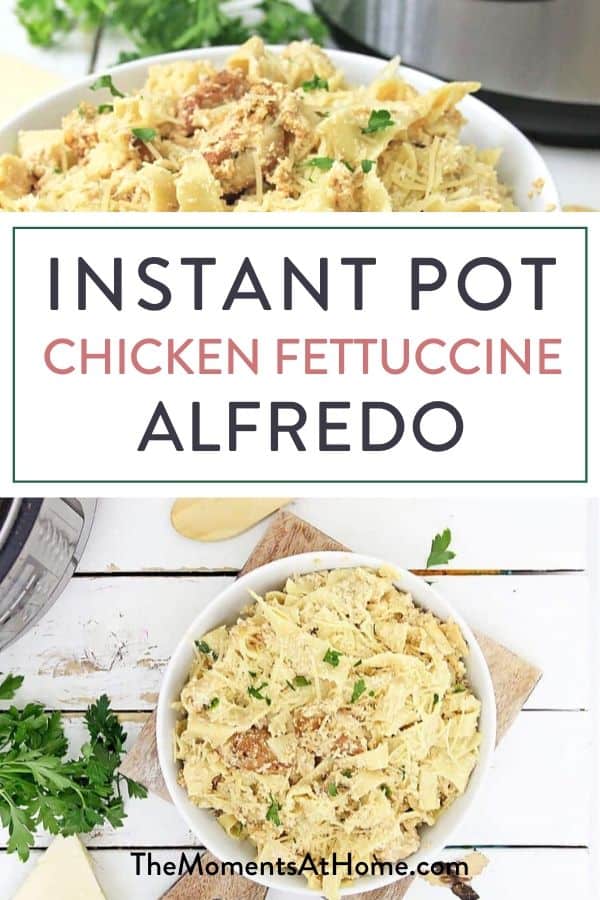 What Ingredients Do You Need To Make Chicken Fettuccine Alfredo In The Pressure Cooker?
One of the best parts about this recipe is how surprisingly healthy it is. Now, don't confuse healthy with slimming…because this is a rich and savory meal, to be sure!
However, the ingredients are pretty straightforward and so much healthier than buying a jar of processed alfredo sauce. Here's what you need:
Chicken breasts
Butter
Olive Oil
Minced garlic
Ground garlic salt
Fresh ground pepper
Minced parsley
Heavy cream
Chicken broth
Fettuccine noodles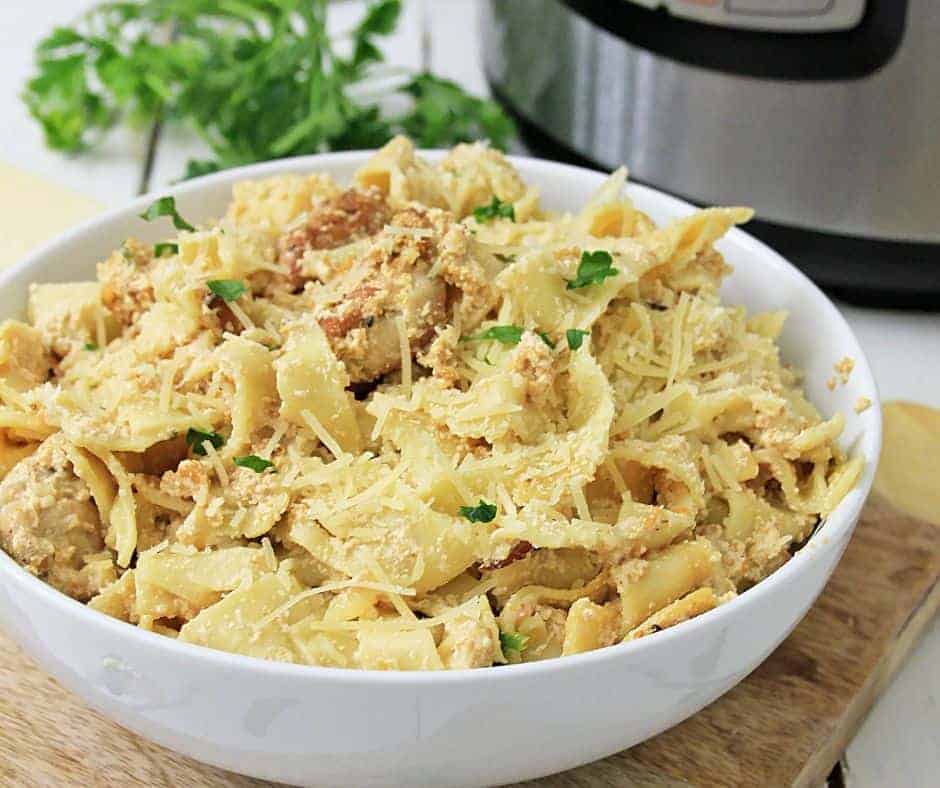 How To Prepare The Chicken In Your Instant Pot
Normally, I'd season and blacken my chicken in a cast iron skillet, make the sauce in a sauce pan, and cook my noodles in yet another pot.
With this delicious Instant Pot Alfredo recipe, it's all happening in your Instant Pot liner!
First slice and season your chicken, then sauce it in the pot in butter and olive oil. You're going to cook it all the way through and then remove it.
This leaves all kinds of yummy flavor in the pot to make the sauce and noodles even more richly delicious!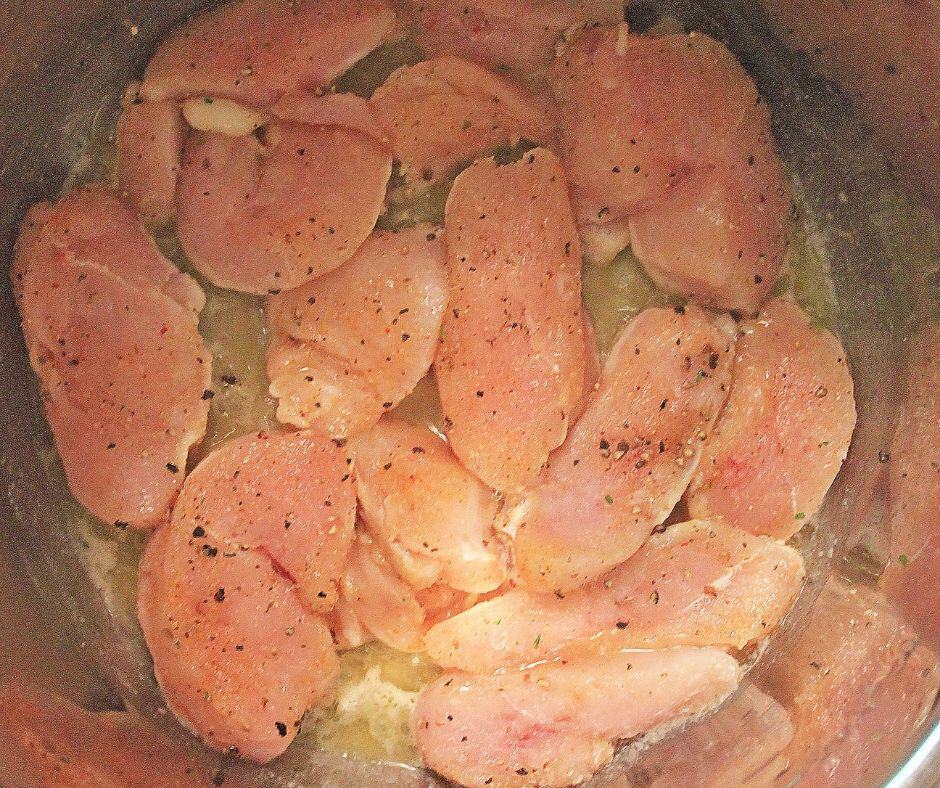 Easy Instant Pot Fettuccine Alfredo
Next up you'll use butter to sauce garlic.
Then you'll use that butter and chicken broth to deglaze the bottom of your pot, getting all those flavorful chicken pieces loose and ready to add your cream! Go ahead and add some garlic sauce to the freshly sautéed garlic and cream, too.
Then add your noodles, broken in half, to the pot and stir to cover them completely with the liquid.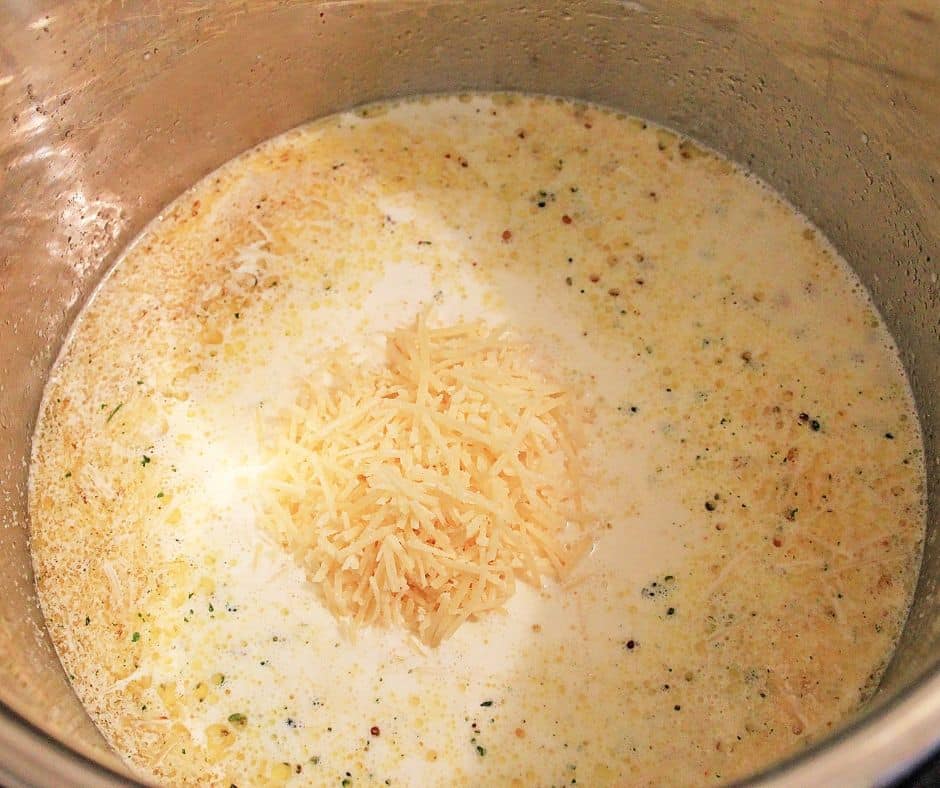 Preparing To Serve Your Instant Pot Fettuccine Chicken Alfredo
Once the Instant Pot is doing cooking and you've released pressure (carefully, so as not to burn yourself!), stir the noodles and pasta together.
After letting it sit for a minute, stir in your fresh parmesan, chopped fresh parsley leaves, and your chicken.
If you have some freshly cooked bacon, it makes a marvelous addition to the meal at this point. Another great add-in combo is freshly chopped basil and cherry tomatoes.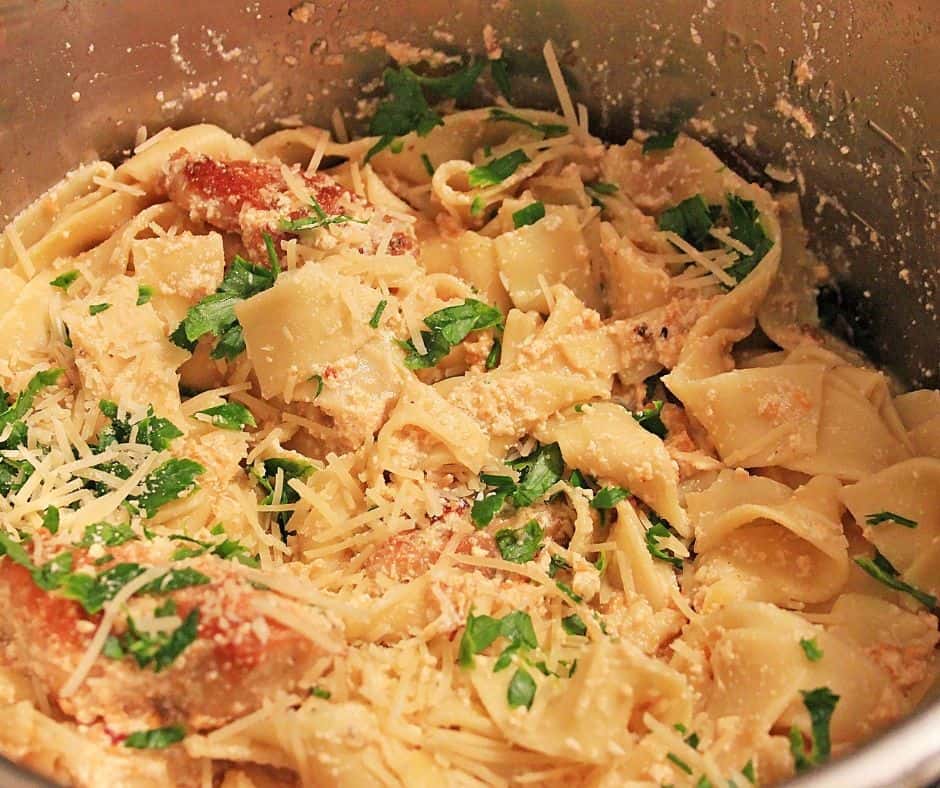 Bon Apetit!
All that's left now is to dig in and enjoy it! Pair your fettuccine with cream sauce and chicken dinner with a lovely Caprese salad, traditional side salad, or even roasted asparagus.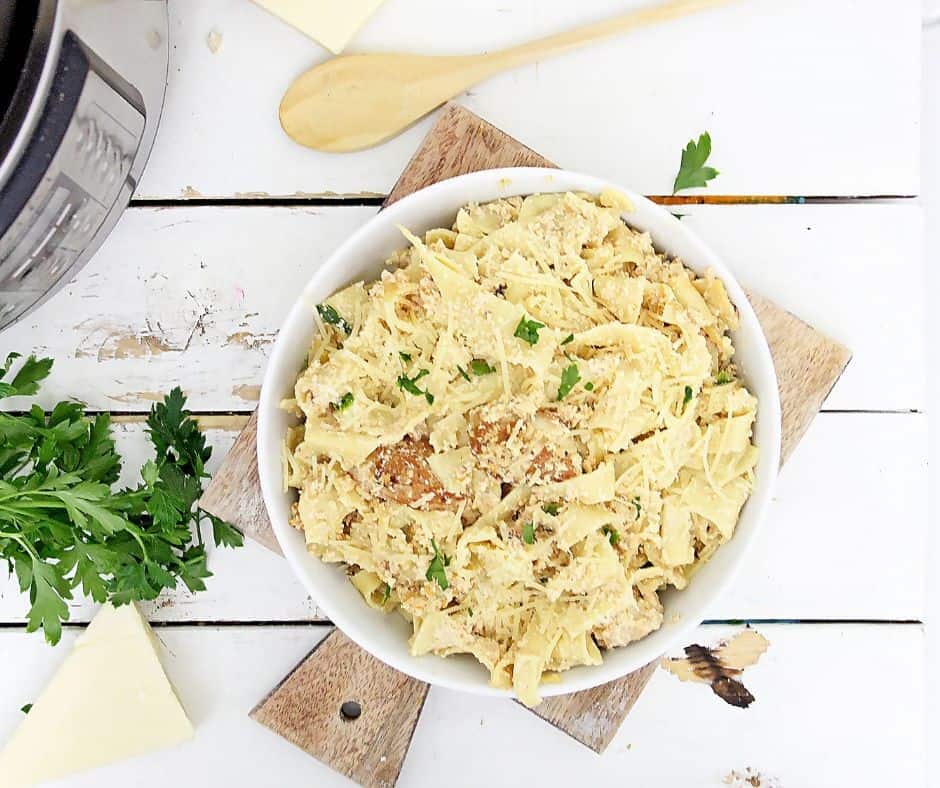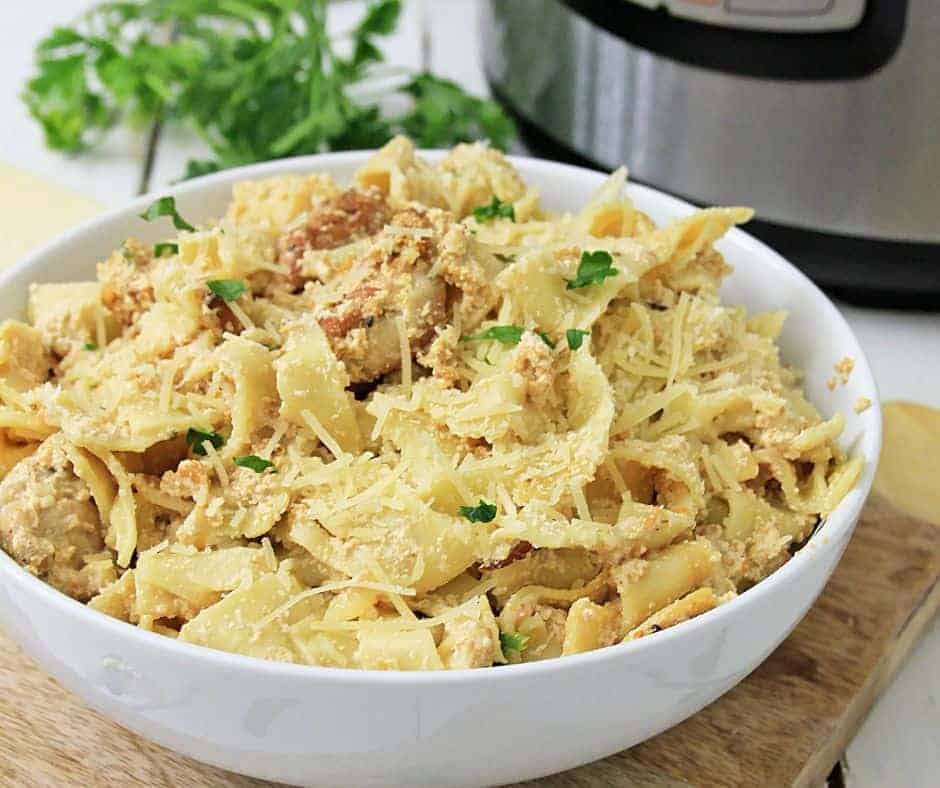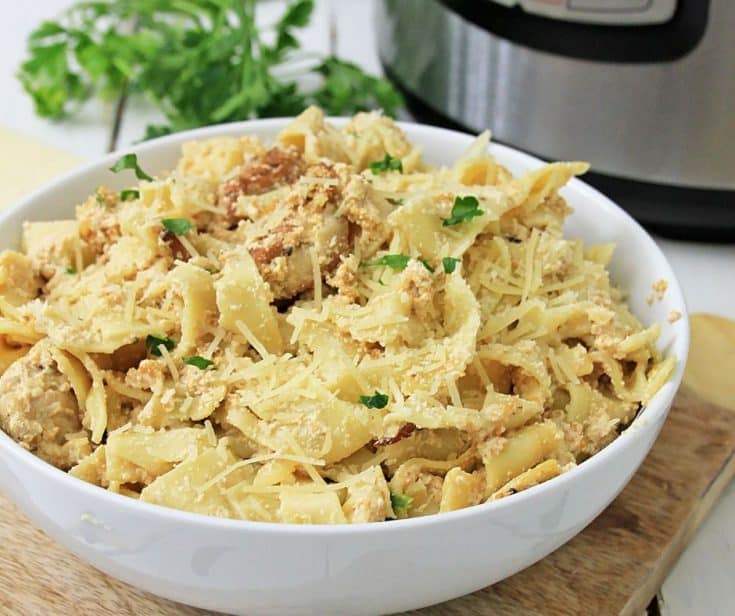 Yield:

4-6
Instant Pot Chicken Alfredo
Additional Time:
5 minutes
Instant Pot Chicken Fettuccine Alfredo is so easy to make! This creamy, savory meal is perfect for company and so yummy and simple it's also a great weeknight family dinner.
Ingredients
3 large chicken breasts - sliced in 1 inch slices
2 Tablespoons of butter
1 Tablespoon of Olive Oil
2 teaspoons of minced garlic
1 teaspoon of coarse ground garlic salt
1 teaspoon of fresh ground pepper
1 Tablespoon of finely minced parsley
3 cups of heavy cream
1 cup of chicken broth
1 16 ounce package of Fettuccine
Instructions
Slice the Chicken breasts in 1 inch slices, and sprinkle with garlic salt and pepper.
Turn the Instant Pot to 'SAUTE' and add the butter and olive oil. When butter has melted, add the chicken, and stir well.
Brown chicken on both sides, and continue to cook chicken until it's completely done, about 1/2 an hour, on the low setting.
When chicken is done, and no longer pink in the center, remove to a foil lined plate, wrap up chicken, and set aside.
Make sure there is butter left in the bottom of the instant pot - if no butter is left, or not enough, add 1 Tablespoon - turn the Instant Pot to SAUTE, and melt the butter, then add the garlic and Saute for 2 minutes.
Turn off the Saute setting, and add the chicken broth, and de-glaze the pot.
Add the cream, and sprinkle a little garlic salt over the cream.
Break the Fettuccine noodles in half, and add to the Instant pot, and stir the pasta, making sure the pasta is covered by the cream and chicken broth.
Place the lid on the Instant Pot, and make sure the pressure valve is set to 'SEALING', and press the MANUAL setting, and set the time to 2 minutes.
When the Pasta is finished cooking, and the pot beeps and goes to off, let the Instant Pot sit for 5 minutes, then do a quick release, by carefully, and with a pot holder, turning the pressure valve to 'VENTING', and allow all the pressure to release, and when the float valve drops down, then remove the lid to the Instant Pot.
Stir the cream mixture with the noodles, and let sit for one minute. Add the Parmesan cheese to the Fettuccine noodles, and stir well to blend cheese into noodles.
Add the chicken back into the Instant Pot, and toss with Fettuccine.
Sprinkle with Parmesan cheese and finely chopped Parsley.
Serve immediately. Enjoy!
Recommended Products
As an Amazon Associate and member of other affiliate programs, I earn from qualifying purchases.