Tuscan Chicken In Creamy Garlic Sauce
We may earn money from the products/companies mentioned in this post. As an Amazon Associate I earn from qualifying purchases. For more information, read our Terms & Disclosures.
This tuscan chicken recipe with creamy garlic sauce is a decadent, savory low carb recipe perfect for anyone who loves the fresh flavors of Italian food and wants to stick to their low carb, keto, or THM way of eating. Plus, it's an easy weeknight one skillet dinner the entire family will love.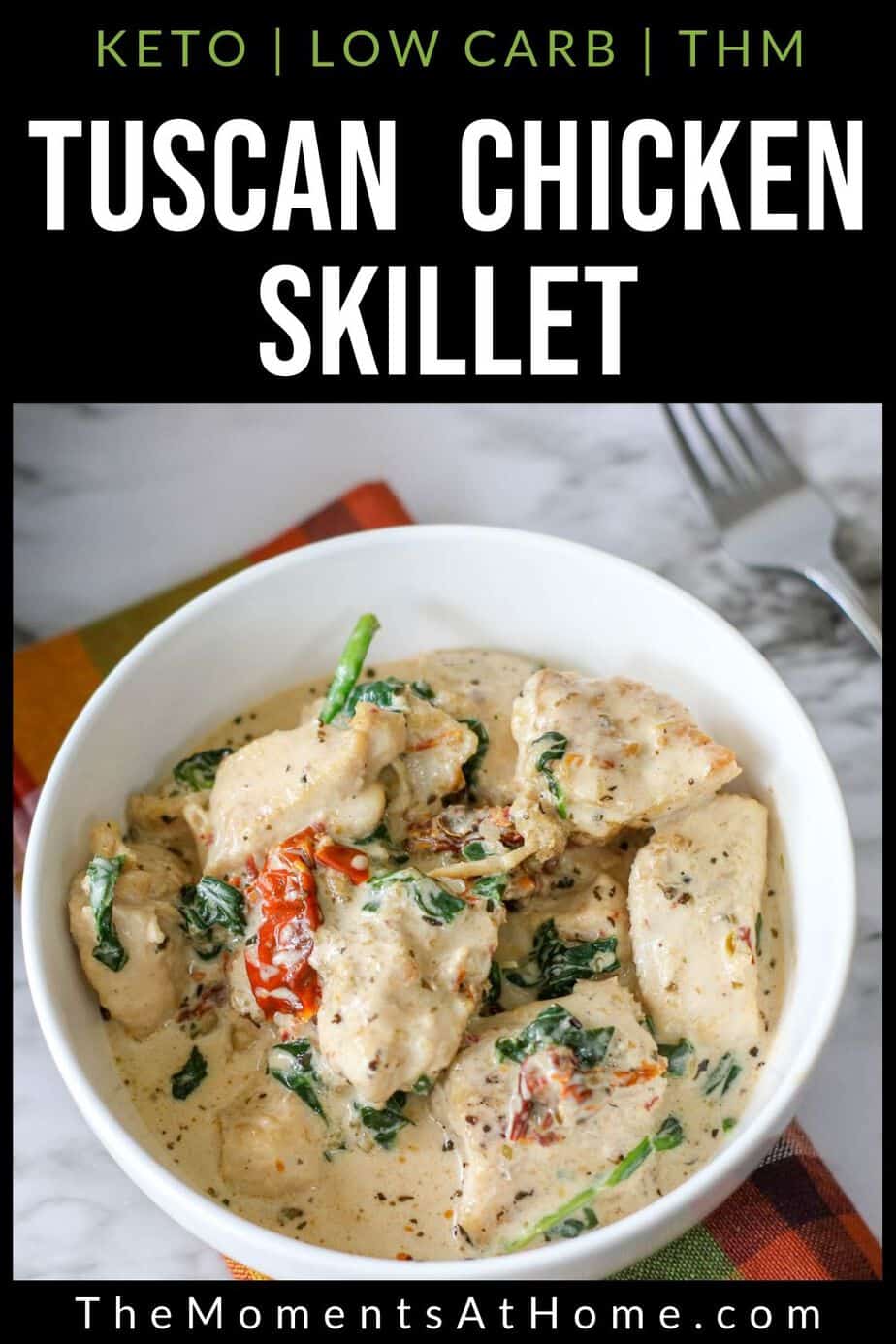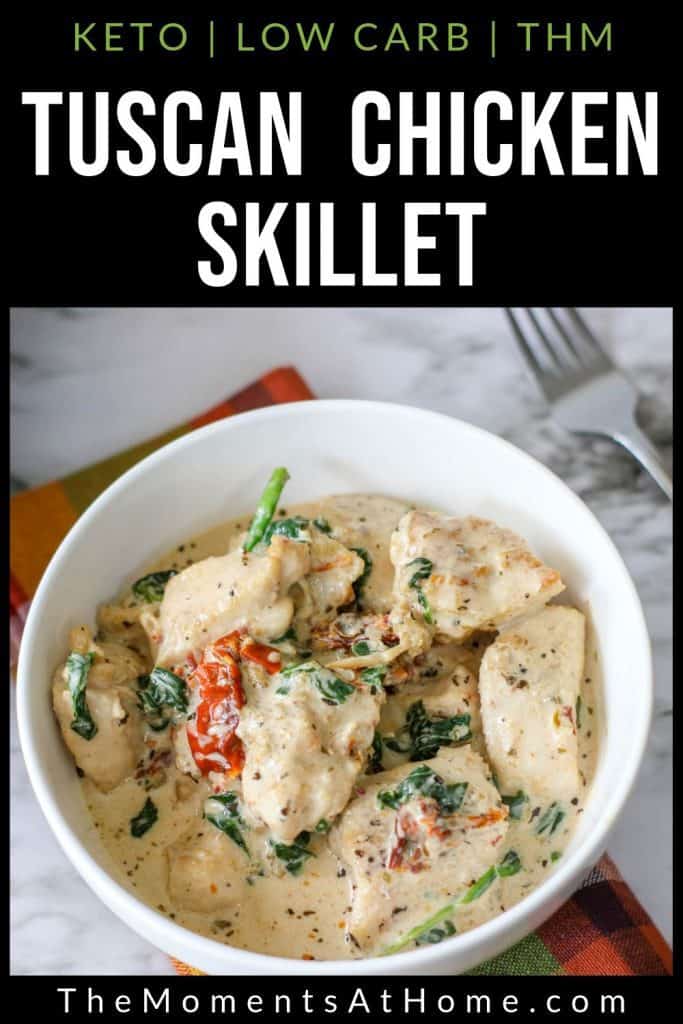 When you're a busy mom with a hungry family and a to-do list a mile long, the best dinners are ones that leave you with minimal clean up, use only one pan, and that even the pickiest of eaters will enjoy. That's what I love about this Creamy Tuscan Chicken With Garlic recipe.
It can be made in my favorite trusty cast iron skillet, the kids even eat the veggies in it, and mama gets to keep on keto-ing on.
What Exactly Is Creamy Tuscan Chicken With Garlic?
I'm so glad you asked…and you will be, too, as soon as you try it! Tuscan chicken is a one skillet dish that will make your taste buds sing and your heart melt with delight.
Inspired by the flavors of Tuscany, the herbs, meat, and cream meld together in a fragrant, satisfying, creamy dish that can be served all on its own, over zoodles (or your other favorite healthy pasta alternative), on top of sautéed bell peppers and onions, or even on a bed of fresh baby spinach and tomatoes.
Some people only know of this creamy garlic chicken because they tried it at Olive Garden and want a Tuscan Chicken copycat recipe…but this is so much better than that!
You can make this meal with chicken breasts or chicken thighs (it works with both!). We often do it with chicken thighs for the healthy fats and added flavor, but since I always have a bag of breasts in the freezer we've also added this to our collection of chicken breast recipes.
What's The Difference Between Italian Seasoning & Tuscan Seasoning?
Italian seasoning blends usually contain basil, oregano, rosemary, sage, thyme, and marjoram.
Tuscan seasoning is traditionally a blend of basil, oregano, rosemary, sage, thyme, marjoram, but also contains fennel, sun dried tomatoes, garlic, and dehydrated bell peppers (both red and green for color and flavor).
This recipe uses Italian seasoning as that's what most people have in their pantry, but also adds in the garlic for that extra special taste of Tuscany. However, if you have Tuscan seasoning you can go ahead and use it instead, if you prefer.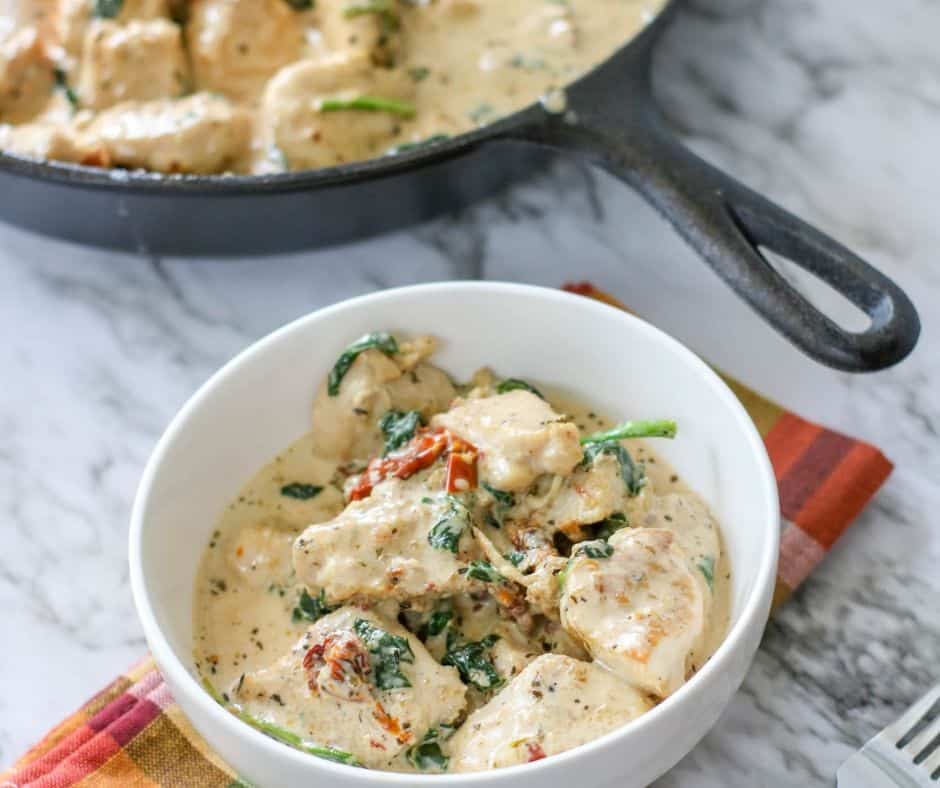 Ingredients In This Tuscan Chicken Recipe
What do you need to make this delicious one dish dinner? The star ingredient in this Tuscan chicken recipe is freshly minced garlic (or you can buy a jar of minced garlic, if you prefer).
Don't let the ingredient list scare you off from making this Tuscan chicken recipe; I know it looks long, but you have most of the things on hand anyhow, and the rest are easily obtained at your local market.
Boneless skinless chicken thighs cut into bite-sized pieces
Garlic powder
Salt and pepper to taste
Cooked bacon, crumbled
Bacon grease
Onion
Minced garlic
Heavy whipping cream
Chicken broth
Parmesan cheese (grated)
Italian or Tuscan seasoning
Fresh basil
Fresh spinach
Tips For Making The Best Tuscan Chicken Skillet Dinner
The thing to remember is that Italian cooking is intuitive. If it smells amazing, it's going to taste amazing. (And this will do both!) So just relax and enjoy putting together your easy one skillet dinner that tastes like you are dining in a fine restaurant…even though you're throwing it together after you get from a day of chauffeuring kids and running errands.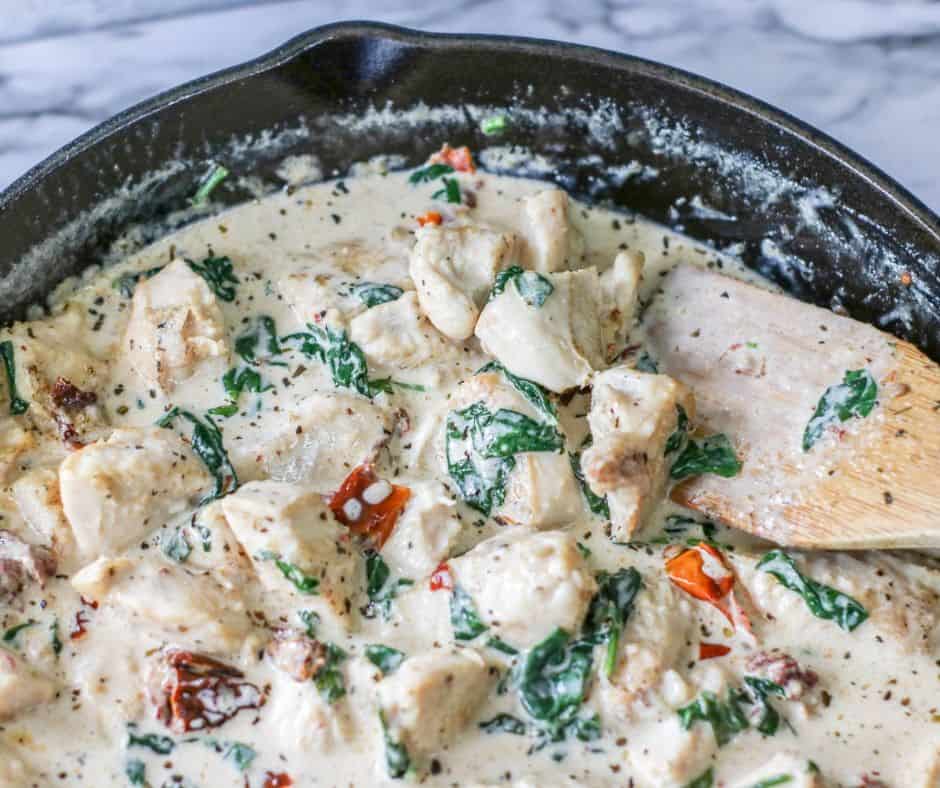 Choose Your Bacon Well
One of the best parts of this recipe is the flavor not just from the bacon, but the bacon grease. That means choose your bacon well.
When I buy bacon, I like to buy a higher quality of it that doesn't have as many preservatives, has a decent amount of marveling (the fat gives it flavor!), and is smoked. And whenever you cook it, save the grease for using in recipes that need fat – it's so flavorful!
Deglaze The Skillet
This sounds fancy, but it's not. In fact, you probably do it all the time if you're used to cooking skillet meals.
Simply put, deglazing is removing the browned bits of food that stick to the bottom of the skillet and then dissolving them into the liquid you use in a particular recipe to add a delightful depth of flavor. This flavor is enhanced by any aromatics you add (such as garlic).
Use Fresh Parmesan If Possible
Now you can totally use grated parmesan cheese (what my kids refer to as shaker cheese) that's already prepped in a can if you need to speed things along or you have it handy.
But if you're looking up level this recipe? Get some freshly grated parmesan from your deli area or buy a wedge of it and grate it yourself. You won't believe the creamy, fresh bite it adds to your dish!
How To Make Tuscan Chicken With A Creamy Garlic Sauce
First up is cooking your bacon. Remove the crispy pieces from the skillet and leave some of the grease behind. Then add your salt and pepper seasoned chicken bites to start sautéing.
Once your chicken is partially cooked, add your diced onion and freshly minced garlic to the pan. Hint: push the chicken to the outside and add the onion directly onto the skillet. Once it's translucent, add the garlic to the center for a moment, so it can start to release its flavor on the hot skillet as well. After you can smell it and it starts to turn a little golden, mix it in with your meat.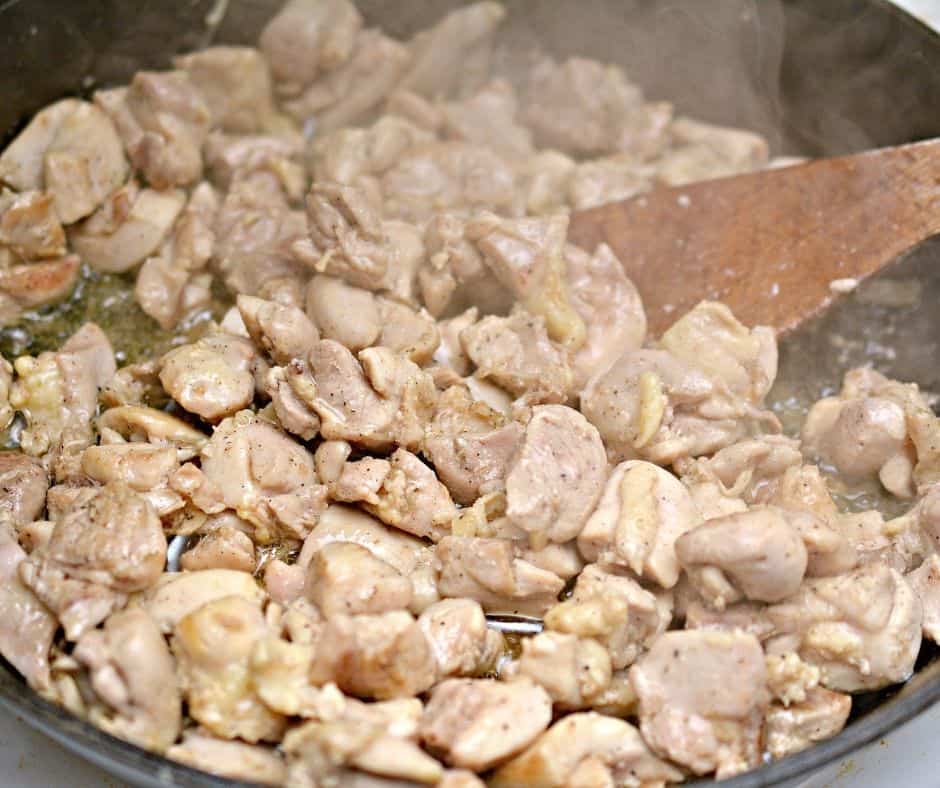 Next, remove the chicken from the skillet. It's time to deglaze your pan! Pour in your heavy whipping cream and chicken broth, whisking well so that you pull up the bit of chicken, onion, and garlic that are stuck to the bottom of the pan.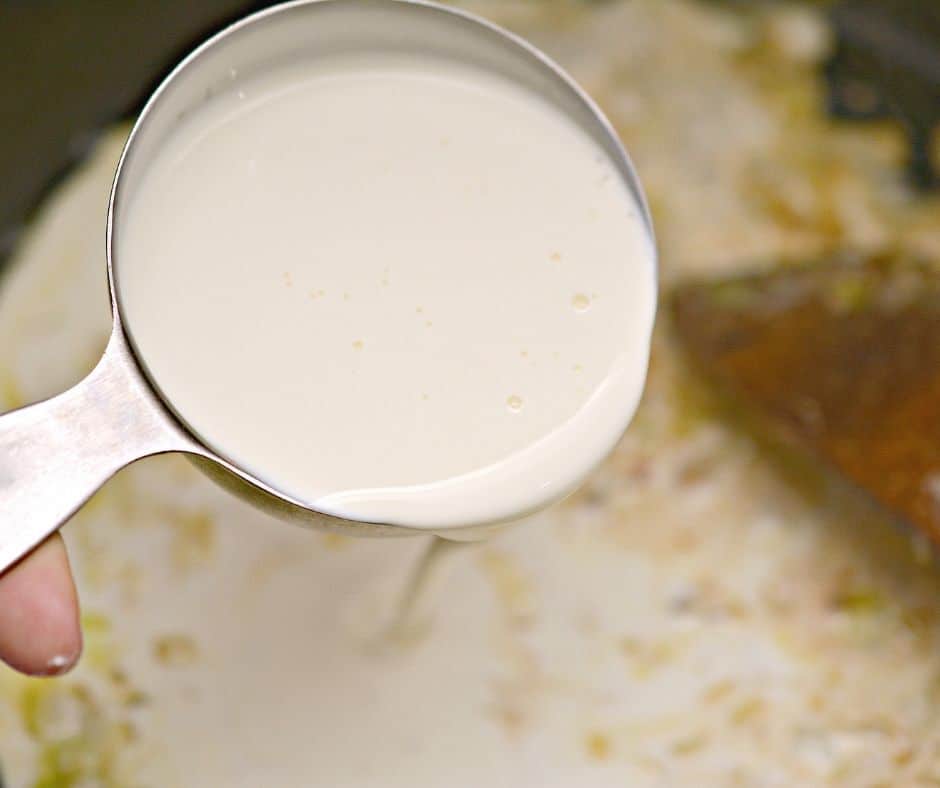 Next, add in your parmesan, spice blend, and chopped basil. Whisk well until your sauce is smooth and creamy.
The trick here is constant motion, so it doesn't clump or burn. It will only take a moment or two, don't worry.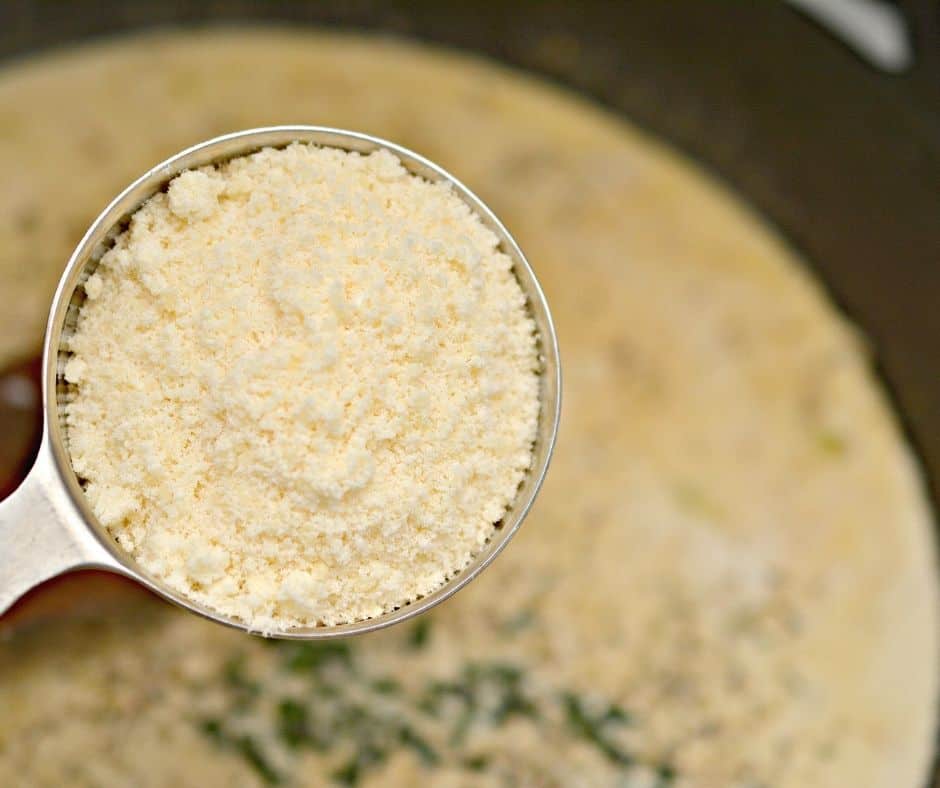 Add in your crumbled bacon and stir it in.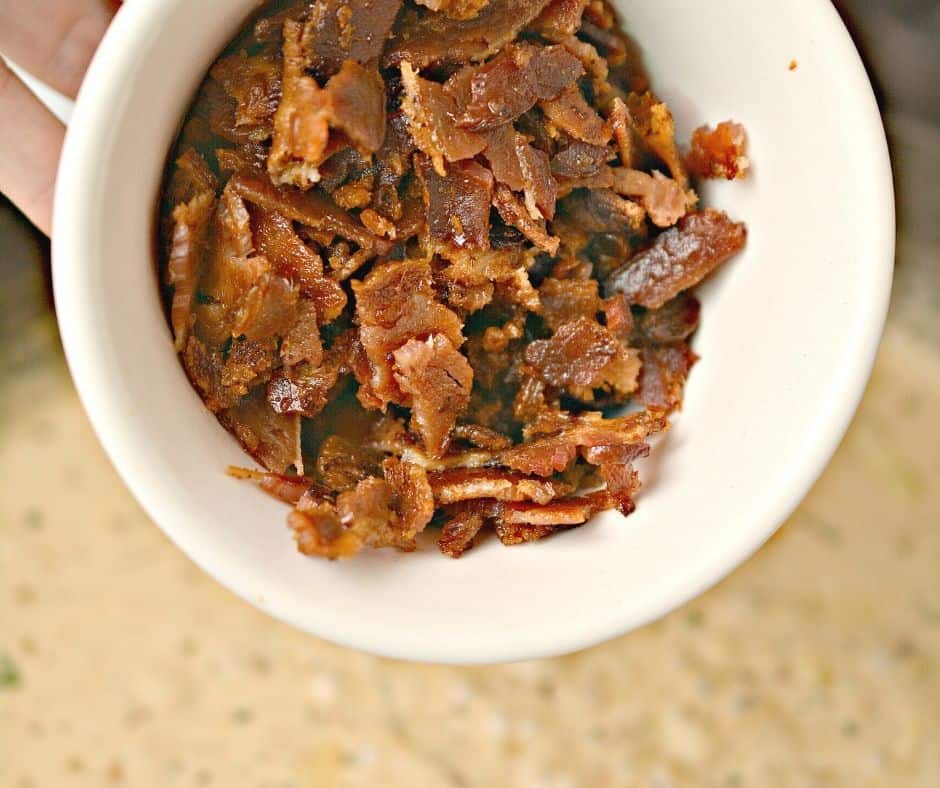 Next, add in your fresh baby spinach. Stir until they just start to wilt and then add your chicken back in. It's almost time to eat…aren't you excited?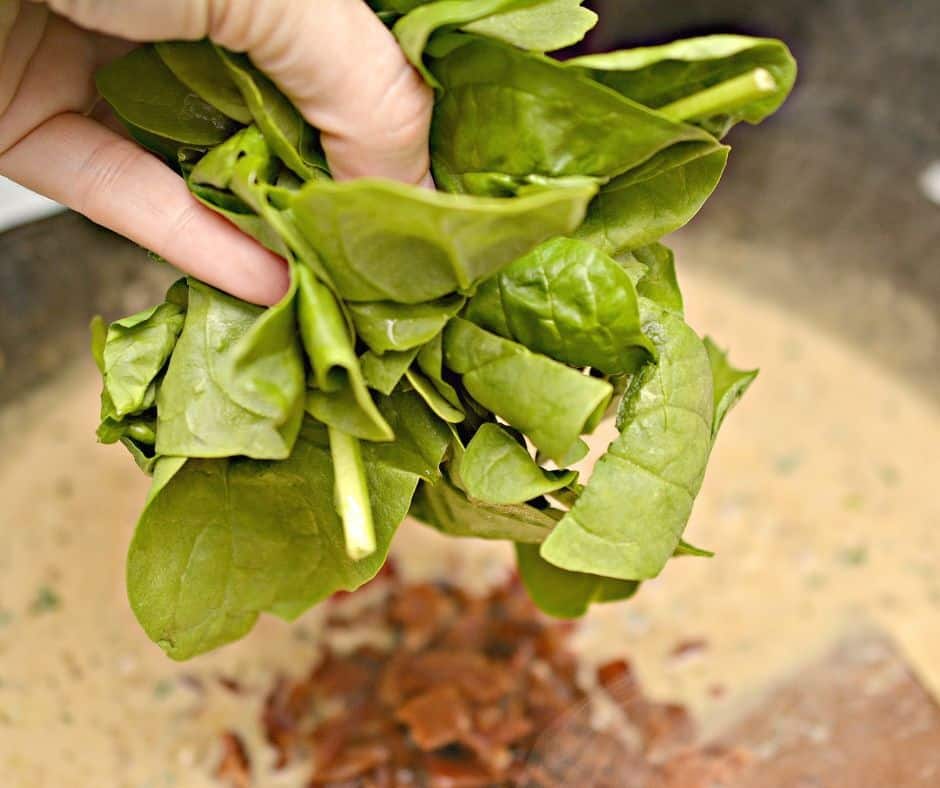 Last but not least, serve your Tuscan chicken in creamy garlic sauce and enjoy! Doesn't that look amazing?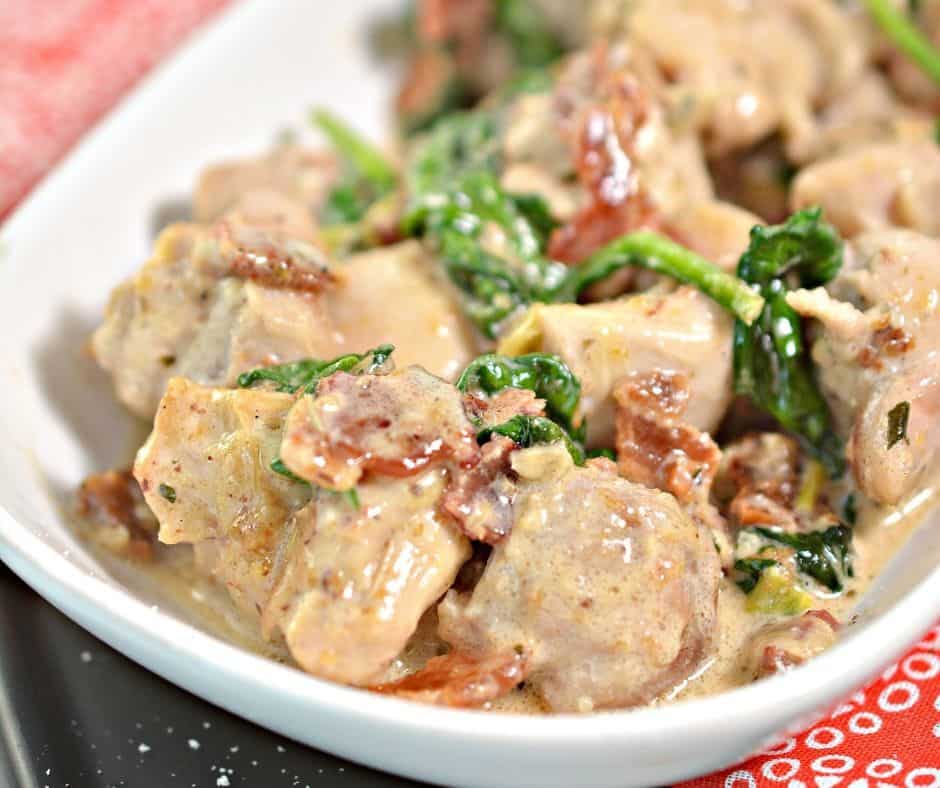 How To Serve, Reheat, & Store Your Creamy Garlic Chicken
Tuscan chicken is going to taste better served fresh out of your skillet, no question. And you have a variety of ways you can serve and enjoy it.
Best Way To Serve Tuscan Chicken
Personally, I like it just like this, in a bowl. It's a delightful, satisfying keto dinner and it leaves me full and happy.
But if I'm enjoying the leftovers for lunch, I enjoy the creamy garlic chicken on top of zoodles or a full bed of fresh baby spinach or spring mix.
My hubby and kids adore the creamy garlic sauce on pasta, spaghetti squash, or risotto. I often sauté up some onions and peppers for them, too, to make it more filling.
Reheating Chicken In Creamy Garlic Sauce
If you've ever microwaved chicken (especially chicken breasts), you know they can get rubbery. Usually that is because they are reheated too long, without enough liquid.
And if you've ever microwaved a cream sauce, you've probably seen in separate or had it come out scorched. That's also from overheating.
So if you're going to microwave your leftovers, do it in a loosely covered dish and stir it every 45 seconds or so. This will keep the sauce creamy and your chicken from drying out.
However, I just toss it back in the skillet for a few minutes, stirring as I reheat it.
How To Store Creamy Garlic Chicken
Your leftovers will keep 3-5 days in the fridge in an airtight container. This won't freeze well, but it does store okay in the fridge.
If you happen to be making it in advance on purpose, withhold the spinach and add it fresh when you reheat in your skillet.
If you like this healthy chicken dinner idea, be sure to check out these other healthy, low carb, family friendly chicken dinner recipes. Enjoy!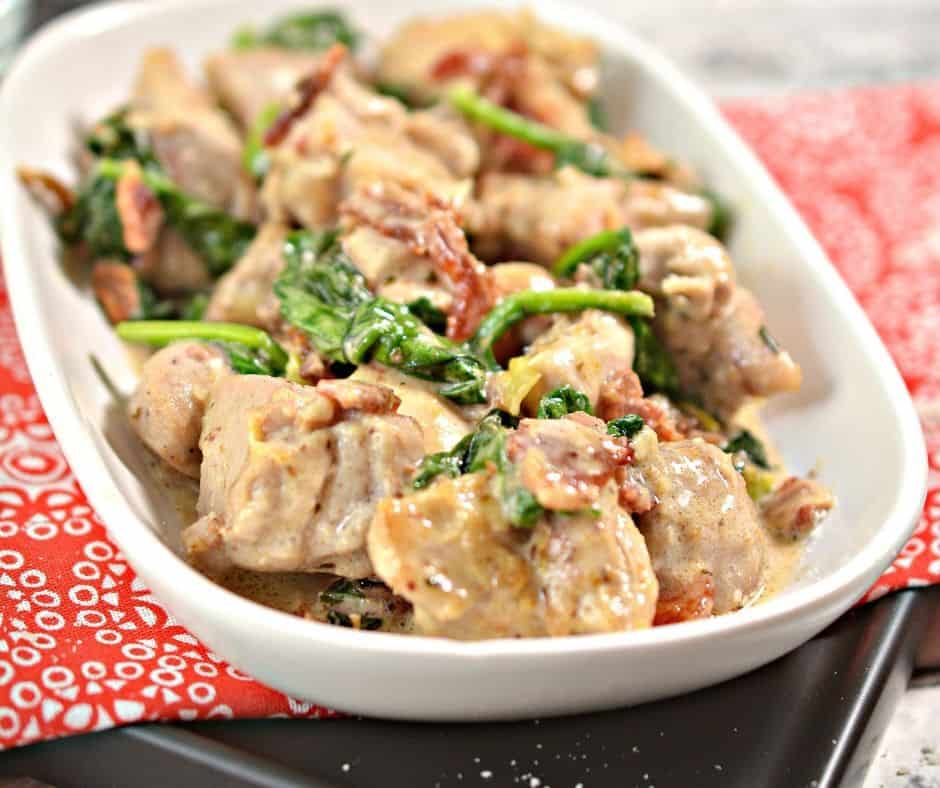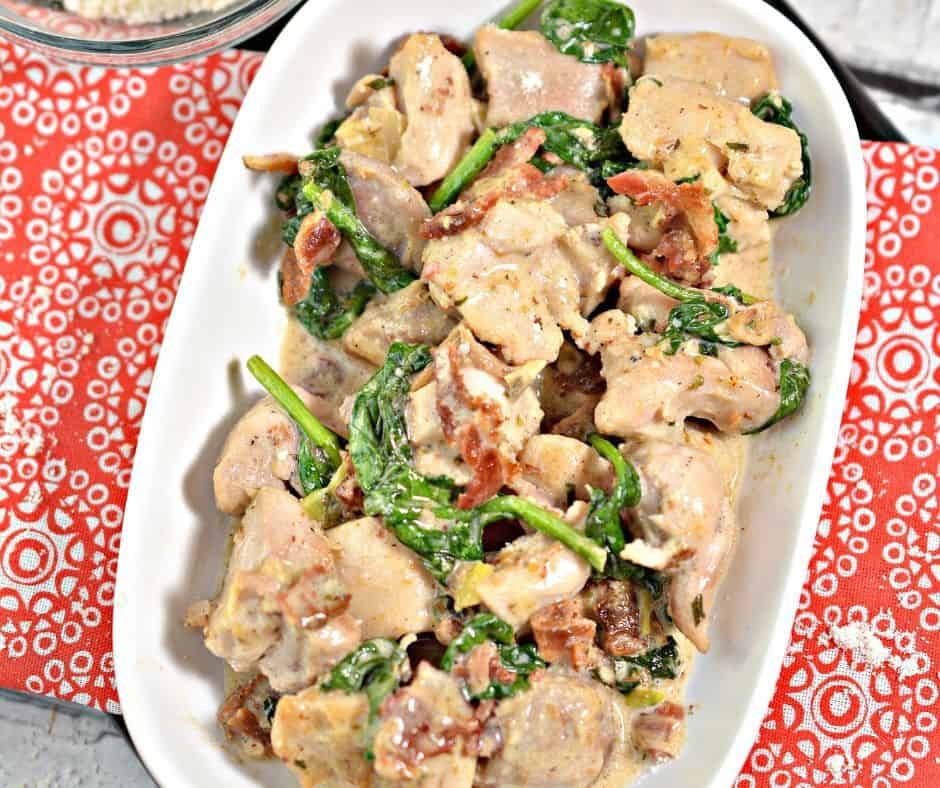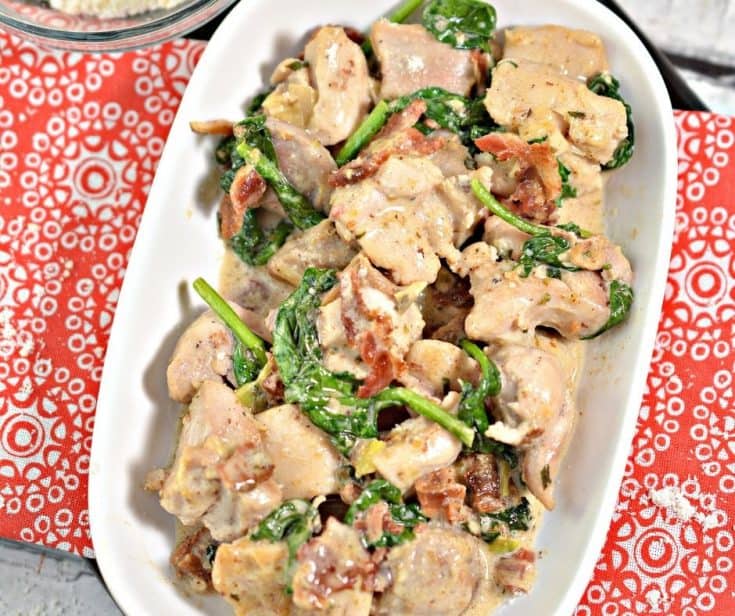 Yield:

4
Tuscan Chicken With Creamy Garlic Sauce
Additional Time:
10 minutes
Ingredients
2 lbs. Boneless skinless chicken thighs cut into bite-sized pieces
½ tsp Garlic powder
Salt and pepper to taste
6 Pieces of cooked bacon, crumbled
1 tbsp Bacon grease
½ c Onion, chopped
2 tsp Minced garlic
1 c Heavy whipping cream
1 c. Chicken broth
⅓ c Parmesan cheese grated
1 tsp Italian seasoning
1 tbsp Fresh chopped basil
2-3 c Fresh spinach
Instructions
Cook the bacon until crispy and then crumble into pieces, reserving some of the fat
2. Place 1 tbsp of the reserved bacon fat into the skillet, over medium high heat
3. Season your chicken pieces with salt and pepper and cook in the skillet until cooked all the way through, then remove the chicken and set aside
4. In the same skillet, at the ½ cup of chopped onion and saute until transluecent
5. Add in the minced garlic, and saute for another 30 seconds until aromatic
6. Whisk in the heavy whipping cream and the chicken broth, deglazing the pan (see post for details if you've never done this - it's easy!)
7. Add the grated parmesan cheese, basil, and Italian seasoning
8. Add in the crumbled bacon and fresh spinach; cook until just wilted
9. Add the chicken back into the skillet, and toss to coat in the sauce. Season with additional salt and pepper to taste.
10. Simmer the mixture for 3-5 minutes longer, and serve.