Candied Pecans: Low Carb, Sugar Free, & Delish!
We may earn money from the products/companies mentioned in this post. As an Amazon Associate I earn from qualifying purchases. For more information, read our Terms & Disclosures.
Have you ever felt peckish and wanted a satisfying snack? Something warm and crunchy, sweet and decadent? Enter: Candied Pecans! Low carb, sugar free, gluten free, delicious, and absolutely the perfect solution for a quick homemade treat!
They take about 30 minutes start to finish, but most of that is just waiting (patiently…or almost so) for them to cook so you can dig in. Simple to make and fool proof recipe make this an ideal low carb/keto snack.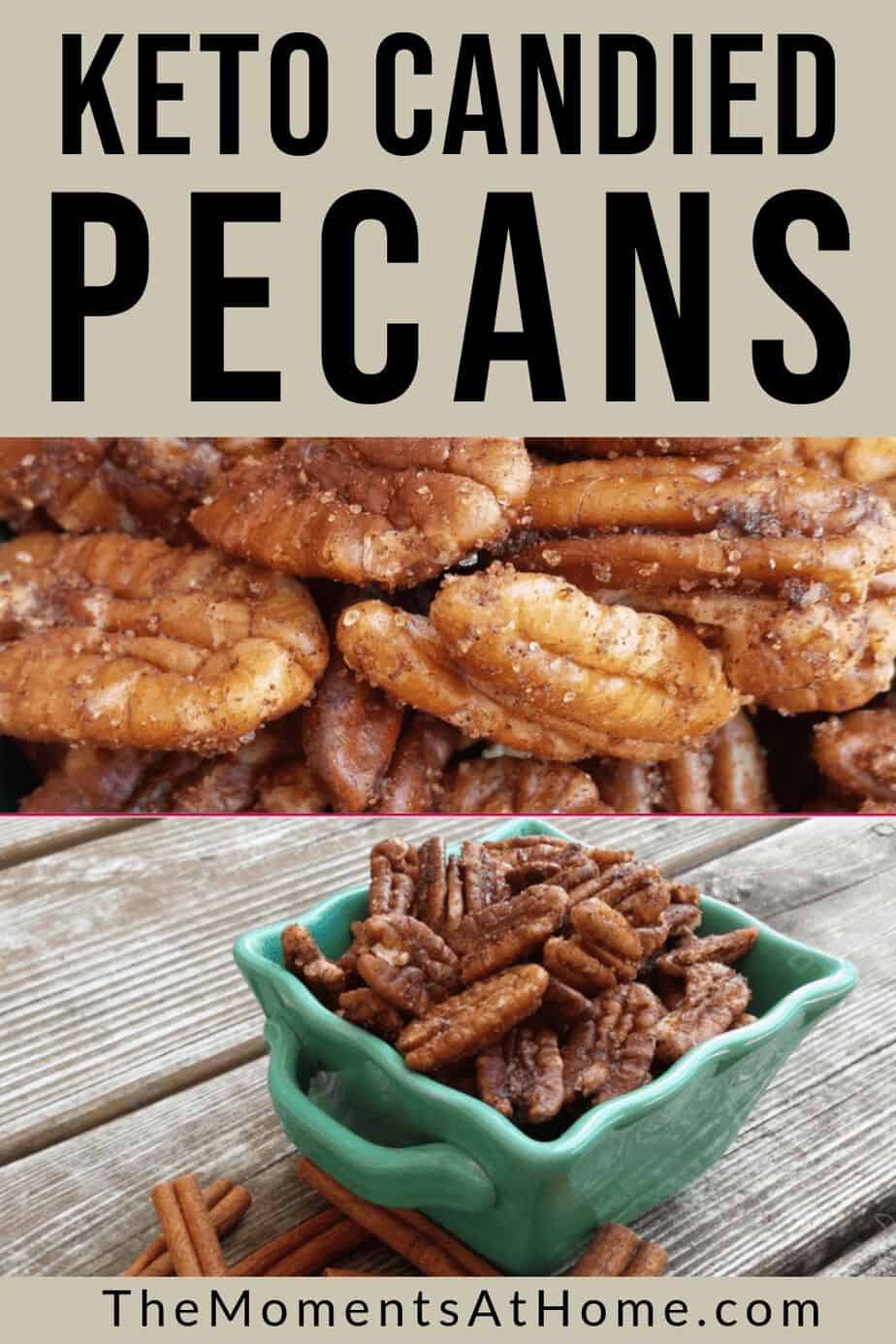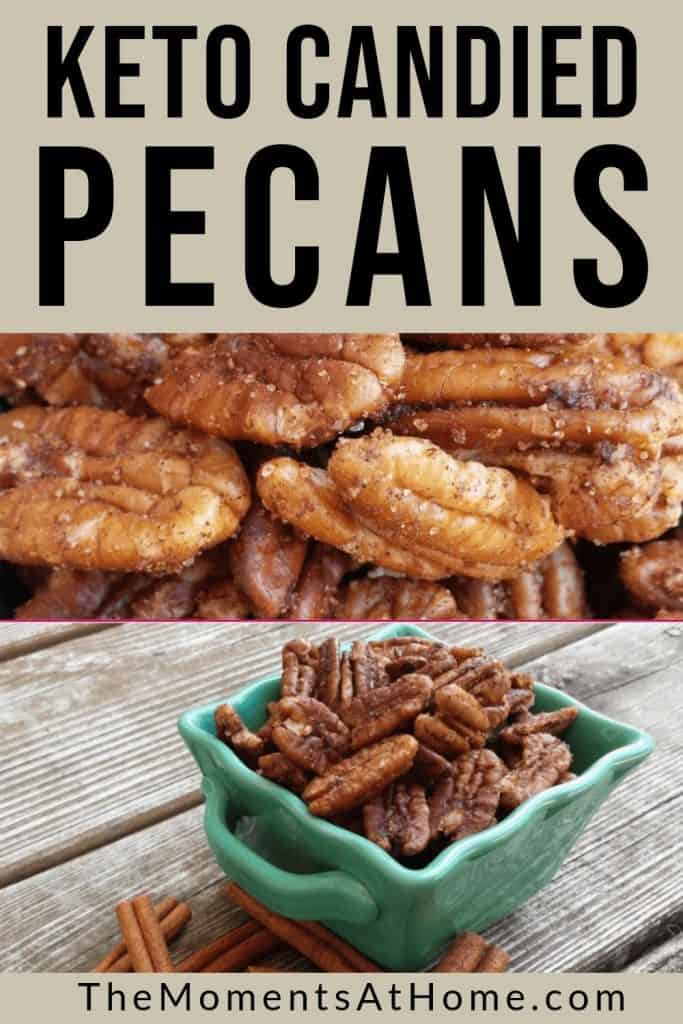 CANDIED PECANS ARE SO EASY TO MAKE!
This post may contain affiliate links
You start with butter. Anything that starts with butter is going to be amazing, right? Right. Mmm, buttah. You know you love it, too.
As I was saying… Start with 2/3 cup of butter. Melt it gently (I did it in the microwave). Stir in your vanilla extract, pure stevia powder, cinnamon, and a pinch of salt. Then make sure to mix it all together so that it's nice and smooth. And smelling irresistible. Toss 4 cups of pecans in the bowl with all that yumminess, spread them on a foil lined tray, and pop them into the oven.
HOW EASY WAS THAT?!
After 12 minutes or so, take them out and give them a good stir and then cook them for 12 more minutes. I like to bake them at 300 degrees, but if you want a more well done nut you can do them at 325.
While they are cooking, mix together erythritol and cinnamon in a small bowl. Stir well. Once the pecans are done toasting, pull the tray out of the oven. Give them another good stir and sprinkle on your "cinnamon sugar" yumminess (aka the erythritol and cinnamon blend). I used my fingers, but if you had a shaker you could use that, too.
These can be served hot to your guests or you can let them cool and store them in an airtight container to munch on throughout the week. These are great all on their own, sprinkled atop a salad, or on the side of your lunch on the go. Bon Apetit!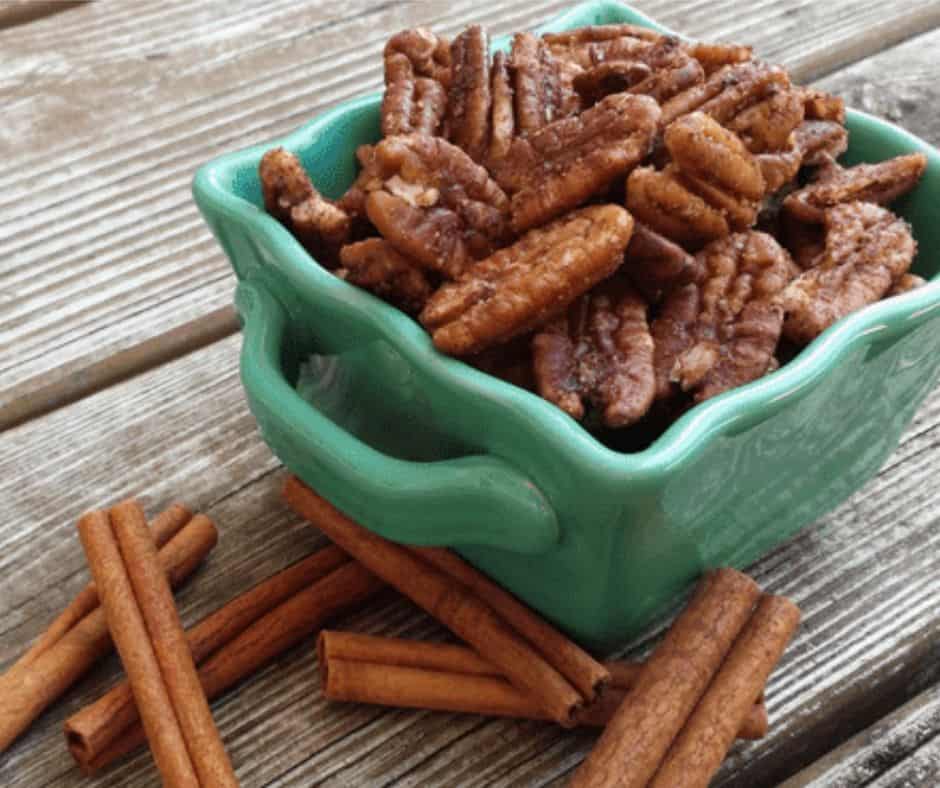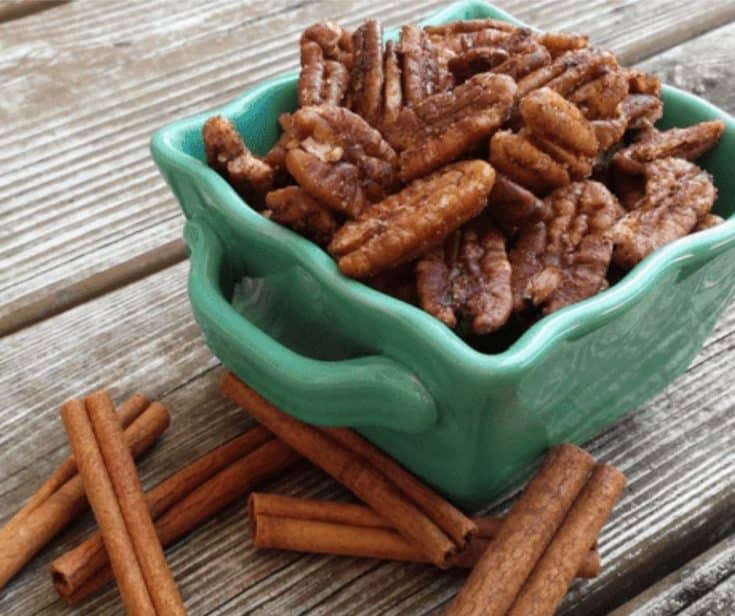 Yield:

8
Sugar Free Candied Pecans
These decadent toasted pecans have all the flavor of cinnamon and sugar, but are sugar free! Simple and delicious, these will please everyone.
Ingredients
4 cups pecan halves
2/3 cup butter
1/2 TB vanilla extract
1/16 tsp THM pure stevia extract powder if using another brand, you may need more to achieve the same level of sweetness
2 tsp cinnamon divided
2 TB erythritol
Instructions
Melt butter
Stir in 1 tsp cinnamon, stevia, and vanilla
Toss 4 cups pecan halves in butter mix and coat well
Spread onto foil lined pan
Bake at 300 for 24 minutes total, stirring half way
While baking, mix 2 TB erythritol and 1 tsp cinnamon together well
Once pecans are done toasting, remove tray from oven and stir again
Sprinkle with erythritol/cinnamon mixture
Serve hot or let cool and store in airtight container