We may earn money from the products/companies mentioned in this post. As an Amazon Associate I earn from qualifying purchases. For more information, read our Terms & Disclosures.
This easy chicken parm skillet dip is a great appetizer, snack, or the star of your dinner with some fresh veggies on the side. It's a one dish wonder that tastes like your favorite chicken parmesan meal, but none of the carbs.
It's a busy weeknight and you need something easy, but you want something that's delicious, too. Oh, and the kids and husband need to like it as well. Plus, you don't want to have a to wash a lot of dishes. You might as well ask for a pet unicorn, my friend.
Or not.
I've got the perfect thing…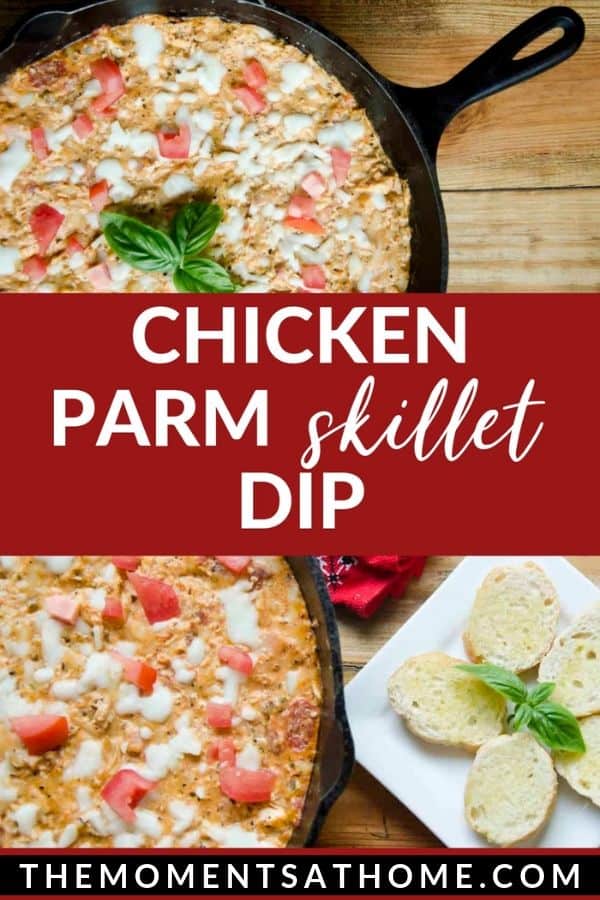 LOW CARB CHICKEN PARM SKILLET DIP
You've got the robust flavors of garlic and tomato, hot gooey cheese, and tender chicken melding together perfectly in one skillet. It's really quite divine, my friend. The only downside is that we never have leftovers because they practically lick the skillet clean.
And the best part? There's only one pan to clean when it's all over. (If you don't have a favorite skillet yet, this is the one I love and use daily).
HEALTHY, EASY SKILLET MEAL IDEA
Go ahead and heat your skillet with a little bit of olive oil in the bottom (better still if it's garlic infused). Toss in some diced yellow onion and freshly minced garlic until they are aromatic.
Nex,t add in your diced chicken. You can even used the canned chicken if you want, although we usually use rotisserie chicken.
Once it's all hot and smelling delicious, pour in your broth and red sauce, and add in the cut up cream cheese.
Reduce your heat to barely there (that cast iron doesn't need much help staying hot at this point) and stir well to combine it. Add in your spices. If you've got some fresh basil, you're in for an even bigger treat!
The last step is to add in your cheeses. You can top with diced tomatoes if you'd like (we like!).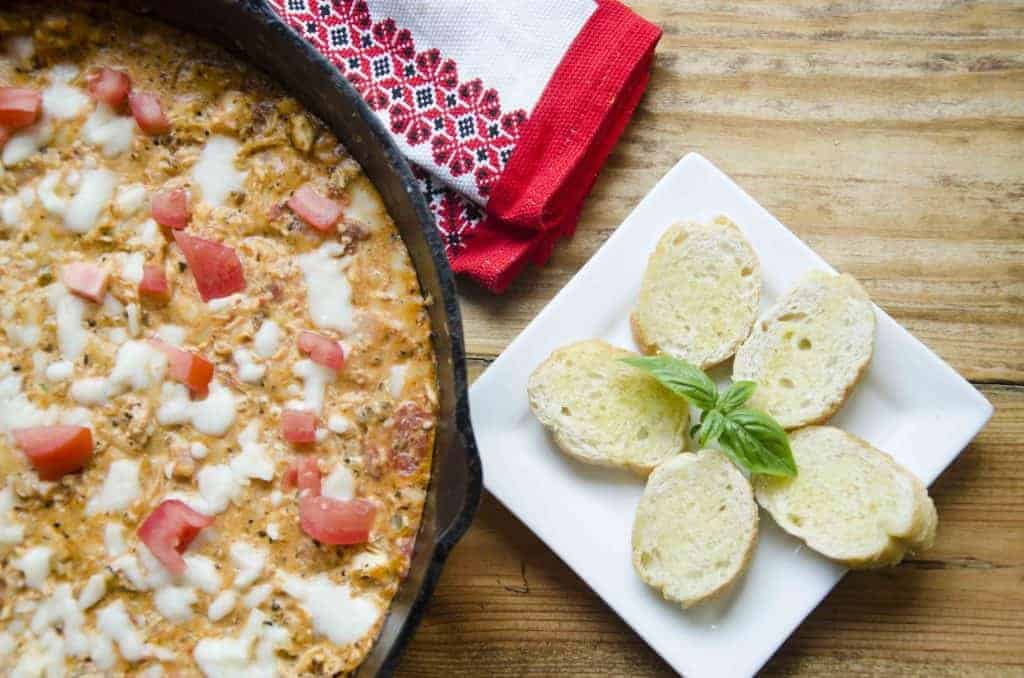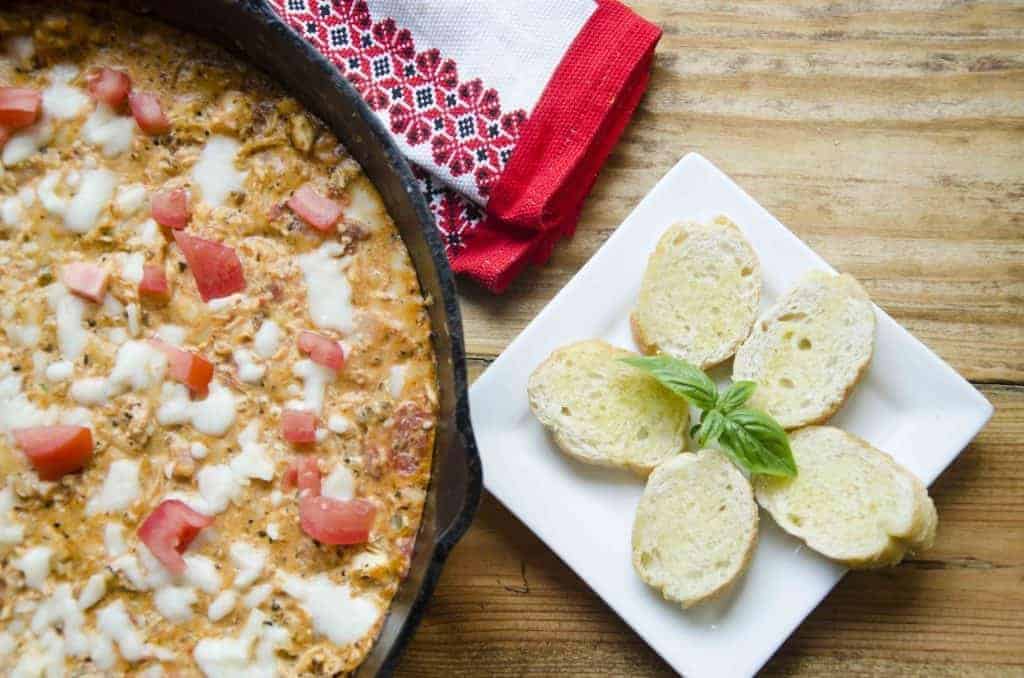 I'm going to let you in on a little secret: this is so good that people are going to request you make it every time you get together. Really.
You can serve it with sliced up crusty baguettes, bagel chips, pita chips, crackers, or your favorite low carb chip or bread.
Personally, I like making up bread in a mug (also a THM "S") with a dash of garlic salt in the batter and using it on the side. I toast it up so it's nice and crunchy and it's just perfect!
For company, I'll use a baguette from the store and slice it up or serve it with bagel chips. They love it!
This actually makes an awesome dinner with a hearty salad on the side, and that's how we most often serve it. Bon apetit, my friends!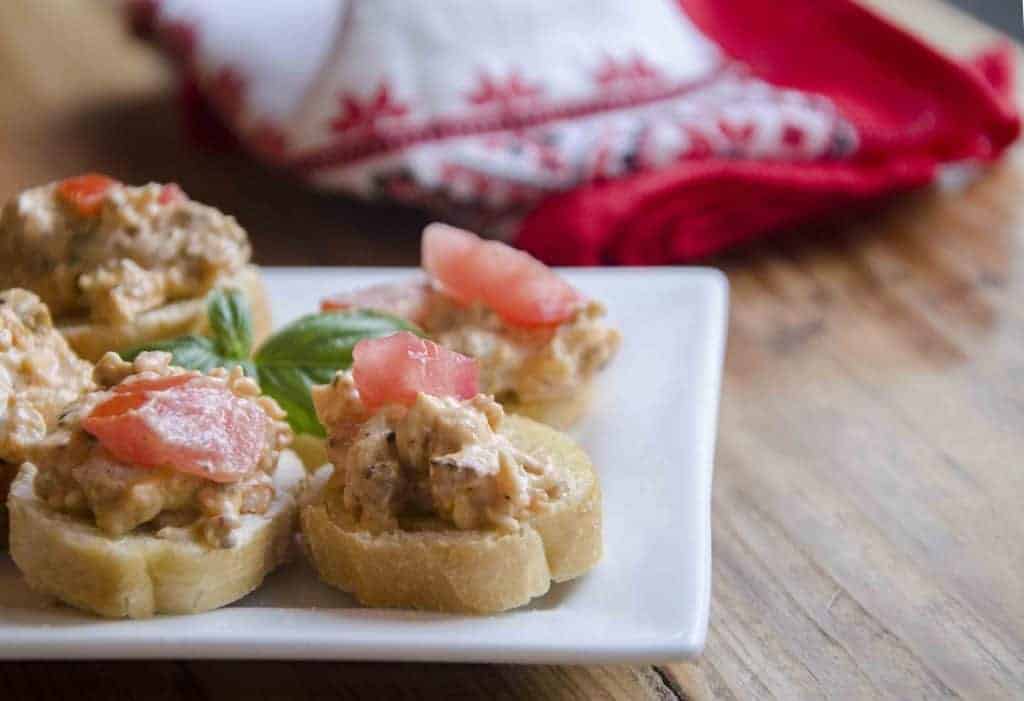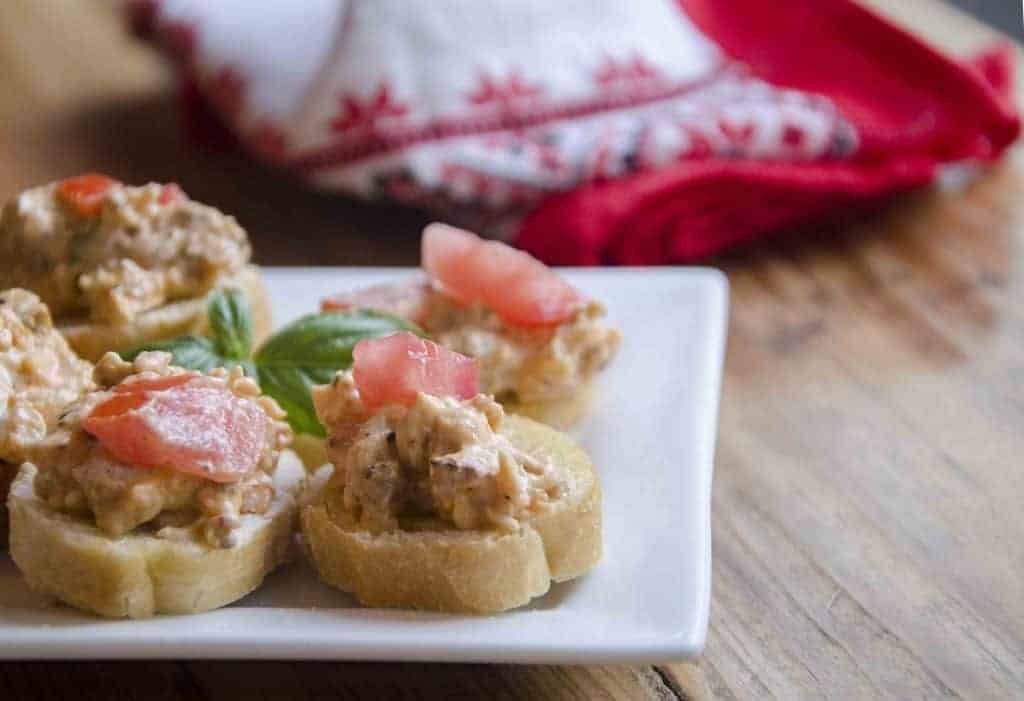 Chicken Parm Skillet Dip
Rick, savory, and simply delicious, the flavors of chicken parmesan meld together for the perfect hot dip.Course: Appetizer Cuisine: Italian Author: Lisa Yvonne Ingredients
2 TB olive oil
1 TB minced garlic
3 cups diced chicken
1/2 cup chicken broth
2/3 cup thick Italian red sauce of your choice
1 brick cream cheese
1/2 cup parmesan cheese
1 TB Italian seasoning (or 2-3 TB fresh basil)
3/4 cup shredded mozzarella cheese
Instructions
Heat oil in skillet. Add garlic and saute until aromatic.
Add in diced chicken and cook in oil and garlic. If raw, cook through. If using pre-cooked chicken, cook enough to heat through and lightly brown.
Add in broth and red sauce and stir to combine.
Once simmering, add in one brick of cream cheese and stir to mix thoroughly.
Add in seasoning and parmesan cheese; mix well. Cheese can be grated or freshly shredded.
Stir in half of the shredded mozzarella and combine. Top with the remaining shredded cheese and serve once it is melted.
Serve with crusty bread, toast points, pita chips, bagel chips, or low carb chip of choice.
Recipe Notes
Recipe is a THM S. If you would like to serve with bread, THM has several options in their cookbooks, and Pinterest has many as well. My personal favorite is to make up the bread in a mug and toast it.