Homemade Baby Food: 4 Brilliant Mom Hacks
We may earn money from the products/companies mentioned in this post. As an Amazon Associate I earn from qualifying purchases. For more information, read our Terms & Disclosures.
These homemade baby food hacks are just the thing for the mom who is short on time, but wants to give her baby the healthiest food for their little one.
Are you looking for homemade baby food hacks?

If you want to make nutritious first food options for your baby, I've got something for you. And not only that, these made your own baby food hacks are also budget-friendly!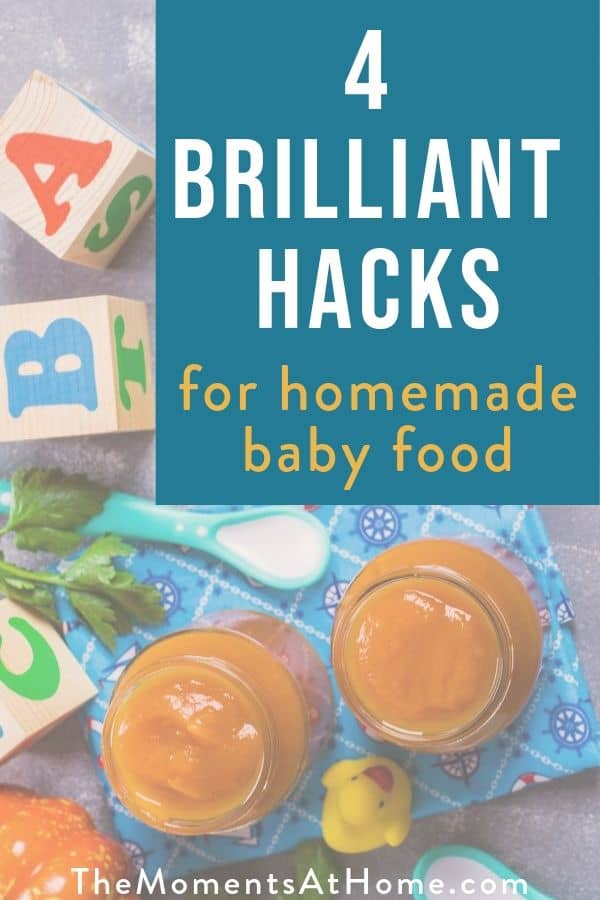 First things first, let's look the stuff you will need for these homemade baby food hacks…
If you want to make your own purees, you'll need a blender and a steamer.

For the blender, I'd recommend using the Baby Bullet Baby Care Blender by Magic Bullet. It lets you make a week's worth of your baby's food (hello, time saving!). This product also comes with storage cups, tray, and recipe book.

It's a great item to buy with one of the leftover Amazon gift cards from your baby shower!

For the steamer, the Instant Pot Steamer works great. You can use it to steam veggies and cook rice. It also works as a pressure cooker and slow cooker.

You'll also need freezer trays to store your purees in the freezer. Food pouches will come in handy too when you want containers for on-the-go meals.

Wondering what veggies and fruits to choose for your baby's first food?
If possible, choose only organic produce, and the freshest at that. Here are some of the fruits and veggies that are perfect for your baby's first food.

apples
avocado
banana
butternut squash
carrots
green beans
pears
peas
plum
pumpkin
sweet potatoes
You might also want to get these items into your shopping list: oatmeal, quinoa, and brown rice.
Here's what you do when making homemade purees.
To begin, you need to soften (or cook, if needed, especially with the veggies) the food.

Next, place your fruits and veggies in your blender, adding ample amounts of breastmilk or water if the concoction is too thick.

Once you've made the purees, let it settle into your freezer trays and put them inside the freezer.

One of my favorite baby food hacks is to freeze your baby food in either this disposable condiment cups. This makes it super easy to just pull out one serving and they are perfect to throw in your bag on the go!

You also can store the frozen puree in ice cube trays or in food pouches like these. That way, you only have to thaw one portion at a time.
Brilliant Homemade Baby Food Hacks
Are you the type of parent who prefers to make your baby's food?

Looking to save money on your little one's food?

Save time and money with these simple baby food tips.
1. Batch cook your homemade baby food
Making your own baby food can get a bit messy. I prefer to make all of my baby food in one big batch. That way the cleanup and prep only has to be done once!

I like to stock up on fruits and veggies when they go on sale and make an extra big batch. I try to make a few varieties (no one wants to eat the same thing over and over) that will last for about a month.

Usually, babies only eat purees for a few months so by batching it you only have to make them a handful of times.

During the puree stage don't forget to have lots of baby wash on hand for your little one. Purees may mean more than one bath per day, but don't stress about it. Before the age of one eating is just as much about playing and the experience as it is about nutrition!
2. Make your own baby yogurt
You know, today's baby yogurts are packed with lots of sugar. Not to mention the price issue.

So here's a quick hack to save you money and without having to worry about the amount of sugar in your little one's food.

Here's what you need to get.

Buy greek yogurt. Make sure it's plain with full fat.

Then grab one of your homemade purees baby food. I like to choose a fruit to offset the tartness of the greek yogurt.

When it's feeding time, spoon out yogurt and baby food in equal parts, at two ounces each. Then mix them together.

Why is this a great baby food hack?

Let's start with the nutrients it gives.

This greek yogurt mix is a healthy, high-protein snack.

Plus, there's none of the "bad sugar" that you get from commercialized yogurt products. Rather, it is naturally sweetened by real fruit.
3. Make your own flavored oatmeal
Flavored oatmeal tends to be more expensive than regular baby food.

So here's a cool trick you can try.

Buy a box of baby oatmeal.

It's rich in iron and choline. Plus, you can grab varieties that have DHA and probiotics too. Great for your baby's overall development.

Then pair it with unsweetened applesauce.

Make your oatmeal according to the instructions and then add in a few spoonfuls of your fruit puree.

Why is this a great mix?

You get more texture and flavor than from a ready-made oatmeal.

If you are in a big rush and want to add a little more nutrition to your puree sprinkle in a bit of the dry baby oatmeal. This diversifies the nutrients in your puree.
4. Skip the pureed meats
Ditch the artificially flavored baby food. They're processed and watered down. Plus, they're really not that high on protein.

More importantly, they're just gross.

So try this instead.

Buy a rotisserie chicken and potatoes. Tear a few strips of chicken to tiny bits. As for the potato, microwave it until it's soft.

This is a whole lot better than chicken-flavored baby food in a jar.

I personally started my babies on finger foods like this around 8-9 months but you always should check with your pediatrician.

In addition to these finger foods being healthier than processed commercial baby food purees, it can be a time saver for you too. It allows your baby to self-feed which improves their fine motor skills and you actually can grab a few bites of your dinner while it is still hot!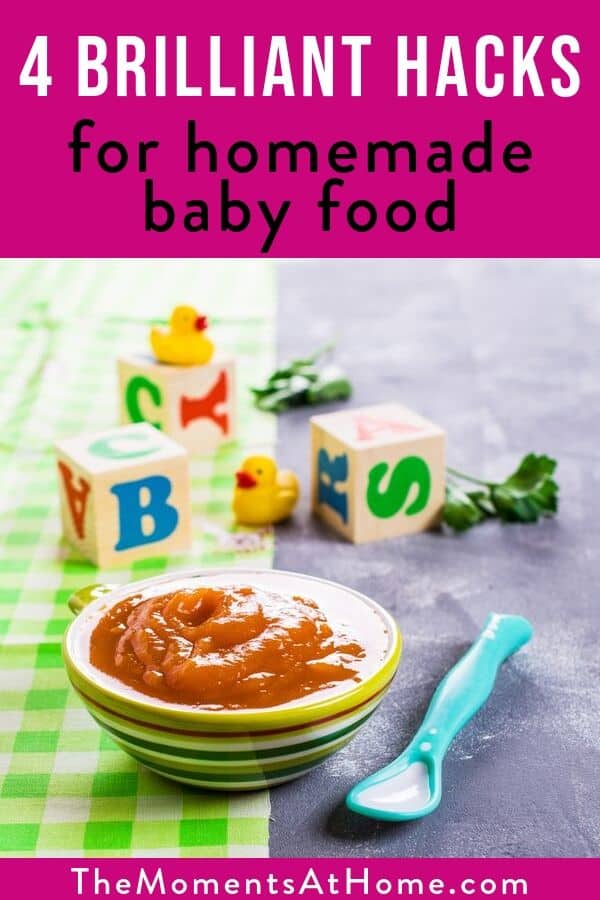 McKinzie is the mom blogger behind the sites TodayMommy.com and MomsMakeCents.com. She has two wonderful kiddos that always keep her on her toes. McKinzie has a degree in Behavioral Science where she focused her studies on family development by taking courses like child development and applied parenting. You may have seen her featured in publications like Forbes, The Huffington Post, and Yahoo Finance.