Easy Keto Squash Casserole
We may earn money from the products/companies mentioned in this post. As an Amazon Associate I earn from qualifying purchases. For more information, read our Terms & Disclosures.
Looking to enjoy low carb squash casserole this season? It's a delightful Southern-inspired keto friendly side dish to add to your Thanksgiving table or really any family dinner! You can make a gluten free, keto squash casserole simply and quickly and enjoy it tonight.
Yellow squash casserole is a great dish for the summer when the vegetable grows abundantly right in your backyard but it's also a very popular holiday side dish. Low carb vegetable casseroles are enjoyable all year round with a variety of entrees.
Let's be honest: sometimes you don't want the old faithful stand-by of cauliflower rice with your main dishes; you want something creamy and delicious that you can scoop out of a baking dish — the very essence of comfort food! That's what this keto squash casserole is all about.
Plus, if you're looking for a low carb or keto friendly take on a traditional Thanksgiving side, this is what you've been searching for.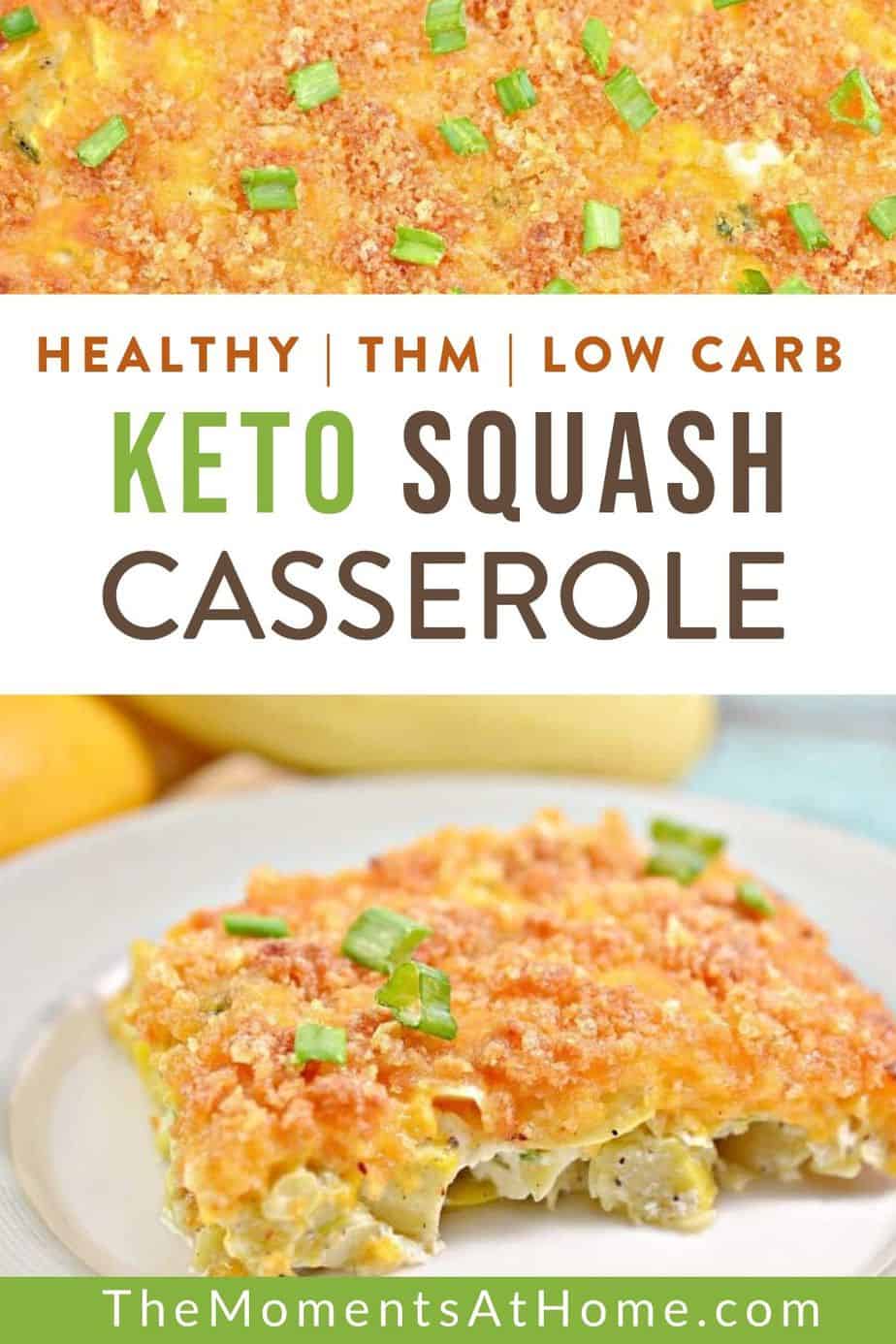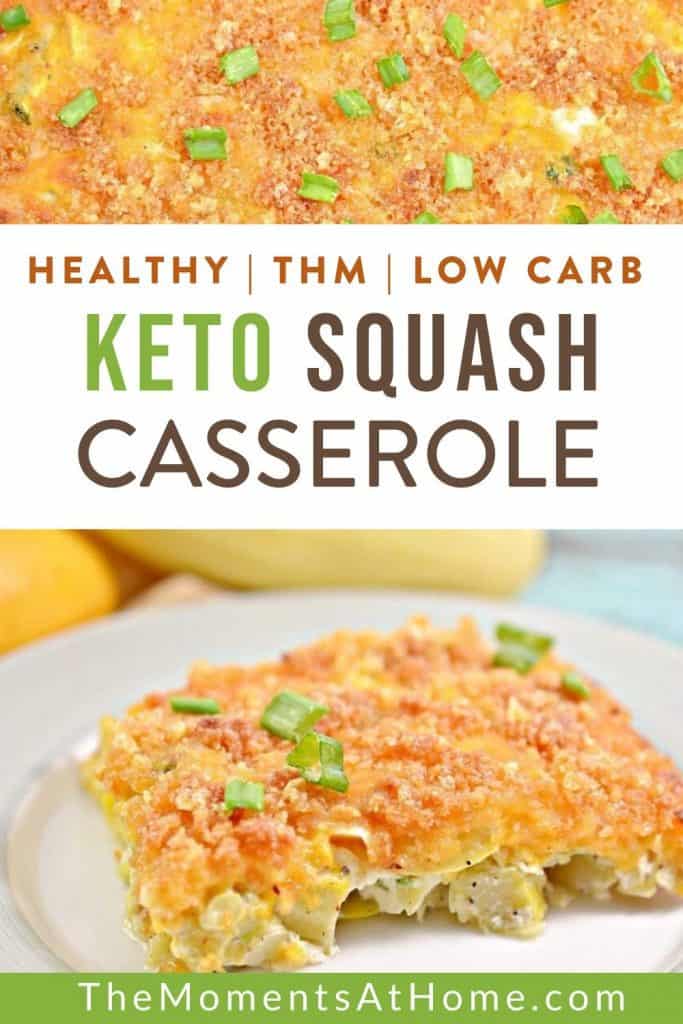 Ingredients In Keto Squash Casserole
So what do you need to make this yummy yellow squash casserole low carb? You probably have all of these ingredients handy (and have used them recently and frequently!) if you've been eating keto for any length of time:
Yellow squash
Green onion
Egg
Heavy whipping cream
Cheddar cheese
Butter
Pork rind
Parmesan cheese
Salt and pepper
See? Not even 10 ingredients!
Is Yellow Squash Low Carb?
When I first went low carb, I didn't realize I could enjoy zucchini and squash. I thought I was stuck with kale and lettuce and broccoli.
So, is squash a carb? Your quick answer is NO!
Your average cup of squash has only about 3 net carbs per serving. With so few carbs in squash, you have so many options: spaghetti squash, zucchini, summer squash, yellow Italian squash…how exciting! (source)
You can even use a squash mixture if you have all of the above handy for a new take on an old classic, comfort food, southern style casserole. Squash medley casserole follows the same recipe, just using a variety for the vegetables.
How To Make Simple Squash Casserole: Easy Peasy!
This is a really easy recipe to make (and easy is my favorite kind!). The first step is chopping your yellow squash up. Next, cook it in a skillet with some water.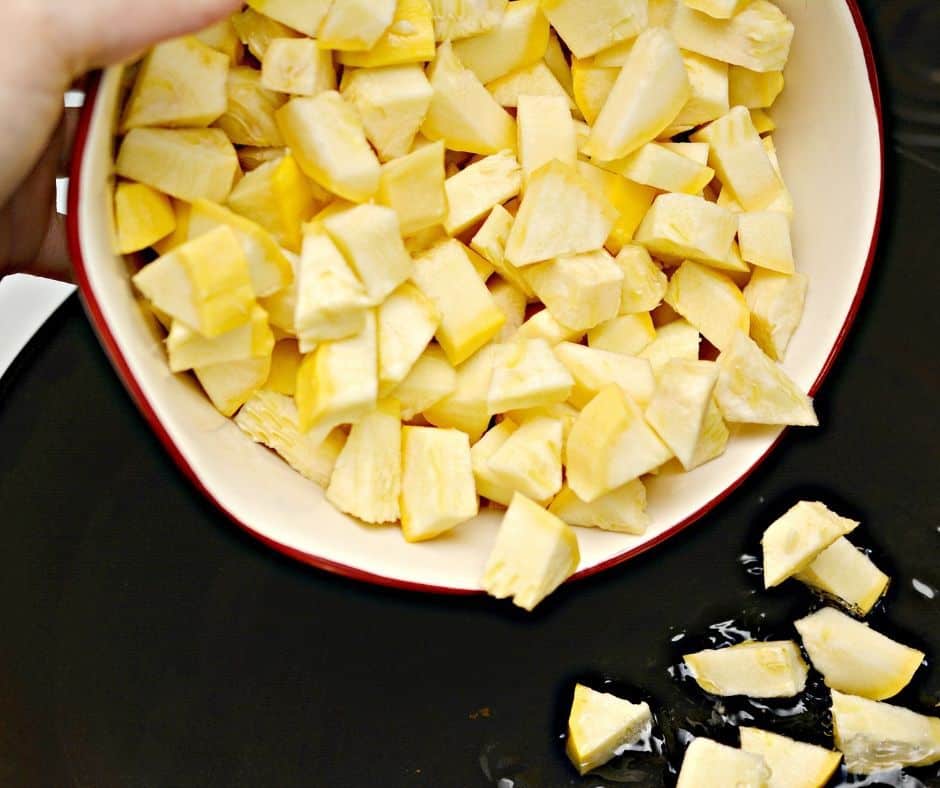 Next you'll add green onions to the skillet. Sauté them and season them with salt and pepper.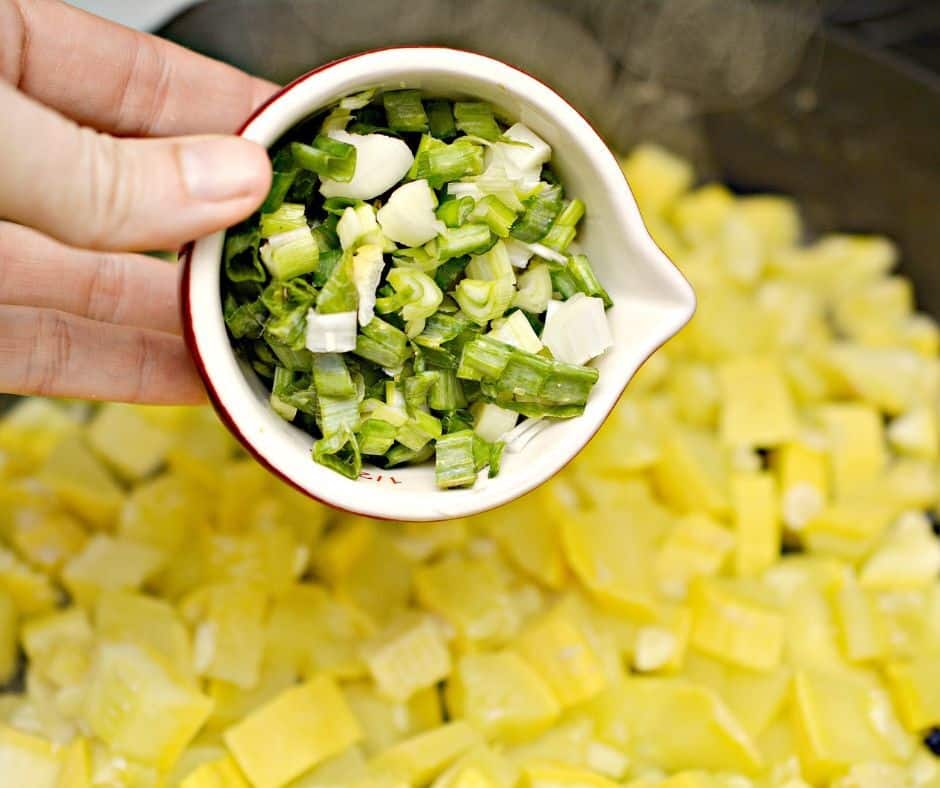 Place the vegetables in a casserole dish, a 9×9 square (if you double the recipe, you can just use a 13×9).
Combine a beaten egg and heavy whipping cream and pour over the squash. (Some recipes use sour cream instead, but this works really well with the other flavors).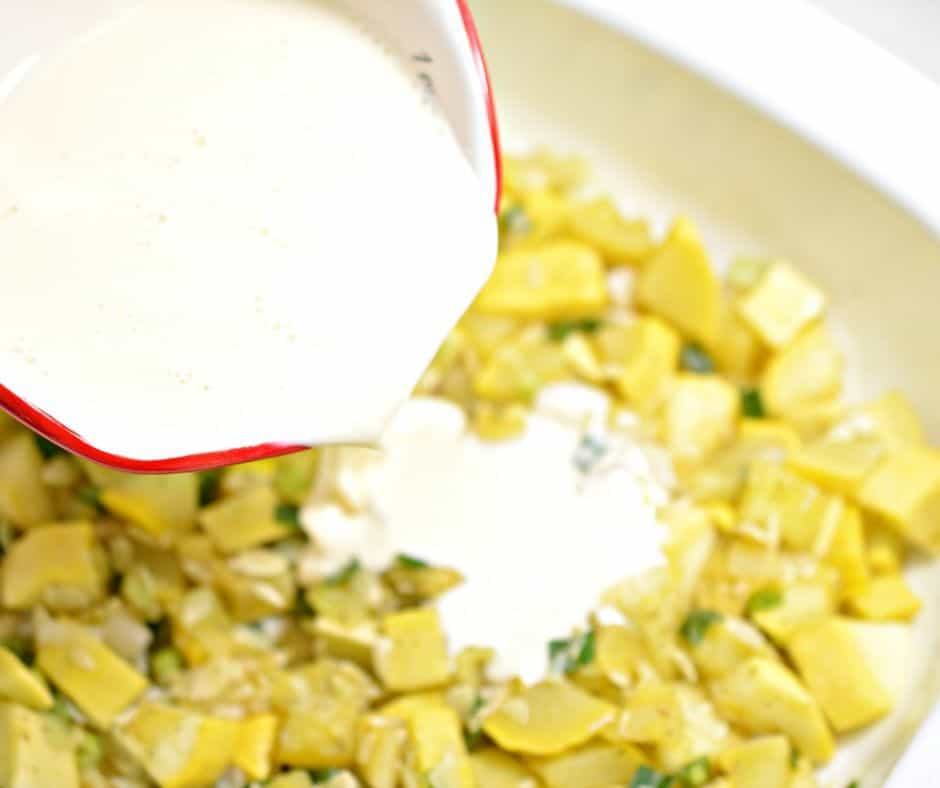 To make the crumbly topping, mix together parmesan cheese and crushed pork rinds and then add melted butter to it.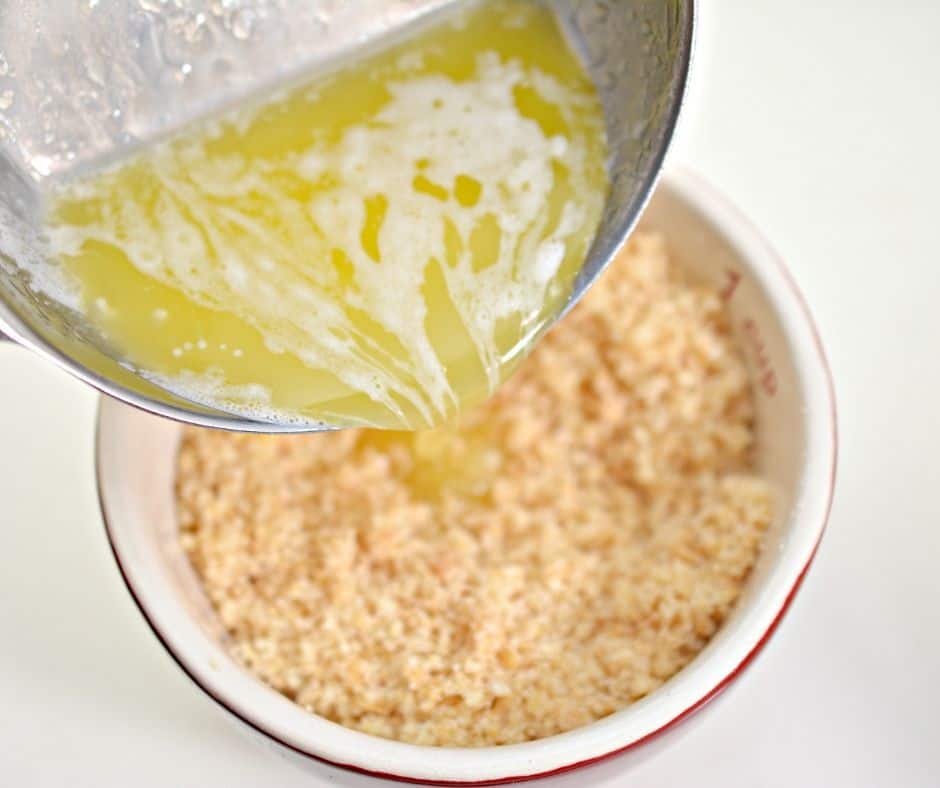 Spread the shredded cheese on top of your chopped squash.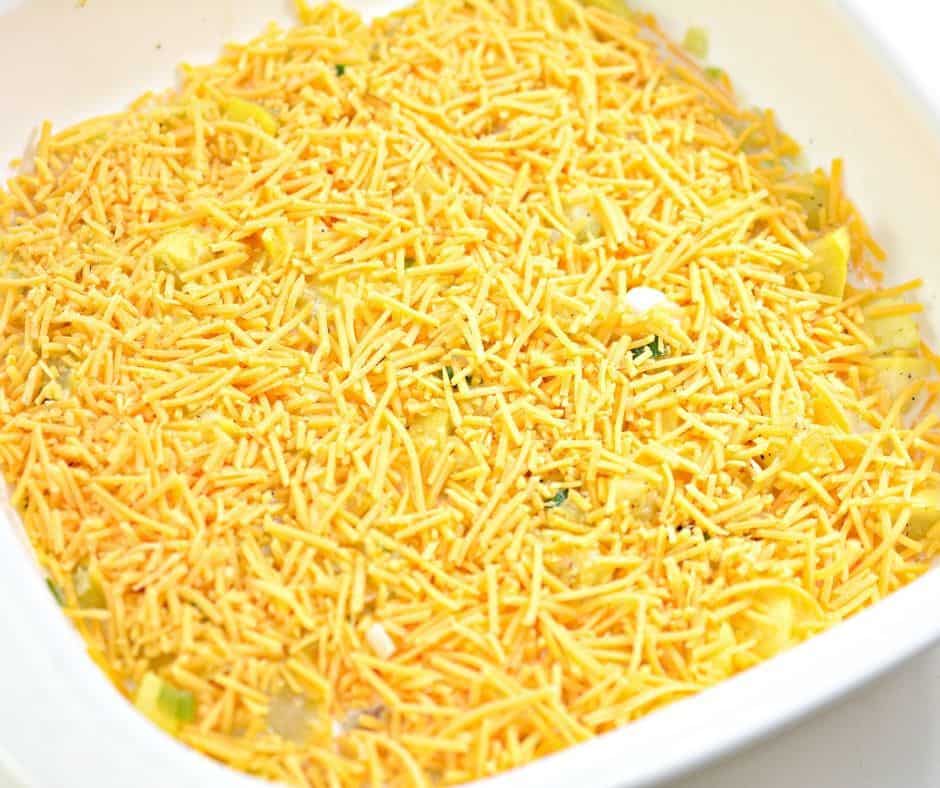 Top the cheese with the pork rind parmesan crumbles.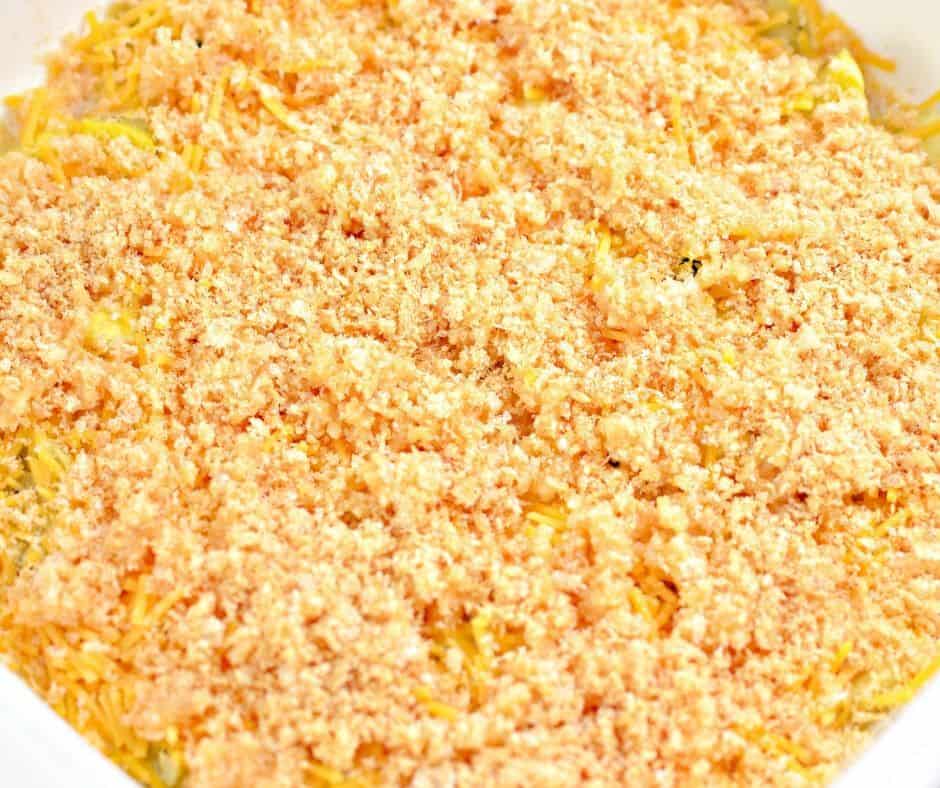 Bake them for 20 minutes until the cheese is bubbly and the casserole is hot and flavorful.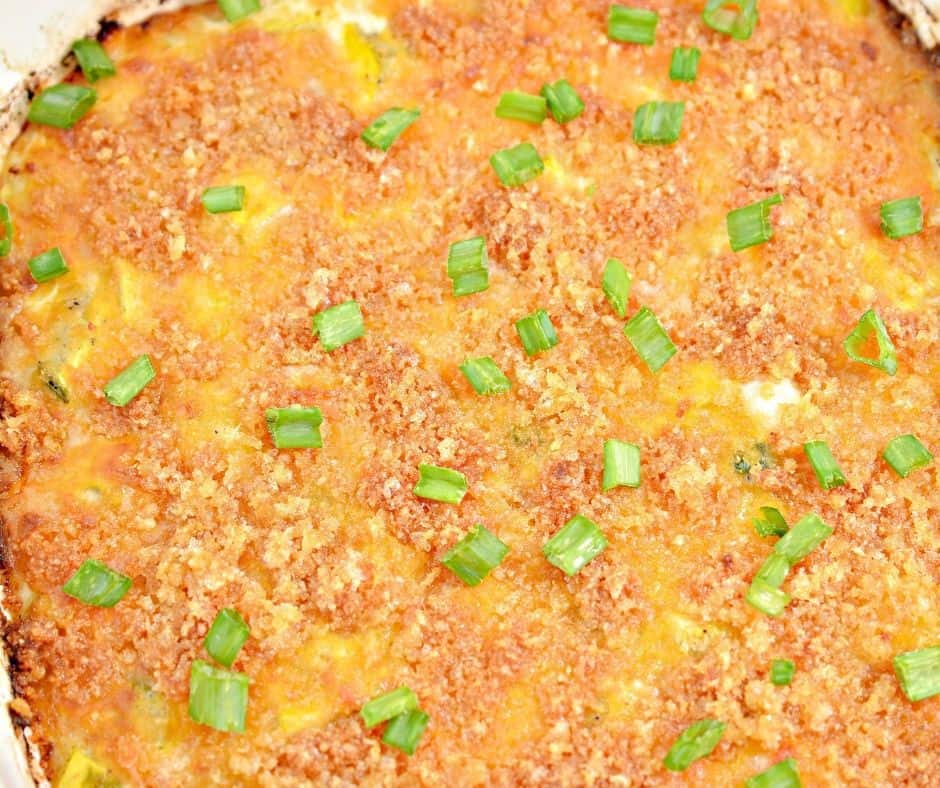 Low Carb/Keto Yellow Squash Casserole Tips
Isn't it easy? If you've never had yellow squash casserole, you're in for a huge treat. And if you've been eating low carb and afraid you were going to have to miss out on this southern favorite, you'll be pleased to know it's not true.
This keto squash casserole has all of the flavor and even texture of the carbohydrate laden classic. Here are a few tips to make it even easier to make.
Make Your Keto Squash Casserole Ahead Of Time
Go ahead an assemble it all, cover it well, and put in your fridge or freezer. Simply remove it straight to the oven and start baking. You'll have to add 5-10 minutes if it's been in the fridge and 15-20 from the freezer (just watch it and test the middle).
Reheating Leftover Squash Casserole
To reheat in the microwave, simple add a few drops of water to the bottom of your dish and cover loosely.
You can also heat it in a toaster over or traditional oven.
Making Yellow Squash Casserole A Main Dish
Want to enjoy your keto squash casserole as your main dish? Just add some protein!
You can add in cooked ground beef or diced smoked sausage. Adding Italian sausage or even crumbled breakfast sausage also adds a delicious flair to this dinner.
A more subtle flavor would be to add shredded chicken. I find doing this and adding in some baby spinach is quite yummy. Add some chopped jalapeños for some heat.
Another delicious option is making your keto squash casserole with bacon. Add some bacon crumbled over the top -and, if you've got plenty, add it into the casserole too. This makes an excellent side to a quiche, but it can easy stand alone for a simple keto lunch.
You can also turn it into a Greek squash casserole by swapping the parmesan for feta and adding baby spinach and chopped kalamata olives right before baking. When it comes out, top with diced tomatoes.
What If I Don't Have Yellow Squash?
This keto squash casserole recipe can also be made with zucchini or any squash you have (even spaghetti or acorn!). Make it up and enjoy! If you use a much firmer squash, just cook it in the skillet until tender.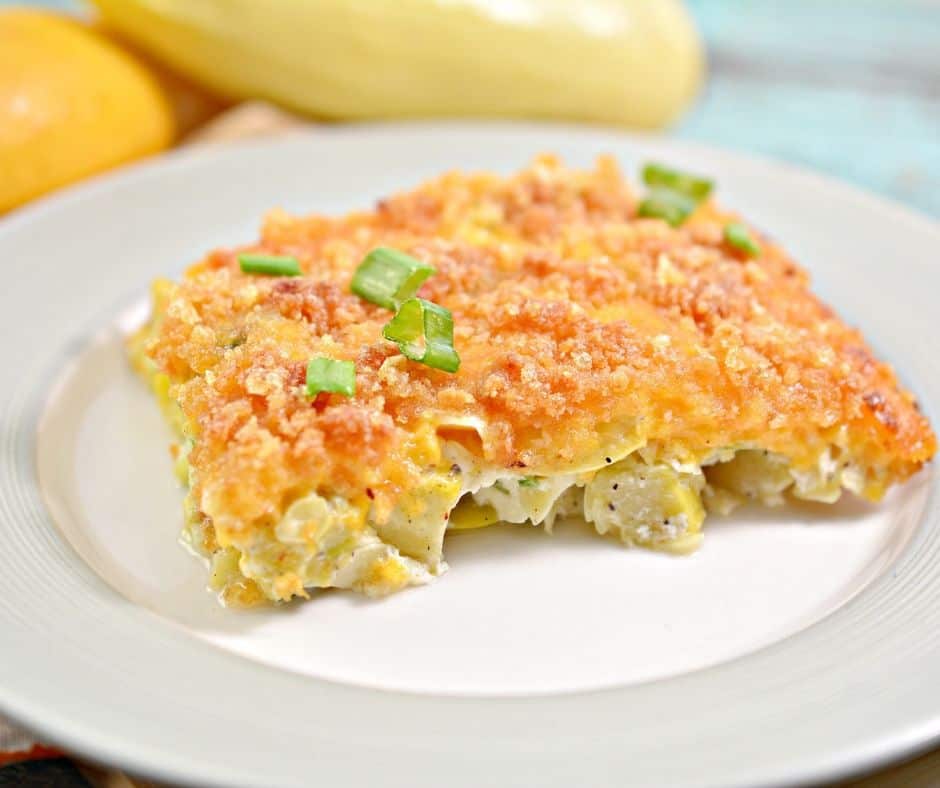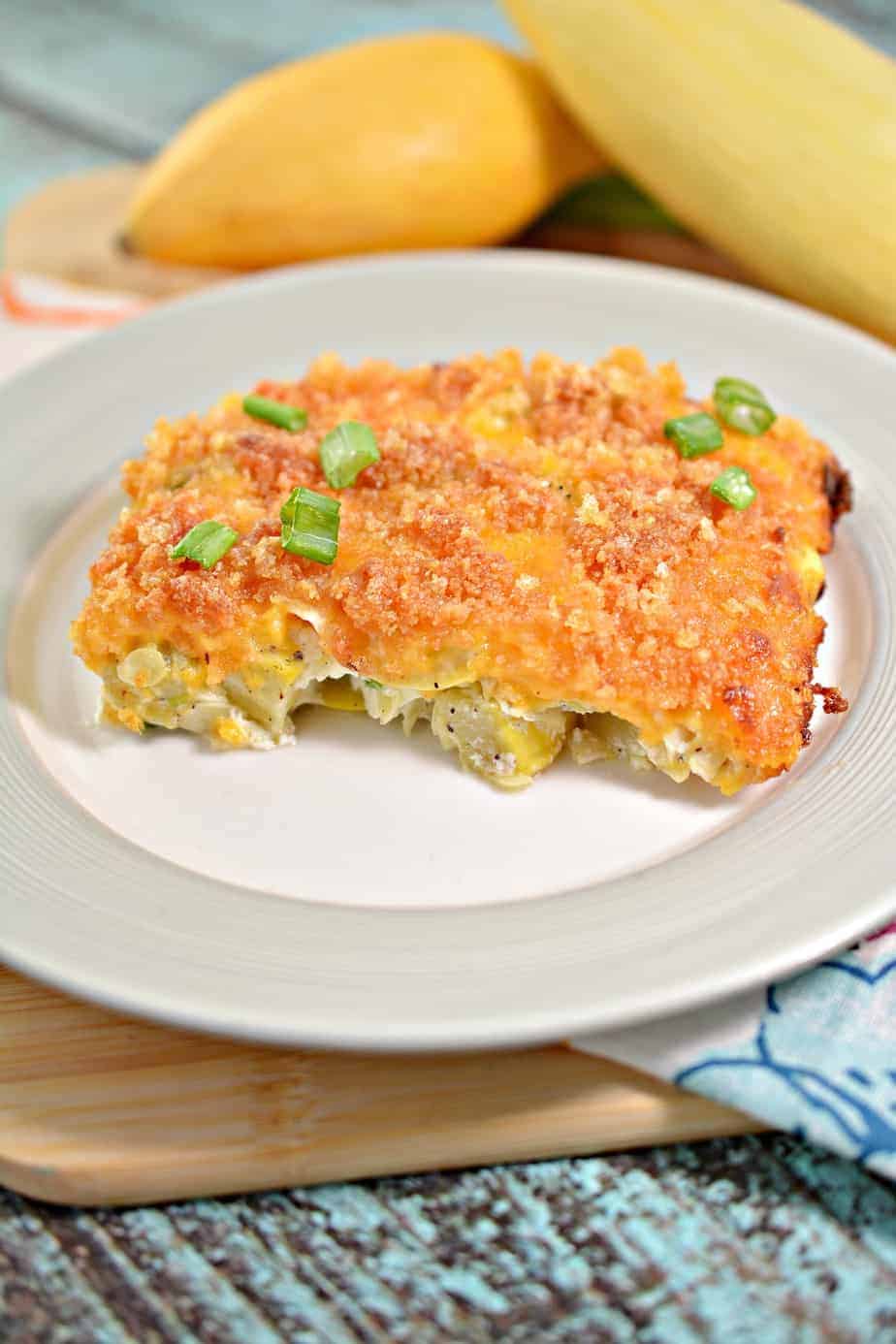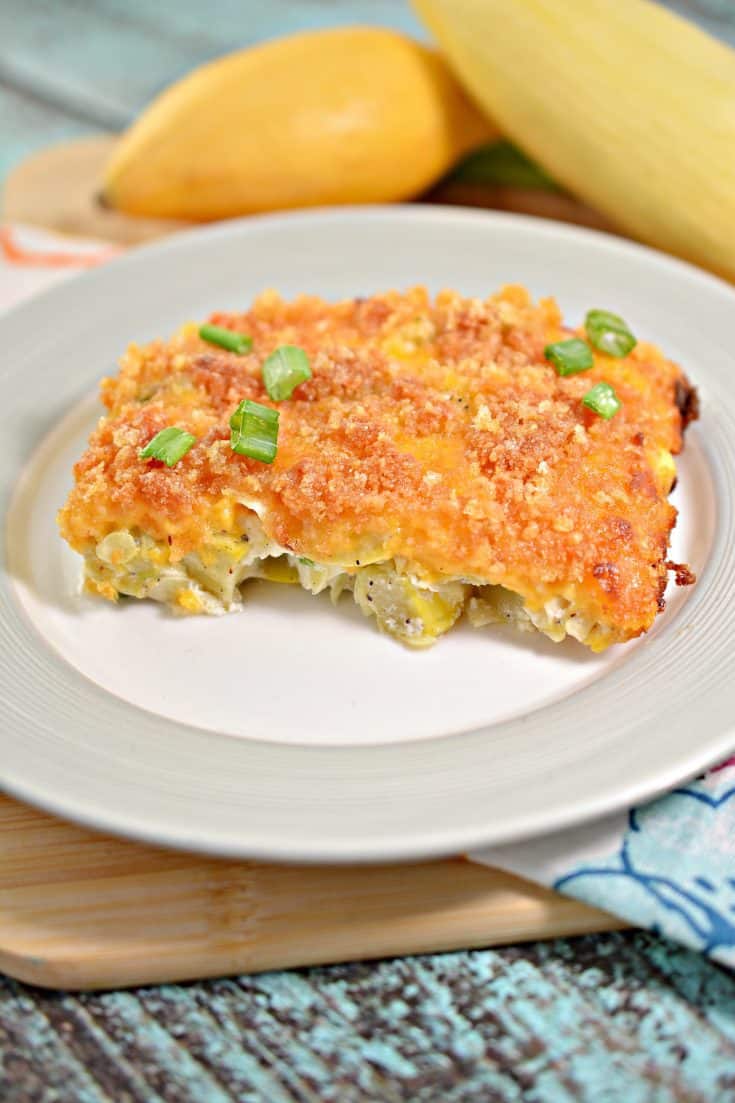 Yield:

9
Keto Yellow Squash Casserole
This simple yellow carb casserole has all your southern flavor, but is low carb and gluten free.
Ingredients
4 c Yellow squash chopped
½ c Chopped green onion
1 Egg beaten
½ c Heavy whipping cream
1 c Shredded cheddar cheese
2 tbsp Melted butter
½ c Pork rind crumbs
¼ c Parmesan cheese
Salt and pepper to taste
Freshly chopped green onions for garnish
Instructions
Preheat the oven to 400 degrees.
Place the chopped squash into a skillet with some water over medium-high heat, and cook for 5 minutes.
Drain the squash, and add the green onion to the skillet. Saute for a minute, and add salt and pepper to taste.
Place the squash mixture in a well greased 9x9 baking dish.
Mix together the heavy cream and egg until smooth and creamy. Pour over the chopped squash.
Top the creamy squash mixture with 1 cup of shredded cheddar cheese.
In a separate bowl, crush up about 2 oz. of pork rinds to create ½ cup of crumbs.
Pour ¼ c of parmesan cheese into the bowl with the pork rinds, and stir to combine completely.
Add the melted butter into the bowl with the pork rind mixture, and stir to combine until crumbly.
Sprinkle the pork rinds crumbs over the top of the squash casserole.
Bake for 20 minutes until browned and bubbly. Top with freshly chopped green onions for garnish.
Notes
If you want to add some added flavor to your topping, add in 2 tsp of Ranch seasoning or garlic powder or 1 tsp cayenne.
Nutrition Information:
Yield:
9
Serving Size:
1
Amount Per Serving:
Calories:

165
Total Fat:

14g
Saturated Fat:

8g
Trans Fat:

0g
Unsaturated Fat:

4g
Cholesterol:

59mg
Sodium:

226mg
Carbohydrates:

5g
Net Carbohydrates:

4g
Fiber:

1g
Sugar:

3g
Protein:

7g
Please note: I am not a medical or nutritional/diet professional. This information is not to be considered medical advice. You should independently calculate your own values. I expressly disclaim any and all liability of any kind with respect to any act or omission wholly or in part in reliance on anything contained in this website.