Chocolate Cherry Smoothie Bowl
We may earn money from the products/companies mentioned in this post. As an Amazon Associate I earn from qualifying purchases. For more information, read our Terms & Disclosures.
This yummy chocolate cherry smoothie bowl has delicious toppings & is super simple. You'll love how versatile a healthy smoothie bowl recipe is for breakfasts, snacks, and even desserts!
Easy breakfasts are good; delicious and easy breakfasts are even better! That's why smoothie bowls are so popular.
This Chocolate Cherry Smoothie Bowl is a fabulously simple, yet satisfying way to start your day.
And with only four simple ingredients needed (plus any extra goodies you want to sprinkle on), you'll never have to worry about lack of motivation or not enough time to make this chocolate cherry smoothie bowl.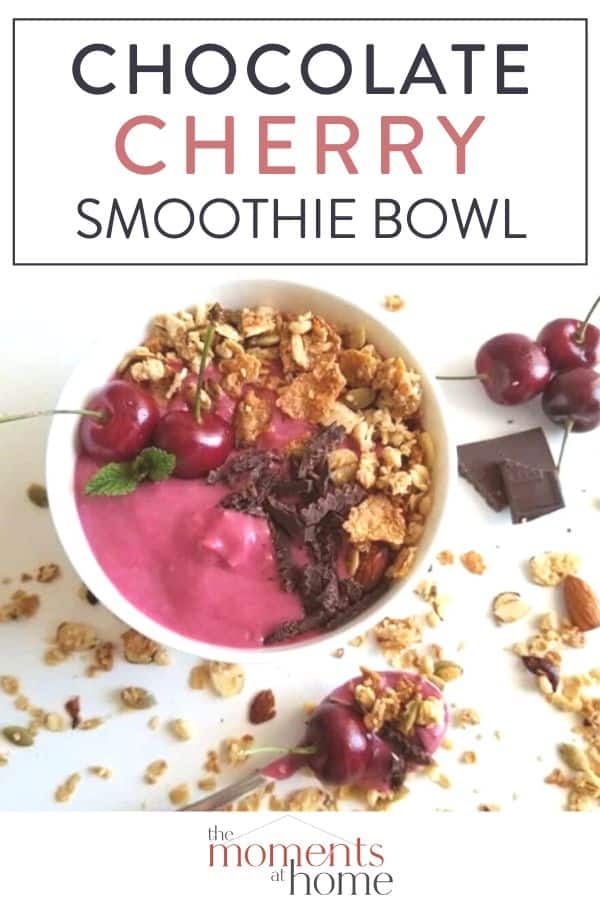 Easy Family Breakfast Idea
Even your kids will enjoy this healthy breakfast treat. Thealmond milk in this smoothie bowl recipe is really such a simple, but important, ingredient. It adds a bit of creaminess to the recipe that really takes it to the next level of yummmmmm.
And once you add in the fruit and vanilla, and let them pick their favorite toppings, they'll be asking for smoothie bowl every day!
While there are many smoothie bowls out there that are loaded down with sugar, this isn't one that you'll have to worry about. The only sweetener this recipe has is the natural sugar released by the bananas and cherries.
Ingredients Needed For A Chocolate Cherry Smoothie Bowl Breakfast
With less than a handful of ingredients needed, you can rest easy knowing that this homemade smoothie bowl will be ready in a very short amount of time.
Almond Milk
Bananas
Cherries
Vanilla Extract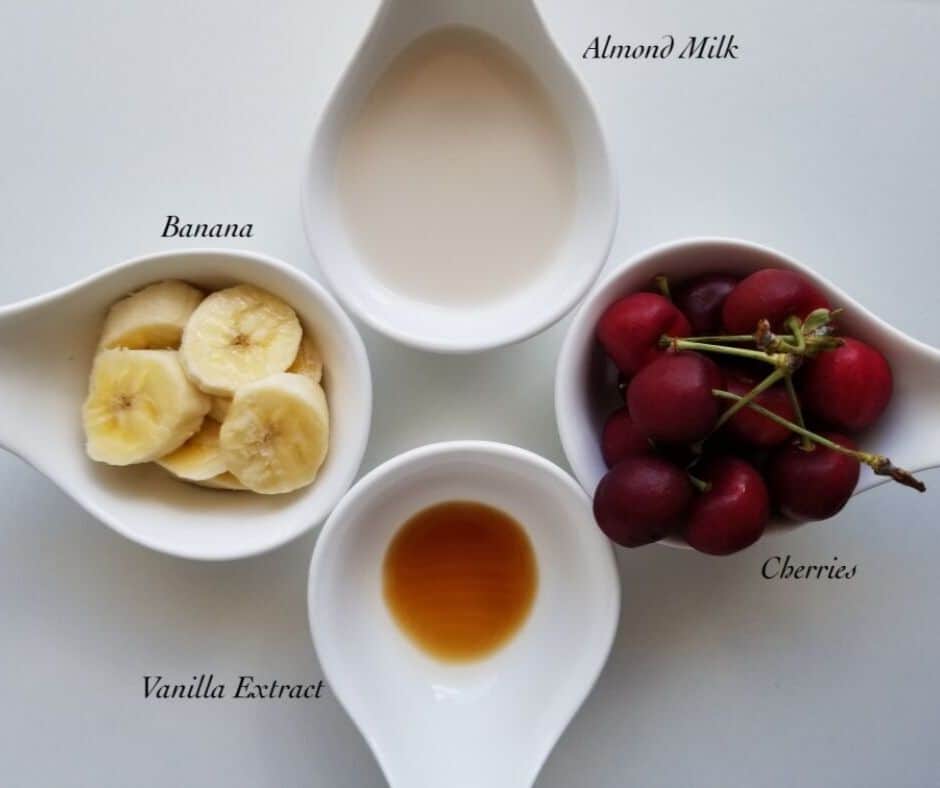 How To Make A Simple Smoothie Bowl
Start by adding in the frozen cherries, bananas, and almond milk into your blender and combining them until they're smooth and creamy.
Once it's nice and smooth, take the mixture and pour it into a bowl.
Top with your toppings of choice and enjoy every single bite (this part is so fun!).
From the start to finish of this recipe, you're looking at no more than 10 minutes, tops. And when your tastebuds are craving something delicious, that's hardly any time at all to wait.
This simple smoothie bowl tastes great during all times of the day, but for some reason it's even more decadent during the early hours of the morning alongside a piping hot cup of coffee.
Maybe it's the contrast in the textures…maybe it's the rich flavor…you'll have to decide for yourself when you try it!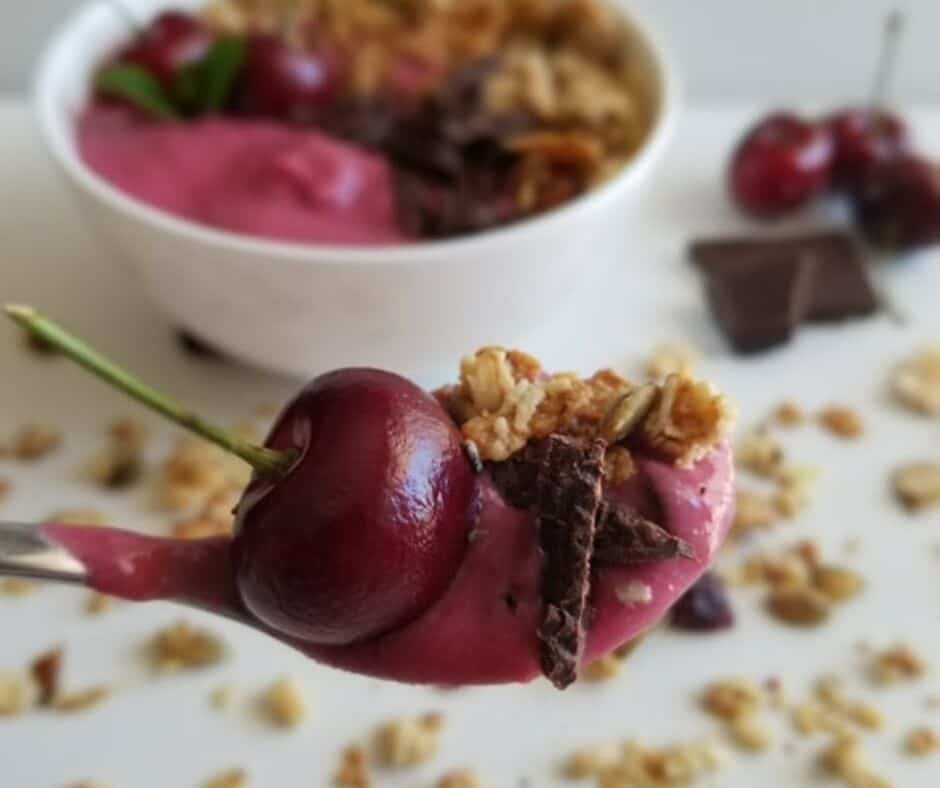 Tips For Making This The Best Smoothie Bowl Ever!
Even though it's a simple recipe, there are a few simple tips that will have you savoring and smiling over every single bite…and the kids will be, too.
What are some smoothie bowl toppings to add to this recipe?
This all just depends on what your taste buds like. As long as you're aware of what you're adding and how it pertains to your daily diet, you can have fun and add whatever you see fit. Here are a few ideas:
Homemade granola
Shredded coconut (toast it for even more goodness!)
Chopped nuts (pecans, almonds, walnuts, macadamia…your choice!)
Seeds (flax, sesame, pumpkin, sunflower, etc)
Cacao nibs
Chia seeds
Honey
These are all good options and each one is certain to bring their own tastes, textures, and flavors. You can also add other fruit such as slices of peaches or blueberries as well.
How do you thicken a smoothie bowl?
If you're wanting to thicken the texture of your smoothie bowl, add in a couple of spoonfuls of Greek yogurt to the mix. Not only will it make your bowl creamier, but it will add some other health benefits, too!
Another way to make it thicker is to blend more banana.
Adding 2 TB of chia seeds will thicken it up, too, if you let it sit for about 5 minutes to really gel (plus you get all the extra health benefits of chia seeds, too!).
Do you put ice in a smoothie bowl?
You actually don't.
To make it thicker and more frozen, you can actually add in frozen fruits and blend those up or check out the tips just above.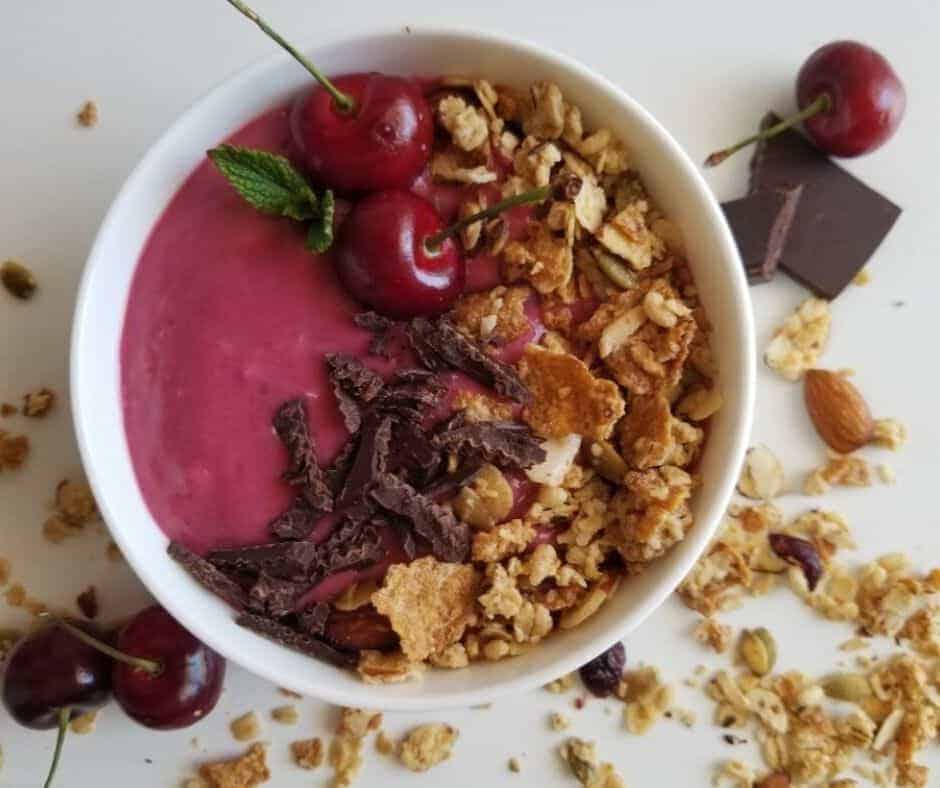 What is the healthiest liquid to put in a smoothie bowl?
The healthiest liquid to add would be water since it has no calories or fat to worry about.
However there are other liquids that are also healthy and will add a lot richer flavor.
For the healthiest liquid besides water, you can add in coconut water, almond milk, or coconut milk as well. Cashew milk is even creamier and so delicious!
Just make certain that you buy unsweetened versions or the taste (and health profile) is going to be altered.
Ingredient Prep
Due to the simplicity of this recipe, you really only have to focus on prepping the fruits. Peeling and cutting up the bananas and pitting the cherries (unless you buy them already frozen; then they are ready to use!) are all you'll have to do to get started on prepping this simple smoothie bowl.
Now that you know what this recipe entails, it's time to get all the details for this delicious recipe.
You might also enjoy one of these Sugar-Free Smoothies, too!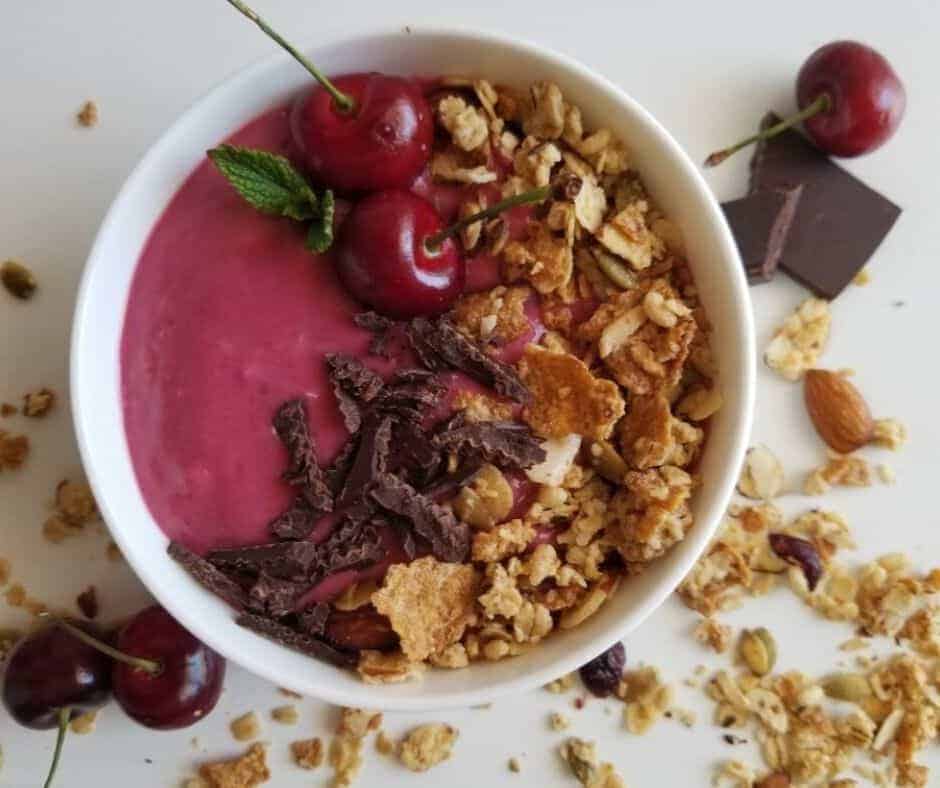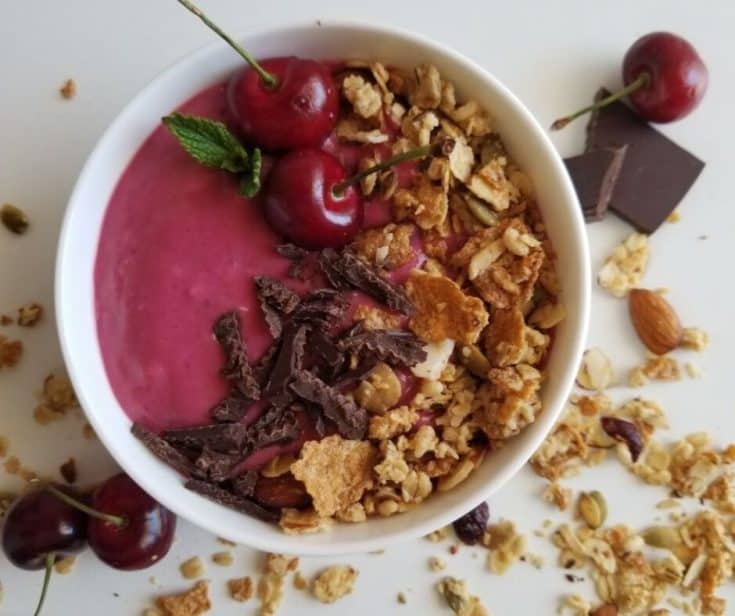 Yield:

1
Chocolate Cherry Smoothie Bowl
Additional Time:
3 minutes
Healthy smoothie bowls are ideal for breakfasts, snacks, and desserts. This yummy chocolate cherry smoothie bowl has delicious toppings & is super simple.
Ingredients
SMOOTHIE BOWL BASE
1 1/2 cups Cherries, frozen & pitted
1 Banana
1/2 cup Almond milk
Vanilla Extract
Chia seeds (optional)
SMOOTHIE BOWL TOPPINGS (Optional)
Fresh Cherries
Dark Chocolate
Granola 
Almonds or other nuts
Mint
Instructions
Add the frozen cherries, banana and almond milk into a high powered blender and blend until smooth and creamy.
Pour ithe smoothie mixture into a bowl and add the toppings.
Notes
This recipe is easily doubled or tripled to share with the family.


Nutrition information is for a plain smoothie bowl made with almost milk; toppings will adjust your values.
Nutrition Information:
Yield:
1
Serving Size:
1
Amount Per Serving:
Calories:

665
Total Fat:

9g
Saturated Fat:

3g
Trans Fat:

0g
Unsaturated Fat:

6g
Cholesterol:

10mg
Sodium:

127mg
Carbohydrates:

139g
Fiber:

18g
Sugar:

94g
Protein:

17g
Please note: I am not a medical or nutritional/diet professional. This information is not to be considered medical advice. You should independently calculate your own values. I expressly disclaim any and all liability of any kind with respect to any act or omission wholly or in part in reliance on anything contained in this website.