Easy Instant Pot Sausage & Potatoes Recipe
We may earn money from the products/companies mentioned in this post. As an Amazon Associate I earn from qualifying purchases. For more information, read our Terms & Disclosures.
This easy Instant Pot sausage and potatoes recipe is great, simple weeknight meal. Normally you make sausage and potatoes on a sheet pan and bake it, but this recipe even easier: set it and forget it in your pressure cooker!
With less than 20 minutes of hands on cooking time, this dairy-free, gluten-free Instant Pot version of the classic sausage and potatoes recipe is yummy enough to serve for company and simple enough to enjoy on a busy weeknight. Instant Pot dinners are amazing, aren't they?
The smoky, somewhat sweet flavor of the sausage, the slight bite of onion, and the wholesome goodness of potatoes come together and make this an unforgettable family meal that's so easy it's bound to become a staple in your home.
When easy, healthy, and delicious meet, you know you've got a great family meal idea! And the best part is that you can make this recipe exactly as-is (our family's favorite way), or add whatever veggies you've got on hand.
In Eastern Europe, smoked sausage and potatoes is a common combination enjoyed on cold winter nights when potatoes and onions are abundantly stored in root cellars and the taste of woodsmoke enhances the flavors. It's one of my favorite dishes to eat in Ukraine and I'm going to share how you can get that unique flavor at home, wherever you live!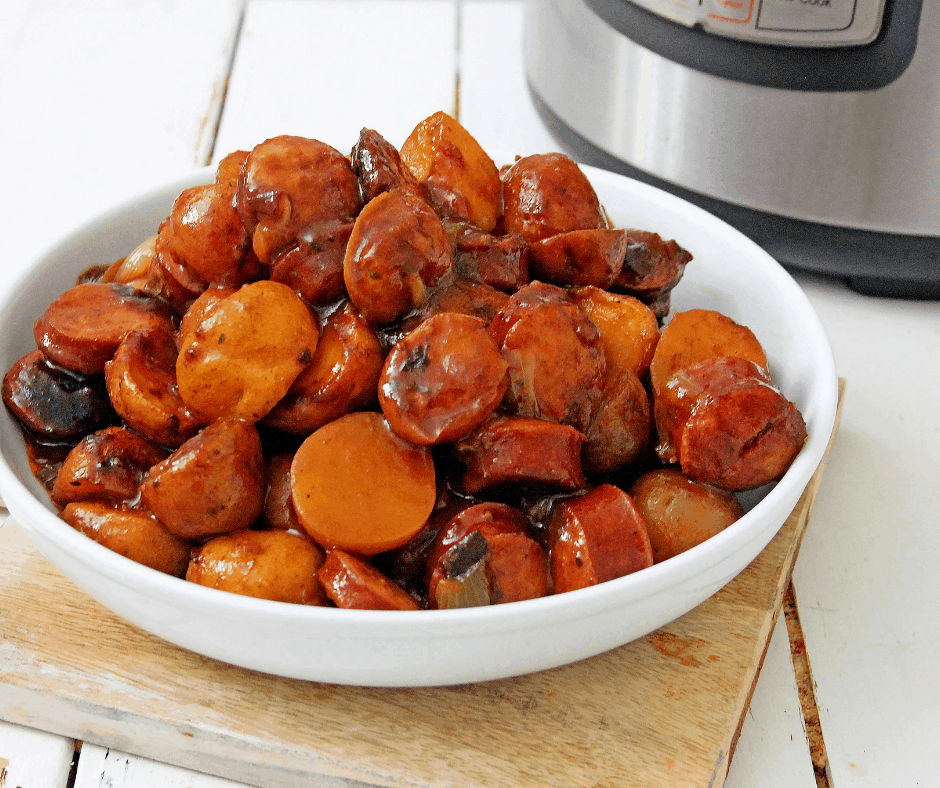 Ingredients In Instant Pot Sausage And Potatoes Recipe
So what will you need to make this absolutely delicious, yet incredibly simple sausage and potatoes recipe? With less than ten ingredients, this is easy on the grocery shopping list and budget which is great. Plus, if you have extra veggies laying around, you can use those also!
Sausage
Onion
Potatoes
Olive oil and butter
Garlic
Liquid smoke (you can make it without this, but it really adds some extra flavor)
BBQ sauce
Salt & pepper
Water
Optional: extra veggies
How To Make This Sausage And Potatoes Recipe In Your Pressure Cooker

Making this sausage and potatoes recipe in the Instant Pot is fabulous because you're only dirtying one pot. Don't you just love meals that are easy on the clean up? I know I do!
Wash your potatoes and dice into bite sized chunks, then let dry
Turn your Instant Pot (or Mealthy Pot or other pressure cooker) on sauté with olive oil and butter in the bottoom
While it's heating up, dice your onions
Put your onions in the Instant Pot and let them begin to brown, stirring occasionally while you dice up the kielbasa (if you are using freshly minced garlic, add it after the onions are translucent)
Add kielbasa (or other smoked sausage) to the Instant Pot, stirring every couple of minutes, letting the bites brown a bit with the onions
Toss your diced potatoes with olive oil, salt, and pepper (and garlic powder if you prefer that to fresh)
Turn of the sauté setting and stir in the potatoes to the onion and sausage mix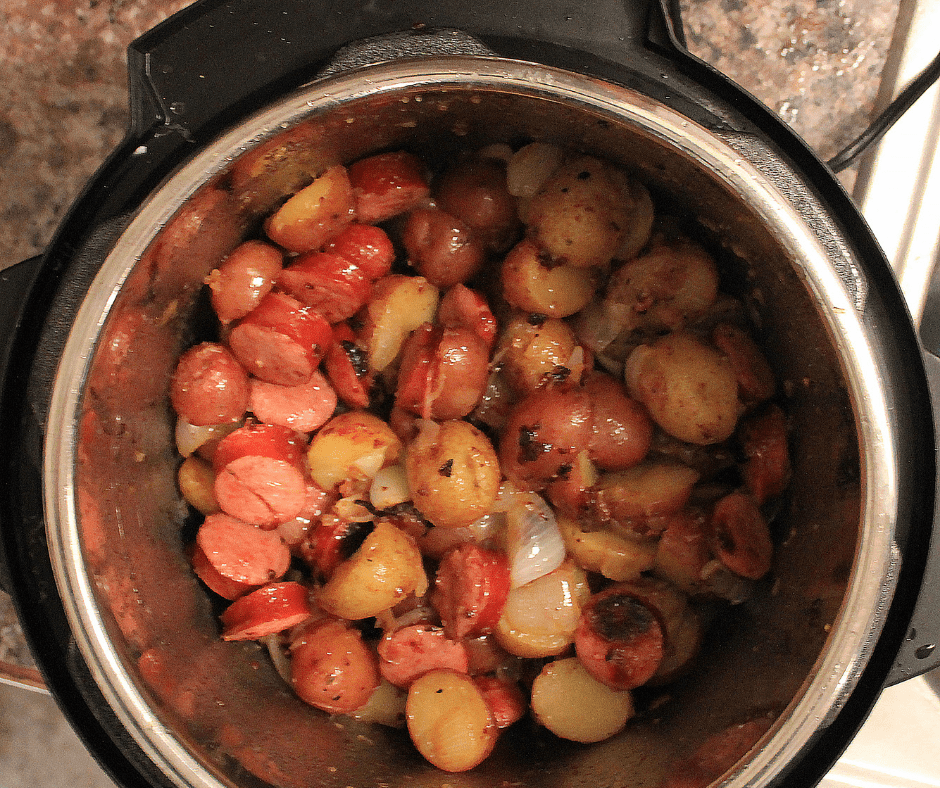 Add liquid smoke, water, and BBQ sauce to the pot, stirring to mix well (and, if you like it hot, add a sprinkle of Cajun seasoning!)
Seal your Instant Pot and manually set it for 12 minutes (if you used an uncooked Italian sausage instead of kielbasa, adjust the time to 16 minutes)
Let the pressure release naturally and enjoy your dinner!
From start to finish, you're talking less than an hour. Because you've used the sauté feature, things are already warmer and it won't take as long for pressure to build.
The dicing and sautéing will take 15-20 minutes (less if you get your awesome kitchen helpers working with you for some family time in the kitchen!). Usually it's about 30 minutes total cook time with pressure building, the 12 minutes of actual cooking, and releasing.
And then look what you end up with (mmmm, hungry yet?):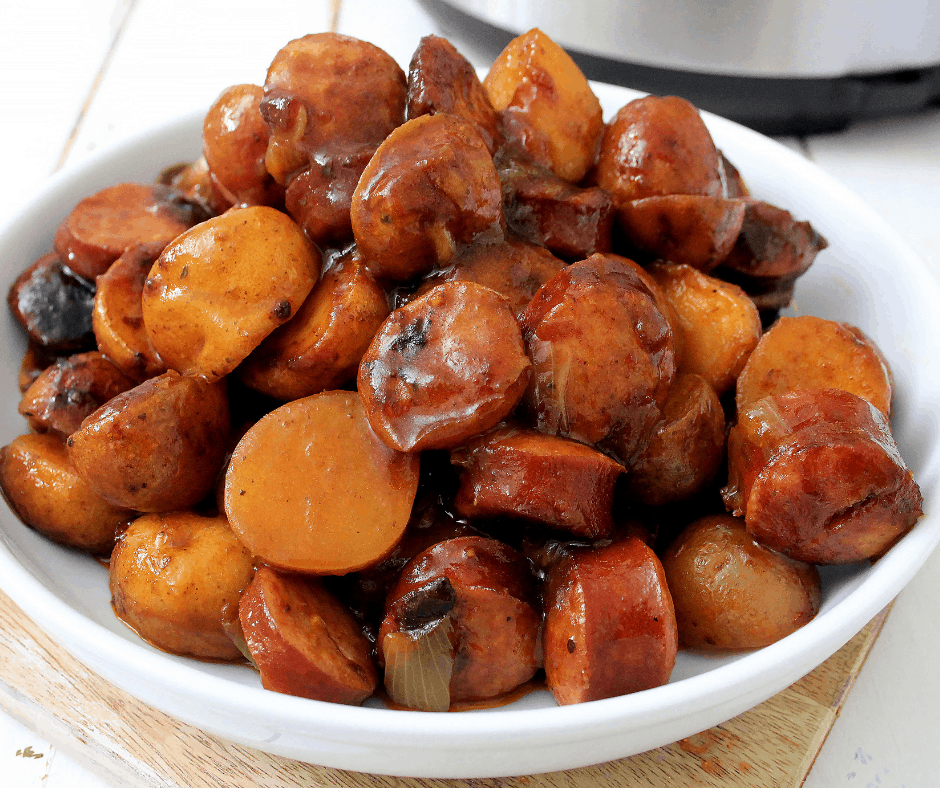 Tips For The Best Smoked Sausage & Potatoes Recipe
Any lingering questions? It's a pretty easy recipe, but these tips will make it even easier. Simple one pot recipes like this one are great dinner options, and these tips will make it even easier for you.
What kind of sausage should I use for sausage and potatoes?
Any kind you want. Really.
But we usually use smoked kielbasa because it's our favorite flavor. Another delicious variation would be sweet Italian sausage (when I do this, I add a variety of bell peppers, too…so good!).
What is the best type of onion for Instant Pot Sausage and Potatoes?
Definitely a sweet onion. Some recipes call for purple onions, but a sweet onion will caramelize beautifully and is more authentic. It really adds the perfect hint of flavor to the dish.
Can I use other vegetables?
Absolutely! This potatoes and kielbasa dish works with any vegetables you have on hand. In fact, we frequently add red bell peppers to it and sometimes yellow squash.
Other great vegetables for this recipe would be Brussel sprouts, frozen or fresh green beans, broccoli, asparagus, string beans, and cauliflower. Anything you've got on hand will be delicious here.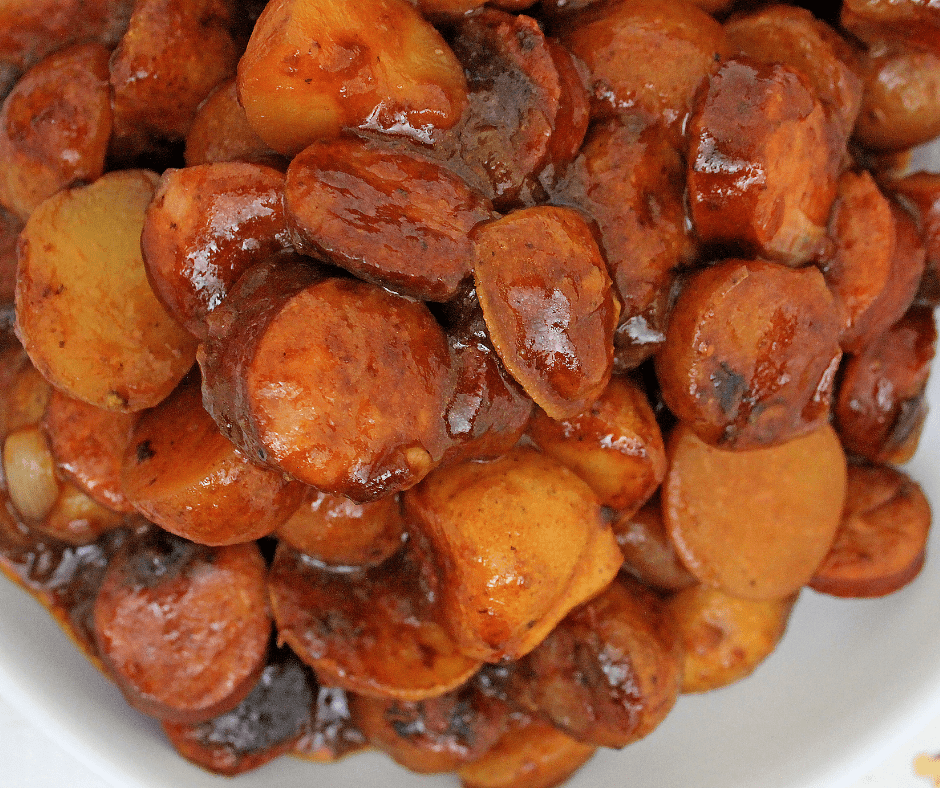 Can sausage and potatoes be made ahead of time?
Yes! And you can do it one of two ways: prep the ingredients so you are still cooking it fresh, or cook the whole thing ahead of time and re-heat for your meal.
Ingredient Prep
If you dice your onions and potatoes up ahead of time, you need to preserve them properly and not store them together. Trust me, they won't taste good if you do that.
When you dice your onions, store them on their own in a glass jar. This will keep them fresh and also keep their flavor sharp and not turn the potatoes faster.
The easiest way to keep cut potatoes fresh is to cover them in water until it's time to use them (source).
Cooking Entire Potato And Sausage Dinner Ahead Of Time
You can also just make it all up ahead of time. This makes a great weekday lunch, easy dinner, or meal to bring to a friend.
Simply store it in an airtight container for up to 5 days in the fridge.
To reheat, sprinkle with some water and microwave loosely covered, stirring every couple of minutes, until it's cooked through. Alternately, you can heat it up in a sauce pan or even for 5 minutes in the Instant Pot.
Which Instant Pot Is Best?
Whichever one you have! And really, having two is even better. I adore our Instant Pots and our large family uses at least one every single day.
And if you don't have an Instant Pot, any electric pressure cooker will work. (Side note: This recipe can also be made in the slow cooker, if you had 1/2 cup of water and cook for about 4 hours on medium to high, but we MUCH prefer it in the pressure cooker).
And I have extra rings so that I can use blue for my desserts, white for things like yogurt, and red for anything savory or spicy. That way I don't worry about flavor transfer.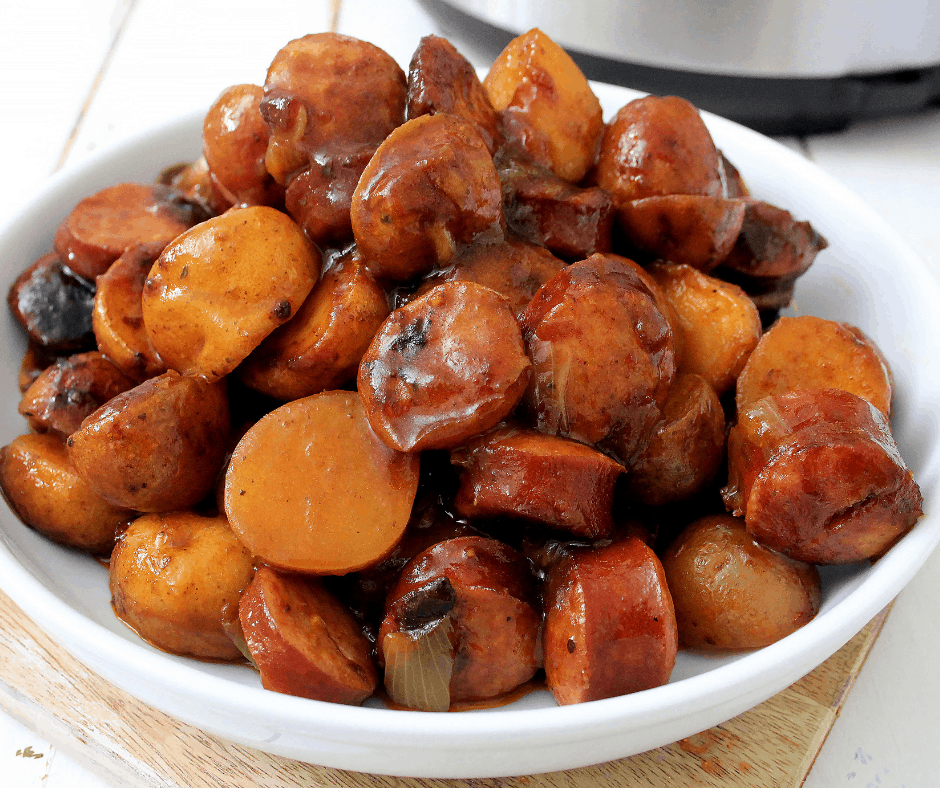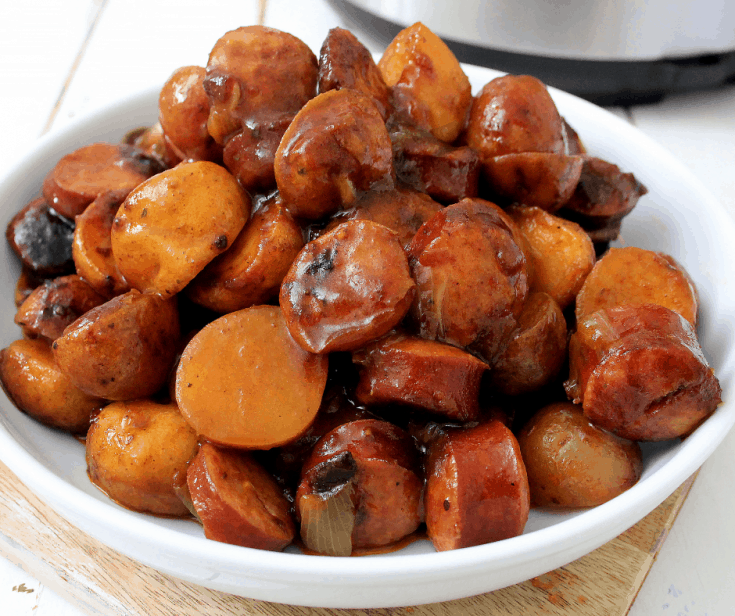 Yield:

serves 6-8
Easy Instant Pot Sausage And Potatoes
Additional Time:
20 minutes
Simple, healthy, and delicious, this Instant Pot sausage and potatoes recipe comes together quickly in one pot. It's perfect for a busy weeknight meal or a company dish.
Ingredients
1 package smoked sausage (or Kielbasa) (16 - 20 ounces)
1 1/2 pounds of small potatoes - red or white will work, or a combination
1 large sweet onion - washed and chopped
2 cloves fresh garlic, minced*
1 1/2 tsp liquid smoke
1/2 cup honey barbecue sauce
1/2 cup water
2 TB butter
1 TB olive oil
1 tsp fresh ground pepper
2 tsp kosher salt
*optional: use 1/2 TB garlic powder instead, if preferred
Instructions
Wash your potatoes well and then chop them into bite sized chunks; let them dry on a towel or in a strainer.
Dice your onions and cut the kielbasa into 1/4 inch rounds (if you have young children, cut the rounds in half due to choking).
Tun the Instant Pot on sauté and add butter and olive oil to the bottom of your liner.
Saute your diced onions for 3-4 minutes, until golden.
If you're using fresh garlic, add it when the onion is translucent so they brown together.
Add the kielbasa chunks to the pressure cooker and stir to combine the onions, garlic, and meat well.
Cook the sausage until it begins to caramelize, about 3 -5 minutes, stirring the sausage during browning.
Toss the potatoes with salt and pepper (and garlic powder if not using freshly minced garlic), then turn off the Instant Pot and stir the Potatoes into the sausage and onion mix.
Add in the honey BBQ sauce and water, then stir until everything is mixed together thoroughly.
Place the lid on the Instant Pot until it beeps and locks; make sure the pressure valve is set to "sealing."
Press the manual button and set the time to 12 minutes (16 minutes if using an uncooked sausage instead of kielbasa).
Allow the Instant Pot to build and release pressure automatically; this will take about 30 minutes.
When the cooking time has completed, make sure all the pressure has been released and carefully open the lid.
Stir the sausage and Potatoes in the barbecue sauce and let sit for a few moments with the lid off.
Serve and enjoy!
Recommended Products
As an Amazon Associate and member of other affiliate programs, I earn from qualifying purchases.
Nutrition Information:
Yield:
8
Serving Size:
1
Amount Per Serving:
Calories:

194
Total Fat:

7g
Saturated Fat:

3g
Trans Fat:

0g
Unsaturated Fat:

4g
Cholesterol:

13mg
Sodium:

872mg
Carbohydrates:

30g
Fiber:

3g
Sugar:

9g
Protein:

4g