We may earn money from the products/companies mentioned in this post. As an Amazon Associate I earn from qualifying purchases. For more information, read our Terms & Disclosures.
Banana chia pudding with almond (or coconut) milk is so delicious you'll want to enjoy it every day! In fact, this gluten-free, healthy carb, super easy make ahead breakfast pudding is so good you'll think it's dessert.
If you're not already a fan of chia seeds and easy chia pudding recipes, hold on to your hat…this is going to convert you lickety-split!
This one is a favorite with my kiddos, who adore bananas, and with me…who adores fast prep, low-mess treats that are are also healthy for the kids.
Plus, it's an easy breakfast to grab on busy days or a pick-me-up snack in the afternoon with a good cup of coffee.
This overnight chia pudding recipe can be made the night before, or batched for five easy meals or snacks throughout your week.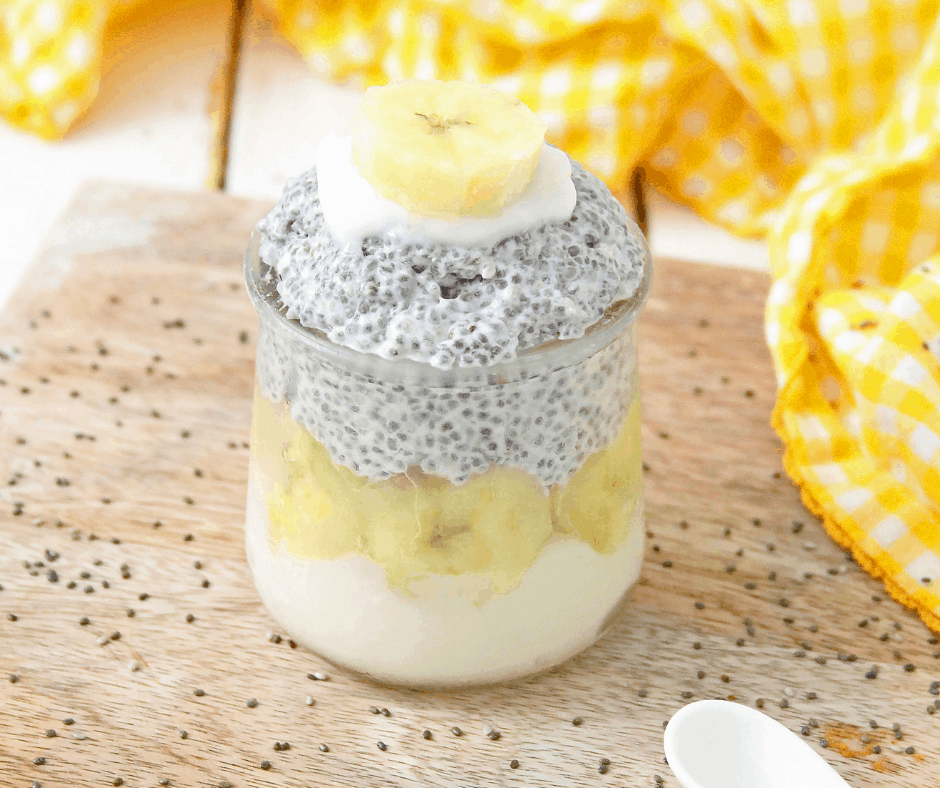 You gotta love something so easy to enjoy!
Chia Seed Health Benefits
Chia seeds are a super food. They are packed full of all kinds of good things for your body, and because they expand to up to 10x their size, they also fill you up quickly.
Chia seeds are a natural source of protein and fiber, as well as healthy Omega 3 fats and many nutrients.
Are Chia Seeds Low Carb?
Chia seeds have carbs, but nearly all of it is fiber.
That means they can hold a lot of water, and when you calculate the net carbs they are totally okay to enjoy on a low carb eating plan like Trim Healthy Mama, Atkins, and even Keto.
However, this recipe includes bananas which means it's a crossover for THM and not Keto appropriate. It may, however, work for some low carb lifestyles.
And if you like the taste and texture of this homemade pudding, try out our Coffee or Dragon Fruit Chia Pudding recipes as well…we like to make an assortment on Sunday evenings and enjoy them throughout the week for breakfast.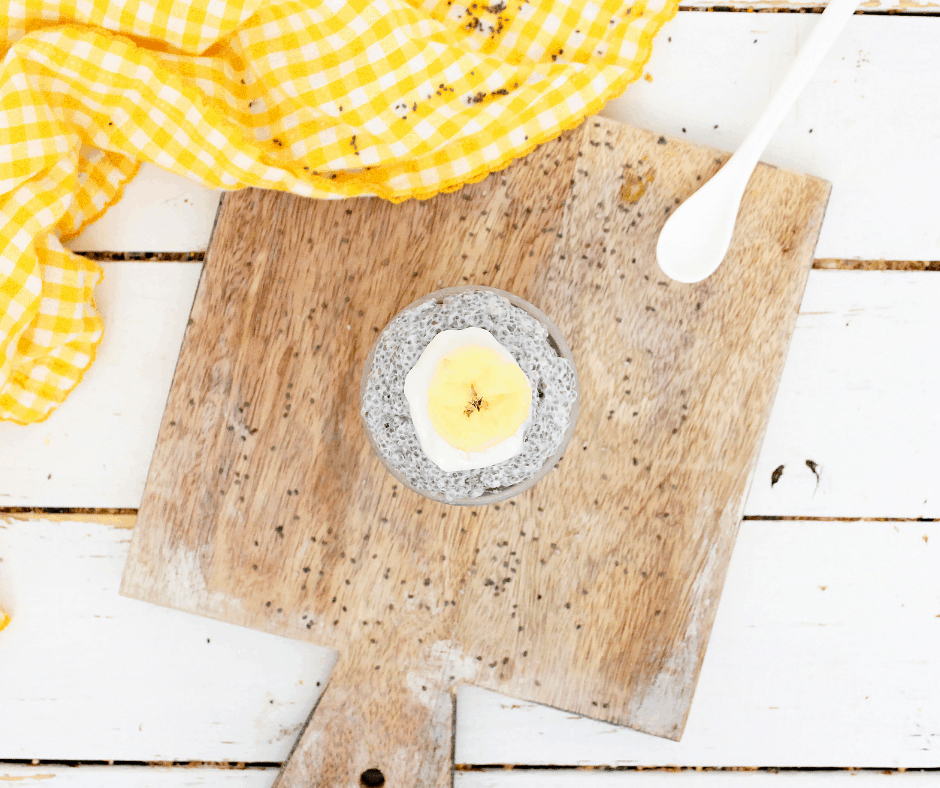 Ingredients Needed for Chia Banana Pudding
Ripe banana's (1 mashed for pudding)
Chia seeds
Your choice of milk (whole, almond, soy, coconut…you choose!)
Stevia blend such as Swerve
Vanilla (or almond extract, if you want to mix it up!)
Optional toppings when serving
Individual glass containers (or 9×9 glass dish)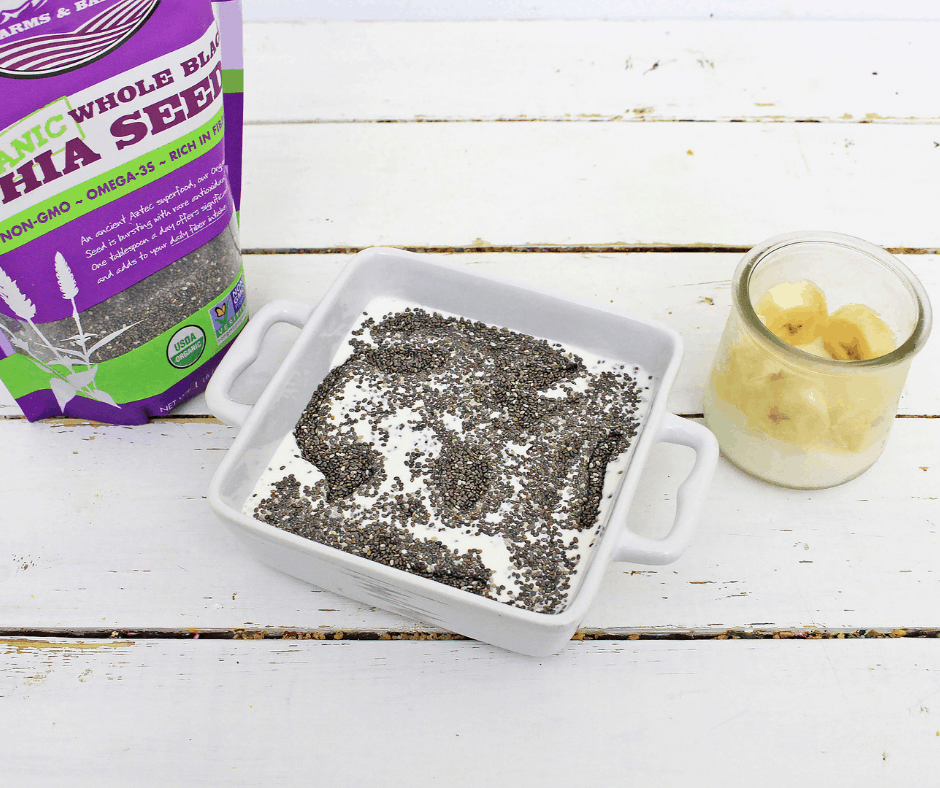 Optional Topping Ideas
If you want to sprinkle on some fresh toppings to give this a little more crunch and texture, that's great too!
Try adding some dried coconut for extra crunch. It's especially delicious with toasted coconut flakes!
Raisins, dried cherries, and diced dried tropical fruit blends (kiwi, mango, papaya, pineapple) make this a perfectly tropical carnival for the taste buds.
And, of course, you can't go wrong with chocolate chips! Who doesn't love a good chocolate banana pairing?
White chocolate, caramel, and peanut butter chips are also amazing options.
Lastly, add some fresh strawberries if you'd like to really ramp up the flavor!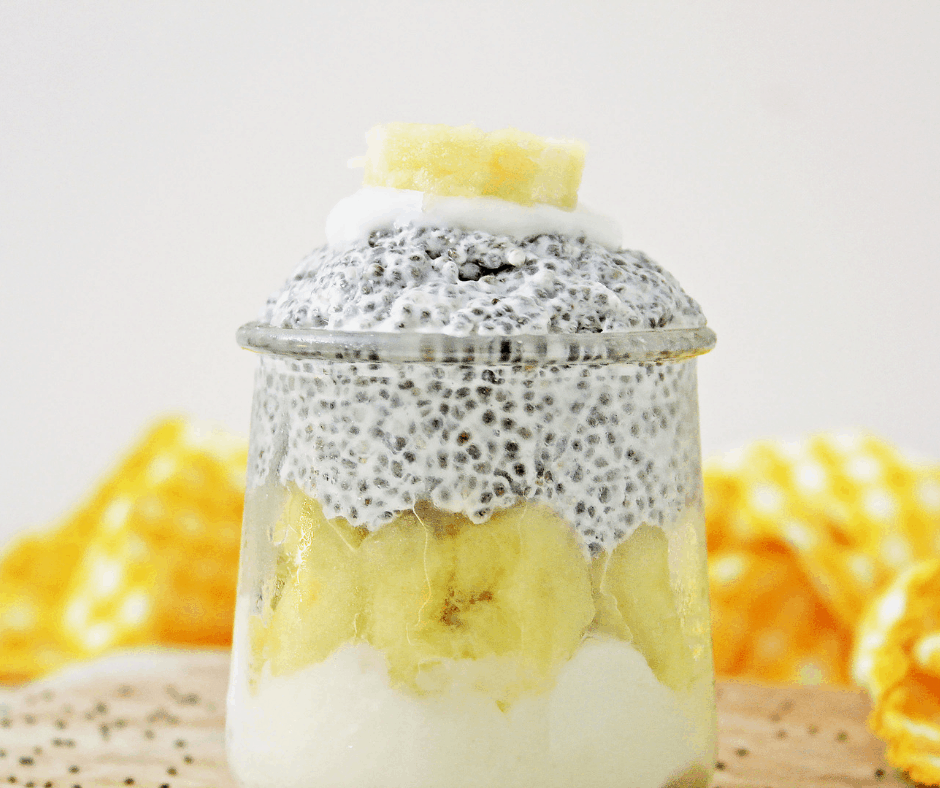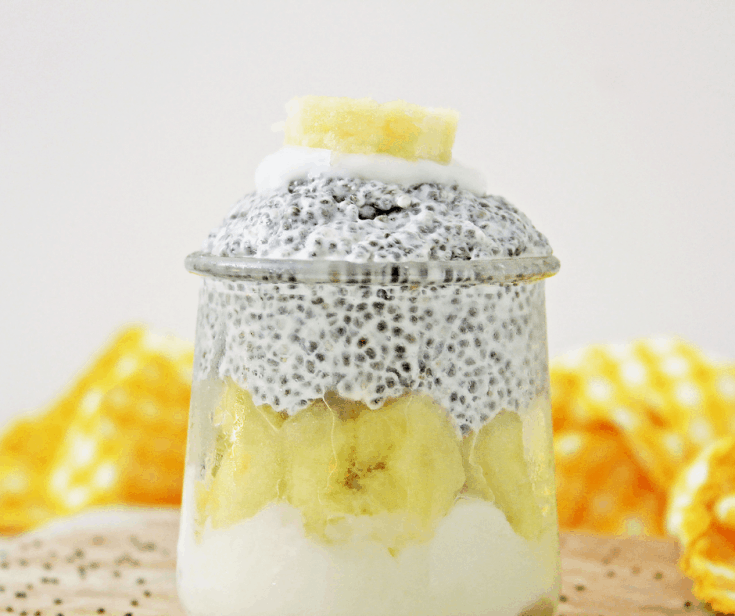 Yield:

6 cups
Banana Chia Pudding
Total Time:
5 hours
10 minutes
If you love banana's, you're going to love this healthy banana chia pudding. You can make several of these and have them ready for breakfast, or when you need to grab something on the go. Just keep the in the refrigerator, and you're all set. They're quick and easy, and bananalicious!
Ingredients
3 ripe banana's (1 mashed for pudding)
2 cups of Chia seeds
4 cups of milk (whole, almond, soy, coconut, or traditional)
2 Tablespoons of Stevia
1 Tablespoon of vanilla
6 - 8 four to six ounce glass containers
Instructions
In a medium bowl, mix the chia seeds, milk, Stevia and vanilla, until well blended and smooth.
Mash 1 of the banana's and mix into the pudding until creamy, and place the pudding in the refrigerator.
Slice 2 of the banana's in 1/4 inch slices, and line the sides of the glass containers with banana's (see photo).
Fill the containers with the Chia pudding, top with banana's cover and place in the refrigerator overnight for best results Pudding's may be kept in the refrigerator for 5 days. Enjoy!