We may earn money from the products/companies mentioned in this post. As an Amazon Associate I earn from qualifying purchases. For more information, read our Terms & Disclosures.
These healthy, easy breakfast oatmeal banana pancakes are soft, fluffy, and fun to make and eat. Perfectly simple kid-friendly recipe for a quick breakfast idea or even a midday snack (or breakfast for dinner!).
If you're looking for a recipe for easy and healthy banana pancakes, this is the one for you. With minimal and simple ingredients needed, this is one awesome breakfast recipe that the kids are going to love.
One thing is for certain…sometimes you just need to have breakfast recipes to eat at any time of the day. These delicious oatmeal pancakes are proof that it is true!
The natural sweetness of the bananas is one of the best parts. This means that you're not loading down this simple pancake recipe with a ton of sugar but you are happily adding in ingredients that you can easily pronounce and probably also have on hand.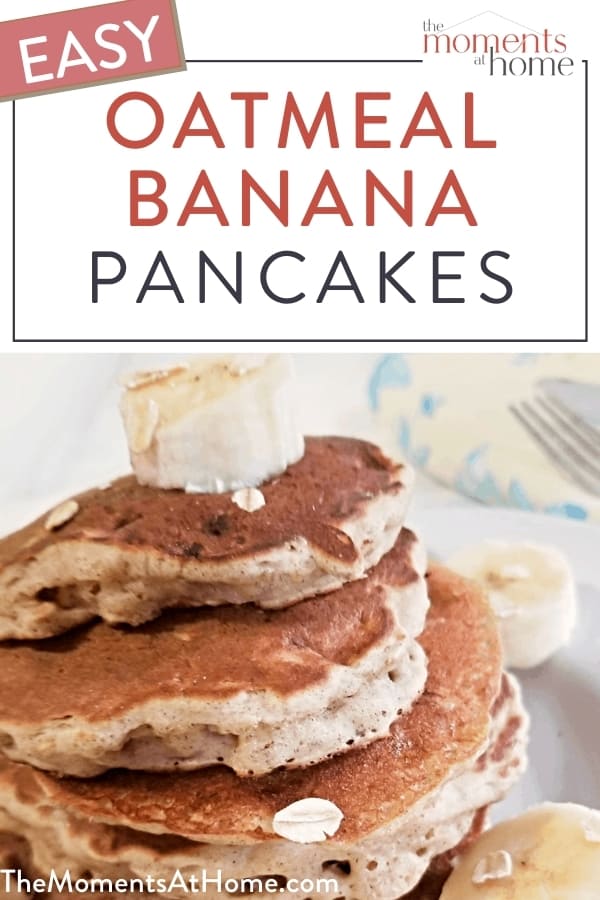 When you can combine the ease of these banana oat pancakes with the appetite of your kids, you know that you've got a match made in tastebud heaven!
There are so many ways that you can make pancakes but this oatmeal banana cake recipe is one of the best. Not only are the pancakes hearty, but they're still light and fluffy as well.
Ingredients in Oatmeal Banana Pancakes
Nothing but simple ingredients to be found here! Just gather up the ones listed below and you'll be well on your way to mixing and serving up a hot stack of delicious pancakes!
Flour
Old fashioned oats
Sugar
Baking powder
Baking soda
Salt
Cinnamon (or you can use pumpkin pie or apple pie spice!)
Milk
Butter
Egg
Banana
How To Make These Easy And Healthy Banana Pancakes
Just heat up your stove and skillet and get ready to pour, flip, and serve!
From the start of this simple pancake recipe to the end, you're looking at 30 minutes, max. Because who really wants to spend all morning in the kitchen?
We've all got better things to do, like enjoy a cup of coffee (or an easy keto caramel cappuccino!), or two!
So combine your wet ingredients, add them to your dry ingredients, and make sure you're hungry.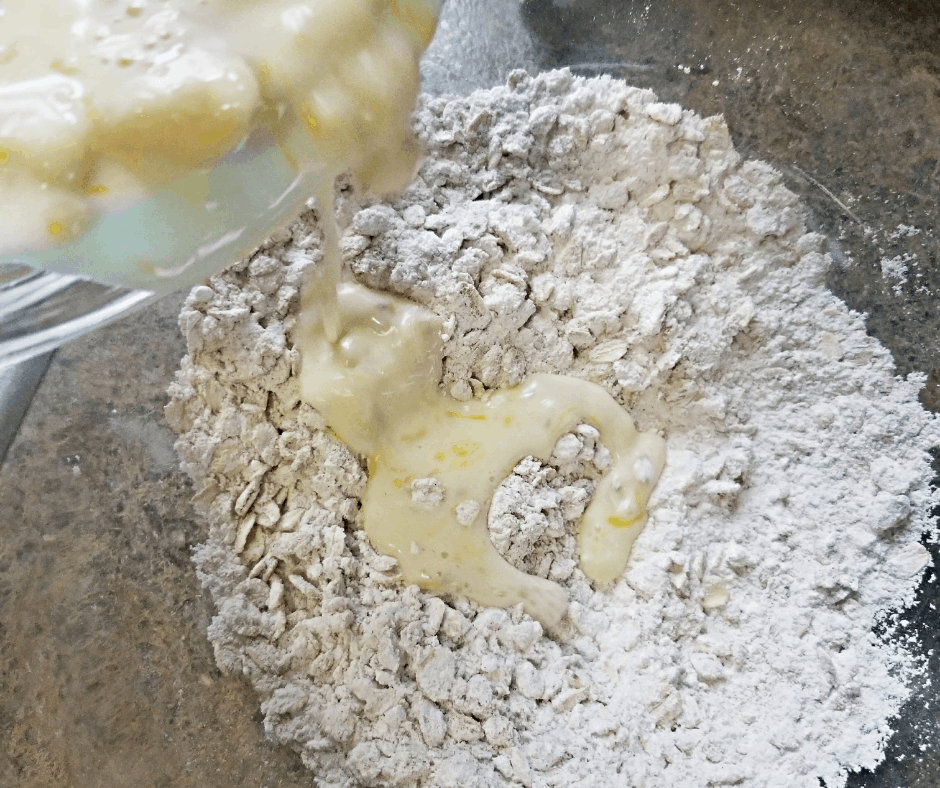 Mix it all together well. Some lumps are to be expected, but not too many.
As you let the batter combine, the oats will soften more.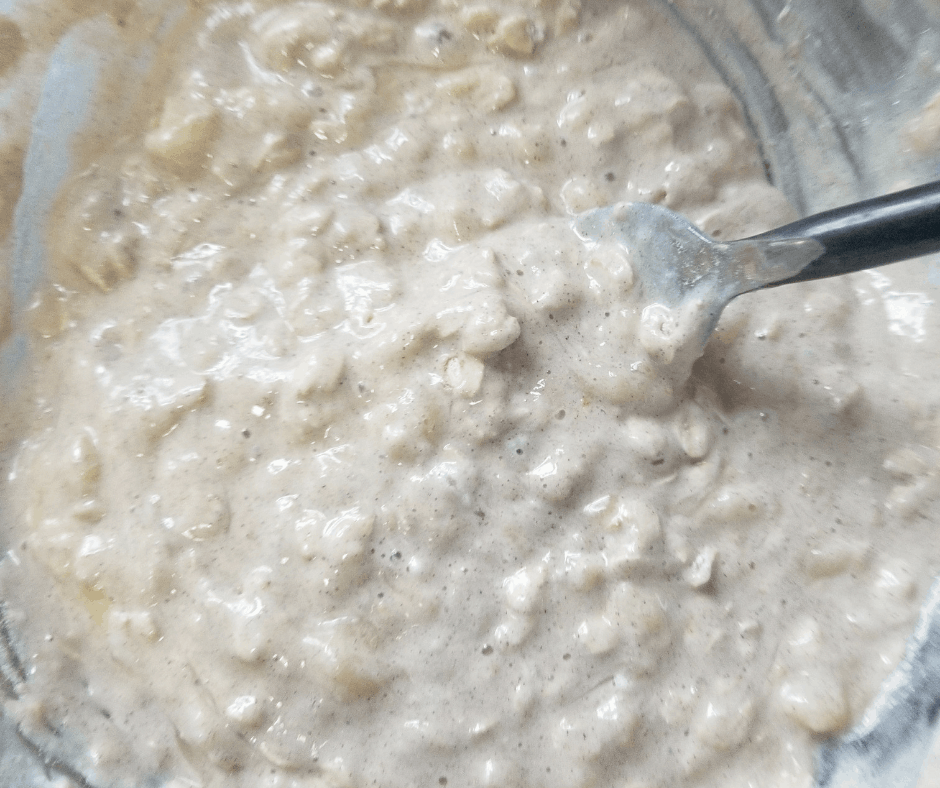 Tips For Making The Best Oatmeal Banana Pancakes
You might have questions up to this point and that's totally fine. Pancakes are not hard to make but there are a few things to keep in mind…
Combine your dry ingredients in one bowl and your wet in another. Then combine the two.
Don't let them burn. You want a golden glow to them, but not a dark brown for the best flavor
Let the batter rest a few minutes before starting to cook your pancakes
If you aren't going to eat them right away, keep them warm in your oven on a cookie sheet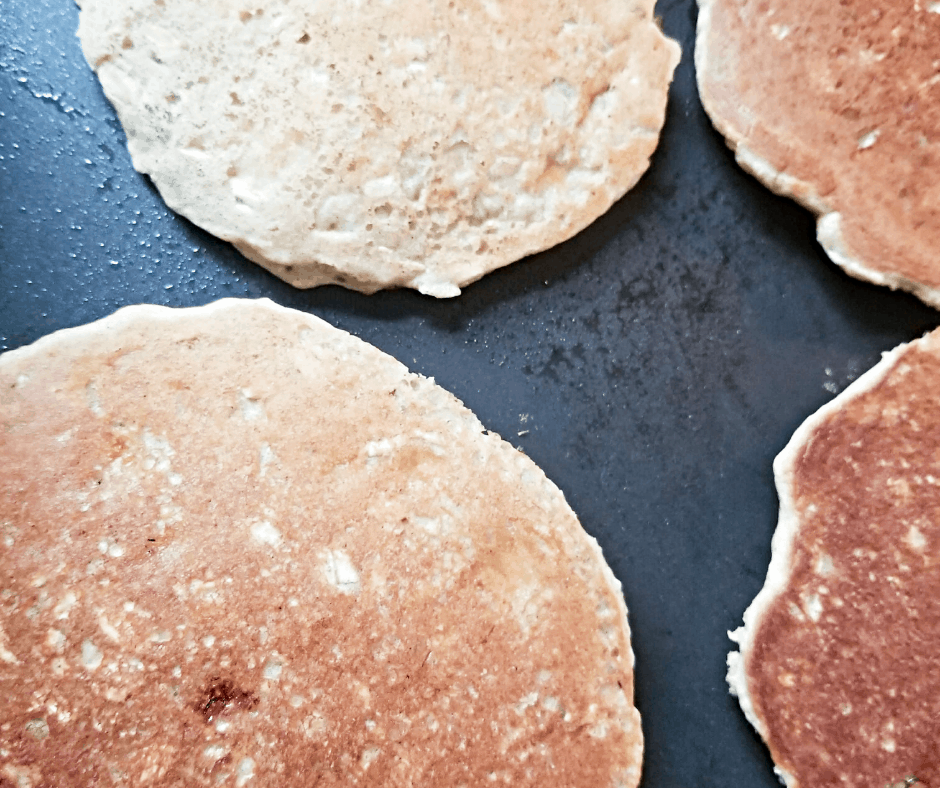 Are oatmeal pancakes healthy?
They are, indeed!
As long as you're not piling high the syrup or honey, these banana oatmeal pancakes are a delicious and healthy choice. You can also swap out the sugar for Swerve or another sugar alternative.
What to put on pancakes when you don't have syrup?
Don't be sad because you don't have syrup!
Instead, try putting other healthy options on your pancakes. This can be berries, a tad bit of powdered sugar, or even some homemade applesauce as well.
Also delicious is a think layer of Nutella, jam, peanut butter (we like to go half peanut butter and half butter here to make it creamier), or a bit of honey.
Is there a healthy pancake syrup?
Tough call. The syrup from the store isn't going to be a healthy option at all. You'd be much better off using real maple syrup or honey if you're wanting that syrup flavor and taste.
Can I leave my bananas lumpy?
You can but just know that it's going to affect the texture of your pancakes, too. Some people actually prefer lumpy pancakes, as long as those lumps are bananas!
Ready for this simple pancake recipe? It's going to be a family favorite for sure!
Ingredients
1/2 cup flour
1/2 cup old fashioned oats
1 tbsp sugar
2 tsp baking powder
1/8 tsp baking soda
1/4 tsp salt
1/2 tsp cinnamon
1/2 cup milk
2 tbsp butter (melted)
1 egg
1 banana (mashed)+ 1 for extra topping