Apple Pie Porridge: Breakfast or Dessert (AIP, THM, Paleo)
We may earn money from the products/companies mentioned in this post. As an Amazon Associate I earn from qualifying purchases. For more information, read our Terms & Disclosures.
This Apple Pie Porridge recipe is the perfect paleo breakfast idea, delicious and easy autoimmune paleo breakfast or dessert, and is even just right for a Trim Healthy Mama breakfast idea (THM S-helper or crossover). Easy, healthy hot breakfasts are a great way to start the day! Bonus: it's sugar-free, gluten-free, and low carb.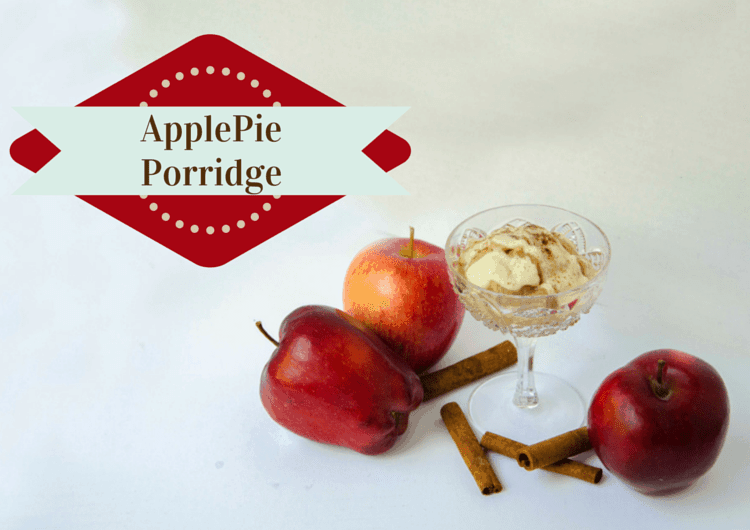 Nothing beats a savory, satisfying hot breakfast on a chilly fall morning. And one that smells like Grandma's apple pie is even better!
That's why this apple pie porridge is so tempting that I eat it regularly. My kids love it, too. And I bet you're going to love it, as well!
It can be challenging to find food that tastes good and is easy to make…but this apple pie porridge is a definite check in the win column. It has all the flavors of fall and ingredients that nourish your body.
Apple pie porridge is a healthy breakfast option, but it's also good enough to be dessert. It's not quite a paleo apple pie, but it sure tastes like one.
If you're looking for gluten-free breakfast ideas, you're in the right place!
APPLE PIE PORRIDGE AS A HEALTHY AIP BREAKFAST
This apple pie porridge recipe is quite versatile: it fits with the autoimmune Paleo protocol, it's low carb and gluten free, it can be enjoyed for those adhering to Trim Healthy Mama as an S Helper or Crossover, and it's sugar-free.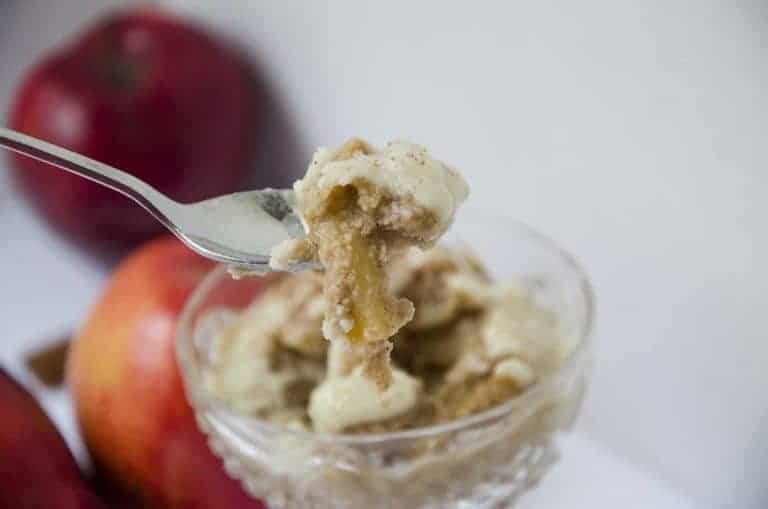 We eat apple pie porridge for breakfast, but also have it slated as a dessert later this week (yes, it's that good!).
The ingredients are healing for your gut, nourishing for your body, and conducive to slimming down.
My other favorite part? It's a one dish deal.
HOW TO MAKE APPLE PIE PORRIDGE
Making this easy low carb breakfast is quick, which makes it a great sugar-free breakfast option for busy mornings.
Just heat up your cast iron skillet, dropped a bit of coconut oil in it (you could also use butter — and trust me, it's a savory choice that makes it even more decadent, so if you have that freedom…enjoy it!), and toss in your diced apples.
Then sprinkle them with cinnamon and some stevia or honey, and stir!
Once the apple chunks are nice and tender, add in coconut flour and water (or almond milk…YUM).
Give it a good stir until it's mixed thoroughly. Voila! Apple pie porridge, all ready to indulge in and it only took minutes!
WAYS TO ENJOY APPLE PIE PORRIDGE
For my breakfast, I drizzled on some warmed coconut butter and had the perfect bowl of decadent yumminess.
When we have it for dessert, I'll top it with some crushed walnuts and a few raisins and then a dollop of whipped cream. The possibilities with this porridge are amazing.
I love when a dish can double up for more than one purpose, and also when it has several variations to keep it new and exciting. It's also pretty frugal because you can get a great deal on coconut flour on amazon and apples are usually pretty inexpensive.
This recipe is usually enough for two (unless you're really hungry…and then go ahead and it the whole thing!) and is easy to double. It doesn't store well, so it's best to make it fresh whenever possible.
If you'd like to boost the protein in the meal (hey there, Trim Healthy Mama…I see you!) you have a couple of options.
I usually have it with some chai tea with added gelatin, but I have also added 1/2 TB of whey protein powder in with the coconut flour and thinned out with a dash more water as needed. Both are yummy!
Ingredients
1 apple diced
1 TB coconut oil or butter or ghee
1 tsp cinnamon
1/16 tsp stevia extract powder (or 1 1/2 tsp honey or maple syrup)
3 TB coconut flour
1 cup water (or almond milk or milk)
optional: coconut butter whipped cream, or frosting, chopped walnuts, raisins
Instructions
Heat a skillet over medium heat.
While heating, dice up an apple into small bite sized chunks.
Melt 1 TB coconut oil. Once melted, toss in apples.
Let cook for about 4 minutes, then stir and sprinkle with cinnamon and sweetener.
Stir and let cook for about 5 more minutes, until very tender.
Add in 3 TB coconut flour and 1 cup liquid, stir. Allow to heat. If you want a runnier porridge, add more liquid 1 TB at a time. Let heat for just a few minutes until all the liquid is absorbed and everything is warm.
Serve hot, drizzled and sprinkled with your choice of topping.
Notes
Please note that if you are on the AIP protocol you should use Grade B maple syrup or honey as your sweetener and coconut butter as your topping.
If you are a THM, 1/2 of this is an S Helper or the entire portion may be enjoyed as a Crossover meal. THMs: Please add more protein if this is your entire meal (I like to have a cup of tea with gelatin or 1/2 of a smoothie). If you are a THM or candida conscious, it is important to use stevia, not honey or maple syrup.