Eggs In A Nest Breakfast Skillet (Paleo, Keto, THM, Whole 30)
We may earn money from the products/companies mentioned in this post. As an Amazon Associate I earn from qualifying purchases. For more information, read our Terms & Disclosures.
This easy zucchini eggs in a nest recipe is a 4-ingredient, low carb breakfast that is quick and easy for a busy morning, but quite satisfying and tasty. Perfect for Paleo, Whole 30, Keto, Low Carb, and THM S, there is no doubt this is a versatile, healthy meal that can be enjoyed any time of day.
Sometimes you just want an easy, filling, low carb breakfast…and this eggs in a nest recipe fits the bill! Classic eggs in a nest recipes are loaded with carbs, but not so with this zucchini eggs in a nest alternative.
You can eat enjoy this healthy skillet breakfast whether you are Whole 30, Paleo, a Trim Healthy Mama, Keto, Atkins…or just plain in the mood for a simple meal that tastes great.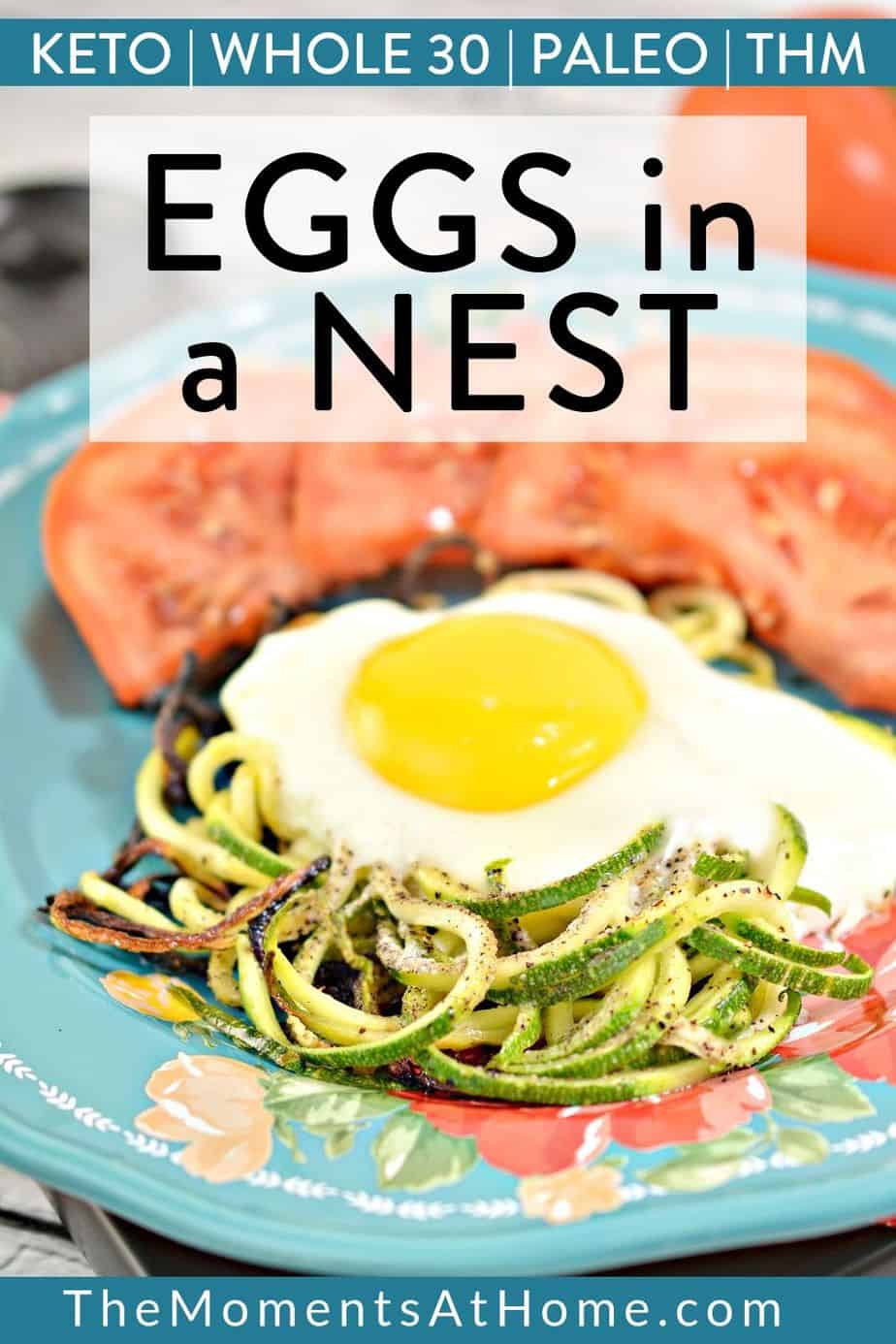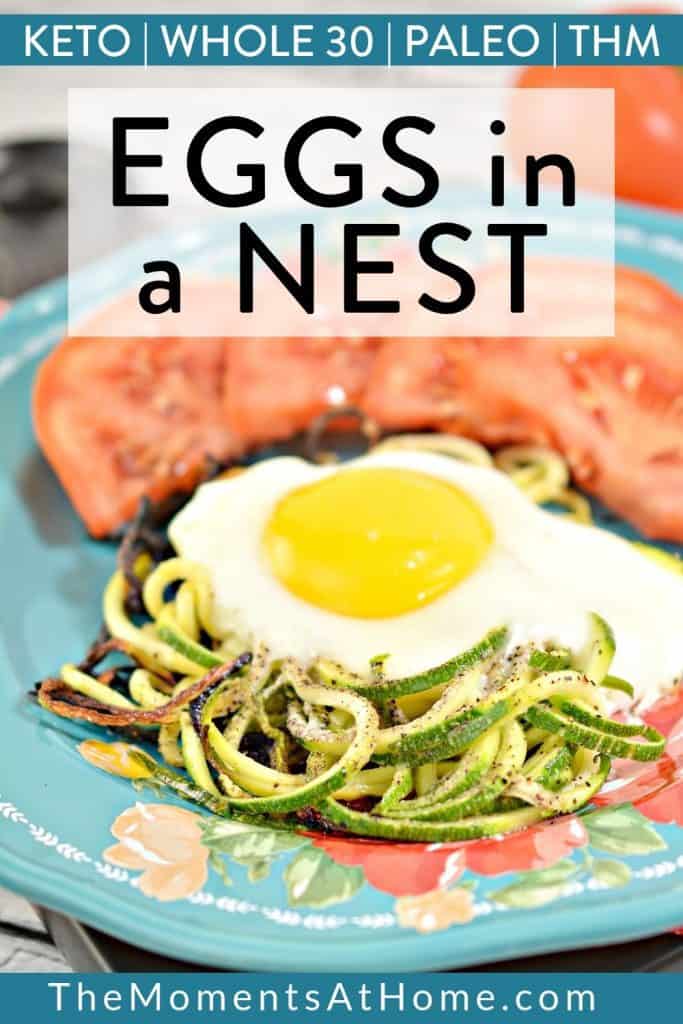 Ingredients in Keto Zucchini Eggs In A Nest
So what do you need to make these eggs in a nest? Just 4 simple ingredients, that are Whole 30 approved and ready for any palate and healthy way of eating. How great is that?
Zoodles (if you've never made them, check out this awesome tutorial)
1 Clove fresh garlic (or garlic powder
Olive Oil
Eggs
Salt and pepper to taste
How To Make Eggs In A Nest With Zoodles
It's so easy! Once you've made your zoodles, it's all easy from there. Simply toss your zucchini noodles with salt and pepper to prepare them.
First, heat some oil in the skillet and add your freshly minced garlic. Once it's aromatic and the garlic is starting to turn golden, add your noodles. (If you'd rather use garlic powder, add it to the zoodles with the salt and pepper…but fresh garlic is our favorite around here!)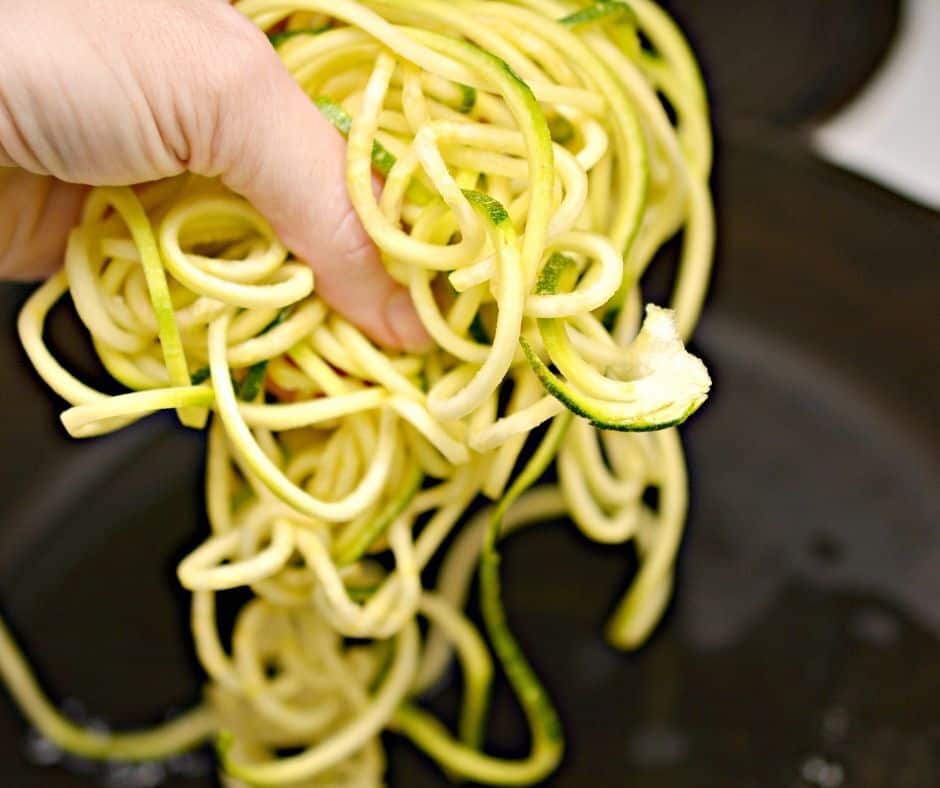 Next, separate your zoodles into two "nests" in the skillet and let them start to cook. They'll steam as some of the moisture begins to evaporate. Go ahead and create a bit of a cavity in the nest to hold your eggs.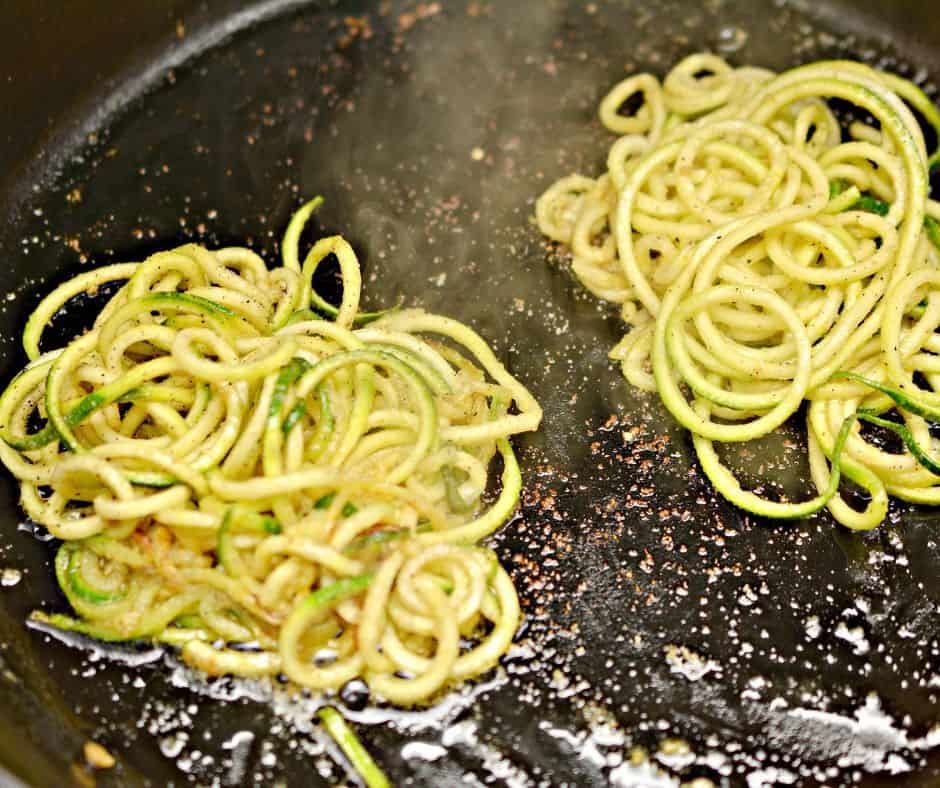 Lastly, crack your eggs into their zucchini nests and let cook, just like you would a sunny side up egg. The whites will cook through and be firm and the yolk will firm, but not harden.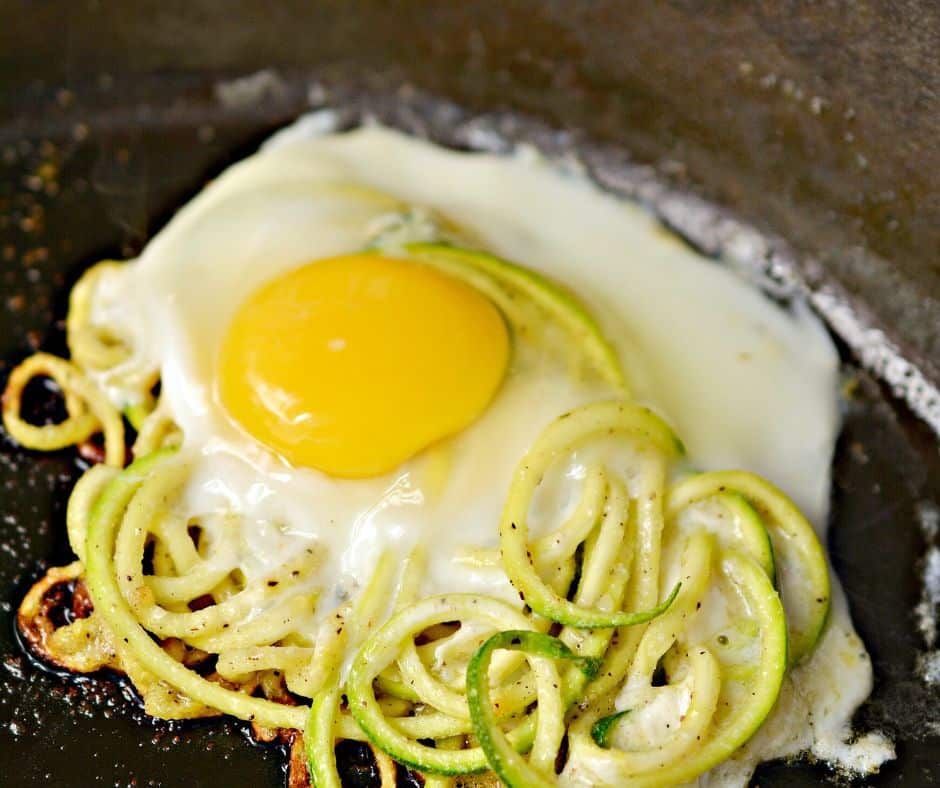 Then simply serve them up with your favorite fresh veggies and maybe enjoy a nourishing spiced caramel cappuccino on the side.
Variations For Eggs In A Nest
You can make this recipe pretty versatile by switching up the spices that you use or even by adding some other veggies. Here are a few ways to jazz up your Whole 30/Paleo/Keto/THM/Low Carb breakfast:
Sprinkle with crushed red peppers for some heat
Add shaved carrots and caramelized onions to the zoodles before adding eggs
Top with crumbled bacon (mmm)
Add freshly chopped basil and grated parmesan along with the garlic
Add jalapeños, red peppers, purple onions, and cilantro for some south of the border flair (either sprinkled on top or cooked with the zoodles)
Swap out the zoodles for shredded cabbage eggs in a nest
Scramble the egg and cook the zoodles and egg in a muffin tin, making enough for the week's breakfasts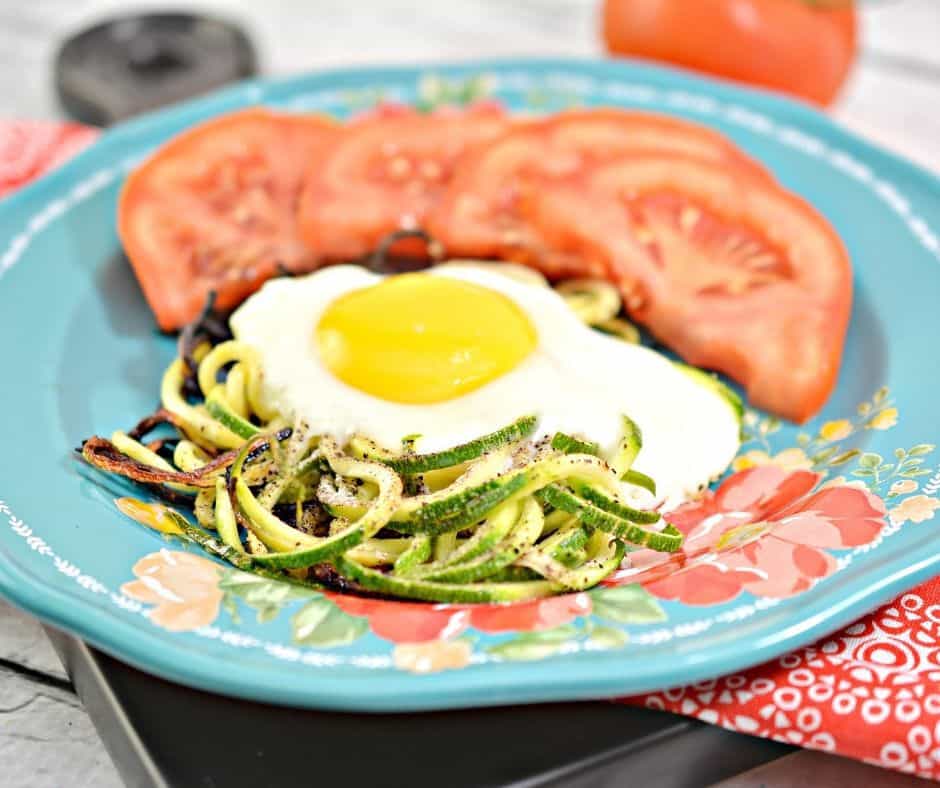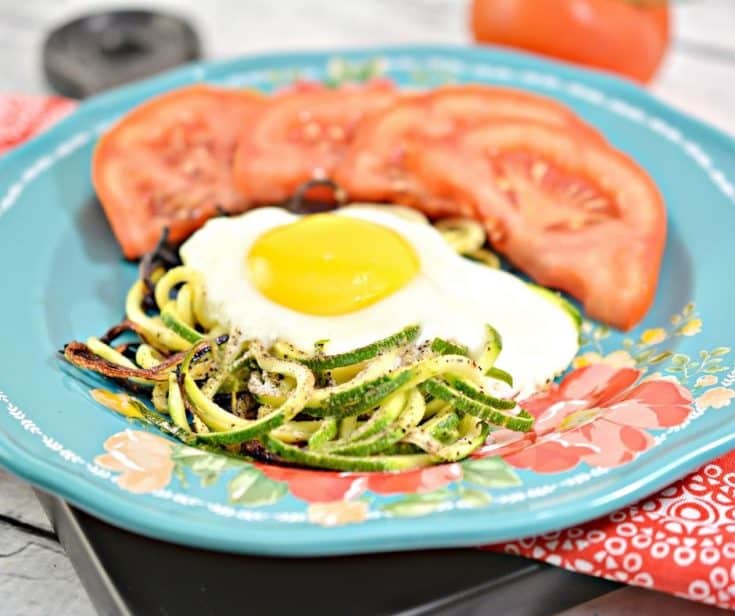 Yield:

2
Keto Eggs in a Nest
This simple zucchini eggs in a nest recipe is an easy breakfast for Whole 30, Paleo, Keto, and THM.
Ingredients
1 cup of Zucchini noodles
1 tbsp Olive oil
1 clove freshly minced garlic
2 eggs
Salt and pepper to taste
Instructions
Heat your skillet, adding the olive oil and freshly minced garlic
Sprinkle salt and pepper into the zucchini noodles and toss
Add the zucchini noodles to the skillet and begin to cook in two even "nests"
Create a little cavity in the zucchini noodle nests and crack the eggs into them
Let the noodles and eggs cook until the egg whites have cooked through, completely white and solid, but the yolk will firm but remain runny
Garnish as desired and serve hot and fresh
Notes
In lieu of fresh garlic, you can add 1 tsp garlic powder to the zucchini noodles with the salt and pepper before cooking.
If you like drier noodles, remove some of the excess moisture before cooking, or cook longer before forming the nests and adding the eggs.
You can add crispy bacon crumbles or other veggies and spices to change the flavors (see the post above for ideas) if desired.