Roasted Brussels Sprouts with Bacon and Cranberries
We may earn money from the products/companies mentioned in this post. As an Amazon Associate I earn from qualifying purchases. For more information, read our Terms & Disclosures.
These delicious roasted brussels sprouts with bacon and cranberries make the perfect side dish any time of year, but especially over the holiday. Rich, savory flavor with a hint of crispness will have this low carb vegetable side dish stealing the show! Plus, they are easy and quick.
Even if you're not a fan of roasted Brussels sprouts, this mouthwatering low carb side dish will change your mind in just one bite. The amazing taste of roasted brussel sprouts, bacon, and cranberries is savory with a hint of sweet and the unexpected crispness of them creates a nice texture with your meal.
You know, I never used to like Brussels sprouts. What turned the tide for me was trying them oven roasted; the texture and flavor were completely different than the boiled and steamed ones I'd had as a child.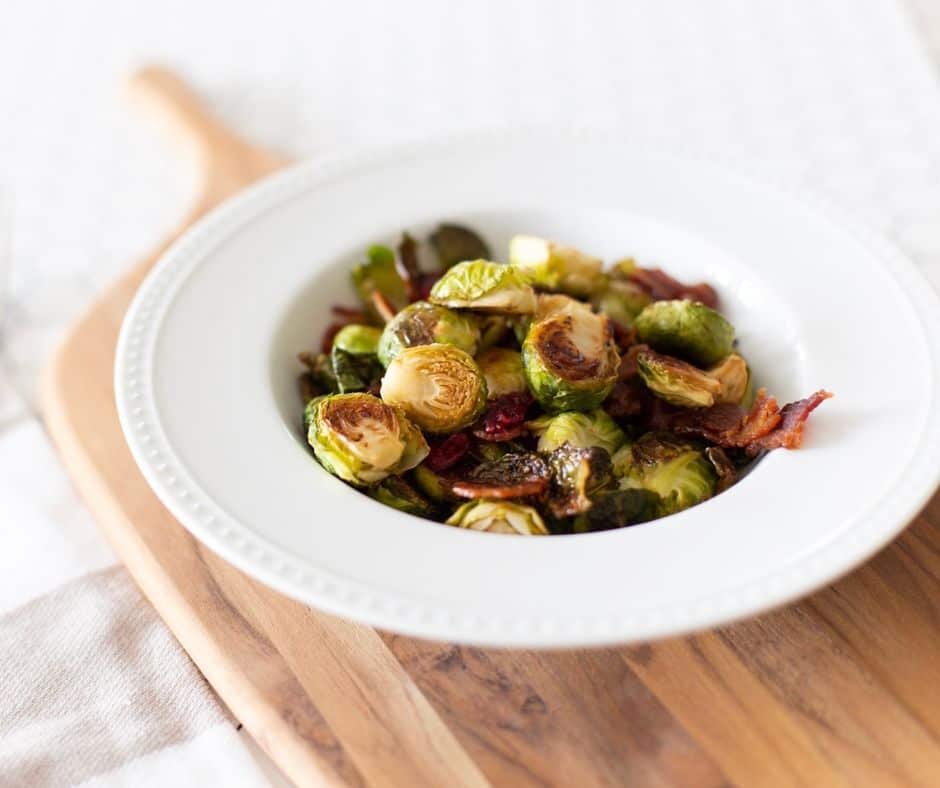 Ingredients For This Roasted Brussels Sprouts With Bacon Recipe
So what do you need to make this delectable, bacon infused vegetable side dish? The list is pleasantly short on ingredients even while being full of flavor:
Brussel sprouts
Olive oil
Balsamic vinegar
Pinch of salt
Cooked bacon slices, with grease reserved
Cranberries
Easy, right? And so yummy! This is a great low carb Thanksgiving of Christmas side dish, thanks to the festive addition of the cranberries, but is great any time of year.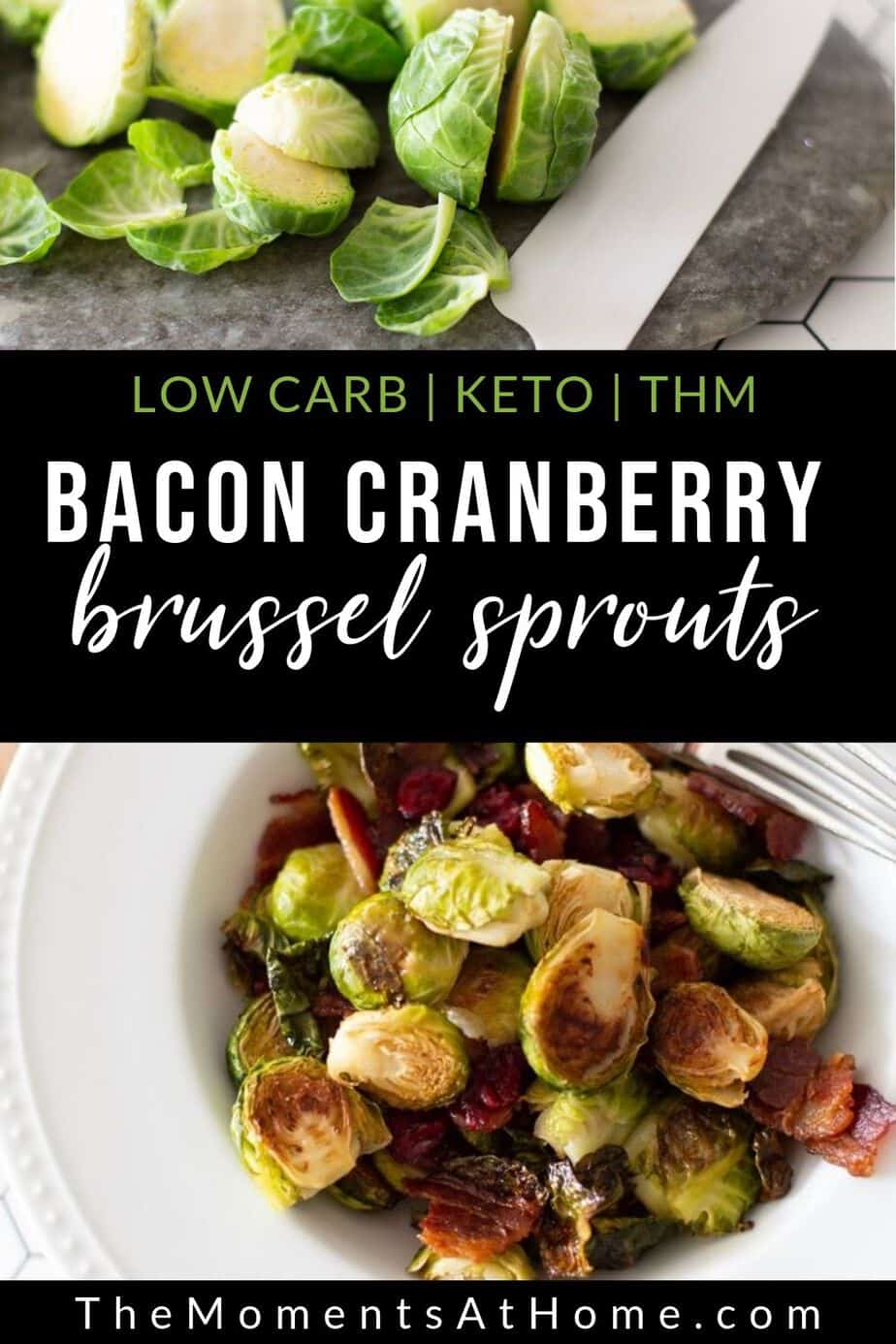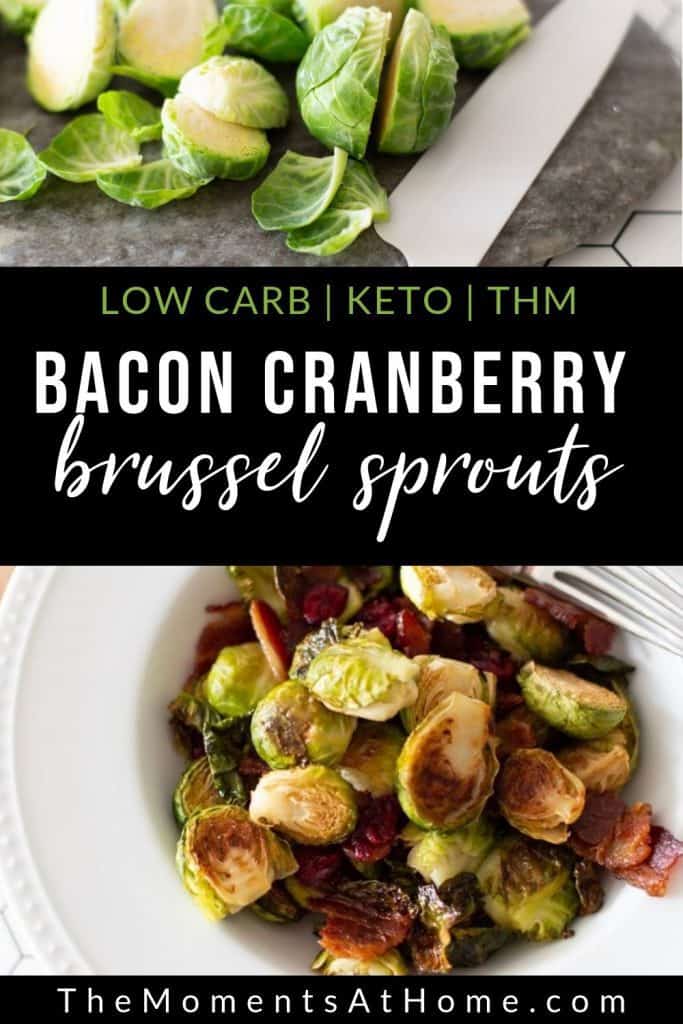 Brussels Sprouts With A Bacon Balsamic Glaze
Now, you might be wondering if you can have balsamic vinegar on a low carb diet. The answer is: sometimes. While it's not great for strict keto in normal amounts, it can be enjoyed in small quantities (to learn more, read this article).
The reason it's included in this recipe is because the sugar in it will make the caramelization possible. Just don't buy the super cheap stuff that has fake coloring and added sugar. A higher quality balsamic will have a better flavor and pure ingredients.
The glaze can be made with all olive oil if you want, or a blend of olive oil and bacon grease. Using the grease will enhance the bacon flavor.
Tips For Making The Best Roasted Brussels Sprouts
If you've never made roasted Brussels sprouts before, you are in for a treat. They are so easy! All you need to do is cut them half, pour the easy glaze on top, add your bacon and cranberries…and then take that first, amazing bite.
And roasting them releases the scrumptious nutty flavor! Here are a few tips:
Wash Them & Halve Them
Rinse your Brussels sprouts off, remove any extra leaves, and then cut them in half. If they are quite large, you can quarter them.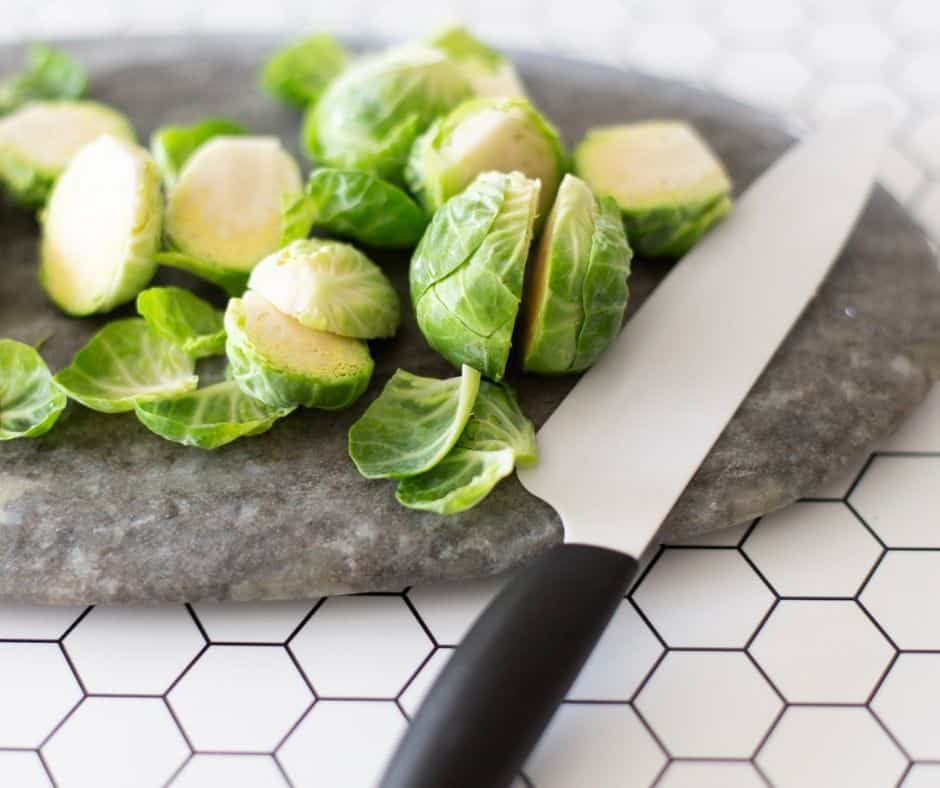 Roast Them On A Tray
Simple, right? No parchment paper, baking liner, or any special gear. Just your Brussels sprouts their glaze, and your favorite roasting sheet.

Space Them Out Cut Side Down For The Crispiest Sprouts
The more of the Brussels sprout that is touching the pan, the more they will crisp up – if you leave them room to breath! And that crisp is pretty delish, so make sure you don't crowd your sprouts and take a moment to flip them down.
Cook Them Hot And Fast
By keeping the heat higher, they'll be crisper. No wilted, soft veggies here! Plus, the glaze will caramelize on them beautifully! Caramelization needs high heat, so don't be tempted to lower the temp
Fresh Or Dried Cranberries?
You can use either for this recipe.
If you use fresh cranberries, put them in the skillet with your bacon for a few minutes until they begin to pop, then add them to the sheet pan.
Dried berries would be stirred in when the bacon is.
Roasted Brussels Sprout Recipe Alternatives
If you didn't want the cranberries in this recipe, you could leave them easily.
In the summer, subbing them out for pitted and halved fresh cherries tastes great. You can use sweet cherries (they'll caramelize better) or sour cherries (which will give that tart taste to blend with the sweet and smoky).
Adding a teaspoon of maple extract to the glaze will give you a maple bacon taste that's quite tantalizing, as well.
Another option is adding garlic for a garlic roasted Brussels sprouts treat. Use 3-4 cloves of freshly minced garlic in with the glaze and it will roast fragrantly. You could also add 1 tablespoon of freshly grated parmesan for a parmesan garlic treat!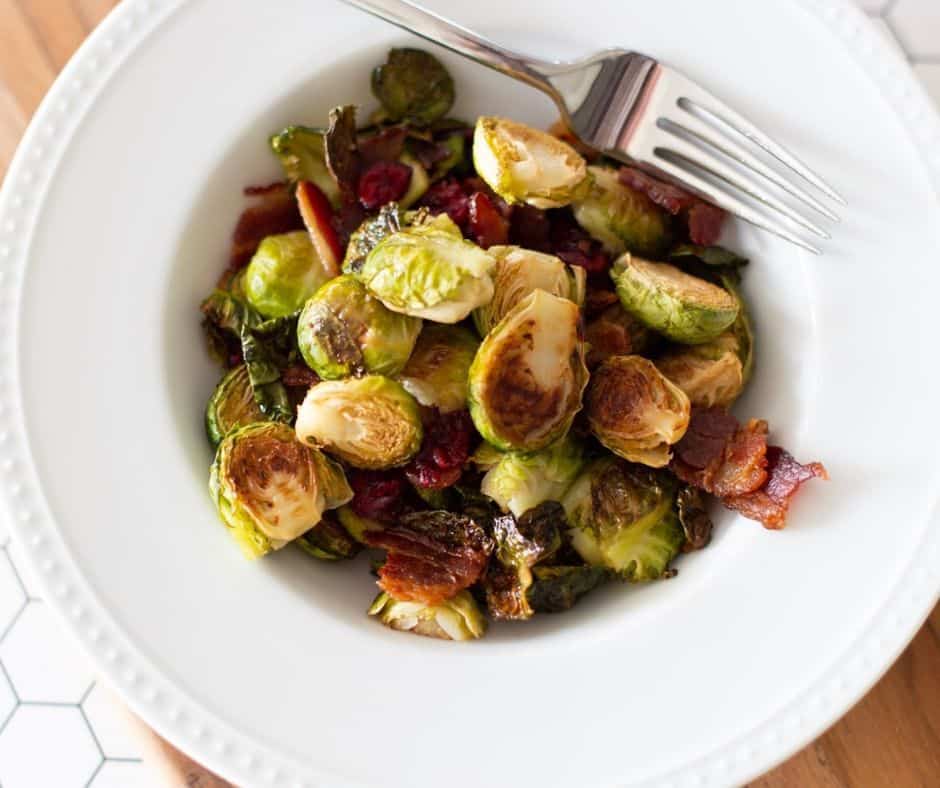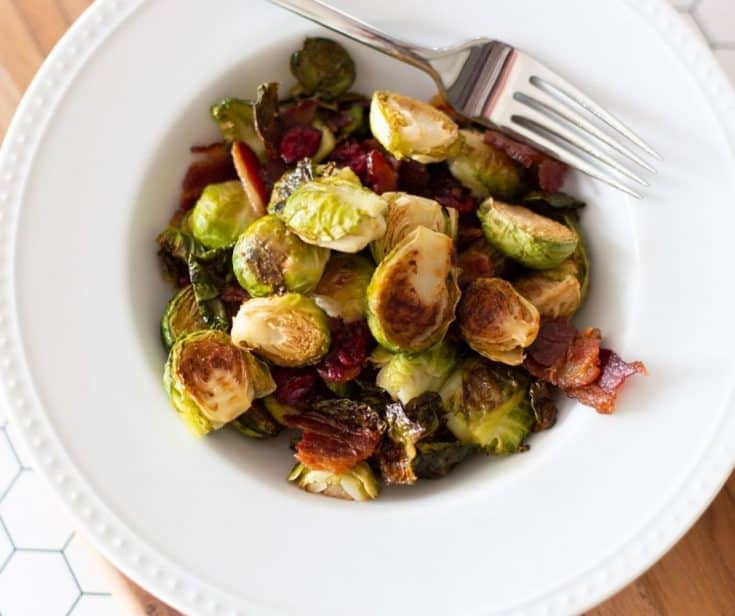 Yield:

4
Brussel Sprouts with Bacon and Cranberries
Additional Time:
5 minutes
These oven roasted brussel sprouts with bacon and cranberries is an amazing low carb side dish that will delight your taste buds. Pair it with your favorite steak, grilled chicken, turkey, or enjoy a double protion as your meal.
Ingredients
1 pound brussel sprouts
2 Tbsp olive oil
1 Tbsp bacon grease
1 tsp balsamic vinegar
Pinch of salt
5 pieces cooked bacon, chopped small
1 cup fresh cranberries or 1/2 cup dried
Instructions
Wash the brussel sprouts well and let drain in a colander
Using a sharp knife and cutting board, remove the brown ends of the brussel sprouts and any necessary outer leaves. Cut them in half (or, if very large, quarter them).
Cook chopped bacon in a skillet until crisp. If using fresh cranberries, cook them in the skillet for 4-6 minutes until they pop.
In a separate bowl, whisk together bacon grease, olive oil, and balsamic vinegar to make your glaze.
Toss the chopped pieces in the glaze.
Spread the brussel sprouts out on a large, unlined sheet pan and sprinkle with a pinch of salt. For a crisper vegetable, place cut side down.
Cook at 350 degrees Fahrenheit for 20 minutes.
Remove from oven and add your chopped bacon. If using dried cranberries, add them at this step.
Cook for an additional 10 minutes.
Serve hot.
Recommended Products
As an Amazon Associate and member of other affiliate programs, I earn from qualifying purchases.
Fun Fact: Is It Brussel Sprouts Or Brussels Sprouts?
And just a fun fact…about 70% of people call this vegetable by the wrong name (including me, until someone clued me in…after I wrote this post…whoops!). They are actually Brussels sprouts, not brussel sprouts.

They are named after the city Brussels, in Belgium and so need to be spelled the same. Who knew????