We may earn money from the products/companies mentioned in this post. As an Amazon Associate I earn from qualifying purchases. For more information, read our Terms & Disclosures.
We had a potluck at church this week and several of the ladies decided to collaborate and all bring food that was healthy so us trim and healthy folks would have something to eat. I decided to get creative and tweak an old favorite into something new and fabulous. I bring you: Taco Soup.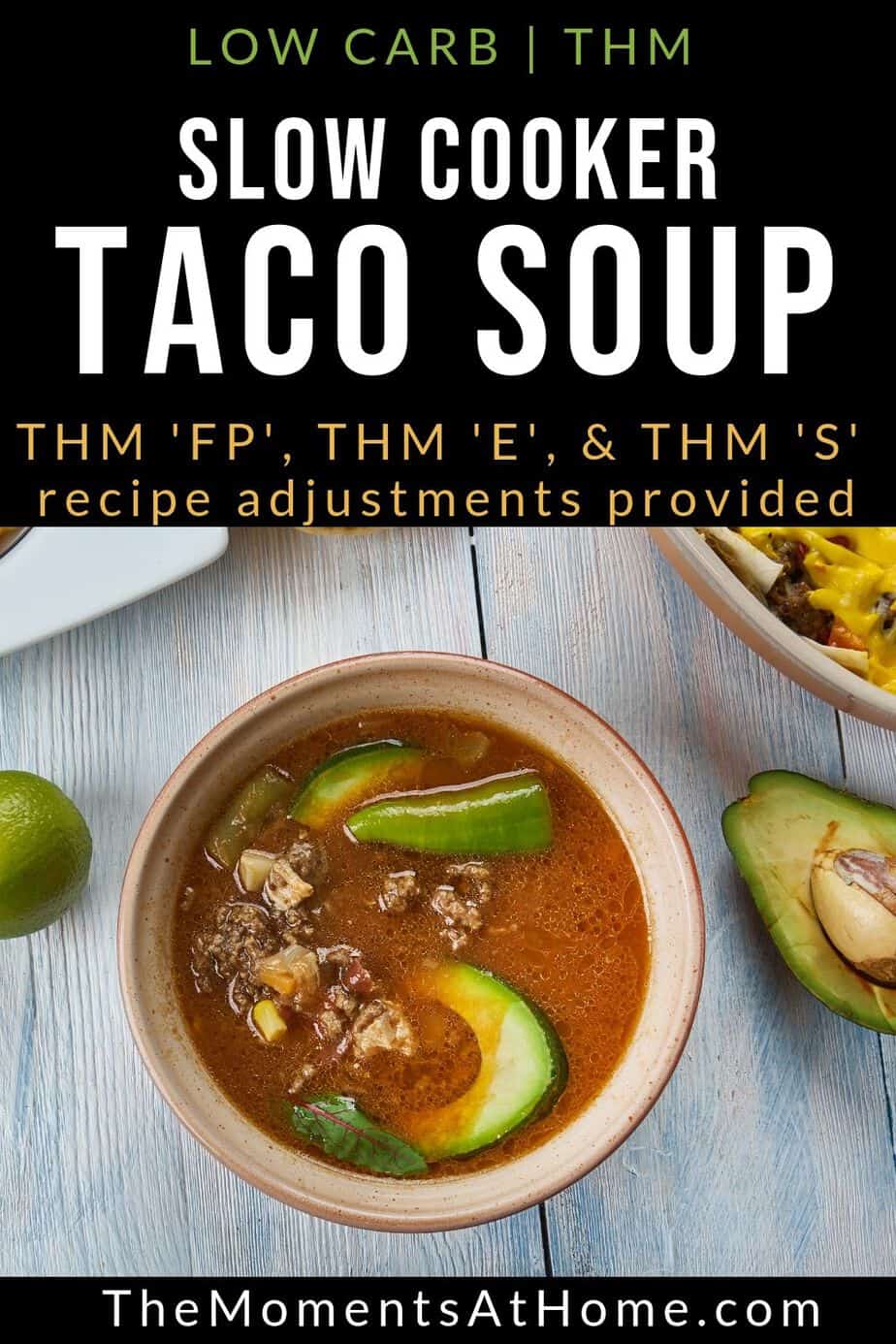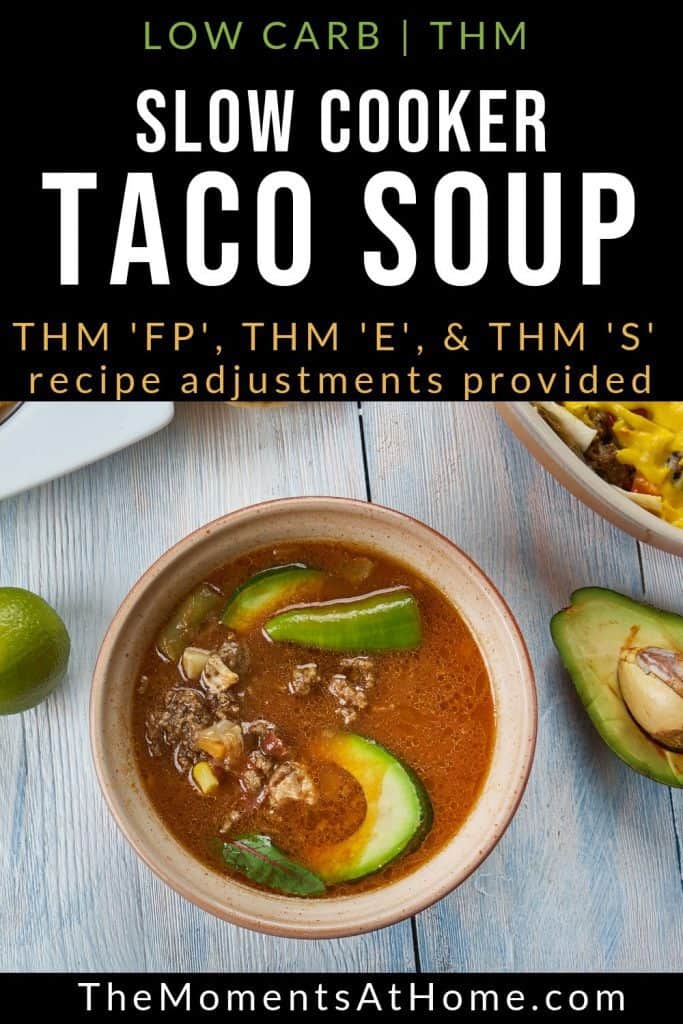 It's pretty simple…dump the veggies in the crock pot.
Let 'em cook for several hours, till everything is fragrant and tender.
Blend it up (try not to splatter paint your kitchen walls the way I did).
Add in the meat and cheese, stir well.
Lastly, I added fresh cilantro as a garnish. We served it topped with a dollop of Greek yogurt in lieu of sour cream. Those of us not eating THM style had tortilla chips with it.
All in all, it was a success and one we'll repeat regularly! Hungry yet?
For the THM tweaks:
To make this as an "S", use ground beef, cheddar cheese, and any added veggies you'd like and top it with sour cream
To make it an "E", use beans and onions and even rice if you'd like, a little bit of low fat cheese along with lean meat (shredded chicken, ground grass fed beef
rinsed, etc.) and top with Greek yogurt
To keep it in "FP" territory, use shredded chicken and low fat Laughing Cow cheese wedges (I like the white cheddar or chipotle in here)
Additional Time:
10 minutes
Total Time:
3 hours
15 minutes
A trim and healthy twist on Taco Soup; you won't believe all the healthy goodness hidden under layers of deliciousness!
Ingredients
1-2 bags frozen cauliflower (2 will make it thicker)
1 large poblano pepper chopped
1 large can tomato paste
Broth or water enough to cover the cauliflower in the crock pot
1/2 onion diced
1 tsp garlic powder
1 tsp salt
1 TB taco seasoning
1 1/2 cups shredded cheddar cheese**
1 lb lean ground hamburger rinsed well**
Fresh cilantro
Sour cream as garnish
Instructions
Place cauliflower, poblano pepper, tomato paste, and spices into crock pot.
Cover with water.
Cook on high for 3 hours or low for 6 hours.
Using an immersion blender, thoroughly blend ingredients.*
In a skillet, brown onion and garlic and meat.
Drain fat.
Add to soup mix.
Stir in cheese.
Serve garnished with your choice of sour cream, avocado, spicy peppers, olives, and cilantro.
Notes
If you don't have an immersion blender, use your regular blender and return ingredients to crock.
**For the THM tweaks:
To make this as an "S", use ground beef, cheddar cheese, and any added veggies you'd like and top it with sour cream
To make it an "E", use beans and onions and even quinoa or rice if you'd like, a little bit of low fat cheese along with lean meat (shredded chicken, ground grass fed beef rinsed, etc.) and top with Greek yogurt and cilantro
To keep it in "FP" territory, use shredded chicken breast and low fat Laughing Cow cheese wedges (I like the white cheddar or chipotle in here)
Nutrition Information:
Yield:
12
Serving Size:
1
Amount Per Serving:
Calories:

198
Total Fat:

12g
Saturated Fat:

5g
Trans Fat:

0g
Unsaturated Fat:

5g
Cholesterol:

49mg
Sodium:

417mg
Carbohydrates:

7g
Fiber:

3g
Sugar:

3g
Protein:

16g
nutritional stats are for THM S with no beans