Shrimp Tacos: Healthy, Low Carb, Keto, & Delish
We may earn money from the products/companies mentioned in this post. As an Amazon Associate I earn from qualifying purchases. For more information, read our Terms & Disclosures.
This simple, healthy shrimp tacos recipe is served up in a lettuce wrap, garnished with red cabbage slaw and tastes like the tropics. The keto shrimp tacos prove that just because you're not eating carbs, there's no need for dinner to be boring.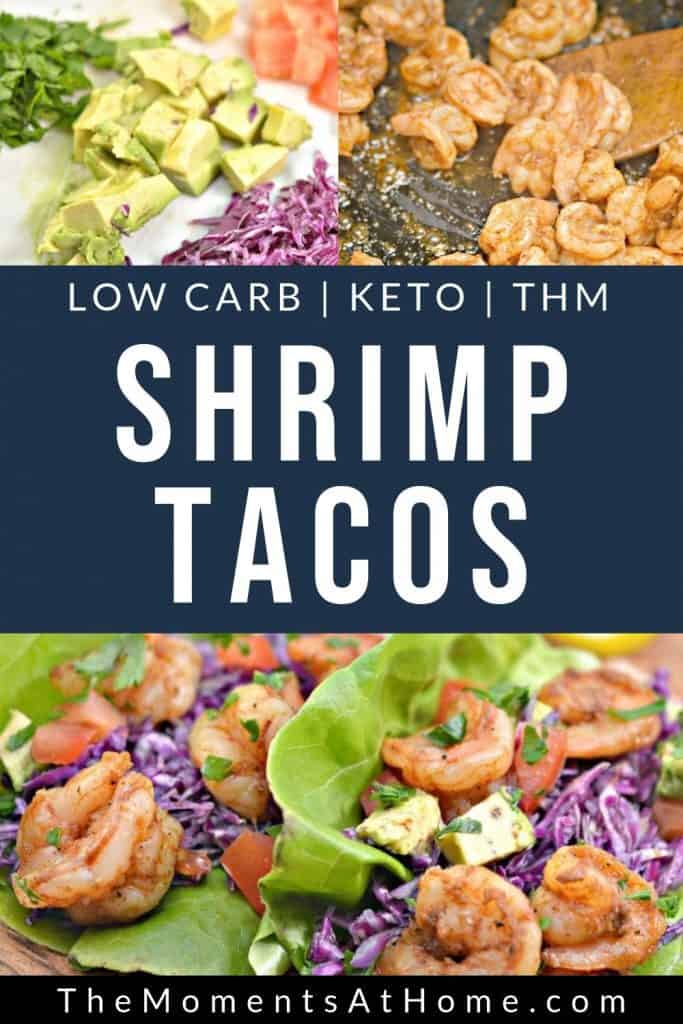 Shrimp tacos don't have to be hard.
Trust me – we are all about easy, family friendly recipes in this home and these Caribbean keto shrimp tacos with cabbage slaw are a simple, healthy recipe that fits the bill.
Ingredients In Low Carb Keto Shrimp Tacos With Cabbage Slaw
So what all do you need to make these keto shrimp tacos?
Peeled and deveined shrimp
Olive oil
Chili powder
Paprika
Cumin
Minced garlic
Salt and pepper to taste
Shredded purple cabbage
Avocado, chopped
Diceed tomatoes
Freshly chopped cilantro (or parsley, if you prefer)
Bibb or butter lettuce leaves
Lemon (optional)
How To Make Shrimp Tacos
The first step in making your keto shrimp tacos is prepping your produce and fresh ingredients. The rest of the recipe is going to come together quickly and requires you to be hands on, so this is the foundation.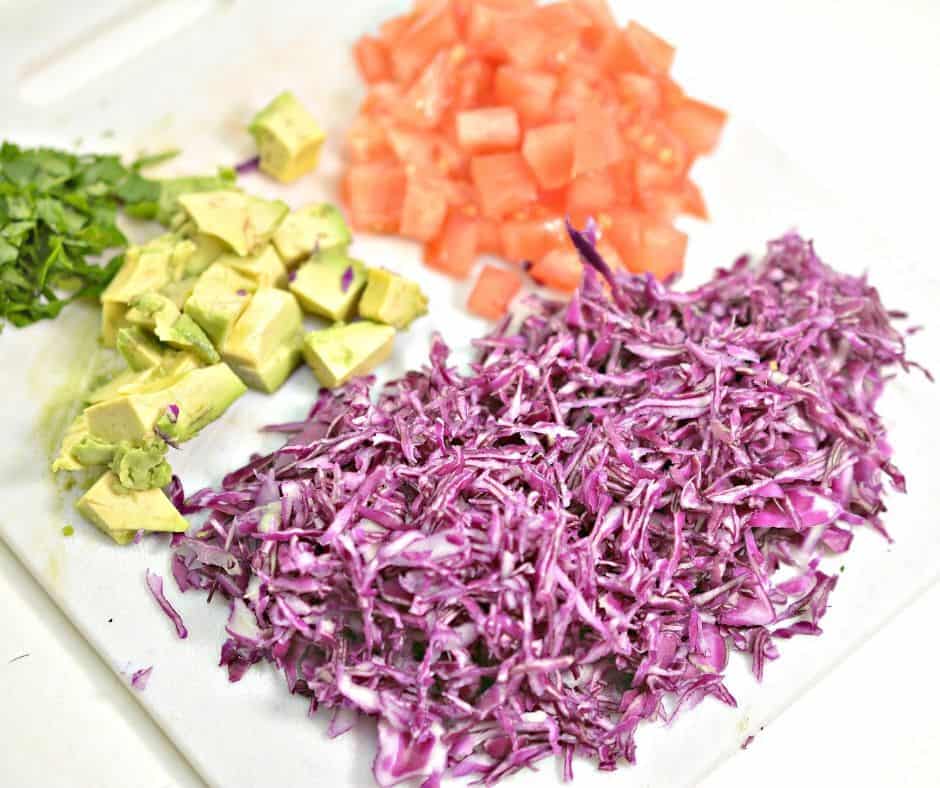 Next up for your shrimp tacos with cabbage slaw is washing and deveining the shrimp. If you've never done that before, this video will help you.
After they are all prepped, you'll season them and then cook them in your skillet (we always use a good cast iron here!).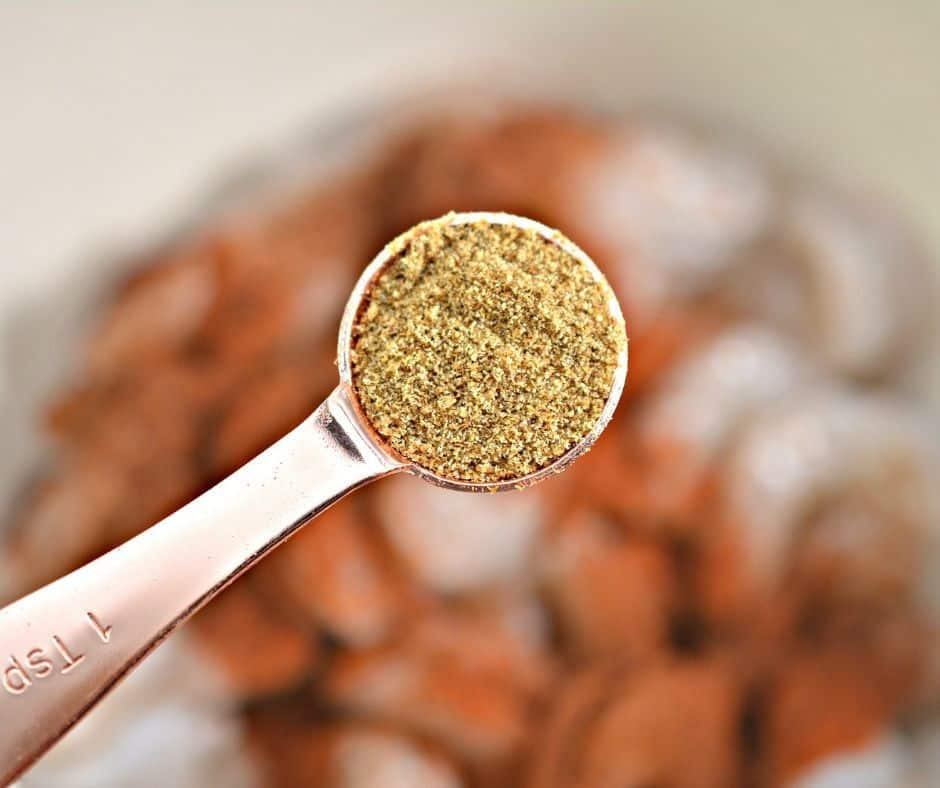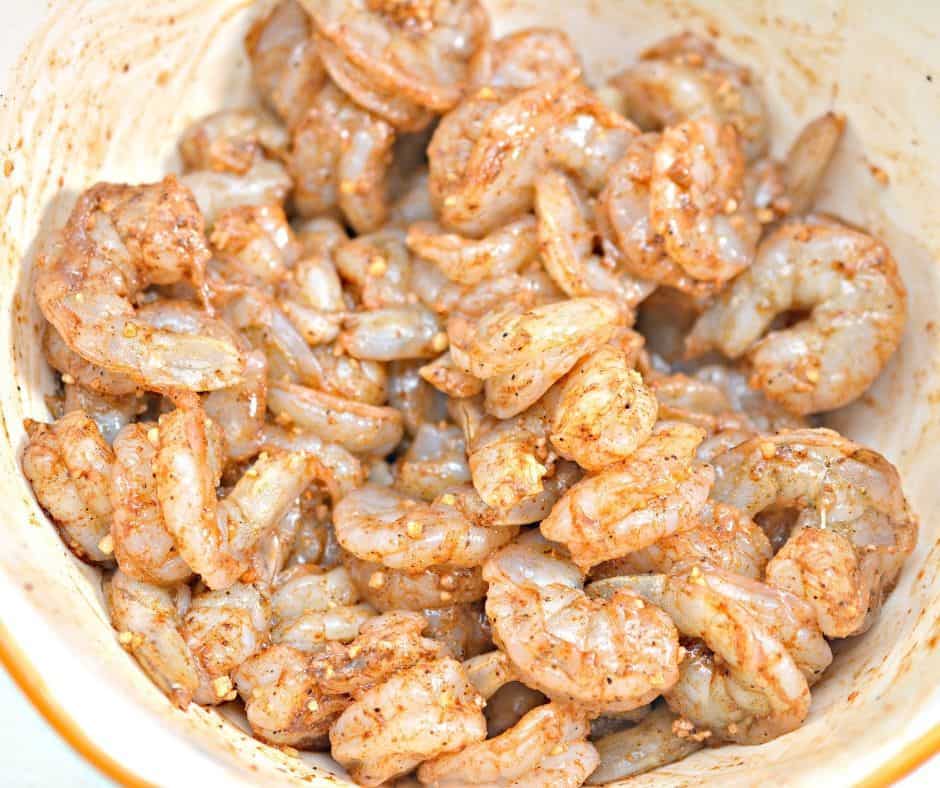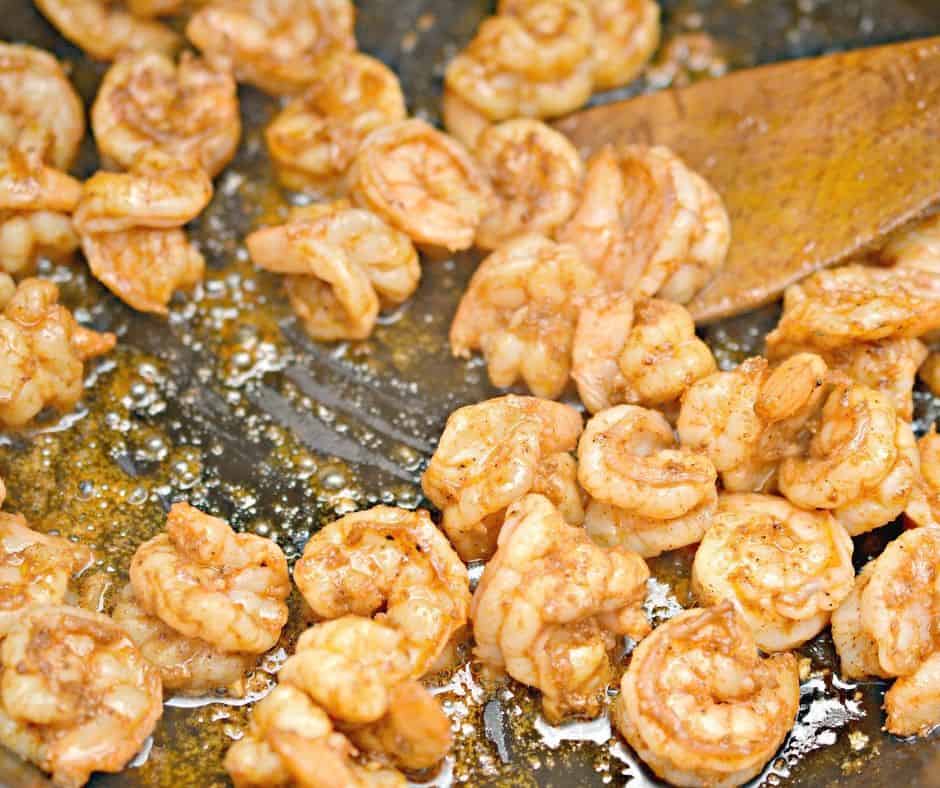 All that's left is to assemble your Caribbean inspired deliciousness. TIP: Let your shrimp cool for a couple of minutes just so the lettuce stays crisp instead of wilting.
Put your shredded purple cabbage in your large Bibb lettuce leaf, add your shrimp, and sprinkle on your toppings…and dig in!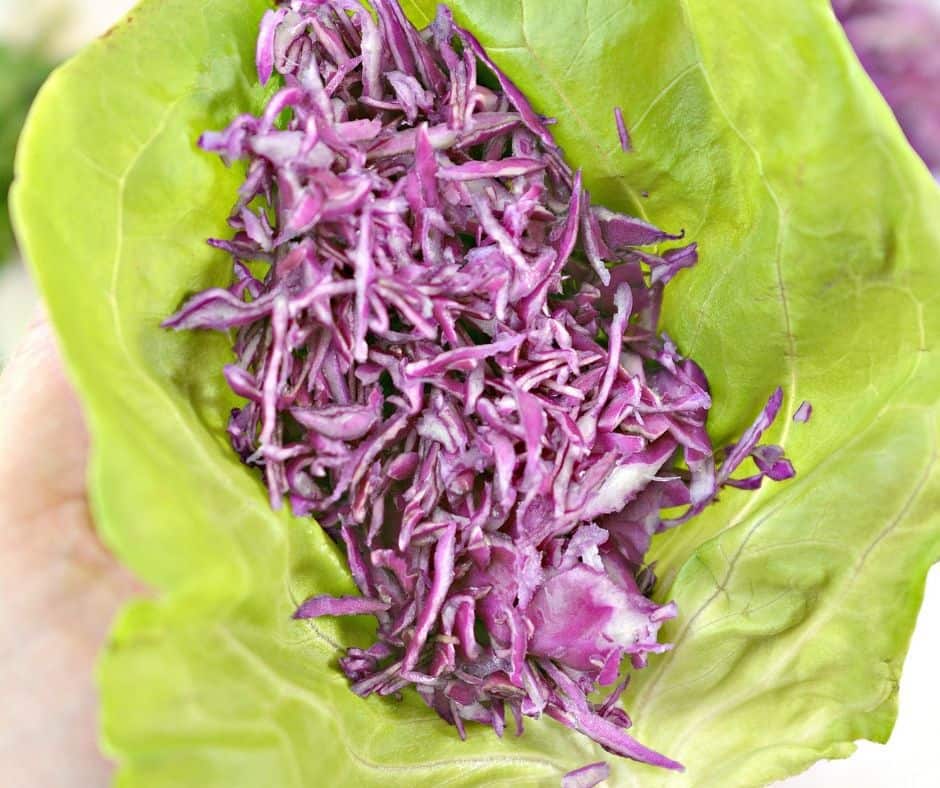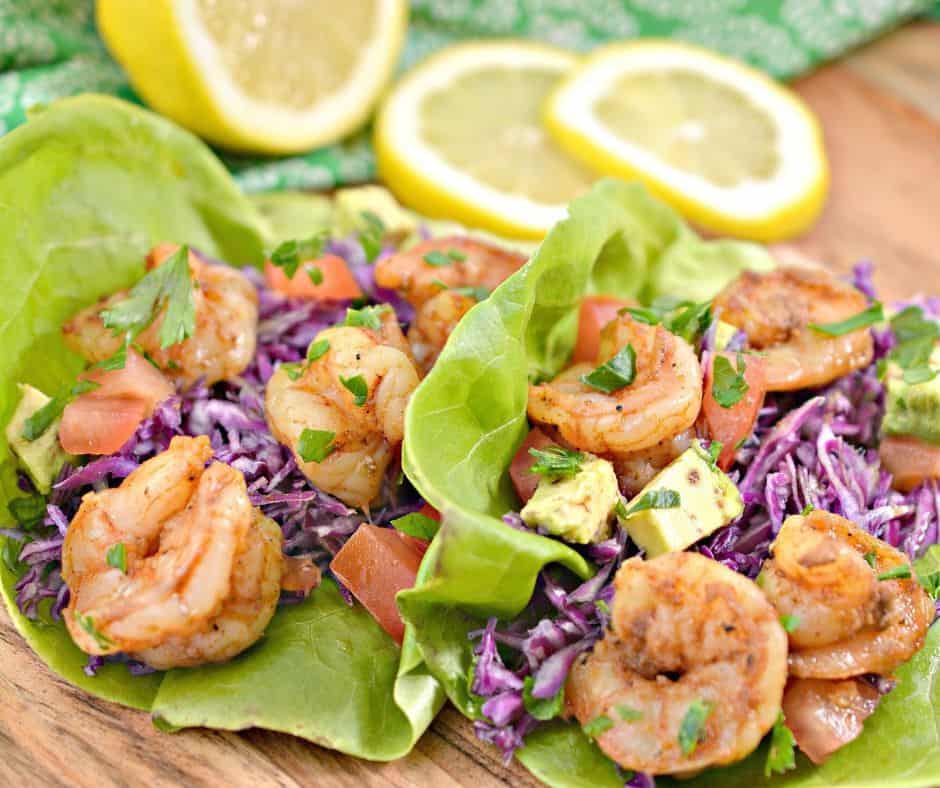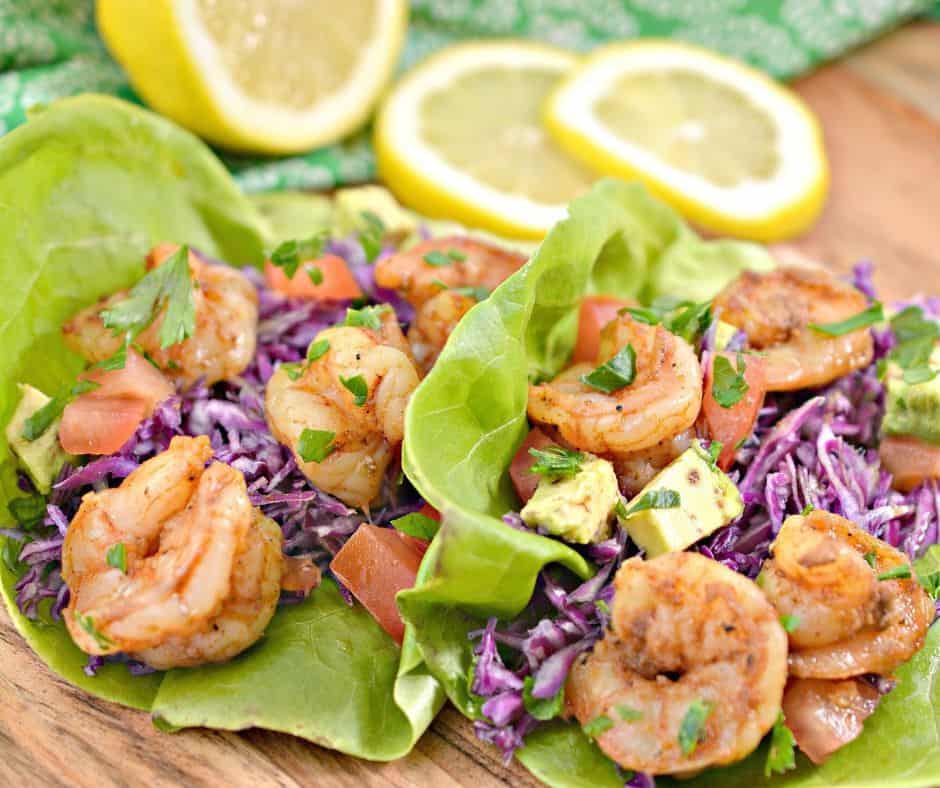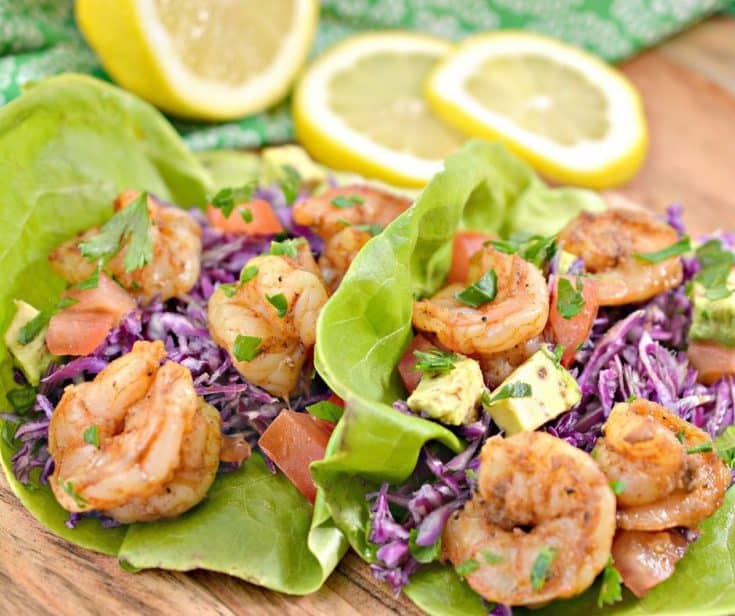 Yield:

6
Shrimp Tacos: Healthy, Delicious, Low Carb
Ingredients
2 lbs. Peeled and deveined shrimp
2 tbsp Olive oil
1 tsp Chili powder
1 tsp Paprika
2 tsp Cumin
2 tsp Minced garlic
Salt and pepper to taste
8 tbsp Shredded purple cabbage
½ Avocado chopped
4 tbsp Chopped tomatoes
3 tbsp Freshly chopped parsley
15-18 Bibb or butter lettuce leaves
1 Lemon (optional)
Instructions
Clean and dry your shrimp thoroughly
Dice your tomatoes and avocado
Chop the cilantro (or parsley)
Shred the purple cabbage.
Combine the shrimp, chili powder, paprika, cumin, minced garlic, and salt and pepper to taste in a metal or glass bowl
Heat 2 tbsp of olive oil in a large skillet over medium-high heat
Cook the shrimp for 5-8 minutes until cooked through. You may need to cook the shrimp in two or more batches depending on the size of your skillet.
Allow the shrimp to cool for before creating your lettuce wraps (just for a few moments, so the lettuce doesn't wilt)
To make one serving, place two or three lettuce leaves on a counter or plate. Split 2 tbsp of purple cabbage, 10 shrimp, ⅙ of the chopped avocado and ½ tbsp of chopped tomatoes between the lettuce leaves. Top with some freshly chopped cilantro or parsley, and a squeeze of lemon if you like.
Repeat step 6 to create all 6 servings of shrimp tacos