We may earn money from the products/companies mentioned in this post. As an Amazon Associate I earn from qualifying purchases. For more information, read our Terms & Disclosures.
This takeout inspired low carb Mongolian chicken recipe is just what you've been missing…it tastes just like your favorite Chinese mall chicken, but leaves out the unhealthy ingredients.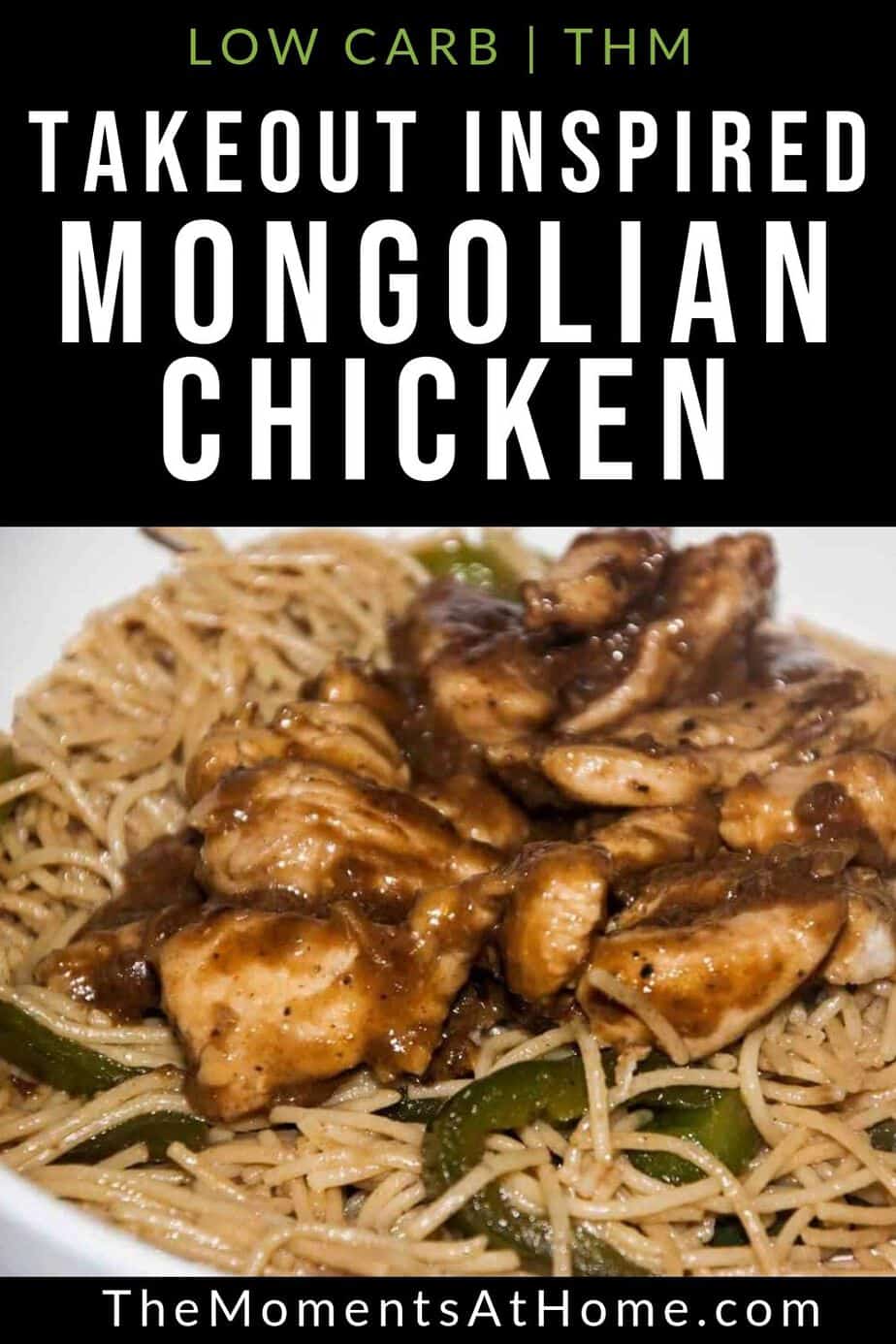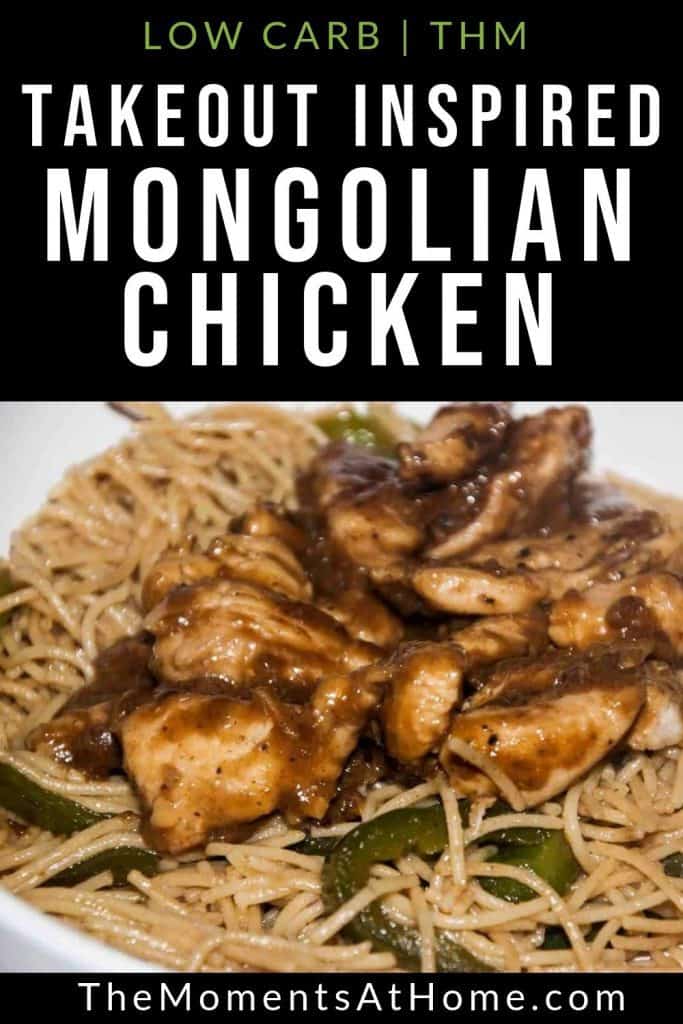 Every Friday night, Hubby and I used to order one take-out dinner from our local Chinese restaurant, share it on the couch and watch a movie and snuggle. Date nights are so important to the health of a marriage!
I wanted food that was healthy for our bodies, but both hubby and I both loved our weekly treat so I decided to see if I could replicate one of our three favorite date night dinners and make a delicious and healthy date worthy dinner: Mongolian chicken.
Based upon the empty plates, the pleas for more, and the begging of the children to have this weekly, I am going to call the attempt a SUCCESS.
The recipe fed all 8 of us, with enough leftovers to feed both hubby and me for lunch the next day.
HOW TO MAKE HEALTHY TAKE OUT CHINESE MONGOLIAN CHICKEN AT HOME
The first step is to cut the chicken into bite sized pieces.
I used 3 pounds of boneless, skinless breasts but you really could use any meat you have on hand. In fact, pork and beef would both have worked as well (and we've done both many times!).
While you are cutting your meat, heat a skillet with a glob of coconut oil in it, and let it get nice and toasty hot. I also took this time to mince a total of 3 cloves of garlic and dice up 2 green bell peppers and half of a small white onion.
After the meat is cut, you'll want to season it before you drop it in the skillet to stir fry it. In the past, this is when I would have used corn starch. This time, I made it healthy!
I mixed 2 TB of defatted peanut flour, 2 TB of nutritional yeast, salt, pepper, and a dash of cayenne together and tossed my raw chicken bites in it. I then dumped them into the skillet, about a pound at a time, and stir fried the meat.
Once your meat is coated, put the bites into the skillet, about a pound at a time, and stir-fry the meat.
The reason I did it a little bit at a time is that you want space around the pieces so that they get that stir fried feeling; too close to each other and they'll take on a crock pot texture. (Update: now I have this awesome wok to use, and it's even better!)
If you don't have the defatted peanut flour or the nutritional yeast on hand, no worries friend! I have also had great luck with salt, pepper, paprika, and cayenne. My kids like a good, nutty flavor so that's what I went with.
As the meat cooks, move it to a 13×9 pan in the oven to keep warm while you finish the meal. Don't steal too many "taste-testing bites" even if it is irresistible — it gets even better soon, I promise.
LOW CARB MONGOLIAN CHICKEN SAUCE
Once all of the chicken is cooked, you want to use that same skillet to make your Mongolian sauce (I'm all about not generating extra dishes!).
Use a whisk and mix ingredients well and let it simmer a minute to reduce just a tiny bit. Then, break out the glucomannan. When using gluccie to thicken, remember that a little bit goes such a long way! Adding 1/4 tsp at a time, whisk vigorously. Add about 1 tsp of the gluccie in tiny increments, testing the thickness.
And remember it will thicken more, so stop when you think you need just one more dash! Then, add your chicken into the skillet and coat with the yummy sauce.
At this time, start boiling some water for the Dreamfield's spaghetti that you will use to make the lo mein (and if you don't care for lo mein, feel free to stop here and serve with rice, quinoa, or spaghetti squash; I picked it because it allowed this to stay a THM "S". And because it's delicious. Really, win/win.).
This recipe is also delicious with "miracle noodles", zoodles, and over any veggies you'd enjoy.
Put the meat, covered in the amazing sauce, back into the baking tray in the oven to keep warm. Using the same heated skillet you just emptied, add in another TB sized dollop of coconut oil to a nice heat (I used medium).
You don't want it to smoke, but you do want it to sizzle when you drop your veggies in.
Toss in your garlic and let it get aromatic and stir it around. You'll pick up some bits of chicken and sauce that were left in, and that is great for the flavor (and yes, you're welcome for still only using the one skillet for three steps now). Now, toss in those fresh veggies and let 'em sizzle!
I also added a can of baby corn, since my husband really likes it; I just didn't take any for me.
Your noodles should be cooked by now, so drain them and rinse well. Take a moment to stir those veggies one more time. Then toss 1/2 cup coconut aminos, 2 TB sesame oil, 1 TB rice vinegar and some salt and pepper in with them.
Mix it well, then dump your noodles in! I made a whole pound for our family and this was just right (with the leftovers, even). Mix the noodles in well; they should become a nice golden brown color. Taste a small bite and see if your palate prefers to add anything more to the mix. If so, tweak as desired.
After all, you're the chef!
Now you're ready to plate it up and enjoy the feast! I used tongs to put the lo mein on each plate and then added a heaping spoon full of chicken to the top.
If we had had green onions on hand, I would have sprinkled those on top for some pretty color and maybe even added some toasted sesame seeds. Mama Bear just loves sesame seeds. Mmm mmm.
But the truth is, it smelled so amazing, the masses were swarming and I barely had time to photograph the first plate before they were clamoring for dinner. I love nights like that. Bon appetit!
Additional Time:
15 minutes
Total Time:
1 hour
5 minutes
A trim and healthy version of our take-out date night favorite: Mongolian Chicken. Could also be used with beef!
Ingredients
For the Chicken:
3 lbs of chicken, cut into 1 1/2" strips
2 TB defatted peanut flour
2 TB nutritional yeast
1/2 tsp salt
1 tsp pepper
1/4 tsp cayenne
For the Sauce:
1 1/2 cups chicken stock
1/2 cup Bragg's liquid aminos
3 TB cooking sherry
1 TB cider vinegar
1 TB sesame oil
1 clove of finely minced garlic
1/2 tsp ground ginger
1/2 tsp Sriracha sauce heat to taste
2 TB natural peanut butter
1 1/2 TB Erythritol
Fresh cracked pepper to taste
For the Lo-Mein:
1/2 cup Bragg's liquid amino or low sodium soy sauce
2 TB sesame oil
1 TB rice vinegar
1/4 tsp salt
1/2 tsp pepper
1 bell pepper sliced (optional)
1 lb konjac noodles cooked to package specs
Instructions
Cook spaghetti and set aside.
Cut up chicken strips.
In a small bowl, mix defatted peanut flour, nutritional yeast, salt, pepper, and cayenne.
Coat chicken in spices.
In a large cast iron skillet, heat coconut oil and stir fry the chicken in it. Do *not* overcrowd the chicken.
Put chicken aside in a separate pan once cooked through.
At this time, stir fry any desired veggies in the skillet.
Add veggies to chicken dish.
Add in chicken broth and all sauce ingredients *except* the glucomannon.
Heat and mix well.
Add in 1/4 tsp gluccie at a time, mixing thoroughly.
Add until sauce is just a bit thinner than desired; it will continue to thicken.
Add chicken and veggies to the sauce and simmer.
Mix lo-mein sauce ingredients together in a bowl and toss over pasta.
Plate lo-mein noodles and top with chicken, veggies, and sauce.
Serve and enjoy!
Notes
You can use Dreamfield's Pasta or Konjac Noodles for the pasta
Nutrition Information:
Yield:
8
Serving Size:
1
Amount Per Serving:
Calories:

550
Total Fat:

27g
Saturated Fat:

7g
Trans Fat:

0g
Unsaturated Fat:

17g
Cholesterol:

161mg
Sodium:

1270mg
Carbohydrates:

13g
Fiber:

3g
Sugar:

2g
Protein:

49g