Your Favorite Low Carb BBQ Sauce
We may earn money from the products/companies mentioned in this post. As an Amazon Associate I earn from qualifying purchases. For more information, read our Terms & Disclosures.
This homemade, sugar free, low carb BBQ sauce is the perfect addition to your next grill night, for dipping, or more.
Gotta Have BBQ Sauce!
Now that spring is here, we'll be grilling out a lot.  And that means BBQ…and BBQ sauce!  However, now that we're more health conscious, I've had a hard time finding a frugal BBQ sauce to meet my needs.  So I made my own!  
I tweaked an old favorite recipe I've made for years and came up with a new and improved tangy sauce that is perfect for chicken, ribs, baked beans, and even for dipping chicken fingers.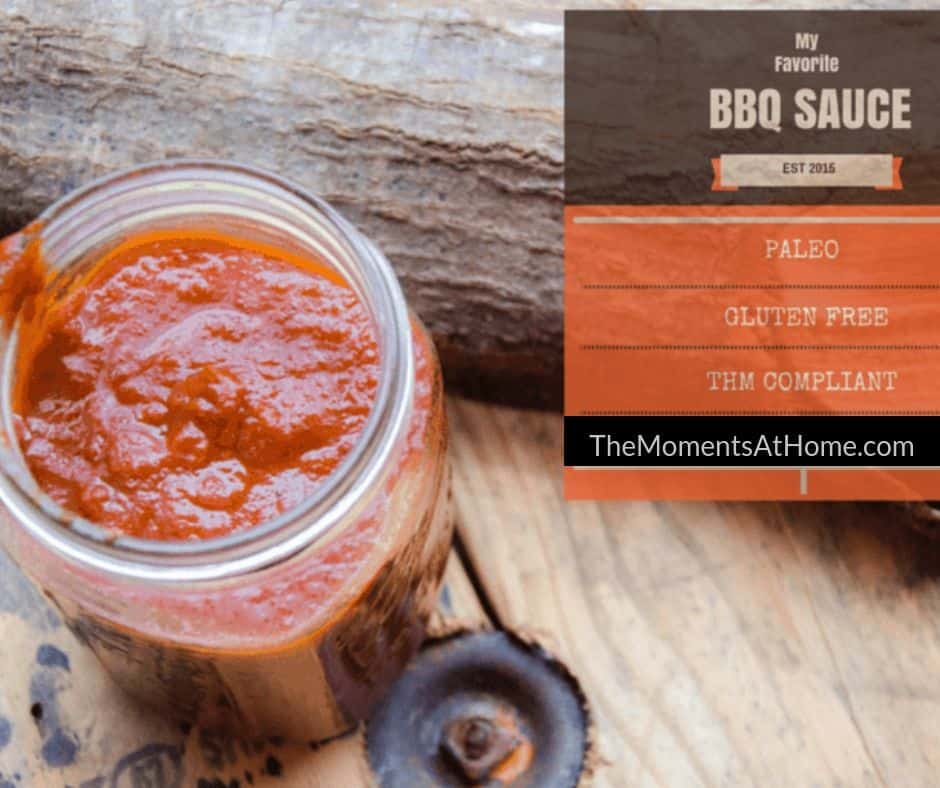 The secret ingredient in this BBQ sauce recipe is the caramelized onions. A caramelized onion adds amazing depth of flavor to so many different recipes (even if you don't usually like onions!), and BBQ sauce is no exception.
Be sure to take your time on this step; you don't want to miss out on the rich flavor it will add to your sauce. We won't add too much, though, because they can carry a lot of carbs into a recipe and we're trying to keep an eye on those

All I do to caramelize them is to dice them up and slowly heat them in a tiny bit of butter and oil (the flavor of using butter and olive oil together is really fabulous). For this particular BBQ sauce recipe, I like the flavor of butter and olive oil, but have also used coconut in a pinch. It takes a good 25 minutes or so to really get them "just right."
Once you've got your onions caramelized, just add in the tomatoes and other ingredients.  Bring the BBQ sauce to a simmer and let all those flavors blend well, stirring occasionally.  
During this time, the sauce will reduce a bit and thicken.  I cook it for about 25 minutes. Once it's all done on the stove, pulse it in your blender to get a smooth consistency or just use an immersion blender in your pan.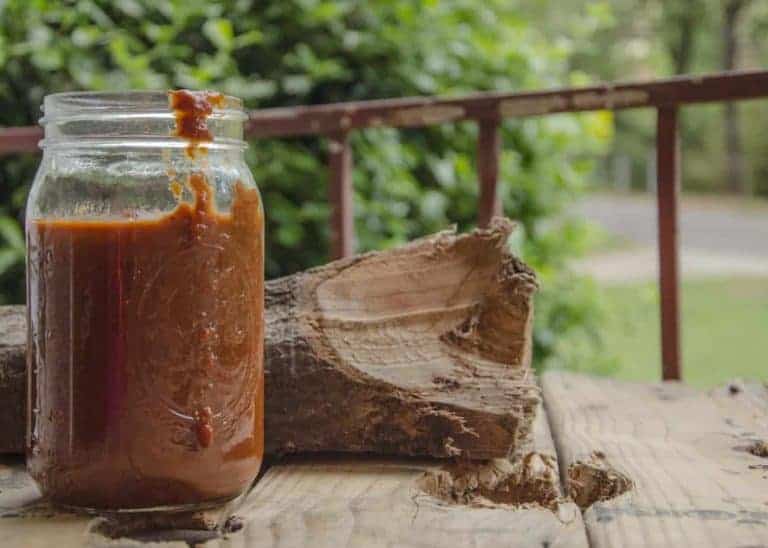 How To Store Homemade BBQ Sauce
This recipe makes approximately 24 ounces of BBQ sauce that can be used right out of the pot or stored in the fridge for up to a week. I often use it right away and we rarely have leftovers, but every now and again I'll make up a big batch to save.  
I have canned it, but I have also filled up a mason jar and left about 1″ of space at the top and frozen it. To do this, let it cool completely and put in the fridge overnight, just to be sure. The next day, I put the jar in the freezer. It takes about a day to thaw out in the fridge and does thin out just a wee bit when you do this, so keep that in mind.
Note: As with anything, too much of a good thing is still too much.  If you are a THM, 2 ounces keeps you in FP territory and is still  plenty to brush onto a chicken breast for the grill, put in a ramekin to have on the side with my breaded chicken fingers, or even to add to ribs.  If I make a big pot of baked beans with it or use it in a crock pot, then I just make certain I realize that I don't want to eat more than 10% of the total sauce recipe with my meal.  Please note the recipe options for THM and non-THM.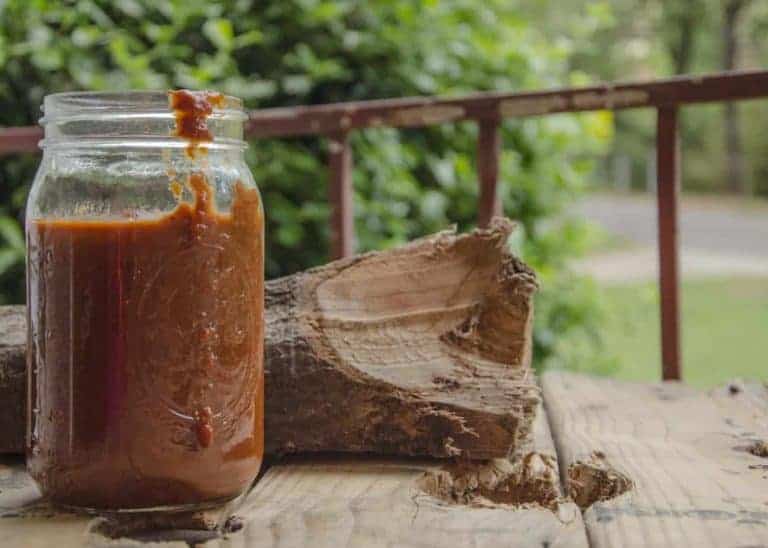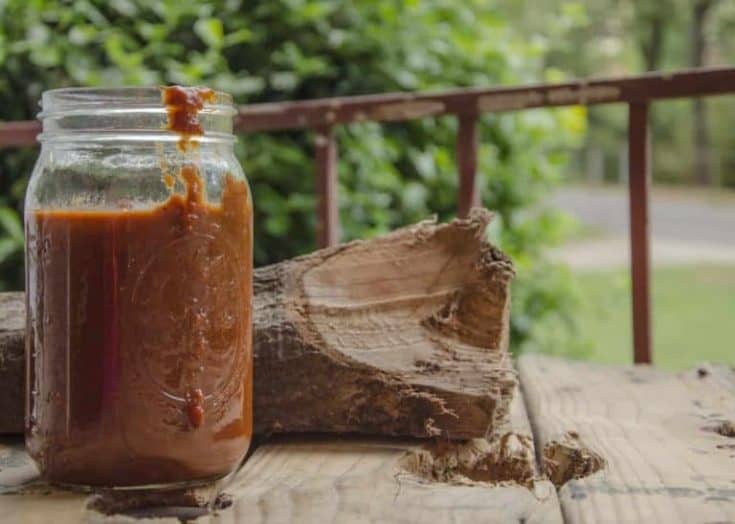 Yield:

12
Low Carb BBQ Sauce
Simple and delicious, this gluten-free, paleo, THM FP compliant BBQ sauce is just right for grilling out, using as a dipping sauce, or even adding to casseroles. 2 oz is a serving.
Ingredients
1 TB butter or oil
1 cup diced onion
28 oz can crushed tomatoes
1 cup apple cider vinegar
1/4 tsp stevia extract powder
1/4 cup Sugar Free Brown Sugar
1/4 cup Lea & Perrins Worcestershire Sauce
1 1/2 TB Wright's Liquid Smoke
2 tsp smoked paprika
2 tsp garlic powder
1 1/2 tsp ground mustard
1 tsp salt
2 tsp freshly ground black pepper
1/2 tsp cayenne pepper
1/2 tsp ground ginger
Instructions
Heat butter in the pan, then add onions. Caramelize for 20-25 minutes, until light brown and very fragrant.
Add in other ingredients and whisk thoroughly.
Simmer over low heat for 25 minutes, stirring occasionally.
Use immediately or store for 7 days in fridge.