We may earn money from the products/companies mentioned in this post. As an Amazon Associate I earn from qualifying purchases. For more information, read our Terms & Disclosures.
These Mexican stuffed peppers are made in the Instant Pot and naturally low carb. Enjoy them with an avocado salad, (cauliflower) rice and beans, or (keto) chips and salsa. A south of the border twist on a traditional dinner, these taco stuffed peppers will please the entire family!
Mexican stuffed peppers are delicious, easy to make, naturally low carb, very healthy, and a crowd pleaser.
In fact, they're so simple that you can make them tonight for dinner! They are so much fun to put together, my kids love cooking them, too.
There's something about the rich flavor of beef, the rich and savory goodness of melted cheese, and the subtle yet perfect flavor of the pepper coming together in these taco stuffed peppers that makes them seem like a gourmet delicacy. In fact, it's a great company meal as it seems extra special…when it's really just extra simple!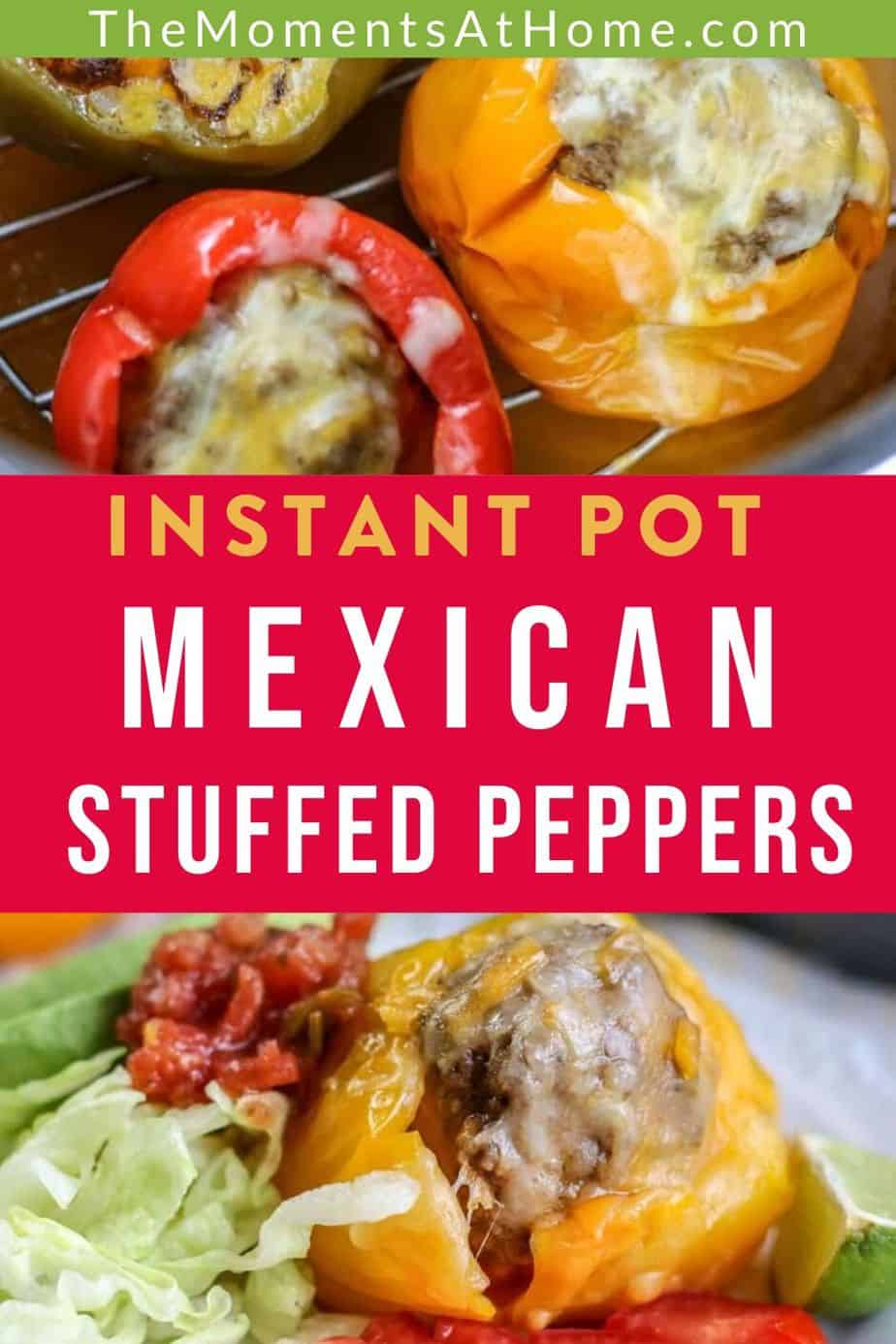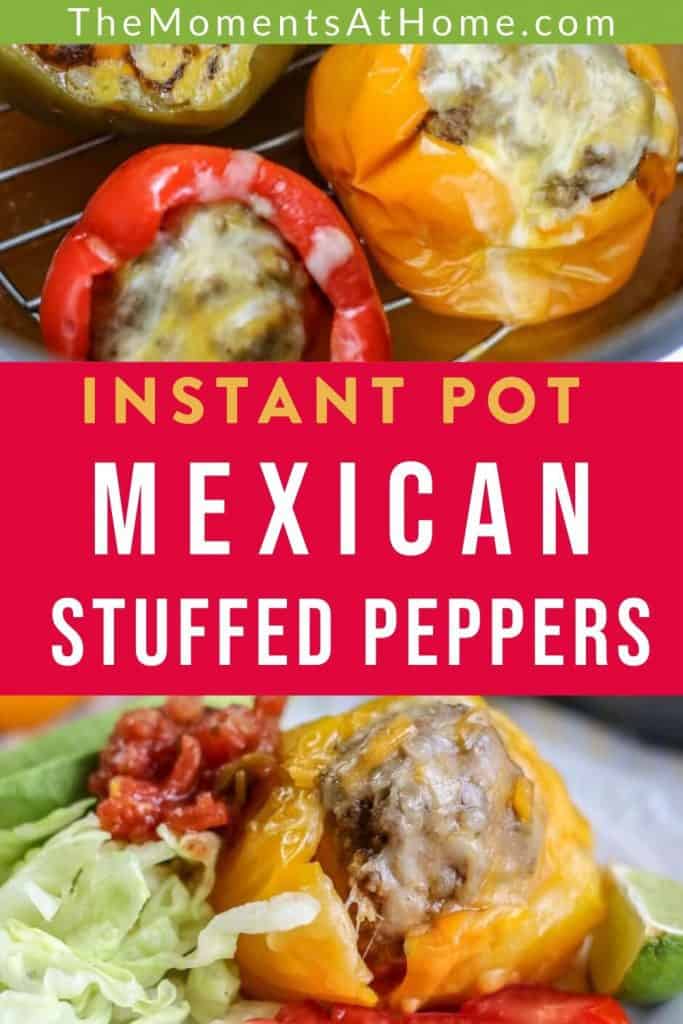 Ingredients For Mexican Stuffed Peppers
So what will you need to make these Mexican stuffed peppers?
Medium bell peppers, any color (or do one of each color for some added fiesta flair!)
Chili powder
Salt
Black pepper
Water
Ground chuck
White onion
Minced garlic
Fiesta blend cheese (or cheddar)
Please note that you can replace the dried spices with a packet of taco seasoning if you prefer for simplicity's sake (although I love the taste of freshly added spices!).
If you like things extra spicy, chop up a jalapeño or two and add it to the mix…but if you're serving it to the whole family, consider adding them to the top after cooking for those who want the extra heat.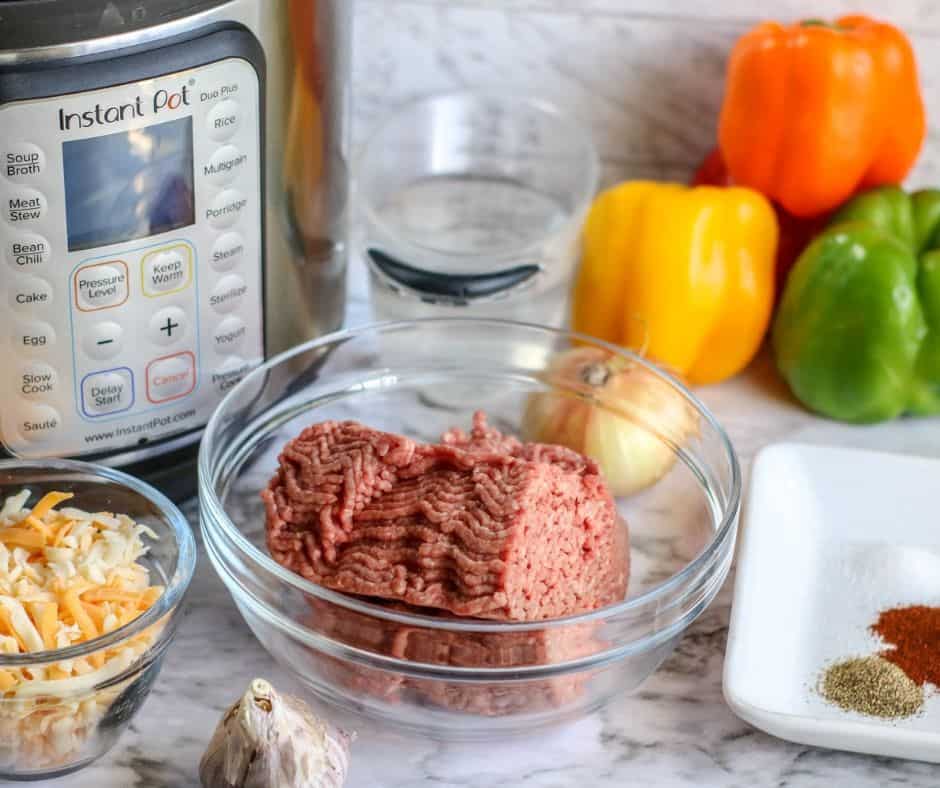 Once you've prepared your bell peppers, mix your onion, garlic, spices, beef, and part of the cheese together in a bowl thoroughly.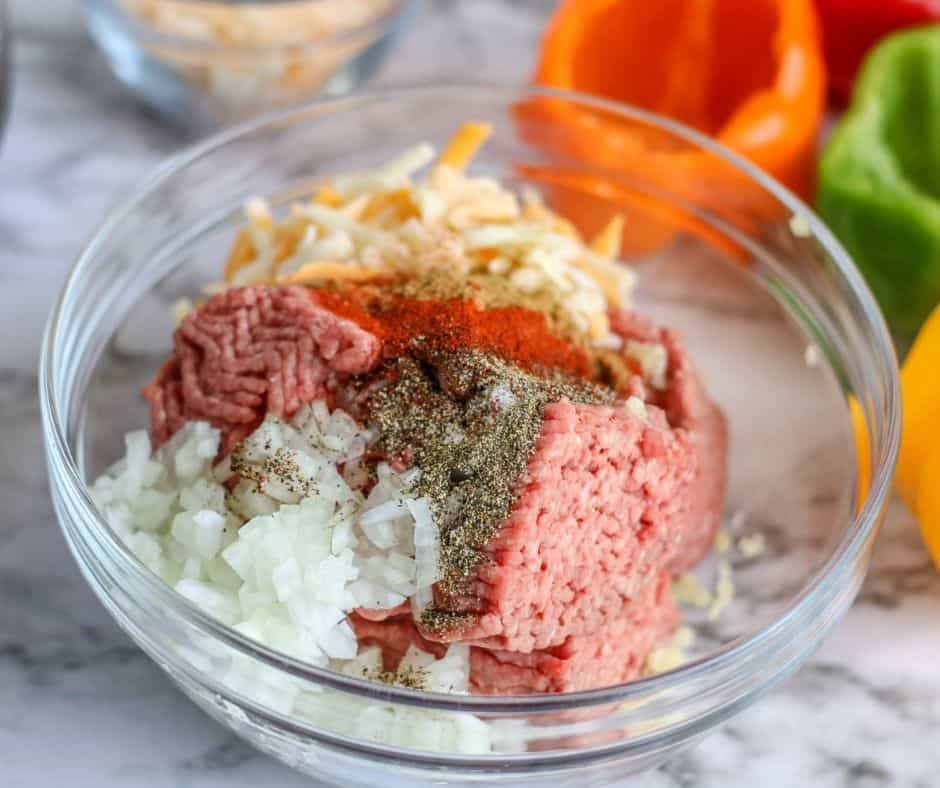 Make sure you've got it all combined well, because next up is adding the meat to the bell pepper bowls you've prepped.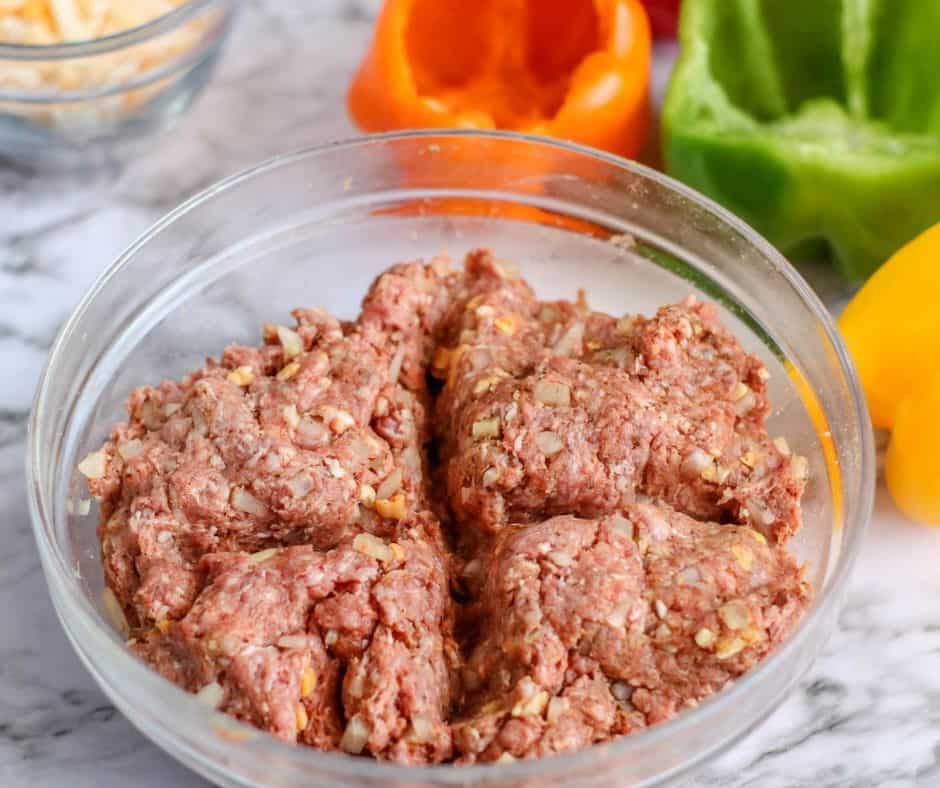 Once you've filled your peppers with the taco meat stuffing, place them on the trivet in your Instant Pot with water beneath.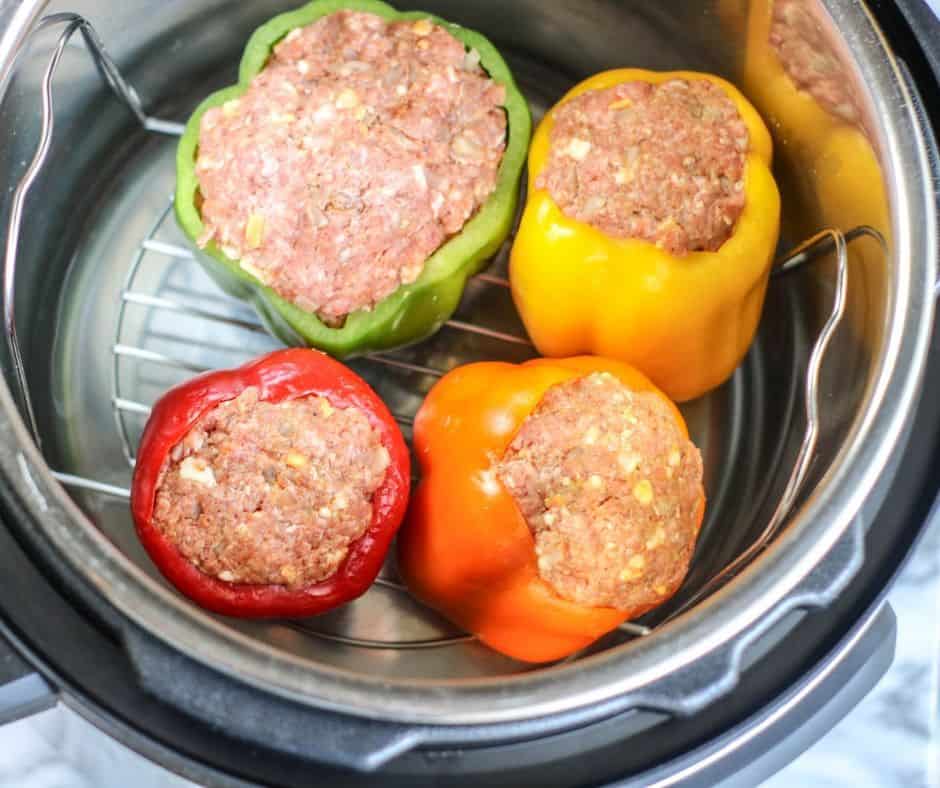 After they're all cooked, sprinkle the remaining cheese on top and let it melt before serving.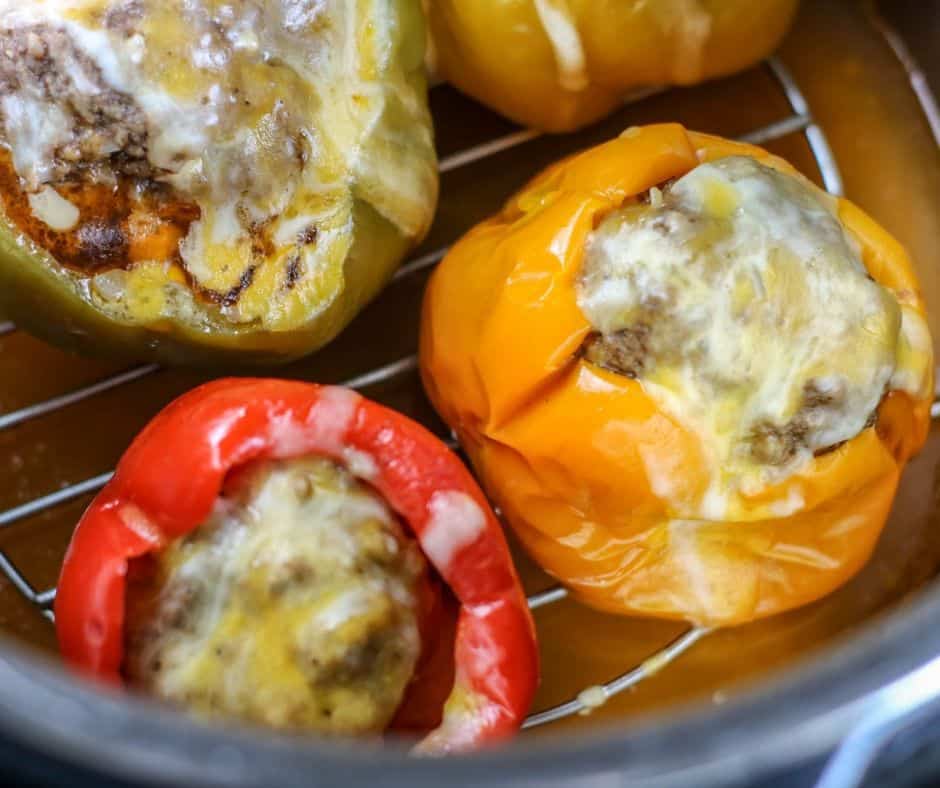 Yummy Ways To Serve Your Taco Stuffed Peppers
You can serve this up with an avocado salad to keep things nice and low carb. Make up some rice and refried beans for your kids and others (or yourself if you'd like a THM Crossover meal or just an all around satisfying, healthy, well balanced dinner).
It's fun to have toppings on the table everyone can add as they choose. Some fun toppings for Mexican stuffed peppers are:
Sour cream
Salsa
Guacamole
Salsa or diced tomatoes
Diced black olives
Shredded lettuce
Diced raw onion
Freshly chopped cilantro
Diced fresh jalapeños or pickled jalapeños
You can also serve them with rice and beans, chips, or a guacamole salad.
Remember, if you're a THM, this is an "S" so keep your sides low carb, too. Cauliflower rice is okay, but adding beans will make it a XO. Using easy low carb chips like these will keep you solidly in "S" territory, as will guacamole salad.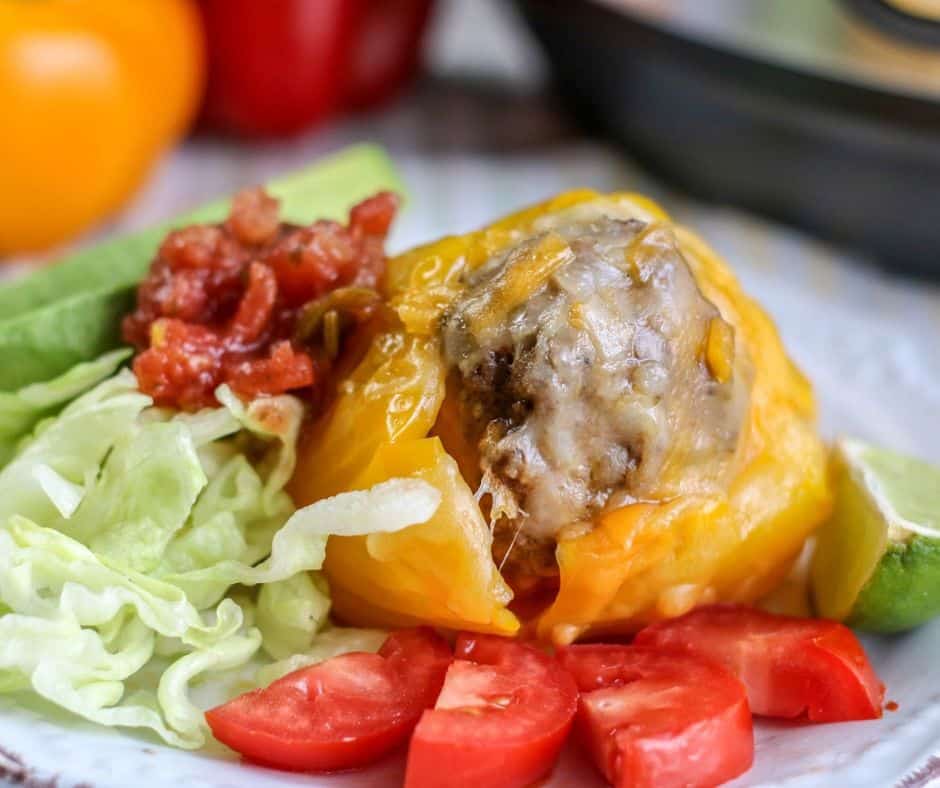 Fun Fiesta Variations
Want to jazz up your Mexican stuffed peppers or just make them a little differently? No problem-o!
You can mix up how you cook it (see below), cut back on the ground beef and add some rice or beans, or even swap out the beef for a bit of lentils, black beans, and rice for a totally vegetarian twist.
If you don't have ground beef you can use steak strips (cooked at least a little in a skillet first) or shredded chicken with some salsa for moisture.
How Turn Them Into Taco-Syle Stuffed Peppers
If you're wanting to make this meal more of a taco stuffed peppers dinner, it's very simple! Simply brown the ground beef in a skillet with taco seasoning as you would for regular tacos.
Frying the beef will give it more of an authentic taco taste and texture.
So that it doesn't dry out too much while cooking, consider adding 1/2 cup of salsa to the mix before stuffing the peppers with it.

Alternately you can microwave, bake, or pressure cook your empty stuffed peppers for a bit and then fill them with the meat and top with shredded lettuce, shredded cheddar or cheese sauce, and sour cream.
Or Make Them In The Oven…
If you don't have an Instant Pot or just want to bake them, that's easy, too. Just put them on a baking sheet or in a pan and bake for 40-60 minutes at 350 until the beef is cooked through.
Adding Some Extra Fiesta Spice
Feel free to add some poblano peppers, jalapeños, or habaneros to make your taco stuffing extra spicy. This spice is also a fabulous addition to add some seriously yummy heat.
Mexican Stuffed Pepper Recipe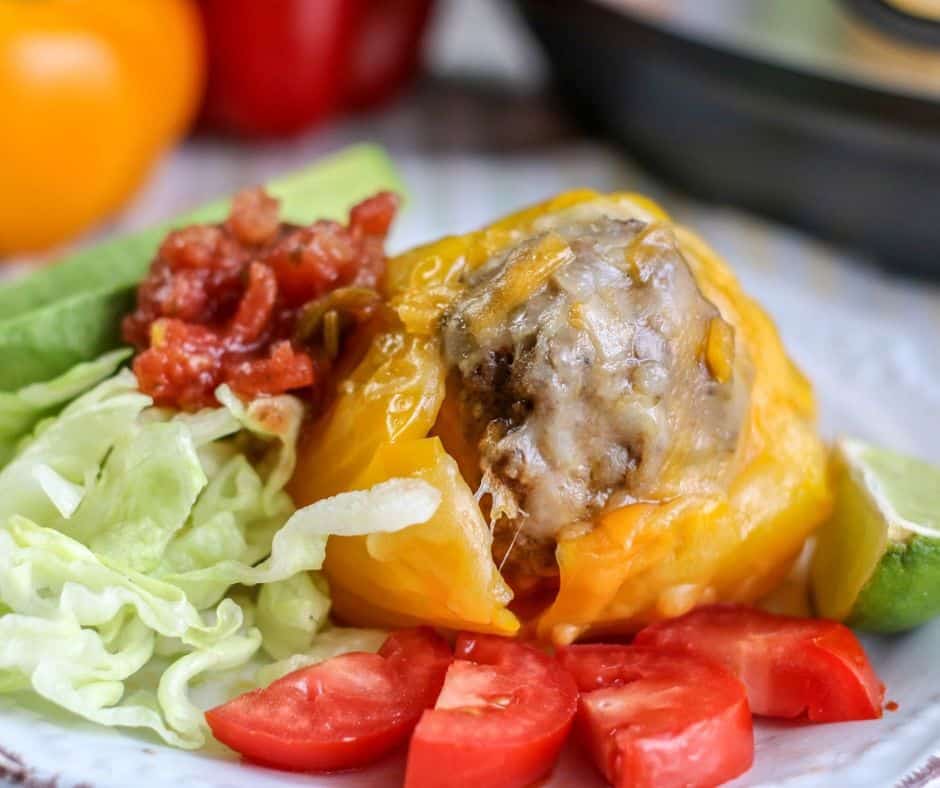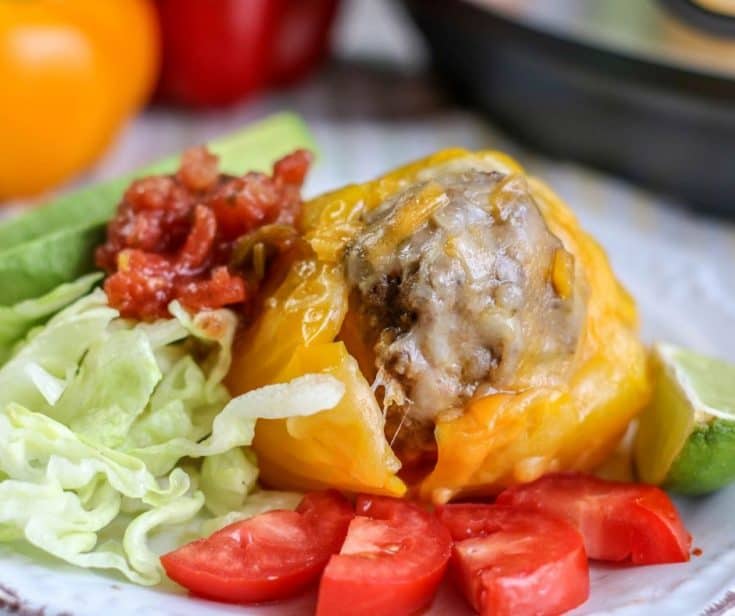 Yield:

6
Mexican Stuffed Peppers
Additional Time:
10 minutes
These delicious Mexican stuffed peppers are perfect for your low carb Taco Tuesday craving or just a favorite new family meal.
Ingredients
6 medium bell peppers
1 teaspoon chili powder
½ teaspoon ground cumin
½ teaspoon smoked paprika
½ teaspoon salt
½ teaspoon black pepper
1 ½ cups water
1 ½ pounds ground chuck
1 onion, finely diced
2 cloves garlic, minced
1 cup shredded fiesta blend cheese, divided
Instructions
Prepare your bell peppers by removing their tops, core, and seeds, but keep the bowl of the pepper intact.
Pour the water into your pressure cooker liner and place the trivet over the water.
In the large bowl, combine the ground chuck, seasonings, onion, garlic, and ½ cup of your shredded cheese. Blend all of the ingredients together well with your hands.
Divide the mix into 6 equal portions.
Stuff the meat mixture into each bell pepper. Position the bell peppers on the trivet inside the electric pressure cooker.
Close the pressure cooker lid and set the value to sealing. Manually set the time on your pressure cooker to 8 minutes.
When the cycle is complete, allow the electric pressure cooker to release naturally for 6 to 8 minutes before quick release.
Top each pepper with the remaining cheese and replace the lid on the pressure cooker (but don't set any time) until the cheese melts.
Carefully remove the bell peppers from the pressure cooker, allowing any excess liquid in the peppers to pour back into the pot. (Long handled tongs are especially useful.)
Serve your Mexican stuffed peppers with chopped cilantro, limes, sour cream, salsa, avocado, or your favorite taco toppings.
Notes
If you prefer a crispier meat, brown it in a skillet prior to stuffing your peppers. If you do this, consider adding 1/2 cup salsa to the mix for moisture.
If you prefer to bake your Mexican stuffed peppers, place them on baking sheet or in a casserole dish with sides and bake at 350 for 40-60 minutes (until beef is cooked through). You can also slice the peppers in half and have taco boats instead this way.