Chia Pudding: A Busy Mom's Guide To Easy, Healthy Food
We may earn money from the products/companies mentioned in this post. As an Amazon Associate I earn from qualifying purchases. For more information, read our Terms & Disclosures.
Have you discovered the delicious ease of chia seed pudding yet? Chia breakfast pudding is perfect because you can make your chia breakfast cups up once a week and grab them whenever you are hungry.
Whether you're just health conscious or diving deep into a dedicated way of eating (keto, Trim Healthy Mama, or something else), these easy chia puddings will be a must-have staple in your refrigerator.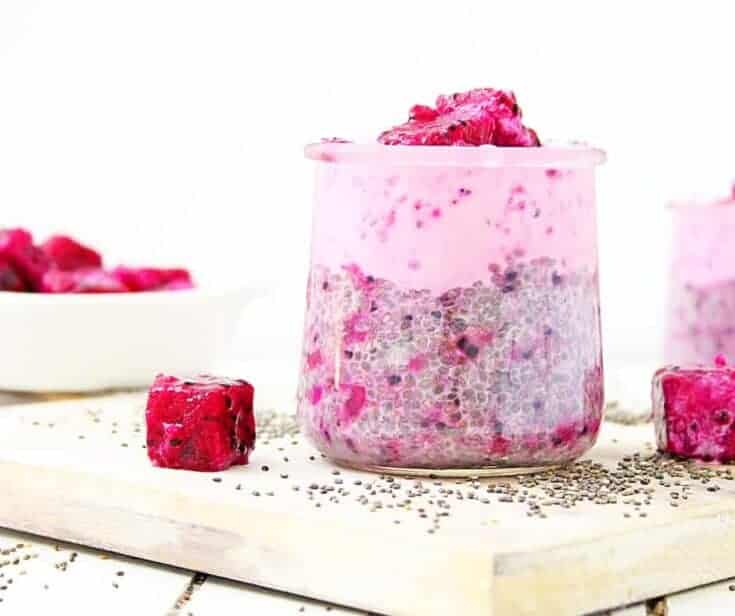 What Is Chia Seed Pudding?
Simply put, chia seed pudding is mix of liquid, your favorite flavors, and chia seeds.
When chia seeds are soaked in liquid, they expand and create a gelatin-like texture that will fill you up, nourish your body with healthy vitamins and nutrients, and provide you with protein and fiber but minimal carbs.
Chia pudding is great for keto, paleo, whole 30, low carb, Trim Healthy Mama, and pretty much any healthy eating lifestyle you can imagine.
The bonus for us is that the kids love it, too…and it's nourishing for their bodies!
Health Benefits Of Chia Pudding
Chia seeds are a super food. Not only do they make you feel very full, they nourish your body.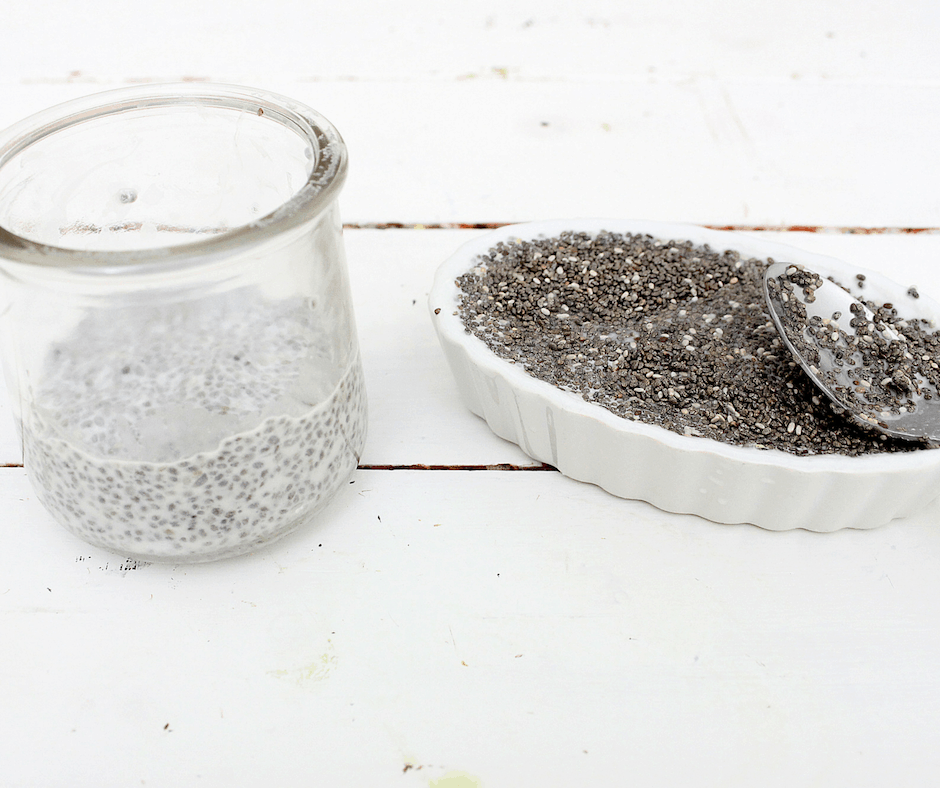 Loaded with antioxidants, tons of fiber (nearly all of the carbs come from fiber, so they are a low carb approved food!), protein, and omega-3s, you really can't go wrong when you add them to your diet (source) on a regular basis.
You can get chia seeds from your local health store or at most markets these days, but I order them from Amazon because the price is usually the best. These chia seeds are the ones I get.
How Do You Make Chia Pudding?
Each chia pudding recipe is slightly unique, but they'll all contain some of the same principles.
Soak Your Chia Seeds
First you need to have your chia seeds soaking in liquid. This is they expand and create chia gel, giving your pudding its proper chia pudding texture.
The easiest way to do it is to mix all your ingredients a day in advance. We make ours at night for the morning and even use chia pudding as a make ahead meal prep staple for quick morning breakfasts.
Add Your Goodies
This recipe mixes yogurt and mashed berries with the chia seed pudding for a rich and creamy treat. It uses honey as a sweetener, which is totally optional. You can also use sugar free honey that is carb free if you'd like (that's what I do).
And I know it's not in the recipe, but I've gotta tell you…adding some Lily's dark chocolate chips make this over the moon decadent.
Chia Pudding With Almond Milk
Almond milk is thinner than traditional cow or coconut milk, but that's okay because the chia seeds will still thicken it!
Try this creamy berry chia pudding with almond milk if this is your preferred milk of choice!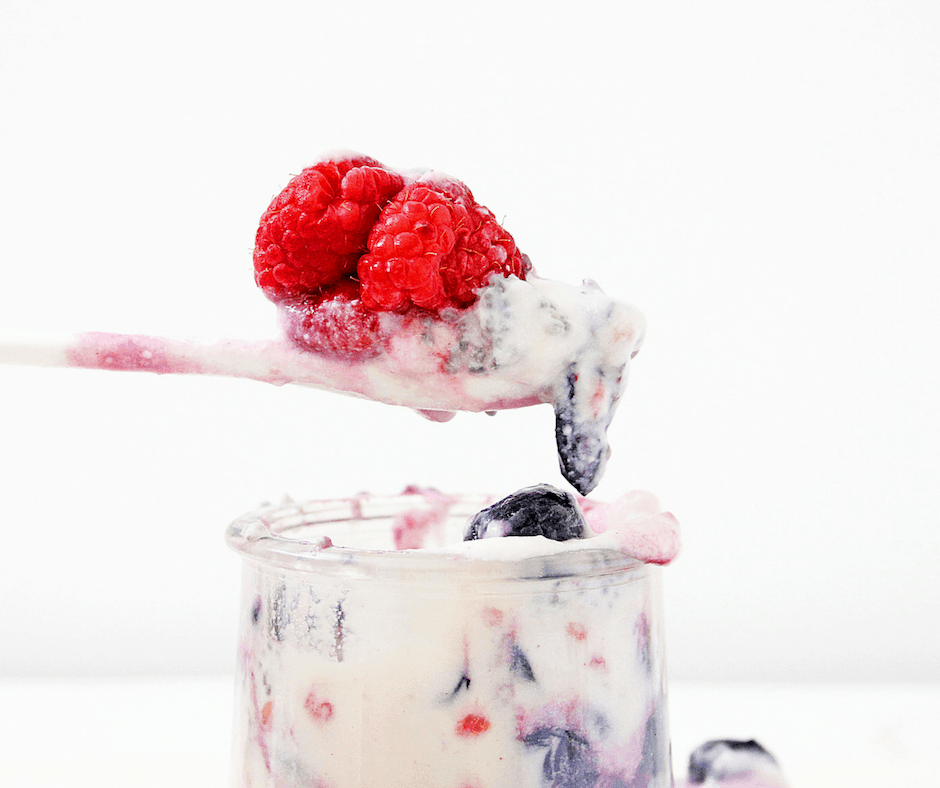 Chia Pudding With Coconut Milk
Another great dairy-free way to make chia pudding is with coconut milk. Slightly creamier than almond milk and a tad thicker, you get a more decadent texture.
The coconut flavor also adds a tropical touch to your chia breakfast pudding.
This mixed berry coconut milk chia pudding is my favorite post-workout breakfast…and I have to make extra to share with my daughter!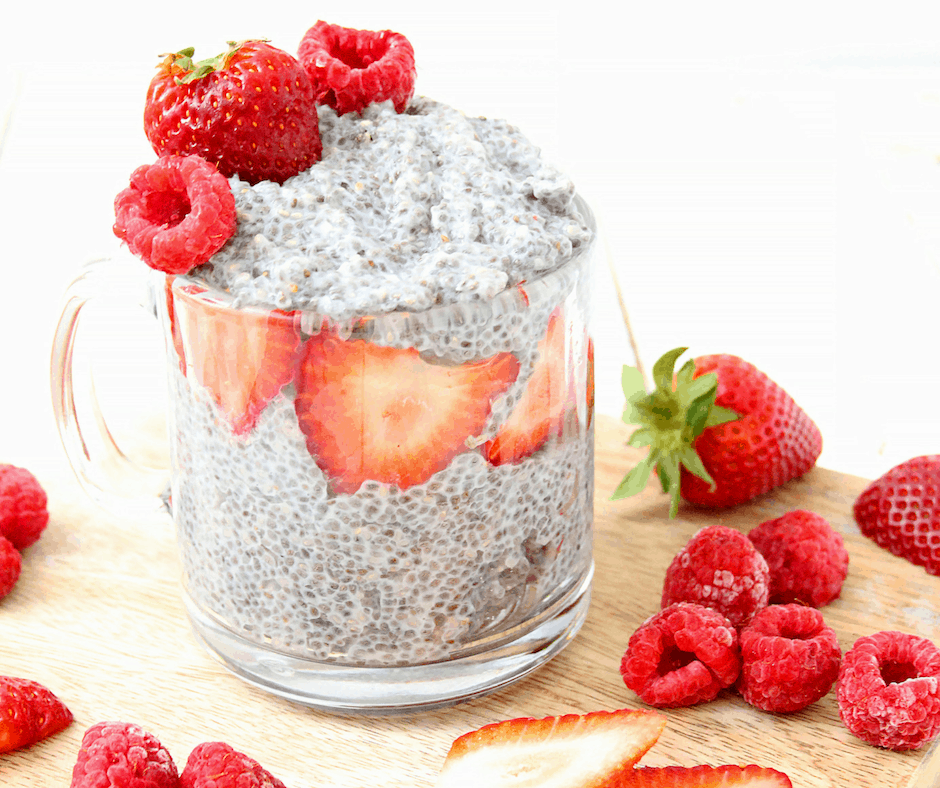 Chia Pudding With Yogurt
Organic or naturally made yogurt is filled to the brim with live probiotics to help maintain healthy gut flora, which in turn keeps your whole body healthier. It's also an excellent source of calcium, vitamins, healthy fat, and protein.
When we make chia pudding desserts, we love to add yogurt or a thicker kefir to the mix to make the texture even creamier. Chia Pudding With Berries And Cream is one of our favorite versions of this.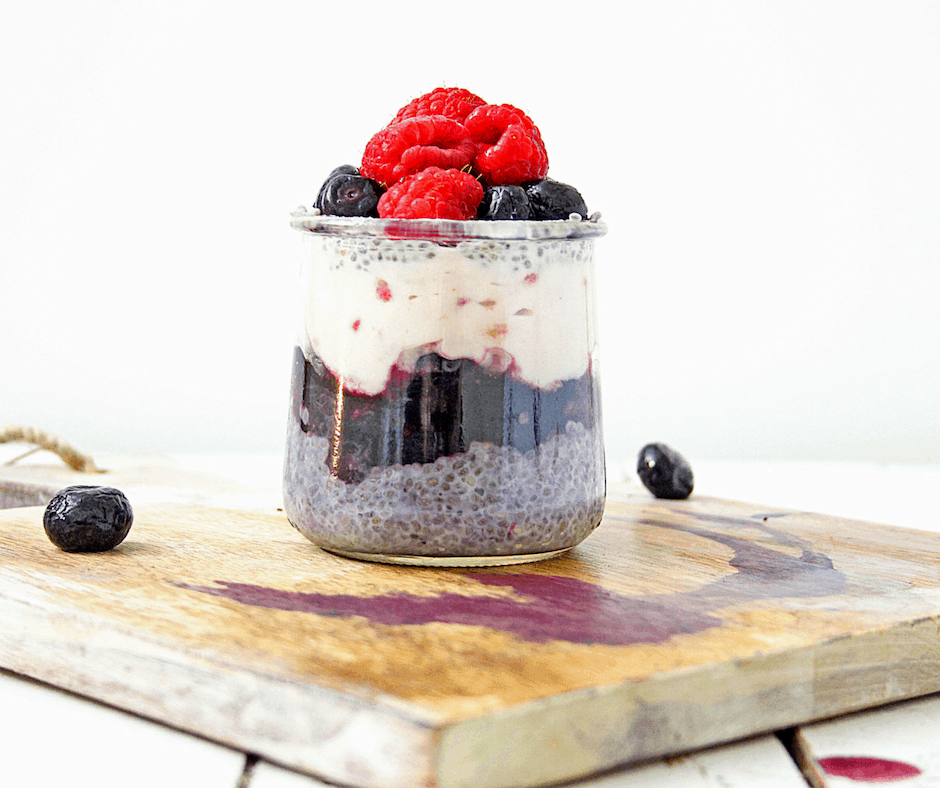 How To Use Chia Pudding For Make Ahead Meals
One of the best things about this recipe is that you can make it ahead and keep it for a week. Just make certain to assemble them in jars with airtight lids (these are my favorite!).

You can just dump it all together in the jar, but if you're like me you think that pretty food tastes better and you'll the time to make the pretty layers and sprinkle some fruit on top.
All you do to have this as an easy make ahead breakfast is prep it one day a week and divvy it out to your 8 jars (or you can go for 6 jars and have just a little more, but I like to keep them at 8 because the chia seeds fill me up and my kids like to grab one, too, so it's always good to have extra on hand!).
I really like these glass jars for my chia pudding recipes (because oh my goodness, how cute are they?!), but mason jars work really well, too. These square, steam punk Victorian styled glass jarsare also fun, and they fit together super neatly in the fridge!
They will keep for up to a week when stored in airtight containers on the inside shelves of your fridge, so don't be afraid to make them up for the week to have as an easy healthy breakfast option or a quick snack or dessert.
Chia Seed Breakfast Pudding
One of our favorite easy breakfasts as a family is quick and easy chia seed pudding with bananas.
It's simple and filling!
And while Banana Chia Pudding is definitely healthy enough to be a yummy breakfast, we like it for dessert also. Sometimes we'll add a drizzle of caramel syrup to it and a sprinkle of chocolate chips!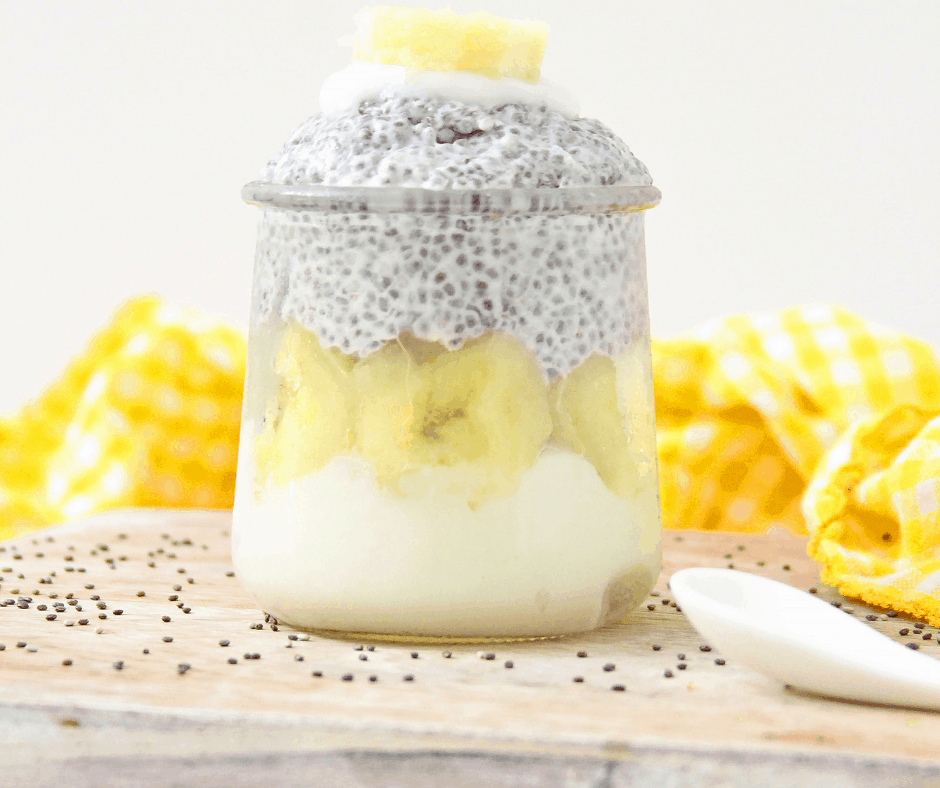 Dessert Chia Pudding
There's nothing quite like a delicious coffee pudding. If you're questioning the suggestion of coffee for dessert, just picture tiramisu. I rest my case.
It contains a jolt of caffeine, is a beautiful mix of sweet and strong, and is still very easy to make.
This one isn't keto friendly, but it's still made with whole-food ingredients that keep it healthy.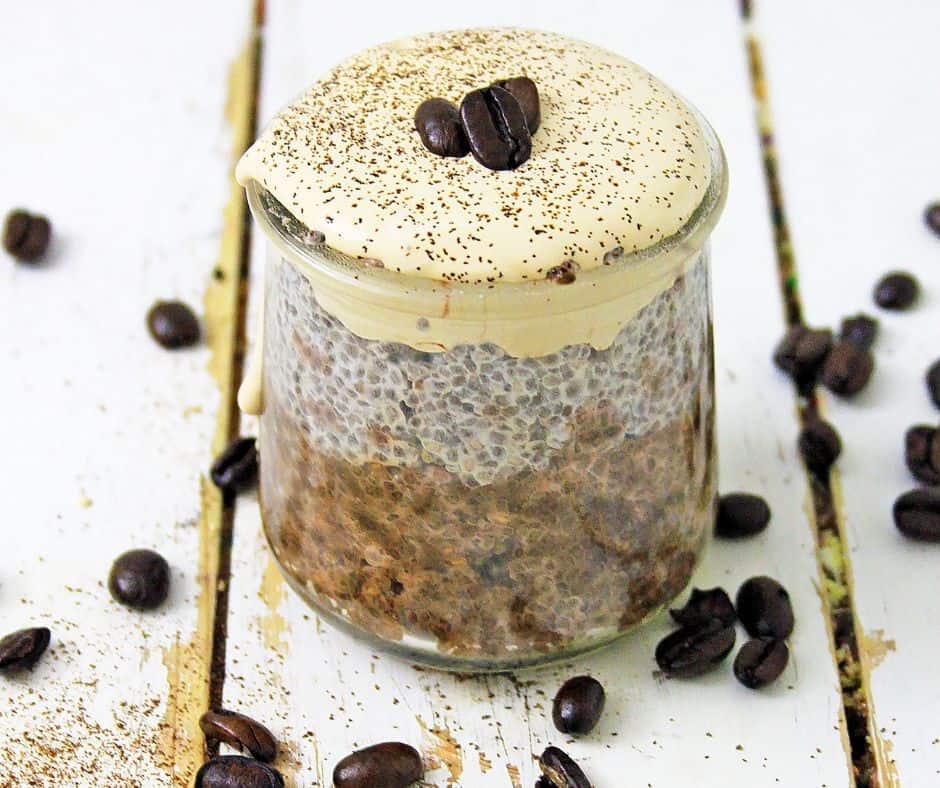 Another delicious chia breakfast pudding that doubles as dessert is the Chocolate Coconut Chia Pudding. You will not believe how decadent and creamy this one is!
While I love it for breakfasts on the go, I also keep it on hand for a sweet treat in the evenings. This one I have to make extra of because everyone wants some…every time! Gotta love feeding them goodies.