15 Items To Buy In Bulk And Save Money
We may earn money from the products/companies mentioned in this post. As an Amazon Associate I earn from qualifying purchases. For more information, read our Terms & Disclosures.
Looking to save money, but not sure if it's frugal to buy in bulk or not? Here are 15 items to buy in bulk and create some extra room in your budget.
If you're looking for ways to save money, chances are your first thoughts go to things you can stop spending money on to save. You've also probably familiarized yourself with creative ways to save money such as meal planning, looking for deals, and budgeting.
But there's also time that spending money can help you save it.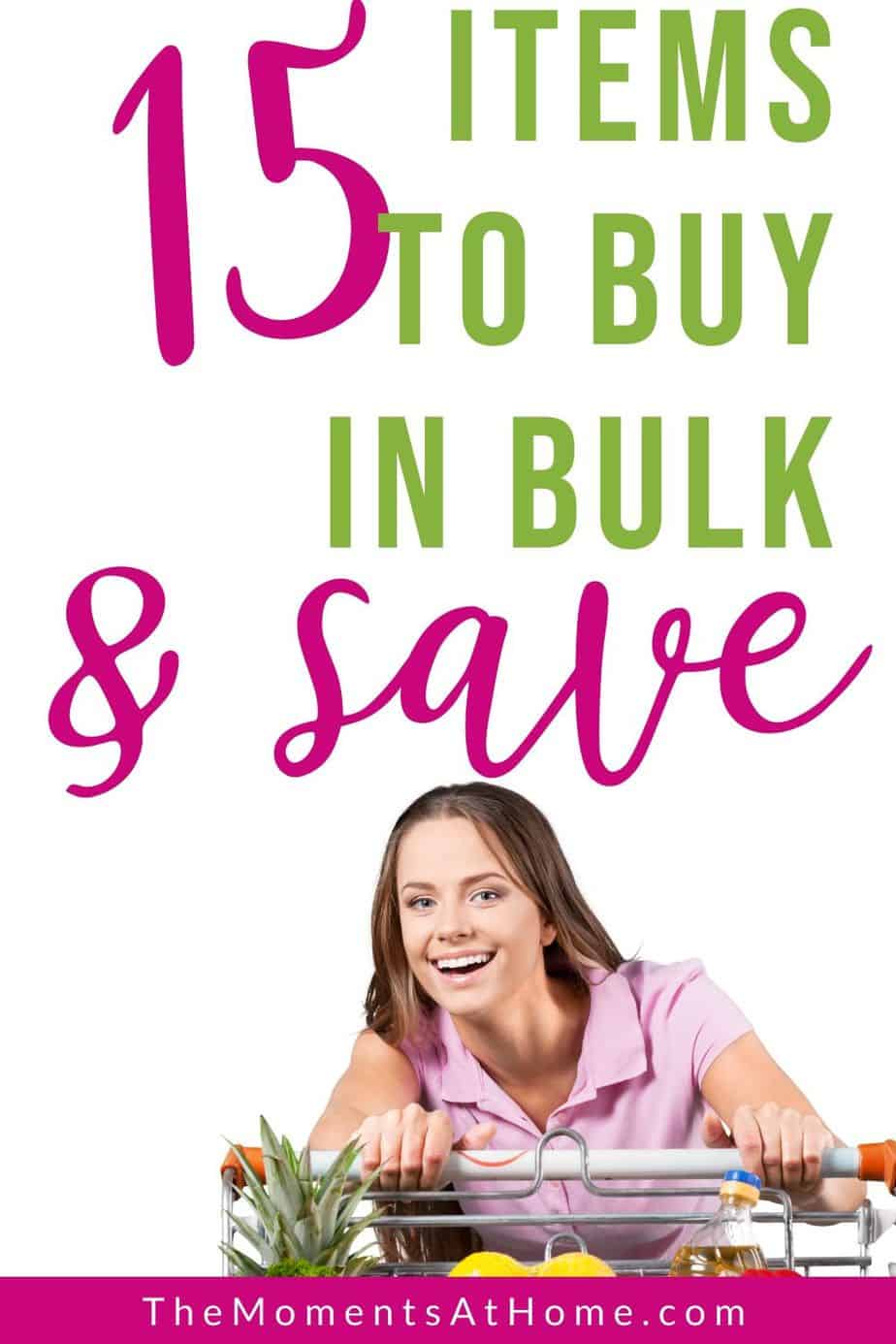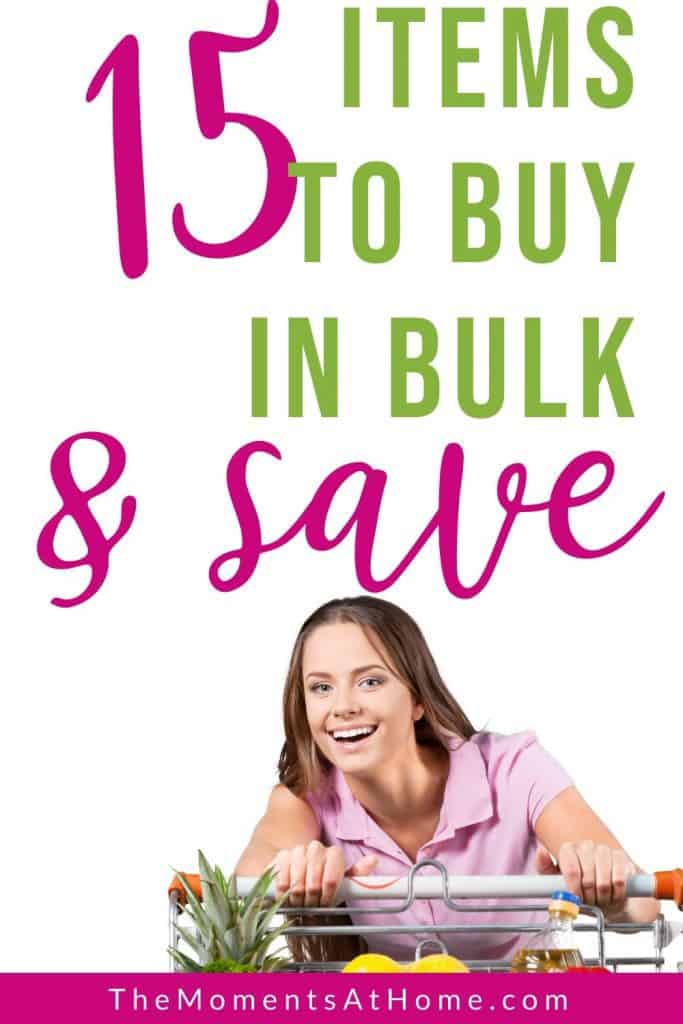 Buy In Bulk To Save Money
For items that you use over and over again, sometimes buying them in bulk will save you money in the long run. Take a peek at these 15 items you can buy in bulk when you go shopping to help save you money long term.
Buy Your Meat In Bulk
Buying meat in bulk is one of the smartest moves you can make. Not only do family packs of meat cost less but purchasing meat in large quantities is even cheaper. Invest in a vacuum sealer and you'll be able to freeze the meat without worry of freezer burn.

Get Your Rice & Grains In Bulk

Does your family love rice? If rice is stored properly, it's wonderful to purchase in bulk. You want to keep it in a cool, dry area. You can also vacuum seal rice to preserve it even longer.

Buy Nuts In Large Quantities

Do you love to snack on nuts or use them in recipes? Stop buying those small bags of nuts. You can purchase nuts in bulk and save a lot of money. Nuts can be frozen to preserve them. Some even keep them in their freezer and get out what they need when needed.

Needed School/Office Supplies That Are Consumable

You may not have thought about it but buying school and office supplies in bulk can also save money. Compare prices when buying things like pens, printer paper, notebooks, etc. You can purchase these things in bulk at office supply stores and big box stores like Sam's Club.

Trash Bags (and other trash liners)

No one likes paying money for something that is literally meant to be thrown away. Why spend more than you have to? Buying trash bags in bulk will definitely save money. You can also save money buying the big box store brand rather than a name brand.
Spices and Extracts That You Use Regularly Are Good To Buy In Bulk

Do you use a lot of spices or extracts? Buying in bulk will save a lot. You can purchase huge containers of spices for less than $10. When you compare the prices for small containers, it can be shocking. This is especially true when buying vanilla extract.

Paper Products In Large Quantities Can Save Money

Toilet paper, paper towels, paper plates, and facial tissues can all be purchased in bulk for a savings. You can store these in a dry area for years.
Check out this guide to saving money on toilet paper to really save!
Cheese – Save By The Pound

If you love cheese, you probably know that it can be expensive. Goat cheese, for example, is very expensive in regular stores. In big box stores you can get as much as four times the amount of cheese for the same price.

Buy Eggs By The Flat

If your family uses a lot of eggs at breakfast or in baking, you want to purchase eggs in flats rather than cartons. These come with at least two dozen eggs. You can find larger flats to save even more.

Diapers (and wipes!) In Large Quantities

The bigger the package of diapers the better. You will save a lot of money buying cases of diapers rather than small packages. The only exception is if you're a couponer.

Dried Beans In Bulk Saves Money

Dried beans can also be purchased in bulk. You can vacuum seal beans and store in a cool, dry place and use them for months after purchased.

Pasta (and cans of sauce)

Another thing to definitely buy in bulk is pasta. Pasta lasts for months. Again, it must be stored in a cool, dry place in airtight containers.
If you buy your red sauce, you can purchase the restaurant sized cans and freeze any leftovers to save money, too.
Soap (and detergent) Are Good To Buy In Bulk

Forget buying hand soaps in the 8 to 11 ounce containers. Buying hand soap in bulk is much, much cheaper. You will need to refill the containers, but the savings is worth it.

Bottled Water (and other bottled drinks)

Does your family drink a lot of bottled water? Buy your bottled water at a big box store. The price can't be beat.

Canned Goods

Last, but not least, purchase canned goods in bulk. If you wait until the holiday season, the prices are even cheaper. This allows you to fill your pantry for as little as $0.25 per can.
More Money Saving Tips
For more money saving tips, check this out. Also, be sure to know what not to buy in bulk, too.