Chinese New Year Printables & Activities For Preschool & Elementary
We may earn money from the products/companies mentioned in this post. As an Amazon Associate I earn from qualifying purchases. For more information, read our Terms & Disclosures.
Celebrating the Chinese New Year with your preschool, kindergarten, or elementary kids is so much fun! Enjoy these printable worksheets, activity ideas, and fun facts in your home or classroom.
The Chinese Lunar New Year, also known as Chinese New Year and Spring Festival, is a celebration that is gaining popularity around the world. You don't have to be Chinese, nor do you need to ascribe to a specific religion, to enjoy this holiday.
You're probably familiar with the red decor, dancing dragons, and lavish firework displays that mark this holiday, but there's so much more to it…and your kids will find it fascinating!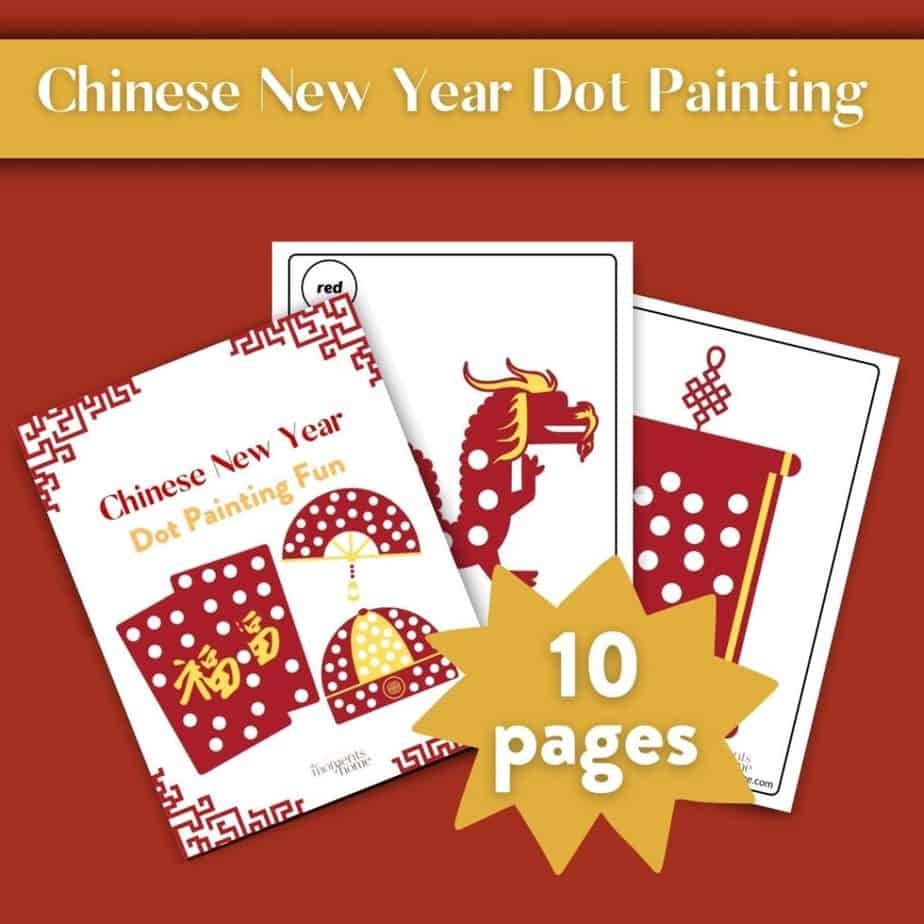 If you don't want to join our email list to receive your free printables, they are available in our store for just $1. CLICK HERE TO PURCHASE THEM NOW.
Understanding the Chinese New Year: fun facts to learn
What is the Chinese New Year and why do people celebrate it?
The Chinese New Year marks the beginning of spring a new year (according to their lunar calendar). Because of this, the Chinese New Year is also referred to as the Spring Festival.
Traditionally, it was a time to honor both deities and ancestors.
The modern festivities of red paper decorations, people flocking to the streets to enjoy the parades of the dancing dragons, and the fireworks have their roots in lore and legend.
It is believe a mythical creature, Nian, would come and eat villagers. A brave man decided to scare away this beast while all the other villagers hid. To do this, he put up red papers, beat his drum, and set off firecrackers.
The people in the village deduced that Nian was afraid of the color red and very loud noises, which led to the people wearing the color red, decorating with it, beating drums, celebrating loudly, and enjoying firecrackers.
Nian never returned to that village. Lore has it that he was captured and banished to a mountain (whose name has been lost over centuries) by a monk.
What happens on the Chinese New Year?
Across China, there are regional traditions that vary greatly. However, there are also some celebrations that are widely enjoyed by everyone who chooses to participate.
On the eve of the Chinese New Year, it's traditional for families to gather and share a large meal together. This time of community and feasting is special.
Also traditional is the cleaning of the home, symbolizing the sweeping away of bad luck and making room for the new gifts coming in the year ahead.
Windows especially are decorated with red paper designs, which represent happiness, wealth, long life, and good fortune.
It is also traditional to give gifts of money (in red paper envelopes) also to welcome in the new year with fortune and generosity.
Firecrackers and fireworks mark this special occasion, much like many other New Year's celebrations around the world.
Celebrations last for 15 days, ending on the Lantern Festival.
Check out this video for more great info.
What foods are eaten during the Chinese New Year?
Chinese New Year foods vary by region.
For example, the people in northern China enjoy dumplings, while in the south people indulge in a cake.
Some believe that the more dumplings you eat, the more prosperous you will be, so eating is definitely a huge part of celebrating!
Other foods often enjoyed include spring rolls, rice rolls, noodles, fish, and more. This article has great food examples.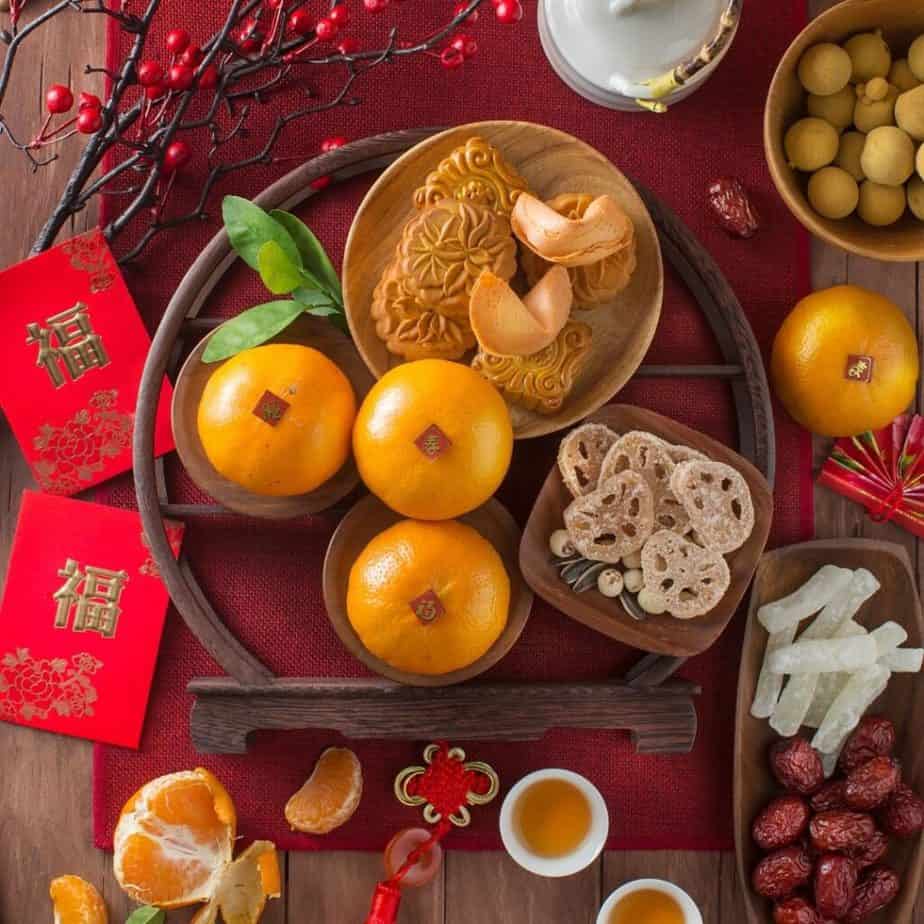 What is the Chinese Zodiac?
There are 12 animals in the Chinese zodiac. The Chinese people ascribe to the belief that people born in a certain year share characteristics with their animal.
The animals are:
Rat
Ox
Tiger
Rabbit
Dragon
Snake
Horse
Sheep/Goat
Monkey
Rooster
Dog
Pig
The years go in that order, consistently. What year were you born? You can check here.
The year of the Tiger begins February 1, 2022.
The year of the Rabbit begins January 22, 2023.
The year of the Dragon begins February 10, 2024.
Fun Chinese New Year printable worksheets for kids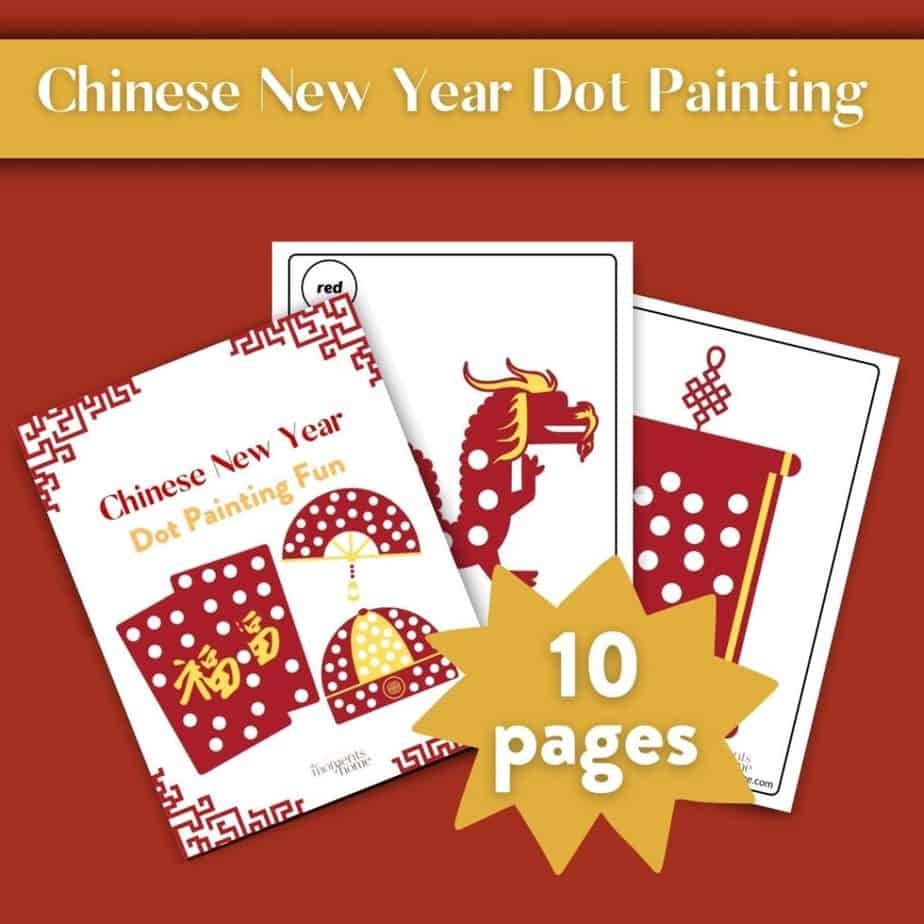 If you don't want to join our email list to receive your free printables, they are available in our store for just $1. CLICK HERE TO PURCHASE THEM NOW.
Chinese New Year activities for kids, classrooms, & families
To enjoy the Chinese New Year, here are some fun activities for kids, teachers, and parents to enjoy:
Read Books about the Chinese New Year
Bringing In The New Year is a colorful board book for babies and toddlers.
My First Chinese New Year is perfect for preschoolers and kindergarteners who are brand new to the holiday. Everyone will enjoy it!
The Runaway Wok is perfect for kindergarten kiddos and younger elementary. A fun adventure that teaches on the value of generosity, it's not only a fun book, it's a great lesson.
Enjoy Music/Songs for the Chinese New Year
One thing kids of all ages will enjoy (and even adults!) is the Lion Dance. Check out this video to learn how.
You can also queue up a Chinese New Year playlist for some musical inspiration. Great to play while you make some paper crafts, cook your dumplings, or even just clean the house (it's a Chinese New Year tradition, after all!).
More Chinese New Year Activities for Preschool & Kindergarten
If you're looking for even more fun, take a peek in The Moments At Home Shop for Chinese New Year printables.