Easy Dinosaur Soaps Recipe
We may earn money from the products/companies mentioned in this post. As an Amazon Associate I earn from qualifying purchases. For more information, read our Terms & Disclosures.
If you've been looking for fun dinosaur activities to do with your preschooler or elementary aged child, this dinosaur soap craft is just the thing. Dino soap is easy to make, fun to use, and a great at home kid craft. The next time you and your Dino-loving child want to do some arts and crafts together, this easy homemade soap is just the thing!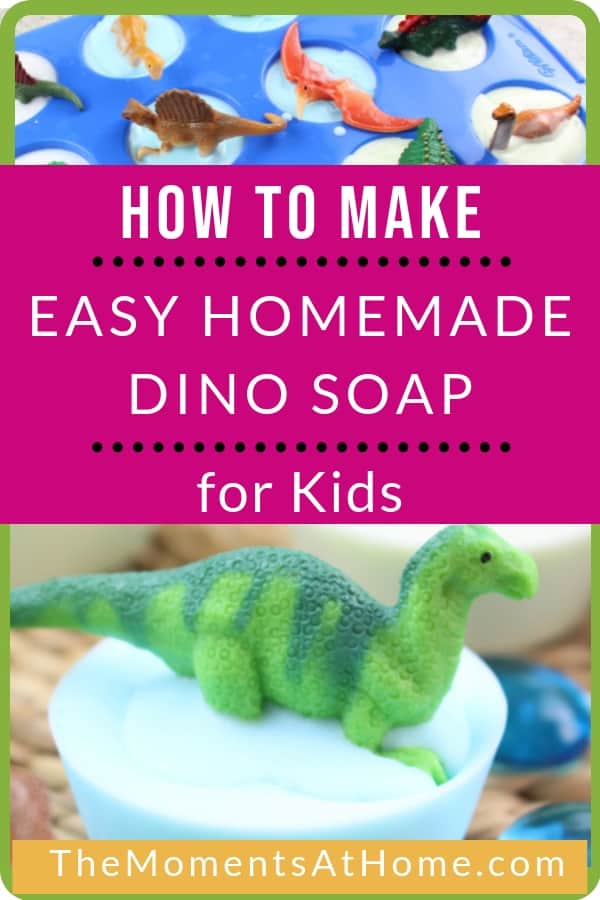 Soap Making Dinosaur Activity: Super Simple!
This easy dinosaur soap activity is just right to do with your budding paleontologist.
Have your kids ever had the fun of hammering dinosaurs out of ice eggs? This project reminds me of that sunny day activity, only there's no hammers involved. 😉 Instead, they'll free the dinosaurs with water!
I've always been nervous about making soap but this recipe will show you that it's so simple! Get the kids involved in dropping the dinosaurs into the soap molds during an afternoon crafting together.
Easy Homemade Dino Soap Supply List
How To Make Dinosaur Soap
Making your dinosaur soap is very easy to do and your little helpers will have a lot of fun working with you.
Prepare Melt And Pour Soup Base
This part of the soap making dinosaur activity is best left to mom or an older child with supervision.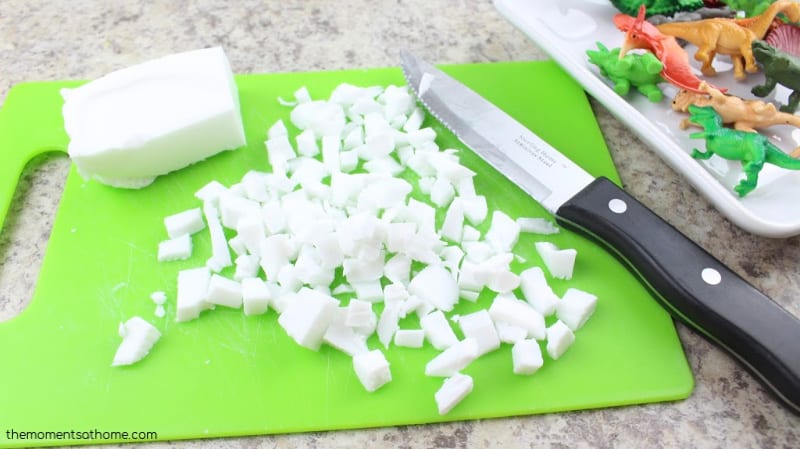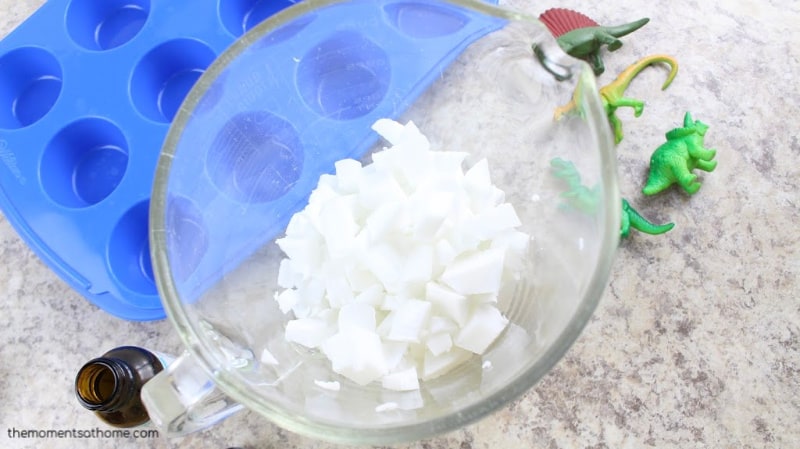 Melt The Soap Base
Microwave for the soap base pieces for 30 seconds or until it's soap is completely melted. Take it out of the microwave. Add in your favorite soap scent and stir well with a wooden craft stick.
Little hands make great assistants at stirring the soap mix with a craft stick.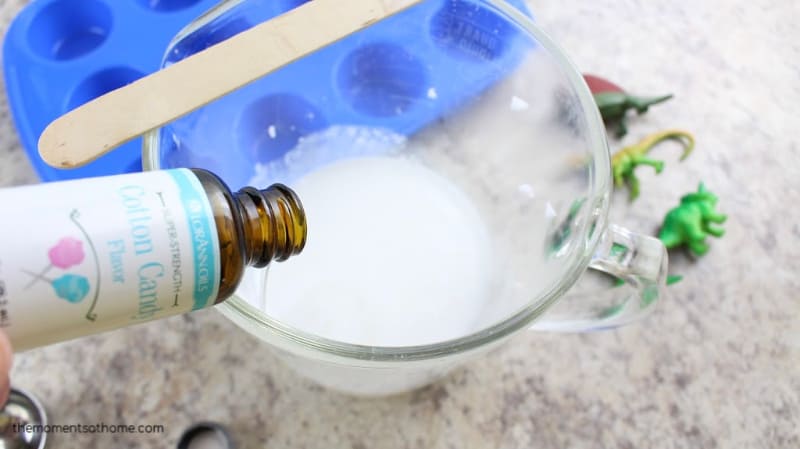 Use Soap Molds
Immediately pour the melted soap into 4 of the mini muffin molds, filling almost to the top of each mold. Place a dinosaur into each mold filled with soap. Set aside to harden while you make the next batch of soap.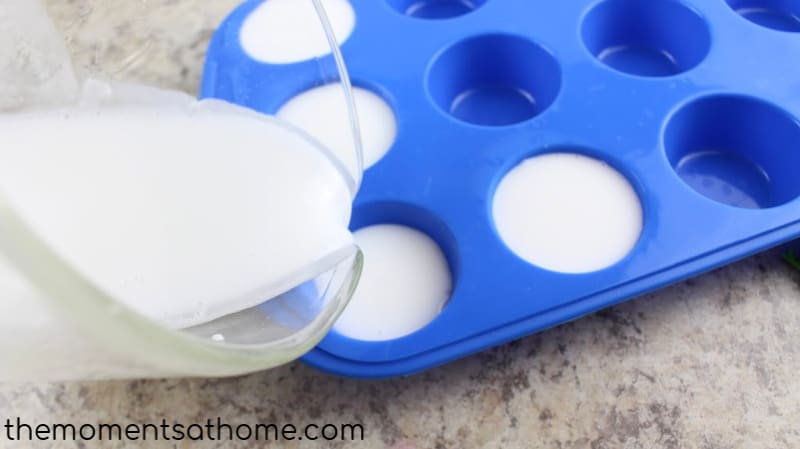 Adding Scent And Color To Your Soap
Microwave 1/2 of the remaining soap for 30 seconds or until completely melted.
Next, add your scent and stir well with a craft stick. Follow this by adding a few drops of the blue soap colorant and stir again.
Pour the melted blue soap into 4 of the silicone molds. Place a dinosaur into each mold and set them aside to harden.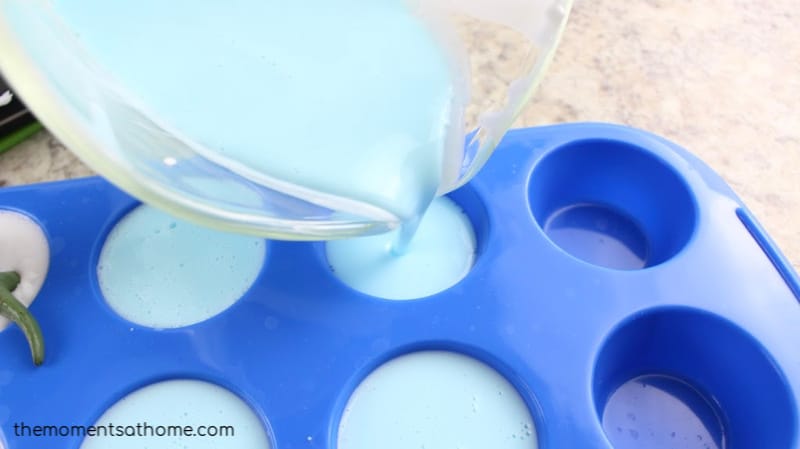 Lastly, microwave the remaining shea butter soap for 30 seconds or until melted. Add a soap scent and 1-2 drops of green soap colorant. Stir well.Pour the melted green soap into the remaining 4 silicone molds.
Make Your Soap DINO SOAP
Place a dinosaur into the melted soap. Chill the entire silicone mold for 2 hours to allow the soaps to completely harden.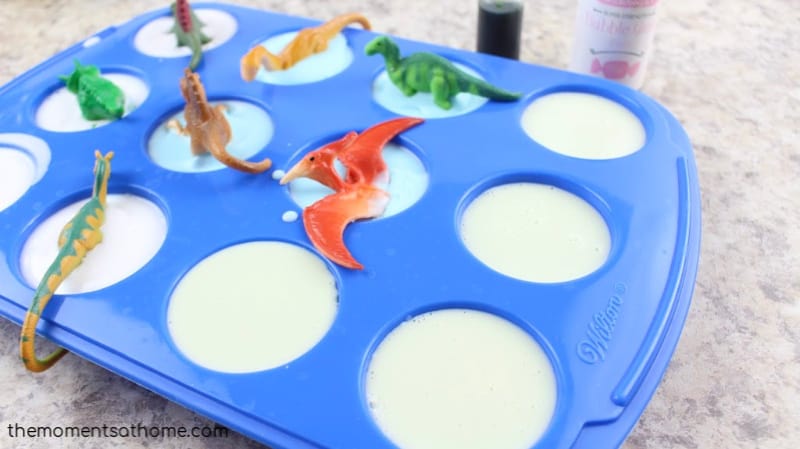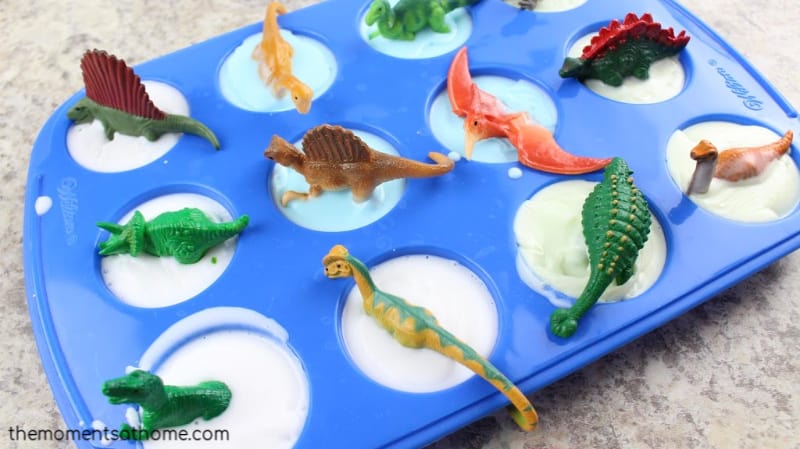 Once they're hardened, gently pop the mini soap bars out of their molds and store in a cool, dry place until ready to use.