Dot-to-Dot Printable Constellations for Kids
We may earn money from the products/companies mentioned in this post. As an Amazon Associate I earn from qualifying purchases. For more information, read our Terms & Disclosures.
If you've been looking for fun PDF constellations for kids, these dot-to-dot star pattern worksheets are just the thing to excite them about the stars and solar system!
From preschool and kindergarten, all the way up to 1st grade, 2nd grade, 3rd grade, and beyond — kids will remember all the fun of learning about space and enjoy these free constellation printables.
These pages are easy for the busy homeschooling mother who wants to teach kids about the stars in a way they'll remember and super fun for the kids to jump into learning about without so much as a fuss.
Each printable has a different constellation to dot-to-dot activity. Kids will love finding the shapes in the stars and coloring them in.
You can print these out as many times as you like, so they make great resources for review or extra practice. Plus, they're free!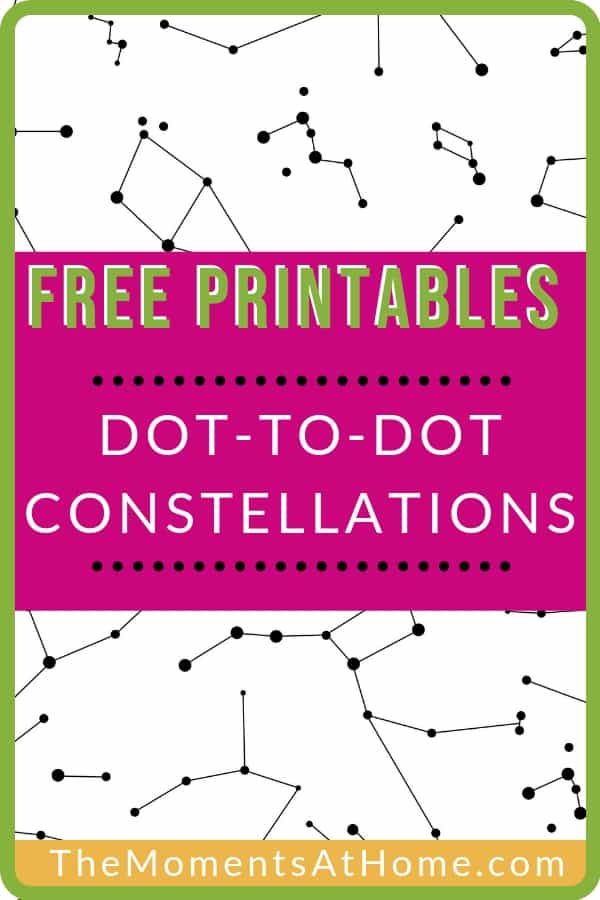 Teaching Constellations To Kids
Constellations are a great way to introduce your young learners about the night sky and get them excited about astronomy, while also helping them learn to recognize patterns and shapes.
When you approach these concepts simply and with fun, it's a delight for both you and your kids. We've found, in our home, that constellations are the perfect way to get kids excited about the night sky and solar system.
Using these dot to dot constellation printables for kids, you'll reinforce counting, pencil control, following directions, and give them a hands-on way to "touch" the distant night sky.
Seeing the patterns and shapes that stars make will also get them excited to learn the names and stories of the constellations (psst…that makes this a great fit for math and literacy activities, too!)
Connect the Dot Constellations for Learning Fun
The night sky is fascinating to children (and, let's be honest, adults too!).
Whether you're teaching preschoolers, kindergarteners, 1st grade, 2nd grader, or older elementary age kids, this free constellation printables PDF is sure to delight.
You'll be able to teach kids all about the stars and the stories they tell, plus connect-the-dot activities are great for fine motor skills, counting, and pencil control.
Bonus: The printables are black and white so they'll print out nicely on plain printer paper and not waste all your ink, too! Better yet, if you have cardstock, you can print them on that and they'll hold up for star grazing constellations cards to help them learn, too.
Just fill in the form below and your free constellation printables will be delivered to your inbox. Next, download them, simply print the PDF file and enjoy!
Constellation Activities to Use with Your Free Constellation Printables
One of the best parts about teaching kids is sparking their wonder in the world around them and generating even more curiosity to learn other topics.
These free worksheets are great for your astronomy unit studies, fun with the free printable activity sheets, or your outer space focused child.
Kids will love connecting the dots on their printable constellation pages and seeing the shapes of form before their eyes. They'll get even more excited once they can spot them outside at night!
In fact, one way to use these is as constellations cards. Take them outside at night and have your kids see how many constellations they can spot; getting outside and using this knowledge will help them remember it more…and share special moments with you!
Kids of all ages (even moms!) will love exploring the night sky and (re)discovering the wonder of the the vast heavens.
Constellation Printables: Use Them As A Pattern To Build A 3D Constellation Model
This free printable pack is a great way to jumpstart your child's interest in the entire solar system; the next thing you know, they'll be pointing out an asteroid belt or building a DIY telescope.
Once they complete these constellation patterns printables, they can have even more fun by making their own models with toothpicks and mini marshmallows.
Alternatively, they can make stars and planets pipe cleaner constellations! Another fun way is making grape constellation project with yarn and toothpicks.
Simply gather your supplies and use the completed connect-the-dots constellation cards as patterns.
Once they make the patterns, they can then get even more creative and design their very own constellation.
Star Stickers Constellations
They can also do this using star stickers on paper. Or kick it up a notch and let them use neon star stickers to create their favorite constellation over their bed (you know, those awesome glow in the dark ones…nostalgia, anyone?).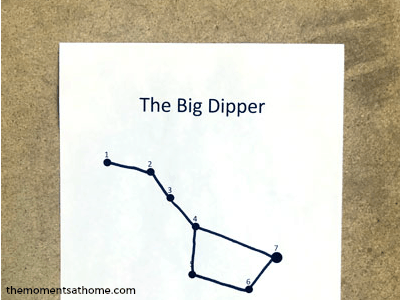 Consider getting a roll of paper and a huge pack of star stickers, planet stickers, and markers and letting your little ones create an entire solar system to hang on their walls or ceilings.
They can refer to their constellation cards or make their own constellations to surround the solar system.
More DIY Space Activities
Other fun hands on activities include Oreo moon phases, making an erupting Mars volcano, and using yarn and fruit to make a solar system map and lay out the planets' orbit.
If you're really adventurous, you can check out other science experiments to help your kids have more hands-on fun. But if science experiments sound too messy, that's okay — we've got more activity pages and books to suggest, too!
Be sure to check out these Solar System Printables Pack (includes a fun planets game introducing your little ones to all the planets!), too. Great for table science activities at your kitchen table or in your personal classroom, these solar system activity pages pair perfectly with your free constellation printables PDF and bring even more fun to the table.
You might also enjoy this fun constellation projector in your kids' rooms at night or when you camp out in the living room!
You can also make this awesome Space Wreath solar system themed craft idea using a simple, but beautiful technique called paper quilling.
The Best Books To Read About Constellations For Kids
While there are 88 constellations in all, this free printable constellations worksheet set includes only the most well-known constellations and makes a great addition to your unit study…especially if you've been looking for free solar system worksheets.
They will serves as an introduction to the stories in the stars for elementary children, especially when you introduce the stories from Greek mythology that helped name most of the stars.
These books will go along wonderfully with your constellation patterns printable pages:
You can read these aloud to your preschool through elementary age children as they complete their free constellations worksheet set, work on their constellation activities, or prepare for an evening of star gazing once the sun sets.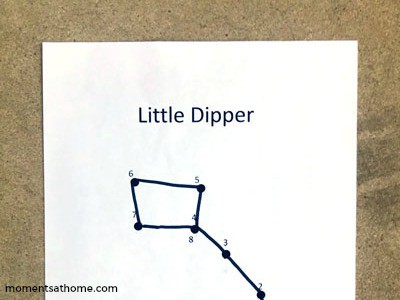 Grab your Constellations For Kids Printables Pack Today!
Don't forget to print out your free printable constellation worksheets and get started on these fun activities with your kids today!
Just fill in the form below and your free printable constellation activity will be delivered to your inbox. Next, simply print the PDF file and enjoy your free constellations connect-the-dots.
What are some of your favorite ways to learn about the night sky and constellations? Do you have any other really cool ideas for educational activities or great resources to add? Share them in the comments below so we can all benefit from each other's ideas!
Get Your Free Printables PDF Now: