Spider Web Printable Bookmarks for Kids
We may earn money from the products/companies mentioned in this post. As an Amazon Associate I earn from qualifying purchases. For more information, read our Terms & Disclosures.

Spider Web Printable Bookmarks for Kids
It's so fun to find the perfect fall read for kids isn't it? My kids love a good mystery book during the fall months and like using new bookmarks to mark their spots. I'm sharing a set of printable bookmarks that kids can color themselves. They're great for home or in the classroom. As usual, I recommend you laminate them once they've been colored so they don't rip or wrinkle. I use this laminator, and haven't had any issues with it.
What my Kids are Reading
I always like to share what books my kids are currently reading because they have such different taste in books, and hopefully it will inspire your kids to pick up a book! My oldest son is still reading the Warriors series but has moved on the the next set, Dawn of the Clans. He can't wait for the movie to be released someday!
My youngest son is reading The Magic Treehouse. He doesn't stick with a specific series but instead picks books from the library based on their covers. His current read is The Magic Treehouse, The Day of the Dragon.
I have a tween daughter who doesn't spend too much of her free time reading. She'd rather be watching You Tube or making slime. Right now she's reading From the Mixed Up Files of Mrs. Basil E. Frankweiler.
And my youngest, she is just learning her sight words. We're reading many Disney princess books from the library these days.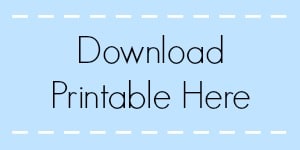 How to use this Printable for Kids
While this may seem self explanatory, screen shots and printing web pages don't produce great quality images. For best results, open the printable file and save it to your computer. Then, open your file and print.
Exciting news! I've created an email list just for printable subscribers! While you can always access my printables here on my blog, subscribers will be the first to receive links and up to date news about recent printable posts.
Click the image below to sign up for free!