Bird Unit Study Guide: Book List, Crafts, And More
We may earn money from the products/companies mentioned in this post. As an Amazon Associate I earn from qualifying purchases. For more information, read our Terms & Disclosures.
We love unit studies around here; it's so fun to dive deep into a topic and do as much as you can with it, don't you think?
For our bird unit study, we wanted to incorporate reading, arts and crafts, nature study, and science. When I was a new homeschooling mom, I really over-thought and over-analyzed what a unit study should be. Now I appreciate beautifully simple they are AND how much they add to our core curriculum.
So, how do you do a bird unit study for kindergarten, first grade, second grade, or really any elementary student? Let's jump in!
Backyard Bird Activities
Whenever we start a new unit study, it's great to start close to home whenever possible. That's why we'll grab a notebook, or better yet our Nature Journals, and heading outside.
We learned to look at birds and watch how they acted, paid attention to what they enjoy eating, and where they made their homes. We admired the colors on their wings and the designs in their feathers, and headed to this book to help us identify them.
Then we learned to observe with our eyes closed, listening to bird song. We tried to pick out which song went with which bird. So much fun!
You may also want to check out this chicken life cycle packet and then visit a local farm and see some hatchlings as well as backyard hens.
Easy Paper Crafts for Bird Unit Study
Of course, kids love anything hands on! That's why I looked for easy crafts and activities we could do (that didn't require hours of prep or clean up). These cut and paste paper birds with the bonus activity pages really fit the bill (the duck bill, that is!).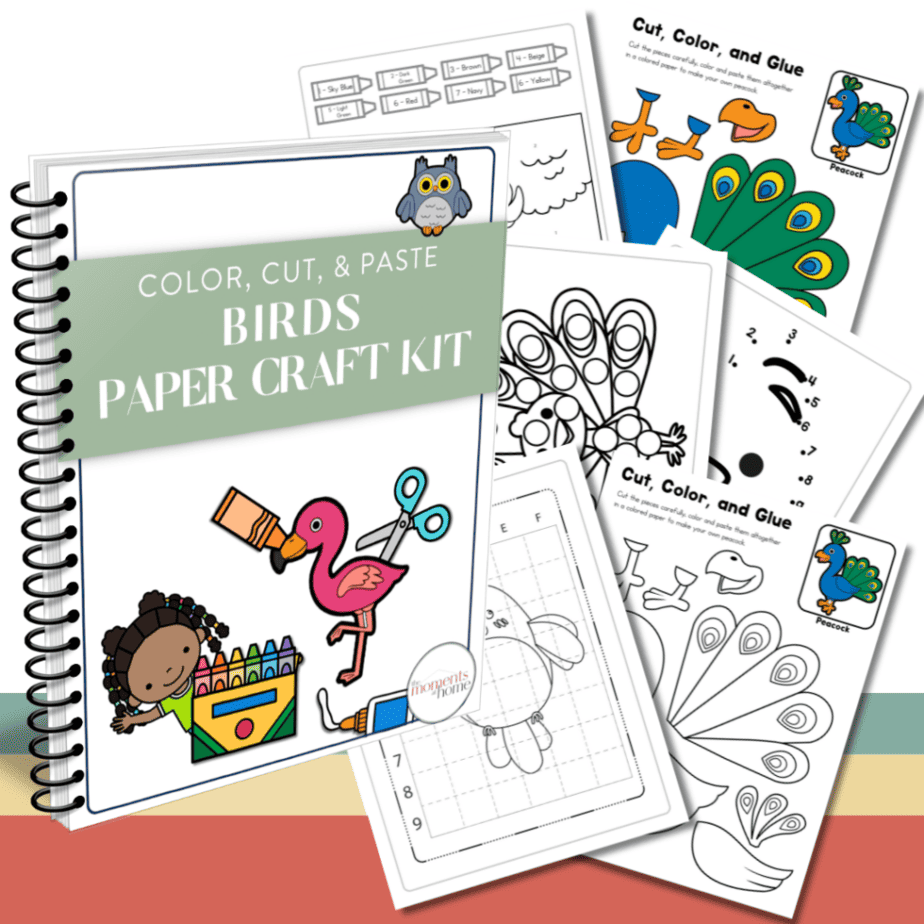 The kids like the color-your-own birds best and the graph drawing activity. So much fun!
We also talked about where the different birds we made live and what their natural habitats are (we learned this in the books we borrowed from the library or ordered on Amazon). So simple and delightful!
Books For Your Bird Unit Study
So what books will help for you unit study on birds? There are so many excellent ones; here are some of our favorites!
Such a fun way to learn to recognize birdsong:
A must-have book fro North American families:
Learn all about nests, from tiny to huge, in this fabulous book with gorgeous illustrations:
Great for little learners eager to get started exploring birds:
Seriously fun and fabulous for first-time bird enthusiasts:
And the BEST FOR LAST…our all time favorite book about birds:
A Quick Video
We love heading over to YouTube also for videos like this one. We might watch a dozen videos or more (feel free to watch one for each of the birds in your craft, if you have the time!), like this one:
Wrap Up Your Unit Study
Once you've explored, crafted, and read all about birds it's time to wrap it up. You can choose between your children writing about what they've learned, illustrating a story that showcases the new facts they know, or giving you an oral presentation.
Possibly a combination of them all!
Just remember, the goal is to keep your kids enjoying the journey while they learn: birds are everywhere and so interesting.